Information
United States
N/A
N/A
Upon obtaining a B.S. degree in fisheries biology at Virginia Tech, W. Gregory Brown began his career as an aquatic biologist with the government. In 1982, his interest in underwater photography began to blossom. Since then, his work has been featured in hundreds of publications and other media. Brown\'s client list includes notables such as Nature\'s Best, International Wildlife, Time, Newsweek, Discover, and the National Geographic Society. Over the years his photos have also appeared in most major scuba diving magazines. His fourth book, Through the Ocean Window, featuring underwater photography on coral reefs around the globe, has just been released and is now on sale. Brown is a certified PADI Scuba Instructor and a member of Nikon Professional Services.
What I look for in a Dive Operator:
Since most of my diving is done via a live-aboard, my comments will concern live-aboard operations. I look for an operation that concentrates on quality, not quantity. Even on a 120 foot vessel, 18 divers is cattle boat diving to me. Eight to twelve divers is a suitable number. When underwater, I want to see wildlife, not humans. Secondly, I don\'t need to cross a thousand miles of ocean to see 30 mediocre reefs in a two week trip. I just need to see 4 or 5 really good ones. I want most of my day to be spent under the boat and not on it. It\'s also important to have enthusiastic, energetic, and educated divemasters who can find the marine life divers want to see. Divemasters are there to work for their clientele, not to herd the group or tell them how long they can stay down. The only time I want to see a divemaster underwater is when he/she has something fantastic to show me. In my dictionary, when you open the page to divemaster, you see a picture of Larry Smith. Although not critical, but important nevertheless, is a vessel and crew that prides itself in cleanliness. Good meals are always a bonus as well.
Newsletter
Travel with us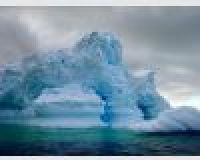 Antarctica
Plan Your Adventure >