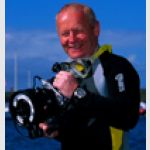 Information
South Africa
N/A
N/A
Tony White is a full time professional underwater photographer. Originally living in SE London he now resides in Cape Town South Africa where he carries out most of his work. His journey to underwater photography started some 39 years ago when he joined the Royal Navy and trained as a photographer. In those days work was anything from detailed technical defect work on nuclear submarines to aerial photography from the back seat of a harrier jump jet. After 17 years he left the navy and spent five years in commercial and industrial photography. Eventually giving up photography as the journey had run its course, he spent time working for both Fuji and Kodak in a technical role looking after clients using film in the print industry. During this time he was teaching diving for a PADI school in Kent UK and one day the owner commented that with his experience he should be taking pictures underwater. Tony was very resistant to the idea having \"done that\" but eventually started experimenting with a motor marine II, after frustration set in when he reached the limitations of his equipment, it was decision time \"to do something with underwater photography or give up\". Thankfully he decided to give it a go and twelve years on he has a thriving business, selling his photography to both dive and nature magazines worldwide and as limited edition prints to the diving public. Tony\'s accolades include winning awards in 15 different countries the highlights being, the underwater section of the Agfa African wildlife competition, Gold medals from Celebrate the Seas, Natures Best, Grandmaster category Diver Magazine UK and many more. He has aspired to judging underwater photographic competitions worldwide and in 2003 a National Geographic film crew followed him throughout the annual Sardine Run off the Kwa-zulu natal coast South Africa completing a one hour documentary on his return to the run after accidentally being bitten on the right arm during the 2002 sardine run by a copper shark, requiring an operation and 57 metal clips. Incidentally Tony sees this as his most memorable moment to date. Having spent many years concentrating on the smaller creatures of our oceans he has now graduated to wide angle and the bigger subjects off the South African Coast. He now concentrates on the major events, shooting Great White and Tiger sharks, the Sardine run with its thousands of predators and annual migration of humpback whales.
What I look for in a Dive Operator:
Primarily professionalism, and enthusiasm for the particular field and area they deal in, with the background knowledge that is second to none. I take numerous groups of underwater photographers to some pretty remote area\'s of the world, therefore I have to have the confidence in the operator I am going to, that they have the capability of looking after them and also showing them the marine animals they have traveled a long distance to see. Traveling on a shoot it is no good with someone who in the end cannot show me what I am after, and in the past I have made the mistake of not researching my operators before I use them. Now I go to great lengths to ensure that the people I use are some of the best in the world.
Newsletter
Travel with us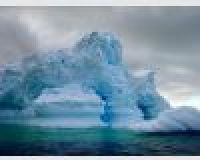 Antarctica
Plan Your Adventure >