Information
Guam
Photo, Video
50 years
Destinations
# of Dive Trips Per Year
TIM ROCK specializes in the marine world and is a publisher, author, photographer and owner of a photo gallery on Guam in the western Pacific. He attended the journalism program at the University of Nebraska - Omaha (UNO) and has been a professional broadcast and print photojournalist for 30 years. In April 2017, he was awarded the Lifetime Achievement Award by the UNO School of Communications. Tim was also a Guam Delegate for the Visual Arts (still photography and video) for the 2016 Pacific Festival of the Arts. In his early years his news photography appeared on CBS, ABC, NBC and CNN. The majority of his career has been in the Western and Indo Pacific reporting on environmental and conservation issues. He has won the prestigious Excellence in the Use of Photography from the Society of Publishers in Asia. His TV show Aquaquest Micronesia was an ACE award finalist. He also lists many other awards for documentaries, television shows, photography and writing. He works as a correspondent for numerous Pacific Rim magazines. He is the author and contributor to a dozen Lonely Planet/Pisces series guides and also has his own series of guides available as print and e-books. Rock's photographic work is represented by Getty Images Lonely Planet Collection, SeaPics, Polaris Images, WaterFrame and his own Guam-based agency and by other top photographic agents worldwide.
What I look for in a Dive Operator:
A good photo friendly dive operator will have proper space on their boats and at the dive shop for cameras. This includes a shock-free, covered space near the boat's aft and large, "camera only" rinse tanks. There should also be ample protected work and storage space in the dive shop area to prepare cameras for diving. The crew and captain should be trained to get the cameras to and from the divers at the start and end of the dive and store them properly until the diver can undress and tend to them. I also look for knowledgeable guides and captains who can cater to a diver\'s needs by being aware of favorable current conditions, visibility and marine life. Guides that are good in knowing habitat and location of special subjects are a real plus. Gung ho, swim-as-fast-you-can divemasters are useless to scuba diving photographers. Post viewing facilities are also a plus but not a necessity as I carry my laptop with me for post processing of images. But a room with a convenient and comfortable desk with outlets is a must.
Newsletter
Travel with us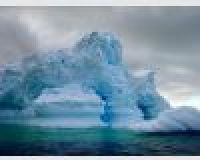 Antarctica
Plan Your Adventure >