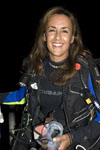 Information
United States
N/A
N/A
Michele\'s work in film production began in 1991 when she retired from a 19-year career as a pediatric nurse. In addition to taking underwater still photographs and authoring a children\'s book on sharks, she has co-produced 7 internationally broadcast, award winning, one-hour natural history marine wildlife television documentary films, including \"Shadows in a Desert Sea\" for the PBS series Nature (1992), the National Geographic Special \"Jewels of the Caribbean\" (1994), and the 5-part PBS series \"Secrets of the Ocean Realm\" (1997). In 2003 Michele produced \"Shark Mountain\" for the PBS series Nature and in 2004 she produced a film for the Tokyo Broadcasting Company about Belize as a World Heritage Site. Michele became involved with large format IMAX filmmaking in 1994 when she was a location manager for the first IMAX 3D underwater film \"Into the Deep.\" In 1998 she produced \"Island of the Sharks\", an IMAX film about marine wildlife behavior off the Pacific coast of Costa Rica, which was directed by her husband Howard Hall. In 2002 she was location manager and line producer for MacGillivray Freeman Film\'s \"Coral Reef Adventure,\" an IMAX film released in 2003 that documents coral reef ecology on the Great Barrier Reef, in Fiji and in French Polynesia. She appears in the film, along with Howard and their film crew, giving audiences the opportunity to see the reefs through her eyes and to witness the challenges that underwater large format filmmakers face in \'getting the shot.\' In 2005 Michele was a producer for the award-winning IMAX 3D feature \"Deep Sea 3D,\" a Warner Bros/IMAX production. Both \"Into the Deep\" and \"Deep Sea 3D\" are among the top five highest grossing IMAX 3D films ever produced by IMAX. In 2007 Michele began production on her third IMAX 3D film, \"Under the Sea 3D\" which will be released in 2009.
What I look for in a Dive Operator:
\"I\'ll take a competent and conscience ship\'s captain and crew over a chocolate on my pillow any day of the week. I also look for a dive operation that allows me the freedom to dive a \'responsible\' profile of my choice. Given the appropriate conditions, the willingness to set a stern anchor can be a real plus. I appreciate flexibility in dive schedules, and being able to stay at one dive site for a number of dives if the conditions are good and the photographic opportunities are plentiful.\"
Newsletter
Travel with us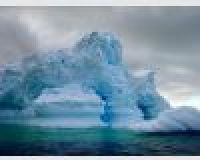 Antarctica
Plan Your Adventure >