Information
Canada
Photo
31 years
Destinations
# of Dive Trips Per Year
I have recently retired (almost) after 32 years in veterinary practice. My wife and I, dive buddies, have been diving together since 1987(about 1500 dives each) and now plan to dive more than ever. I have been taking photos for bout 18 years and digital for about 5 years. I have finally gone the DSLR route using a Canon XSi with a Seatool housing, 117-70 Sigma lens and 60 mm Canon macro and Inon 240 Strobe. All equipment from Ryan at Reef photo. So far I love it all. My photos are on my web site and also on www.dollyjeb.shutterbugstorefront.com.
I really enjoy the photo aspect of diving and got into it because both my wife and I are avid fish watchers. She has no use for a camera, underwater or otherwise, but she is a terrific spotter of fish and critters. She finds them I take photos and she keeps an eye on me, it works out great.
Recently we purchased a condo at Lighthouse Point on Grand Cayman. They are being built by Nancy and Jay Easterbrook of Divetech on Grand Cayman. So we anticipate more time there looking and photographing.
What I look for in a Dive Operator:
safety, freedom and photo friendly, knowledge equipment in good repair but doesn't have to be the latest and greatest. We prefer to do our own thing, including gear set up and rinsing and I think service, the kind where your tanks are carried and your gear set up is greatly over rated.
Newsletter
Travel with us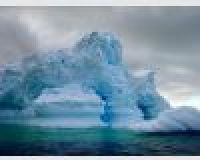 Antarctica
Plan Your Adventure >