Information
United States
Photo, Video
28 years
Annie Crawley has lived and worked around the world for the past 15 years from Indonesia to Galapagos, Belize to Papua New Guinea. Originally from Chicago, Annie now lives in Santa Barbara CA. Annie works as a producer, photographer, dive instructor, captain and educator. Her work has been published in magazines, Museums, Aquariums and environmental institutions worldwide. Her personal mission: \"To educate and create entertaining multi-media programs to stimulate and educate the world into protecting our oceans.\" Annie\'s recent work includes, Ocean Life from A to Z a book/dvd created with Reader\'s Digest Children\'s Book; Dive Into Your Imagination, a series of DVD\'s for children pre-K and up; The Camera Coach, Your Guide to Creating Underwater Video, the first ever instructional DVD teaching you how to shoot and edit underwater video; and Visions of the Sea, a DVD for all ocean lovers taking you on a journey around the world.
What I look for in a Dive Operator:
This might sound funny but I enjoy diving with operators that enjoy diving too. I like when dive operators know the behavior of the animals, can read the local currents, have tide charts available and dive according to conditions. I also like it when the operator can judge the group and stay with the divers that need attention and leave the experienced divers to dive. I like to be treated like the responsible diver that I am and relish in longer dives. I have spent many a days diving 90 minute dives all day long...these are my favorite! I also like it when we can dive the same site more than once! I like being offered five dives a day...with flexibility and fun!
Newsletter
Travel with us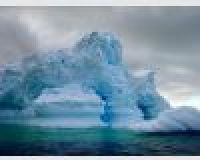 Antarctica
Plan Your Adventure >