Travel
The Vortex: Fast Boat to the Socorro Islands
Get up close and personal with the biggest and friendliest mantas in the world

When Pelagic Fleet announced the details of their new vessel, Socorro Vortex, last summer, the specs made for impressive reading. At 140 feet, the former Canadian coastguard vessel turned luxury liveaboard promised to be faster and better looking than anything currently on the market—and limit the number of guests to just 14 per trip—offering discerning divers the chance to dive the Socorro Islands and Guadalupe Island in the ultimate luxury.
The plans were as ambitious as they were exciting. In order to fulfill their promise and deliver one of the world's best diving boats, the team spent months 18 months redesigning and then completely overhauling the entire vessel from top to bottom, a process that CEO Jorge Cervera Hauser describes as the most challenging and interesting project of his career to date.
Originally scheduled to set sail in October 2018, the boat endured a number of setbacks and delays, forcing the team to postpone the launch several times, but finally, on April 13th this year, the Socorro Vortex finally arrived in Cabo San Lucas ready for her maiden voyage to the Revillagigedo Islands. I had the privilege of being one of the very first guests on board to see the final product in all its glory.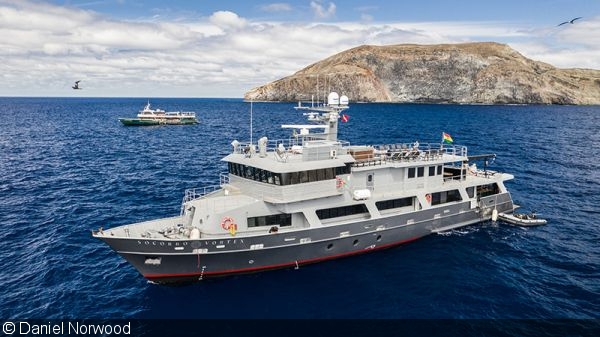 The spectacular Socorro Vortex alongside its sister ship, Solmar V, in San Benedicto
The Boat
Painted in shades of gray and black, the exterior of the Vortex looks a bit like a top-of-the-range navy vessel, built for exploration and adventure. Inside, an expansive lounge area resembles a boutique hotel lobby rather than a working dive boat, and it is clear to see the overall quality of the fixtures and fittings and the level of workmanship that went into the refit. Every guest room shares this same style and attention to detail, and the bathrooms in particular deserve special mention for their design and finish.
Below deck, twin 2,750hp engines and a Rolls Royce transmission with variable pitch propellers make the boat the quickest in its class, and a state-of-the-art nitrox compressor system fills tanks between dives at lightning speed. I was shown around the engine room, and like a kid in a candy store, I marveled at how shiny and expensive everything looked!

Aerial view of the boat and its sundeck and Jacuzzi

The Master Suite, behind the bridge on the upper deck, boasts a panoramic view, private access, sofa, walk-in closet, and a 70-inch TV

At the stern of the boat, a large dive deck has been built and every diver has their own dedicated station to set up their equipment and prepare for each dive. Underwater photographers will be happy to hear that every guest has their own camera station, too, with ample room to put together even the largest of housings, not to mention plenty of power sockets for charging batteries and other devices.
Other perks to make the trip even more enjoyable include complimentary wine and Baja craft beer, an espresso bar, a stainless steel Jacuzzi on the sundeck, and free satellite Wi-Fi for all guests on board for the duration of the trip.
After a full tour of the boat and its amazing facilities, all that remained on Day 1 was to sit down for dinner before putting the comfort of the bed in my deluxe cabin to the test. Regulars to liveaboard diving will agree that the quality of the food can sometimes make or break a trip, but like everything else on the Vortex, the delicious cuisine exceeded expectations.

San Benedicto Island, home to The Boiler and The Canyon
Diving in Revillagigedo
Having spent so long inspecting the new boat and all its amenities, I had almost forgotten why I was on board in the first place—to dive in Revillagigedo for the first time and experience one of the planet's finest dive destinations in ultimate comfort. I consider myself very fortunate to have been to the Galápagos twice, and in many ways this trip is similar. Remote and far from land, both destinations offer potential encounters with a plethora of large marine life, and I was keen to see how this trip would compare—and film all the action while I was at it.
Due to a few last-minute delays, we left Cabo slightly behind schedule, which, I suspect, simply gave the Vortex crew the perfect opportunity to test out the impressive speed of the vessel and her new engines. Normally, it takes around 24 hours to reach the islands, but after a comfortable overnight crossing and first night's sleep, we arrived at San Benedicto in just over 16 hours. We comfortably made up for lost time and the captain seemed very happy with his new boat and its performance.
As if to welcome the Vortex to its new home, a giant humpback whale and her calf greeted us on arrival by breaching multiple times in front of the boat. Although it is rare to see these giants on scuba, simply watching them from the surface is a sight to behold, and I took this as a great sign that the trip was going to live up to my ever-increasing expectations.

The best of the Revillagigedo Archipelago on board the Socorro Vortex
Big Manta Action
Our first full day of diving was spent at The Boiler, a large pinnacle that rises from 150 feet deep to within just a few feet of the surface, and watching the water froth and bubble in the shallow water, it is easy to see how this famous location got its name.
Underwater though, things were a lot more calm, and the visibility as good as it gets. Famous for close encounters with giant manta rays, the site is the reason many travel so far to come to these islands. I had heard stories about how the mantas in Socorro regularly interact with divers and enjoy the sensation of air bubbles on their bellies, and the action at The Boiler didn't disappoint. To have such huge animals hovering effortlessly above you for minutes at a time is a unique experience, and one that the locals have appropriately named "the manta sombrero"!

Another manta flyby at The Boiler
Chasing Elusive Hammerheads
After some epic manta action at The Boiler, we traveled overnight to the archipelago's most remote dive site, Roca Partida. Although not much to look at from the surface, underwater it is a completely different story. Schools of fish in their thousands and various pelagic species seek shelter from the open ocean at this lonely pinnacle, and it is possible to encounter hundreds of hammerheads, whale sharks, and if you are very lucky, even humpback whales. Every dive at the rock follows the same profile; you just have to hope something amazing swims by!
Unfortunately, I'm not sure I got to experience this legendary dive site at its very best, although it was still awesome to see the large groups of whitetip reef sharks that gather in any crevice or hole on the vertical wall. Occasionally, silky sharks, tuna and the small groups of hammerheads would pass by, but everything kept its distance, making filming the action very difficult. There was plenty of activity away from the wall to indicate that on a good day, Roca Partida is a world-class dive site, but sadly, it just wasn't at its best during this trip. Of course, that's just the way it goes sometimes, but it provided at least one great reason to return one day and try again…

Dolphins seek out interactions with divers at many dive sites in the Revillagigedo Islands
Sharks, Please
Later, we set sail for the largest land mass in the archipelago, Socorro Island, to dive at Cabo Pierce. This site is a long, thin stretch of land on the east side of the island that is exposed to strong ocean currents, attracting large amounts of pelagic marine life. All of the usual suspects can be found here, but the area is most well known as a great place to encounter pods of bottlenose dolphins—which are incredibly curious and inquisitive.
My guide Mathias had warned me previously that the dolphins in Revillagigedo often create safety concerns for the crew by causing people to completely forget about their dive profile and go too deep, and at the end of the third dive of the day I learnt why. I was low on air and had already started my ascent when a number of dolphins suddenly appeared below me, with one individual in particular coming in for a much closer look. Eager to capture this moment on film, I spent a few magical minutes swimming with the group before realizing I was heading in completely the wrong direction and reluctantly ending the dive.
With some nice shots of mantas and dolphins in the can, the only thing really missing from my video wish list was some good shark action. Don't get me wrong, I had already seen plenty of sharks, but none had really come close enough to get great images. This quickly changed back at San Benedicto at a dive site named The Canyon. Once again, the mantas were present, but the highlight of the site was an action-packed cleaning station visited by numerous silvertip and Galápagos sharks, which passed within touching distance time and time again. As if that wasn't enough, back at the Vortex, a number of large silky sharks had gathered beneath the boat, making for some epic surface interval snorkeling and even more filming opportunities.

The beautiful silvertip shark, hard to find in most places but abundant in Socorro
Yes, "The Myth Is Real"!
The last few days of the trip were spent repeating the superb dives at The Boiler and The Canyon, where the marine life was most prolific and the action always predictably excellent. I was blown away by the number of close encounters with mantas, dolphins and sharks I was able to experience in just one week. But perhaps the best thing about the Vortex is the limited number of guests on board and how this dramatically improves the enjoyment of every encounter. No other boat offers the chance to dive in such small groups, and for many people, this detail alone will be worth the extra cost of the trip. Combine this exclusivity with first-class accommodation, gourmet food, and an amazing crew, and it's safe to say Pelagic Fleet are on to a winner.
Although it took them a little longer than anticipated to get the boat in the water, Jorge and his team have achieved exactly what they set out do, and are now offering guests an unparalleled experience aboard the Socorro Vortex in two of the most exciting dive destinations in the world. Congratulations, guys, for all your hard work and perseverance—it was most definitely worth it!

An encounter with a sleeping stingray on a checkout dive
Planning Your Trip to Socorro
How To Get There: Socorro Vortex Socorro Islands trips depart from Cabo San Lucas, which is a 45-minute drive from Los Cabos International Airport in San José del Cabo, on the southern tip of Mexico's Baja California peninsula. Airlines flying directly to the city include American, Aero Mexico, Delta, Continental, United, and Southwest.
When To Go: The best time to go is November through June, which is the period when the Socorro Vortex itineraries are organized. (For the remainder of the year, the liveaboard is at Guadalupe Island for the great white sharks.)
Accommodation: The Socorro Vortex's accommodations range from Luxury Staterooms, through Junior Suites, to the Master Suite. Each Luxury Stateroom and Junior Suite has a private bathroom and twin single beds that convert into a king, while the former has a 22-inch TV and the latter has a 40-inch TV and additional storage space.
Diving: The ocean temperatures usually range from 78–82°F (26–28°C) in November, 70–74°F (21–23°C) in February and March, and 76–80°F (24–27°C) from April to June. A 5mm wetsuit is recommended in the warmer months, while a 7mm might be more comfortable in the cooler months, when thermoclines can also occur. The Socorro Vortex is a nitrox-only vessel, and the gas mix is complimentary.
Charges: Socorro Islands trips include all port fees, fuel surcharges, national park fees, nitrox, wireless Internet, all meals and snacks, all beverages (including alcohol), tanks, weights, and air fills.
Information: www.vortexliveaboard.com and www.pelagicfleet.com.

Waking up early is worth it for the daily sunsets—and dolphins

---

For more of Daniel's work, make sure to visit his official website or "like" his Facebook page. Daniel, who is now a DPG Photo Editor, was also previously featured as Photographer of the Week.
RELATED CONTENT Apr 23, 2021 8:18 PM
Sandy Queenta
wrote:
<a href="https://megacanabisdispensary.com/product/icecapz/"> Where to order icecapz online?</a>
<a href="https://megacanabisdispensary.com/product/jungle-boys-strains/"> Best place to buy jungle boys.</a>
<a href="https://megacanabisdispensary.com/product/king-pen-gelato-500mg/"> Are you looking for king pen gelato?</a>
<a href="https://megacanabisdispensary.com/product/krt-carts/"> Best krt carts near me.</a>
<a href="https://megacanabisdispensary.com/product/lions-breath-carts/"> Best lions breath carts near me.</a>
<a href="https://megacanabisdispensary.com/product/lsd-drug/"> Ultimate lsd drug online.</a>
<a href="https://megacanabisdispensary.com/product/smart-carts/"> Where to buy smart carts online?</a>
<a href="https://megacanabisdispensary.com/product/skyhigh-carts/"> Best skyhigh carts online.</a>
<a href="https://megacanabisdispensary.com/product/smartbud/"> Ultimate smartbuds.</a>
Newsletter
Travel with us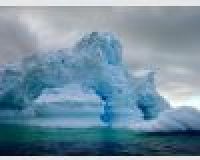 Antarctica
Plan Your Adventure >
Featured Photographer
Henri Eskenazi
Expert Photographer
Henri Eskenazi is a professional photographer with over 50 000 images from 140 different countries all over the world. He works as a free-lance photo-journalist for several magazines and teaches underwater photography at the...