Travel
Macro and So Much More: Diving Anilao with Aiyanar Resort
A pair of Coleman shrimps (Periclimenes colemani) holds hands in their host fire urchin

As I was packing for Anilao and dreaming of all the super-cool critters my macro lens would soon encounter, this self-proclaimed wide-angle addict was wondering if I could get through a whole week without shooting my beloved reefscapes.
But little did I realize that aside from being one of the hottest macro spots on the planet, the incredibly rich and biodiverse waters of Anilao offer so much more than the abundant macro life it has become famous for. The surrounding reefs of this marine protected sanctuary are colorful and bursting with life, including gorgeous soft corals, swarms of vibrant anthias, schooling fish, turtles, and so much more…
Located amongst the lush green hillsides of the Calumpang Peninsula, Anilao is a barangay on the island of Luzon in the Batangas province of the Philippines. Only two-to-three hours' drive from Manila, Anilao is an easily accessible diving paradise. With over 50 dive sites including black sand muck sites, drop-offs, pinnacles and sloping reefs, you will be spoiled for choice—and thankful that you didn't leave your wide-angle lenses at home.

A healthy and diverse variety of corals awaits every wide-angle lover in Anilao
Affordable Luxury and Outstanding Service
While there are many places to stay and dive in Anilao, Aiyanar Beach & Dive Resort stands out for its winning combination of style, comfort, value and service. From the moment you're greeted at the airport until the minute you depart, you are made to feel incredibly welcome and are treated like family. Each staff member greets you with a warm smile as they ask how they can make your stay even better.
Ranked one the world's top 10 dive resorts in the 2017 Dive Travel Awards, Aiyanar provides a range of luxury accommodation at excellent value. Propped up on the lush green mountainside, the resort offers guests stunning panoramic views over Balayan Bay. Guests can also enjoy a beautiful infinity pool, incredibly delicious food, and many great ways to spend surface time—including some wonderful, affordable massages.
The dive facilities at Aiyanar—including gear storage, briefing area, classroom and large camera room—were definitely created with the underwater photographer in mind. Their spacious boats are fast and comfortable (much more so than the typical bangka-style boats other operators use) with towels, hot drinks and snacks provided on surface intervals. The seasoned dive guides tailor the dive plan to each guest's skills, desires and photography goals to ensure that everyone goes home happy and with an amazing portfolio of images.

Aiyanar is beautifully situated and guests enjoy fabulous views over the bay

A comfortable bed after an exhausting day's diving
From Critters to Colorful Crinoids
You don't need to look too far down the thread of any popular underwater photography forum or group Facebook page before you see awesome images from Anilao of all the hottest macro subjects on everyone's hit list, including pygmy seahorses, frogfish, octopuses, a wide variety of shrimps and crustaceans, cuttlefish, pipefish, scorpionfish, nudibranchs—the list goes on and on.
And while Anilao is a certainly a macro lover's mecca, there is a wide variety of exciting wide-angle subjects not to be missed, from colorful crinoids, gorgonians, barrel sponges, and anemones, to a gorgeous variety of hard and soft coral, swarms of anthias, schooling fish, turtles, and more. You will be very glad you decided to take your macro lens off for (at least) a few dives.
Dive sites are about 10 to 30 minutes by boat, which is an enjoyable way to take in the beautiful bay, jungle landscapes and bustling local villages. Aiyanar typically runs two tank dives in the morning before returning for lunch and then going back out for an afternoon or night dive, or both. And it's safe to say that no trip to Anilao is complete without at least a couple of night dives—when macro spotting is at its best!

A variety of exciting species of octopus, such as this Abdopus aculeatus, are commonly found in Anilao, especially on night dives

A whitebar filefish (Paramonacanthus choirocephalus) is perfectly camouflaged in its host crinoid

A commensal crinoid shrimp (Laomenes sp.) blends perfectly with its matching crinoid, making for an exciting yet challenging macro subject

Secret Bay, otherwise known as "Mainit Muck," is one of the most famous black sand muck slopes in Anilao with amazing critters to be found anywhere from 15 to 70 feet. Divers are advised to go very slow and look closely as the best finds are masters of disguise. Muck gems include juvenile filefish, crinoid shrimps, octopuses, flying gunards, ghost pipefish, spearing mantis shrimps, and so much more.
Matu is another black sandy slope at the base of a steep rock that breaks the surface. Here you can find a wide range of exciting nudibranchs, scorpionfish—including the Devil's Walkman (Inimicus didactylus)—and a vast carpet of fire urchins, home to photogenic finds such as Coleman shrimps, urchin shrimps, and zebra crabs.

A redline Flabellina nudibranch (Flabellina rubrolineata) moves across the black sandy bottom at Matu

A Brook's urchin shrimp (Allopontonia brooki) is one of three exciting potential residents—along with Coleman shrimps and zebra crabs—found in colorful fire urchins

A pygmy seahorse (Hippocampus bargibanti) measuring about half an inch is much easier to capture with a macro wet lens

Sombrero Island is a small uninhabited island at the eastern tip of Tingloy Island that resembles a hat (hence the name). This is an amazing area for wide angle, with gorgonians, colorful soft coral, anenomefish, and masses of anthias making for fabulous subjects, along with a wide variety of more transient marine life such as snappers, jacks, grunts, rays and turtles.
Apple Point could be best described as a "reef-y muck dive." Big sandy patches are broken up by larger bommies hosting an incredibly rich and diverse number of photographic subjects, including frogfish, ribbon eels, cuttlefish, crinoid shrimps, juvenile harlequin sweetlips, and a wide variety of nudibranchs.

A painted frogfish (Antennarius pictus) is positioned for the perfect photo op at Red Rock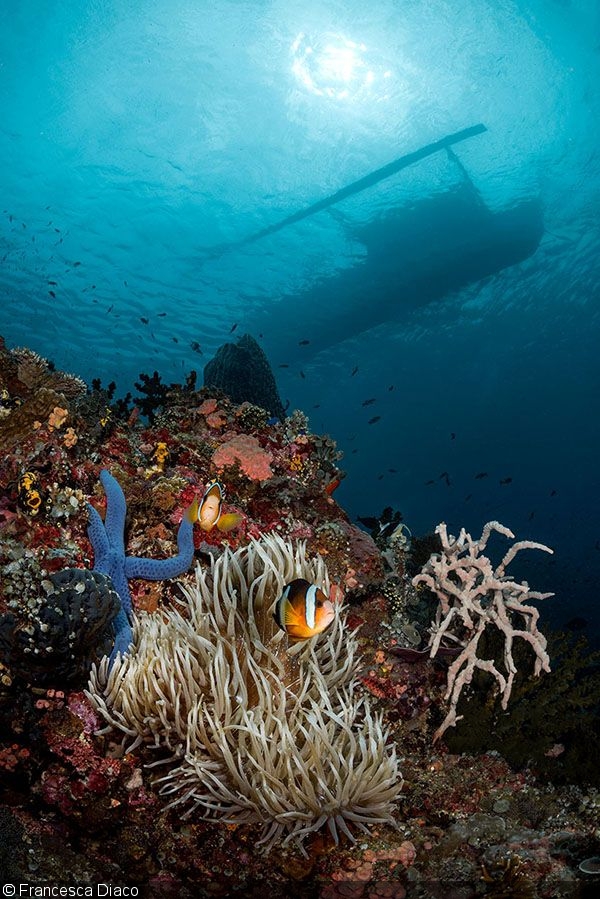 A pair of Clark's anenomefish (Amphiprion sandaracinos) sit beneath a traditional bangka at Sombrero Island
Underwater Shooting Tips for Anilao
Given Anilao's well-earned macro reputation, you should bring your full set of macro lenses as well as any wet lens diopters that may be in your kit bag. Don't forget your strobes, snoots, focus lights and a good night dive torch (as it will likely get plenty of use). And while Anilao is renowned for its macro life, it is so rich in biodiversity that you should definitely bring your dome and fisheye lens so you don't miss the jaw-dropping wide-angle opportunities.
Some sites are clearly suited for macro (such as the black sand muck sites) while others are better for wide-angle, so be sure to ask your guide about your dive plan so you come well prepared. And since there is so much to see and shoot, it is wise to take a beat and remind yourself to move slowly and shoot thoughtfully to avoid stirring up the bottom and scaring off or stressing your subjects.

A blue ribbon eel (Rhinomuraena quaesita) stands its ground at Apple Point

Anna's Chromodoris (Chromodoris annae) is one of the most prolific species of nudibranch found in Anilao

When shooting macro, look for interesting angles and clean backgrounds that will accentuate your subject—clean coral patterns and black, blue and solid color backgrounds will really make your images pop. Capture the eye in tack sharp focus and fill at least 25–30% of the frame with your subject, so the viewer can clearly see the subject. Use wet lenses to achieve the most magnification possible—the more detail you capture, the better. Finally, light your image in a way that really highlights your subject—snoots for your strobes can be a really powerful tool.

A pair of ceram blennies (Salarias ceramensis) take shelter in an algae-encrusted tin can at Mini-Log

A male yellowbarred jawfish (Opsistognathus sp.) clutches eggs in his mouth

When shooting wide angle, be sure to shoot at an upward angle and try to frame your subject in blue water—this leads to a more dramatic composition and adds contrast and context to your image. Get as close to your subject as possible to allow for better exposure and lighting, which will also add more color and contrast to your image. Finally, consider incorporating an additional compositional element such as a sunburst, bangka or diver, which will give your images extra impact.
Anilao's reefs are full of life and color, making it a very easy decision to pry off your macro lens for at least a few dives

A broadclub cuttlefish (Sepia latimanus), which changes its colors and patterns, is always a rewarding photo subject

As I was wrapping up my exciting week shooting in Anilao, I reflected on my time at Aiyanar—the comfy rooms, delectable meals, incomparable service and new friends made—and I was already certain that I would be back again soon. Aside from my exceptional experience at the resort, I was truly awed by the incredible diversity of the region. And while I did spend a lot of time shooting the coolest macro critters around, my fisheye lens produced many portfolio-worthy images—which certainly gave this wide-angle addict her fix.

It's not only about the muck—color and biodiversity are hallmarks of Anilao's reefs

---
About the Author: Francesca Diaco is a professional underwater photographer based in Roatán, Honduras, and the owner/operator of Roatán Underwater Photography, which specializes in personalized underwater photography training for all levels, including one-on-one mentoring, group classes, weeklong workshops and online training. She also runs Fisheye Expeditions, which offers underwater photography expeditions to some of the world's best diving destinations as well as customized gear advice and sales. Shooting professionally since 2006, Francesca is a Field Editor for DivePhotoGuide and publishes in a number of international magazines, websites and blogs. Visit www.francescadiaco.com for more information and a full portfolio of images.
RELATED CONTENT
Be the first to add a comment to this article.
Newsletter
Travel with us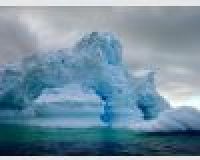 Antarctica
Plan Your Adventure >
Featured Photographer
Carlos Hiller
Expert Photographer
Carlos Hiller, 34 years old, is an artist dedicated to the painting of submarine seascapes. His paintings have traveled to diverse places all around the world- with individuals and art collectors who have bought his works. His...