Travel
An Underwater Photographer's Guide to Tubbataha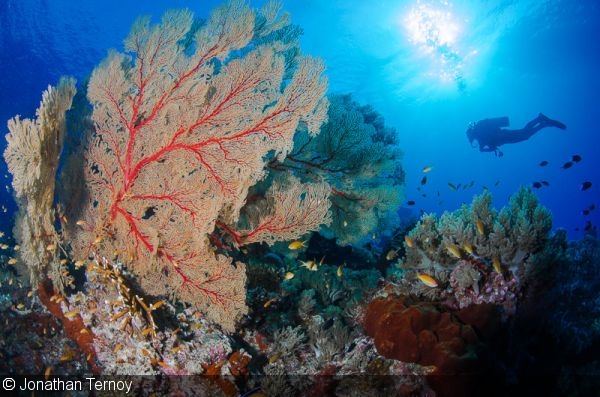 Tubbataha is a national park located in the heart of the Coral Triangle in the Philippines' Sulu Sea. 
It's made up of three atolls and is home to 360 coral species, 600 species of fishes, and 19 species of rays and sharks. Far from civilization, the area is protected both from fishing and excessive diving, and is open only four months a year. The result is an unspoiled environment and the perfect playground for the underwater photographer.

Tubbataha's pristine reefs are some of the healthiest in the region
Diving in Tubbataha
Tubbataha dives are mostly done on dramatic walls, with a plateau starting from 10 feet featuring stunning soft coral gardens teeming with life. Down the wall you'll find giant gorgonians, sea fans, barrel sponges, and constant coverage of soft coral, while out in the blue, you can find sharks and rays cruising.
The current can range from zero to strong and can sometimes change direction a few times during a single dive. Drift diving allows you to cover a large part of the reef, with the current getting stronger as you reach the corners.

Wall dives reveal an incredible array of soft coral, sea fans and sponges
Tubbataha Facts
Where: Cagayancillo, Palawan, Philippines
Language: English is widely understood
Currency: Philippine pesos
Time Zone: UTC+8
Water Temperature: 75–85°F (26–29°C)
Air Temperature: 70–85°F (21–29°C)
Visibility: 60–150 feet
Diving/Photography Experience Level: All divers and photographers can enjoy the diving in the atolls in their own way

A manta ray flies overhead for a nice sunburst
Underwater Photography Subjects in Tubbataha
There's a huge variety of photographic subjects in Tubbataha, what images photographers come home with depends on the interests of the individual. The soft and hard coral gardens, gorgonians, sea fans, and schools of reef fish make this a great destination for seascape photography. In the shallow waters, you can take advantage of the natural light and capture beautiful light rays.
Schools of jacks, barracuda, snappers, sweetlips, rainbow runners, and other kinds of reef fish give you lots of possibilities to incorporate different elements into a single image—and mean you'll never have to leave any empty blue in your frame.

A school of jacks at the Delsan Wreck

Reef sharks are present on every dive at Tubbataha, while you've got a good chance of crossing paths with rarer subjects such as manta rays, hammerheads, whale sharks, silky sharks, nurse sharks, guitar sharks, silvertips and tiger sharks. As Tubbataha is a protected area and open only partially during the year (with feeding forbidden), sharks are not used to divers. These toothy subjects are very shy, and you'll find it difficult to photograph them close up.
Night dives provide an ideal opportunity to switch to a macro setup. At the same time, it's a great time to photograph cleaning stations with sweetlips, snappers, or bumphead parrotfish having a nap. Common macro subjects here include candy and porcelain crabs as well as skeleton, emperor, and crinoid shrimps.

A candy crab in its soft coral home
Photo Equipment for Tubbataha
DSLR users will make full use of their wide, fisheye or rectilinear lenses, but you should take something more mutlifunctional if you want to have a shark in your frame—a 16–35mm, 17–35mm, or 16–70mm would be a good option. For compact users, a wide-angle wet lens would be an excellent choice to take advantage of the soft coral seascapes. Include a macro lens and port in your kit if you wish, but only if you can spare the room—you probably won't get much use out of it.
As there is almost no land (except the bird sanctuary, which is protected and cannot be reached), there are very few topside photography opportunities to be had in Tubbataha. However, a telezoom lens for birds flying close to, or landing on, the boat could produce some stunning avian images.

Little planet of black rock: Sweetlips hang out at their cleaning station
Tips and Techniques
Be patient and observe the reef moving, including the schools of anthias, glassfish or other reef fishes moving around the coral. Steady your breathing and slow your approach to prevent them from hiding in the coral. Observe the scenery you want to incorporate in the image and prepare the settings before your approach.
Don't spend too much of the dive at lower depths, as the best opportunities often lie in the shallows. If you were to spend most of the dive in the deep, you'd soon regret it when you discover the light and color to be found at the reef's plateau region.
Be patient and don't spend half your dive on the first spectacular gorgonian you see; 
there's a good chance that a little further down the reef there might be an even more impressive formation with more life—or a surprise encounter waiting to happen. The more of the reef you can explore on a single dive, the more likely you are to find and photograph a perfect moment. Having a slight current actually helps you cover more distance with less effort.

The giant of Tubbataha: Making use of Snell's window

Tubbataha is wonderful in terms of its biodiversity, healthy corals and possible encounters with pelagics. But this is by no means a place where hammerheads, silkies and wall of gray reef sharks are guaranteed; if you're expecting the shark image of a lifetime, you might come home disappointed. Still, Tubbataha is a magical place where almost anything can happen at anytime. More than one photographer has forgotten to use their camera and just enjoyed the dive experience…
Planning an Underwater Photography Trip to Tubbataha
When to Go: The park is accessible from March to June.
How to Get There: All liveaboards traveling to Tubbataha leave from Puerto Princesa (Palawan), which is a direct flight from Manila or Cebu.
Entry Requirements: Philippines gives most nationals a free 21-day visa on arrival and you can get an extension through the immigration office.
Money: You can find ATMs in Puerto Princesa, but depending on your bank, there is a limited amount of pesos you can take out per day.
Health and Vaccinations: There are no mandatory vaccinations needed to enter the Philippines.
Nearest Recompression Chamber: Cebu or Manila
Who to Dive With: Seadoors provides a good balance between quality and service. Pierlo, the owner, is always on the boat and for him, it's less a business than a passion. Experienced divers will enjoy a great degree of autonomy, which is great for photographers.

RELATED CONTENT
Be the first to add a comment to this article.
Newsletter
Travel with us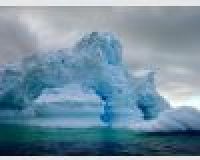 Antarctica
Plan Your Adventure >
Featured Photographer
Matt Oldfield
Expert Photographer
Matt Oldfield is part of the growing Scubazoo team, based in Kota Kinabalu, Sabah, Malaysia, and runs the publications side of all things Scubazoo - writing articles, working on books and attempting to sort out the ever-growing...