Travel
An Underwater Photographer's Guide to Tiger Beach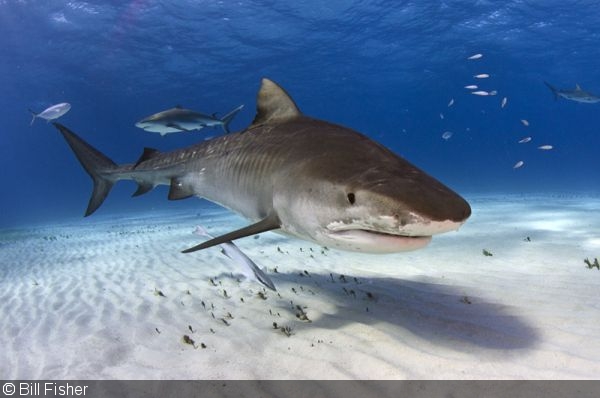 In the northern reaches of the Bahamas there's an area that's famous for its tiger shark encounters. The aptly named Tiger Beach is considered by many to be one of the best shark dives in the world. Due to the variety of dive sites and extraordinary encounters available with a variety of species, it's a shark diving paradise.
Diving at Tiger Beach
You can dive Tiger Beach from a short list of U.S. based liveaboard vessels, or join a day boat operator based on Grand Bahama Island. Depending on your preference, each option has its benefits. Liveaboard trips will allow more time in the water with the sharks, while land-based trips offer the comforts and privacy of a hotel room each evening.
Dive sites can vary from shallow sand flats to deeper reefs, with depths ranging from 15–100 feet. These are baited, cageless shark dives, so advanced certification and familiarity with large predators is recommended.

Tiger Beach provides up-close encouters with a variety of sharks, including lemons, tigers and reef sharks

Destination Facts
Where: Grand Bahama Island, Bahamas
Language: English
Currency: U.S./Bahamian
Time Zone: U.S. Eastern
Water Temperature: 70–85°F (21–29°C)
Air Temperature: 70–100°F (21–38°C)
Diving Experience Level: Advanced certification recommended
Photography Experience Level: Beginner to pro

Tiger sharks are the main stars, and being comfortable diving with large predators is a must to produce good images
Photography Subjects at Tiger Beach
The main attraction on these trips are the sharks, more specifically, the "ladies" of Tiger Beach. The majority of tiger sharks encountered are female. They vary in size from small juveniles to mature adults. Some of the sharks you may dive with can be up to 16 feet, or larger. Species likely to be encountered are: tigers, lemons, Caribbean reef sharks, nurse sharks, and in the winter months the occasional great hammerhead.

There are not many (if any) places in the world where you can capture three tiger sharks in a single frame

In addition to tiger sharks, there are tons of reef sharks attracted by the food. When you get bored of shooting tiger sharks, turn your attention to the several other species lurking around the site
Underwater Photography Equipment for Tiger Beach
Tiger Beach is an excellent location for any type of photography or videography. The sharks are large, and come in close proximity to divers. A DSLR and housing with strobes is preferable, but you can also do well with a compact camera or even GoPro video. On a good day, you can have as many as 10–12 tiger sharks, or more.
In terms of dive equipment, the first thing you'll need to know about the diving and photography at Tiger Beach is the need to overweight yourself. These dives are conducted on the bottom. If you use the same amount of weight you normally wear, you'll be struggling to stay down, and/or rolling in the current or surge. A divemaster will control a bait crate, which the sharks will be attracted to. In order for you to remain stationary, you'll need to wear more weight than you would for a "normal" scuba dive.
You can start with an additional 8–10lbs (or less, depending on wetsuit thickness), and then add/subtract from there. It's also a good idea to bring your own weight belt. If you use a recreational BC with integrated weight pockets, make sure your pockets can support the additional weight. Dive gear should be black or very dark, and include a full wetsuit, hood, and gloves for safety.

Although the diving is "easy," it's important to be weighted down so that you stay cemented in the sand
Photography Techniques and Tips for Tiger Beach
The most important photography tip for Tiger Beach is to pay attention to the sharks. Don't get lost in your camera. You must be continually aware of what's going on around you, above you, and behind you. You will be diving with tigers, and other large sharks. Avoid touching the sharks unless absolutely necessary. Use common sense and smart diving practices.
A small, but crucial detail: Don't attach your camera to your body in any way, or use any type of wrist lanyard. Sometimes the tigers get inquisitive with cameras and have been known to take them from divers. This is a rare occurrence, but it does happen. If a tiger shark decides it wants your camera, don't give up a fight, release it to the shark and stay put. Chances are the shark will drop it fairly quickly. If your camera is taken, allow a divemaster to retrieve it for you.

This is one of those situations where shooting "from the hip" produces the best (and safest) results. You don't want to be stuck in your viewfinder with all those sharks around

Once at the bottom, the group of divers will be assembled in a line, and you'll be expected to stay in your spot. You'll quickly learn that the sharks will come to you, so you don't need to chase after them to get your shots. You'll have plenty of opportunities.
When the time is right, review your images, make adjustments, then go back to paying attention to the sharks while you look for your shots. You may find you'll have better luck if you "shoot from the hip" and place the camera where you'll get the best angle. Try using "thumb focus" if your camera has that option. It's usually the AE or AF lock button assigned to focus.
Depending on which operator you dive with, you may have the opportunity to do some night dives. It's a fantastic experience that only happens when the conditions are just right. It's good to be prepared for a night dive, but it shouldn't be expected.

Night diving is a real treat at Tiger Beach: You'll likely encounter quite a few lemon sharks and a friendly tiger shark, if you're lucky
Topside Photo Opportunities
Bring an additional camera for topside shots of lemon and reef sharks. A tele-zoom lens is ideal for capturing the action from the boat. Consider a camera dry pouch bag if you plan to get closer to the water. If you opt for a land-based trip, you may have the opportunity to explore Grand Bahama Island.

Don't leave your topside lenses at home! There's plenty of action to be captured at the surface between dives
Planning Your Trip to Tiger Beach
When to Go: Year round
How to Get There: Florida-based liveaboard
Flights: International flights to Grand Bahama/Freeport (FPO)
Entry Requirements: Passport
Tipping: Crew gratuity 15–20 percent
Connectivity: Possibly when land based, but not on liveaboard
ATM Access: Not likely; bring necessary cash for emergencies and crew gratuity
Emergencies (AKA hyperbaric chamber): Nearest location in Nassau, Bahamas. DAN Dive & Trip Insurance recommended

RELATED CONTENT
Be the first to add a comment to this article.
Newsletter
Travel with us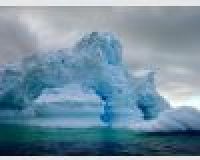 Antarctica
Plan Your Adventure >
Featured Photographer
Bruce Mozert
Expert Photographer
Bruce Mozert was born in Newark, Ohio on November 24, 1916. He had two sisters, Zoe Mozert (a famous pin-up artist) and Marsha (who did some hand modeling for Ponds Skin Cream). Bruce came to Florida in 1938 after leaving New...