Travel
An Underwater Photographer's Guide to Taiwan
Diving in Dabaisha: The bottom here is at 130 feet and the visibility is excellent
Taiwan may not be a well-recognized tourist destination, but it's an island with amazing nature both on land and—more importantly—underwater. Diving just an hour north of Taipei in the Longdong area, you'll find an array of macro subjects in the summer. At the southern tip of Taiwan, the Kenting area offers diving year-round, but if you have the opportunity for a few more days then Green Island is an absolute must, with bustling fish life and the world's oldest coral head.
About Taiwan Diving
Most of the diving is done from the shore, even though boat dives are available in Kenting and at Green Island. The Taiwanese diving season is primarily in the summertime (July–October). During the winter season, the waves on the northeast coast are far too large to allow for diving.
Typhoons can occur between July and October. If they hit directly, flights and work are suspended, but usually not for more than for 24 hours. It's more of a concern for underwater photographers, as it takes a few days for waters to clear and the waves to calm down, but there are often dive sites that can still be accessed.
Accommodations are often quite basic and very affordable, making Taiwan a great "bang for your buck" for underwater photographers. Mandarin Chinese is the main language, and you cannot assume everybody speaks English (but all of the dive operators cited here can accommodate English speakers).

Whip coral goby at Gonguanbi, north coast
Longdong: Northeast Taiwan
Longdong bay is an hour's drive from Taipei on the northeast cost. The dive season here lasts from May to September. In the springtime, the ocean can be a bit chilly—23–25ºC (~74–77ºF)—but the summer temperature is a balmy 26–27ºC (~79–81ºF). The visibility is less than ideal, which is a pity since the dramatic rock formations here make for an impressive underwater seascape.
There is some coral growth, but in general it is a more temperate water environment. There are several dive sites in Longdong bay (Site 1–4) and the nearby dive site "82.5" is usually a very productive site for photographers. From July onwards, some dive operators make "squid nests" from fresh bamboo branches. After only a few days, squid (measuring 8 to 25 inches) start laying eggs in the bamboo construction. The bamboo also attracts other macro marine life like small fish, shrimp, crabs and nudibranchs.
Dive with Scuba Shop Taipei (email).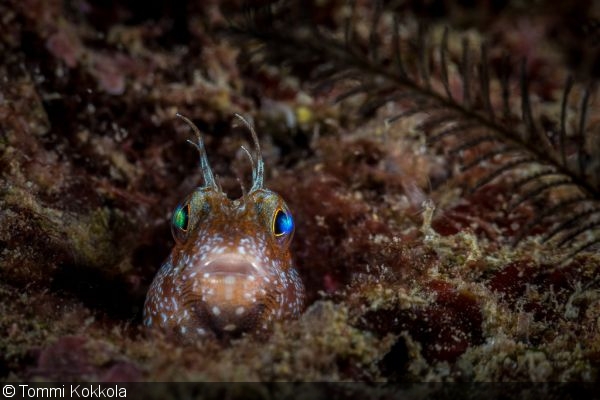 A blennie at the "82.5" dive site

Squid nesting at the Longdong Dive Site 2
Diving in Kenting
The southern tip of Taiwan offers many great dives, most of which are done from the shore, but boat dives are also available. These easy dive sites are perfect not only for underwater photography, but also for PADI training.
Diving is possible year round, but much less popular in the wintertime due to the cold temperatures. By contrast, water temperatures can soar to 29ºC (~84ºF) in the summer. The boat dives just outside of the harbor at Soft Coral Garden are very easygoing and exceptionally pretty. Beautiful reefs with one coral bommie after another provide endless wide-angle photo subjects.
In addition, dramatic rock formations are among the popular nearby boat dive sites. From the shore, interesting critters can be found when the visibility deteriorates at more of "muck diving"-type sites.
Even flamboyant cuttlefish can be found at the "82.5" dive site

A porcelain crab and anemonefish at Soft Coral Garden
Diving at Green Island
Green Island (Lydao) provides the best diving and underwater photography opportunities in Taiwan. Green Island is located in the southeast of Taiwan, in the Pacific Ocean, about 20 miles from the city of Taitung. Waters are usually very clear, often with visibility of more than 100 feet. Water temperatures are similar to Kenting (24–29ºC, ~75–84ºF) due to the warm Kuroshio current.

Gonguan village

Most of the shore dive sites are protected from the current and offer very easy diving, but there are also sites with fierce currents and richer marine life. Boat diving is available as well. Whatever the wind direction, there are always sites protected from the waves and available for diving. Diving is possible year around, but the whole island is very quiet during winter, and fewer visitors also means fewer open restaurants. Summertime ferries depart hourly from Taitung, and the whole place is chock-full of tourists scooting around the 10-mile-long main road around the island.
The Shihlang dive site is located just south of the main village and ferry harbor on the west coast. The water here is clear and coral growth is healthy and abundant. Even though the area is now protected from fishing, there are not a lot of mid-size or bigger fish. Still, most common tropical fish can be found in the area, making this a great place for fish portraits or wide angle.

Coral bommie at Green Island's Shihlang dive site

If you are ready for bit of a swim, about 500 feet out and at a depth of about 60 feet, you'll find the "giant mushroom"—which lays claim to being to be world's oldest coral head. There is usually abundant fish life around the coral head and specifically, the big school of damsels at the top is worth an image or two.
The area from Dabaisha to Mati Bridge offers very dramatic scenery and is good for both shore and boat dives. Bear in mind, however, that currents here can be quite strong. Close to shore you will find small caves and canyons for nice wide-angle shots. Deeper, you'll find big gorgonian sea fans.

The giant mushroom at Shihlang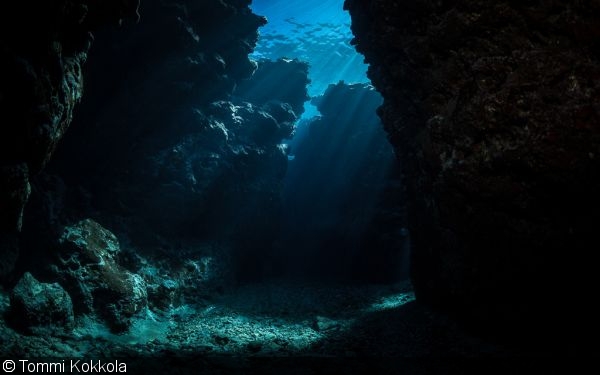 Underwater canyons near Mati Bridge

Chaikou, on the north coast, is also protected from fishing. The scenery here is very different from the west coast. You'll find much more green algae and much less colorful corals, but it is a great place to hunt for nudibranchs. Perhaps an even better place on the north coast is Gonguanbi. Just a short swim from the shore, you'll find many interesting creatures in a small area. In the shallow protected areas, you can just move a few feet to find the next nudibranch, small crab or shrimp. There's even the occasional Pontoh's pygmy seahorse. General Rock, on the other side of Gonguan village, offers very similar diving.

A halimeda crab, General Rock

Green Island has also been famous for its winter hammerhead dives, but is seems these have stopped since hammerheads have not been seen for the last few years. The dives are also considered too dangerous due to ripping currents and big waves at the site.
The ferry from Taitung to Green Island takes an hour and the dive center picks you up from the harbor. The handful of hotels at Green Island are quite basic, and my recommendation is to try one of the easily available home-stays close to the dive shops. You'll also need a scooter to move around the island. Blue Safari can help you with all the practical arrangements and bookings.
Dive with Blue Safari (email).

A tomato anemonefish at Shihlang in late afternoon light
Destination Facts
Where: Northeast and southern Taiwan
Language: Mandarin Chinese, some English
Currency: Taiwan new dollar
Time Zone: GMT+8
Water Temperature: 72–84ºF (22–29ºC)
Air Temperature: 50–104ºF (10–40ºC)
Diving Experience Level: From beginner onwards
Photography Experience Level: From beginner to professional

---

Tommi Kokkola is an underwater, nature and travel photographer based in Taipei, Taiwan. For more underwater Taiwan, see visit Tommi's official website.
RELATED CONTENT
Be the first to add a comment to this article.
Newsletter
Travel with us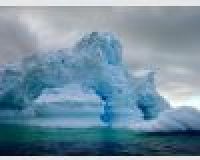 Antarctica
Plan Your Adventure >
Featured Photographer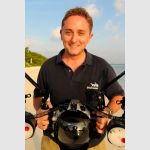 Christian Loader
Expert Photographer
I've been working for Scubazoo Images as a videographer & photographer since 2007. I spent 3 fantastic years based in the Maldives at 'Four Seasons Resorts' and 'Holiday Inn Kandooma', filming and...