Travel
An Underwater Photographer's Guide to St. Lucia

St Lucia, an emerald green island with iconic twin peaks called the Pitons, is part of the Lesser Antilles in the Eastern Caribbean. Approximately 27 miles long and 14 miles wide, it sits north-northeast of St. Vincent, northwest of Barbados and south of Martinique. The Atlantic Ocean runs along the eastern shore while the warm, clear water of the Caribbean Sea lines the western shore, which is where most of the diving happens.
The topside beauty of St. Lucia is nothing short of breathtaking. Its mountainous topography and lush flora are more reminiscent of an island in the South Pacific than what is typically found in the Caribbean. However, its strong cultural flair, melodic local accents and bright, colorful houses leave no doubt whatsoever that you are in the heart of the Caribbean.
Beautiful rainforests, dramatic waterfalls and volcanic beaches are all part of St. Lucia's natural charm and offer endless topside activities including trekking, mountain biking, kayaking, volcanic mud baths and hot springs just to name a few. But the most impressive sight has to be the pyramid-shaped twin peaks, a UNESCO World Heritage Site that sits at the very south of the island and rises up 2,000 feet right from the sea.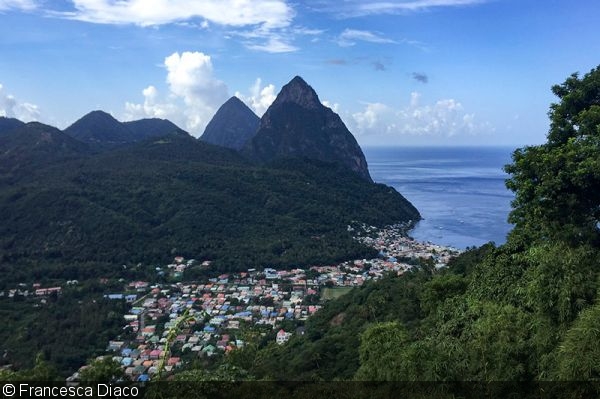 St. Lucia's Pitons sit right at the edge of the ocean at the southern part of the island near the city of Soufrière

From a diving perspective, St. Lucia is still relatively unknown to the global diving community but, in this diver's humble opinion, it's a total hidden gem. You can't help but be impressed right from your first breath—an abundance of fish and reef life, a healthy and colorful reef system, and varied underwater topography all add up to a world-class diving experience and amazing photo opportunities. Among the highlights are pinnacles bursting with life; a stunning, coral encrusted wreck; dramatic walls; amazing drift dives; and quiet bays with sloping reefs. From giant barracudas to schooling fish to an abundance of varied macro life, there is something for every diver to enjoy away from the crowds.
While St. Lucia can be dived and enjoyed all year long, there is a new and exciting annual celebration, called Dive Fest, a weeklong event held each September and hosted by the St. Lucia Dive Association in collaboration with the St. Lucia Tourism Board and other key agencies. Dive Fest was created to celebrate the speculator dive sites all across the island and pay tribute to the beauty of St. Lucia both above and below the surface. Throughout the week, divers can participate in exciting events such a lionfish derby and photo competition with exciting prizes as well as parties that show off St. Lucia's vibrant culture and delicious creole cuisine. The next Dive Fest will be held from September 9 to 16, 2017.

Giant barrel sponges and gorgonians swarming with small schooling fish are some of the many delights awaiting divers in St. Lucia
Diving in St. Lucia
Keyhole Pinnacles is so full of life, color and fish that it truly makes you feel as if you are in Fiji or the South Pacific. This premier dive site consists of four volcanic peaks completely encrusted in coral and gorgonians that rise up from the deep and come very close to breaking the surface. While it is made for your wide-angle lens, every inch of this site is teeming with life, including a variety of great macro subjects.

A reef scene bursting with life and color at Keyhole Pinnacles

Lesleen M Wreck, a cargo vessel that was sunk as an artificial reef in 1986, sits upright and completely intact at the very comfortable depth of 16–65 feet. The wreck is blanketed in colorful coral and is teeming with a variety of fish and reef life—it's hard to know which way to look first. Again, it will give your wide-angle lens a good workout, it is well worth diving two or three times as the angles and photo opportunities are endless. You should shoot at least one dive on macro as you can find frogfish, octopuses, jawfish with eggs, nudibranchs, and so much more.

A diver enjoys the abundant marine life that can be found all over the Lesleen M Wreck

Anse La Raye Wall, named after the fishing village of Anse La Raye (which means "Bay of Rays") features a dramatic wall leading to a sloping reef that is full of life and color. A wide variety of marine life can be found from the big (rays) to the small (nudibranchs). It truly is the shooter's choice as far as lenses go and whether you want to focus on dramatic scenery or awesome critters.

Black coral grows on a steep wall making for a dramatic reef scene at Anse La Raye Wall

Anse Cochon North, which translates to the "Bay of Pigs," is a gently sloping reef with colorful bommies and boulder formations that's home to a wide variety of marine life. Schooling grunts, schooling tangs and giant barracuda are just a few of the photo subjects I found on just one dive. This protected bay is a great place for beginner divers and photographers, as there is plenty of room to spread out and little current to speak of.

A giant barracuda gets up close and personal at Anse Cochon North

Anse Cochon South, also located in the Bay of Pigs, is a very shallow dive (up to 40 feet) consisting of bommies, boulders and mini-pinnacles that is made for macro lovers. Numerous juvenile species, nudibranchs, seahorses, frogfish, flounder, and so much more call this protected bay home.

The eye of a flounder, one of the many great macro subjects that can be found at Anse Cochon South

Fairyland is situated on a major headland in the south and often has very strong currents. This not only keeps the coral clean and healthy, but also offers an awesome drift dive opportunity. This site is bursting with life and amazing photo opportunities, but photographing with your wide-angle lens is highly recommended as currents rarely leave you enough time to slow down and shoot macro.

The strong currents at Fairyland make for an exciting drift dive teeming with life

Quick Facts:
Where: Located in the Windward Islands, St. Lucia is part of the Lesser Antilles in the Eastern Caribbean
Language: The principle language is English, but French based patois is widely spoken
Currency: The official currency is the Eastern Caribbean dollar (which is linked to the US dollar at USD$1/EC$2.65). US dollars are widely accepted
Time Zone: Atlantic (UTC–4)
Water Temperature: Consistently warm, varying from 77°F (25°C) in winter to 83°F (28°C) in summer
Air Temperature: Temperatures range from 65–85°F (18–29°C) from December to May and 75–95°F (24–35°C) from June to November. Winter is typically drier
Diving Experience Level: St. Lucia's diving offers opportunities for beginners (shallow dives in calm bays) to advanced divers (strong drifts and wrecks)
Photography Experience Level: St. Lucia's diving is suitable for photographers of all levels. Some drift dives may be more challenging, depending on your skill level, so please pay attention to briefings to ensure safety and success
A smooth trunkfish sits patiently while getting cleaned by a scarlet striped cleaner shrimp
Underwater Photography Subjects in St. Lucia
A wide variety of marine life can be found on St. Lucia's dive sites, which means that either macro or wide angle could be shot on most dives. However, there are a few strong drift dives that might make shooting macro a bit of a challenge. Be sure to ask your dive operator about their dive schedule so you can plan accordingly.

There is an abundance of coral diversity in St. Lucia making for many exciting wide-angle opportunities

Wide-Angle Subjects:
Schooling fish (tangs, jacks, snappers, sergeant majors, damselfish)
Great barracuda
Squid
Eagle rays
Gorgonians
Tube, rope and barrel sponges
Various soft and hard corals
Lettuce leaf sea slugs are among a number of types of nudibranchs that can be found in St. Lucia

Macro Subjects:
Arrow crabs
Frogfish
Cleaner shrimp
Juvenile trunkfish (peas)
Flamingo tongues
Seahorses
Blennies
Gobies
Lettuce leaf sea slugs and other nudibranchs
Jawfish
Scorpionfish
Flounder
Reef fish (angelfish, triggerfish, pufferfish, etc.)
Two octopuses—arm in arm—make for a fun photo op at Lesleen M Wreck
Underwater Photography Equipment for St. Lucia
Given the diversity of marine life and topography in St. Lucia, it would be very wise to take your full set of equipment to shoot both macro and wide angle.
Compact Cameras: Virtually everything in St. Lucia can be shot with a compact camera, but adding a strobe will have a great impact on the color and clarity you can achieve. A dome port/fisheye wet lens is always highly recommended for shooting wide-angle subjects, as it enables you to get closer to large corals and reef scenes for better framing, exposure and lighting. An external macro lens/diopter is very useful when shooting very small macro subjects such as blennies or jawfish holding eggs.
Camera bag:
Must Bring: Camera, housing
Strongly Recommended: At least one strobe
Optional: Wide-angle and macro wet lenses
DSLRs: Given there are so many macro and wide-angle opportunities, DSLR users should bring a complete set of lenses and gear. Here are a few lenses to consider packing:
A fisheye lens is highly recommended for wide-angle work, especially for reef scenes or schooling fish.
A 60mm macro lens works well for larger fish portraits such as frogfish, squid or octopus.
A 100mm/105mm is useful for shooting smaller or shier subjects such as seahorses or jawfish.
Wet lens diopters are great additions to macro lenses for working with super small subjects such as blennies or tiny shrimp.
Camera bag:
Must Bring: Camera, housing, strobes, macro port, dome port, macro lens, fisheye lens
Strongly Recommended: Focus light for small macro subjects, anything you normally like to bring—you will likely find a use for it!
Optional: Macro wet lens/diopter
An abundance of color and fish can be found on many of St. Lucia's beautiful dive sites
Underwater Photography Tips for St. Lucia
Come prepared: While macro and wide-angle subjects are available on most dive sites, it is important to take the time to ask about the dive plan for each day and take weather/water conditions into account so you can be prepared and set up your equipment in the most optimal way. You wouldn't want to be set up for macro if a strong drift dive is planned. And you wouldn't want to shoot wide angle on a dark and rainy day.
Shoot, refine, repeat: In order to achieve the best possible images, you must consider your composition, exposure and lighting. If you are shooting in full manual (which you should to get the best results), you may have to tweak the settings a bit to get your optimal exposure. Once you are happy with your exposure, shoot a number of frames in which you alter your angle, composition, lighting, and possibly your photo orientation, to make sure you are framing the image in the most impactful way.
Keep It Clean: Keep your composition as clean as possible and use your exposure and lighting to clearly highlight your subject. Don't overclutter the frame—make sure the viewer's eye knows exactly what it should focus on.

A trumpetfish hanging amongst gorgonians proved to be a very cooperative subject for this wide-angle reef scene

Tips for Shooting Wide Angle
St. Lucia's reefs feature interesting topography, lots of color, and an abundance of small schooling fish, which offer many wonderful wide-angle opportunities. Highlight interesting coral formations and bright colors as your main subject and use the fish, a sunburst or a model as an additional compositional element to make for a more interesting and impactful image.
Get as close to your subject as possible to eliminate the amount of water between you and your subject. This allows for better natural and ambient lighting of your subject, which usually results in better color and contrast in your image.
Shoot at an upward angle and try to frame your subject against the blue water. A good rule of thumb is to include 20 to 30 percent of blue water in your frame, which provides context and contrast to the image. Make sure you don't amputate your subject—when the blue water completely frames your subject, the image usually has more impact.

Working with models can add a very dynamic element for wide-angle images

Tips for Shooting Macro
Before moving in to shoot your subject, dial in your settings and lighting as much as possible, maintain solid buoyancy and practice slow, controlled breathing in order to avoid spooking your subject. Then just make small adjustments with limited movement as needed with each frame.
Look for interesting angles and great backgrounds that can turn common subjects into "wow" images. Alter your camera orientation (don't get stuck shooting one way) and move around the subject to make sure you have framed it in the most engaging way. Look for great negative space such as black or blue water or a solid color or patterned coral that will really make your subject pop.
Fill the frame with your subject and make sure the eye is in tack-sharp focus. Your subject should be at least 25 to 30 percent of your frame to leave no doubt with the viewer what they should be focusing on. Capturing the eye of your subject helps viewers make sense of these weird and wonderful critters, and when the eye is looking directly into the lens, it draws the viewer right in.

Shooting this well-camoflauged frogfish against a black background provides added contrast, which really helps it stand out
Planning Your Underwater Photography Trip to St. Lucia
How to Get There: St. Lucia has two airports: Hewanorra International Airport at Vieux Fort, which is where the international flights come in, and George F.L. Charles Airport, which is near Castries. Many major airlines offer services to St. Lucia, including American Airlines, US Airways, Air Jamaica, Air Canada, Delta, British Airways, and Virgin Atlantic.
When to Go: St Lucia's hot, tropical climate is tempered by trade winds throughout most of the year, making just about any month a great time to visit. The driest period is from December to May and there is increased rainfall in summer and towards the end of the year. Peak season runs from December through April. If you travel outside of peak season, you will find better deals on accommodation. St. Lucia holds their annual Dive Fest in September, which is a fantastic time to visit as you can find great low-season deals.
Where to Stay and Dive: There are a wide variety of accommodation options, from budget hotels to luxury resorts, running from the north to the south of the island as well as a number of excellent dive operators located either inside your resort or running independently. Most dive centers visit dive sites that run the length of the island, but make sure to check their typical schedule ahead of booking. Caradonna arranges dive vacations to St. Lucia, as well as various other destinations in the Caribbean.
Money: Tips (10–20%) are not always automatically added but greatly appreciated for good service. A government tax of 8% is added to hotel and restaurant bills in addition to a service charge of 10%. In some cases these are included in your bill—if in doubt, ask. ATMs are readily available and issue EC dollars (USD$1/EC$2.65), and credit cards are widely accepted.
Electricity: Most outlets are 220V and use the UK standard three-pin square plugs. Some hotels also have the US-style plug and 110V outlets and/or offer converters and adapters. It's best to come prepared with your own adapters and dual-voltage surge protected power strips for sensitive camera equipment.
Health Concerns and Vaccinations: Immunization is not required for St. Lucia unless you are coming from an infected area within six days. There are six medical facilities around the island offering health services and a recompression chamber at Tapion hospital. Tap water is safe to drink in St. Lucia, but bottled water is also readily available.
Entry Requirements: You must have a valid passport with at least six months validity. Visas are not required for travellers from US or Commonwealth countries.

A juvenile smooth trunkfish (a pea) is one of the many interesting macro subjects to be found in St. Lucia

---
About the Author: Francesca Diaco is a professional underwater photographer based in Roatán, Honduras, and the owner/operator of Roatán Underwater Photography, which specializes in personalized underwater photography training for all levels, including one-on-one mentoring, group classes, weeklong workshops and online training. She also owns and operates Fisheye Expeditions, which runs photography expeditions to some of the world's best diving destinations. Shooting professionally since 2006, Francesca represents SEA&SEA as an Alpha Ambassador, is a field editor for DivePhotoGuide.com, and publishes in a number of international magazines, websites and blogs. Visit www.francescadiaco.com for more information and a full portfolio of images.
RELATED CONTENT
Be the first to add a comment to this article.
Newsletter
Travel with us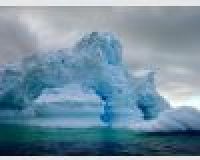 Antarctica
Plan Your Adventure >
Featured Photographer
Chuck Davis
Expert Photographer
For over thirty years, Chuck Davis has worked professionally as a specialist in underwater photography in worldwide locations, including the Alaskan Arctic, Greenland and Antarctica. His motion picture credits include work on...