Travel
An Underwater Photographer's Guide to Puerto Rico

Situated in the Caribbean between North and South America, the U.S. territory of Puerto Rico is the smallest island of the Greater Antilles, which includes Cuba, Haiti, the Dominican Republic, Jamaica, and the Cayman Islands. The combination of different coasts and varied forests make it a tropical paradise for nature lovers. The waters of the Atlantic Ocean lap the island's northern coast, with the Caribbean Sea to the south, the Mona Passage to the west, and the Vieques Sound to the east. It is this diversity that provides various exciting options for diving and underwater photography.
Diving in Puerto Rico
Being a tropical island, Puerto Rico is surrounded by coral reefs on all sides. The most impressive wall diving is to be found at Mona Island, La Parguera and Guánica, which, along with Desecheo Island, are the best spots for encounters with pelagic underwater life as well. There are also excellent photographic opportunities diving under piers at Crash Boat Beach, in the northwest, as well as at Muelle del Azúcar in Aguadilla and at Vieques Island's Navy Pier.
Visibility averages 60 to 80 feet around the main island, and in excess of 100 feet at the surrounding small islands, such as Mona, Desecheo, and Culebra. While you'll encounter plentiful coral reefs in Puerto Rico, the territory also offers mangroves, seagrass beds, impressive walls, piers, shore diving, and even "pseudo muck diving," at one end of Crash Boat Beach.

You don't need to travel across the globe for prime muck diving—Puerto Rico offers some of the best macro muck dives in the Caribbean

Puerto Rico offers great chances to see and photograph pelagics such as ocean triggerfish, mackerel, jacks, barracuda and spotted eagle rays. Masses of small to medium-size life abound, from queen angelfish and butterflyfish to parrotfish and horse-eye jacks. And check the sand for camouflaged peacock flounders. Among the huge black and red gorgonians and elongated yellow and purple tube sponges, you'll find hogfish, black durgons and triggerfish, while the forests of black coral harbor slipper lobsters, crabs, schooling black durgeons, creole wrasse and striped parrotfish.
The sheer variety of dive sites on offer provides unique opportunities for underwater photographers and videographers, from beginners to the most advanced shooters.

Quick Facts:
Where: Puerto Rico, Caribbean
Language: Spanish and English
Currency: USD
Time Zone: Atlantic (UTC–4)
Water Temperature: 78–85°F (26–29°C)
Air Temperature: 82–90°F (28–32°C)
Diving Experience Level: Beginner to Advanced
Photography Experience Level: Beginner to pro
Because Puerto Rico hasn't emerged as a top-notch underwater photography destination (yet), the dive sites are in great condition
Top Dive Sites for Underwater Photography in Puerto Rico
Top 10 Sites
Mona Island
Crash Boat Beach, Aguadilla
Desecheo Island
La Pared (The Wall), Guánica
Las Gatas (The Cats), Mayagüez
Efra's Wall, La Parguera
El Muelle del Azúcar (Sugar Pier), Aguadilla
Tamarindo, Culebra
Navy Pier, Vieques
El Natural, Aguadilla
One of the most remote and impressive places for scuba diving and underwater photography in Puerto Rico is Mona Island, otherwise known as the "Galápagos of the Caribbean." However, as a natural reserve, the island enjoys limited access, and acquiring the necessary permits is difficult. In the following, therefore, we concentrate on other more-accessible sites.

Crash Boat Beach, Aguadilla
A macro photographer's dream, Crash Boat is a superb site to find rare and exotic species at depths ranging from 25 to 80 feet. An easy shore dive, the area occupies the site of a former military port used to rescue downed aircrews from Ramey Air Force Base, and the remains of the pier infrastructure can be found here.
The shortnose batfish is one of the rare critters often spotted on Puerto Rico's "pseudo muck dives"

With its combination of sand, seagrass, tires, reef, piers, and "pseudo muck diving," there is an incredible diversity of marine life to be found here, making the site a haven for underwater photography. Common sightings at various times of the year are critters like frogfish, seahorses, pipefish, batfish, pike blennies, sea robins, decorator crabs, bumble bee shrimp, and nudibranchs. Angelfish, scorpionfish, damselfish, gobies, trumpetfish, boxfish and morays are found amongst the pilings, while flounders, lizardfish, and snake eels feed in the sand flats. In the seagrass, there are turtles, flying gurnards, seahorses and octopuses, as well as the occasional dolphin and manatee.

Puerto Rico's seagrass beds provide a wealth of macro opportunities, including seahorses, flying gurnards, lizardfish, and other juvenile species

Desecheo Island
With time and good planning, it's possible to visit this unique uninhabited island, located to the west of the main island. Among the cracks, caves and passages, there's abundant marine life to photograph here. This is also the location of one of the healthiest and most impressive of Puerto Rico's coral reefs, and the visibility is typically excellent. During the whale season, from February to April, it is common to hear their song during your dive, and sighting a mother and calf at the surface from your boat isn't unusual.

Puerto Rico isn't known for pelagic underwater photography, but you can frequently photograph sharks and—if you're especially lucky—whales

La Pared, Guánica
A few minutes off the coast of Guánica, on the southwest coast, is Puerto Rico's famous wall dive destination. This is a deep dive, with the top of the reef at 60 feet, and dropping well past 1,000 feet. The wall is home to a plethora of marine life, including turtles, stingrays, sharks, moray eels, lobsters, and amazing forests of black coral. In addition, if you want to have regular encounters with Caribbean reef sharks, Guánica is your best bet besides Mona Island.

Like sharks? Puerto Rico might be the most underrated shark photography destination in the Caribbean, offering sightings of reef and nurse sharks

Las Gatas, Mayagüez
This singular dive site, found at a depth of 35 to 40 feet, is located at the west end of the island, just minutes from the coast. Typical encounters here include nurse sharks, resting at the entrance of a crack or small cave in the reef, as well as schools of snappers, striped parrotfish, and angelfish, among others. You'll also commonly find cleaning stations in the area. Subjects include nurse sharks, barracuda, groupers, snappers, trunkfishes, angelfish, parrotfish, moray eels, crabs, and lobsters.

A close-focus wide-angle setup is invaluable when diving in Puerto Rico, as it allows you to photograph large scenes as well as medium-sized muck critters like this eel
Underwater Photography Equipment for Puerto Rico
To get the most out of Puerto Rico's dive sites, you'll need to come prepared to shoot all creatures great and small.
DSLR and Mirrorless: In addition to the 60mm and 100mm lenses that are common for macro photography, it's a great ideal to bring an assortment of accessory wet lenses. Diopters +3, +7, +10, +15 and +25 will allow you to take advantage of all the photographic opportunities, from macro to super macro. A good wide-angle zoom lens like the Tokina 10–17mm will cover most of the subjects found here.
Compacts Cameras: As usual for compact users wanting to cover a full range of subjects, wet lenses are a must: A wide-angle wet lens for fish schools, reef scenics, and big pelagic creatures. For the critters of Crash Boat, you'll need to pack your close-up wet lenses, including powerful diopters to take on the challenge of super macro.

Shooting close-focus wide angle also allows you to take pictures of larger subjects like this hawksbill turtle on the seabed
Underwater Photography Tips and Techniques for Puerto Rico
Sea Cows in the Seagrass: Turtles aren't the only subjects that can be photographed in the seagrass habitats of Puerto Rico's shallow coastal and estuarine waters. Found mostly along the southern coast, and at Ceiba, Vieques Island, Jobos Bay, and Boquerón Bay, the Antillean manatee (Trichechus manatus manatus) makes for a unique photographic subject.
Remaining submerged for up to 20 minutes, these charismatic mammals will eventually come up for air, so don't miss the opportunity to take a silhouette shot, playing with the sun's position in the composition. Manatees are also interesting subjects for the close-focus wide-angle technique, where the exaggerated perspective afforded by your fisheye lens accentuates the animal's rotund characteristics well. Minimize backscatter by having your strobe arms as wide as possible, and consider using diffusers on your strobes to help control highlights from light reflected off the sandy bottom.

Their distinctive shape make manatees great subjects for experimenting with silhouettes

Small Along the Wall: During wall dives, it's tempting to focus solely on wide-angle photography, but remember the smaller subjects that hide in these spectacular walls. Compact camera users carrying a variety of wet lenses have a natural advantage here, with the ability to easily switch between wide-angle and macro subjects. A continuous light source will help both with focus and to provide light inside crevices and caves; remember that using your torch's red light setting will encourage many macro subjects to emerge from their hiding places. Keep your eyes peeled: There is a wonderful world of tiny, camouflaged beings waiting to be discovered—and they can easily go unnoticed.
Do Some Night Dives: The night diving is impressive at any and all of Puerto Rico's dive sites. Las Gatas, in particular, is a site that really excels as a night dive, when it's jam-packed with marine life. At night, the turtles are usually found resting inside artificial reefs or caves, so you will need to search carefully with your dive light to find them. Get creative with the macro critters of Crash Boat by experimenting with a snoot for subjects like frogfish and blennies.
Make Your Own Arrangements: Exclusive trips for underwater photographers are uncommon. Instead, arrangements can be made with some dive operators to have a guide for a group of photographers. Keep in mind that there are no dive operators with facilities for underwater photography, as Puerto Rico hasn't emerged as an underwater photography destination—yet.

Go for your macro lens on night dives, when Puerto Rico's reefs come alive with prized macro subjects like blennies and gobies
Planning Your Underwater Photography Trip to Puerto Rico
How to Get There: San Juan Luis Muñoz Marín International Airport is connected to numerous airports across the Caribbean and the U.S., with Miami and New York being the most common U.S. gateway cities. There are also some direct flights to Aeropuerto Rafael Hernández de Aguadilla from the U.S. mainland and surrounding islands.
When to Go: Diving is possible year round, but be aware of the June–November hurricane season. There is seasonal marine life, such as arrow shrimp and bumblebee shrimp, which abound in the winter months from January to March. Frogfish begin to appear in the summer, which is their mating season, and whales arrive at Desecheo Island between February and March.
Who to Dive With: For reef shark encounters, go with Island Scuba, whose initiative to control the invasive lionfish population has had a secondary benefit of bringing in the sharks. For the nurse sharks and fish schools of Las Gatas, go with Dive Shop Puerto Rico. For the critters of Crash Boat, go with Aquatica Dive and Surf.
Where to Stay: For an extensive list of accommodations, visit www.seepuertorico.com.

While Puerto Rico's pristine reefs make for excellent wide-angle subjects, you would be foolish to ignore all the macro stuff the area has to offer, like this flamingo tongue
RELATED CONTENT
Be the first to add a comment to this article.
Newsletter
Travel with us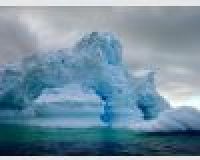 Antarctica
Plan Your Adventure >
Featured Photographer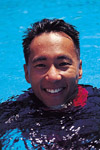 Tony Wu
Expert Photographer
Since having his toe pinched by a crab as a child, Tony has been obsessed with the inhabitants and ecosystems of the sea. Combining this with his love of visual art, Tony has been photographing marine life since he acquired his...