Travel
An Underwater Photographer's Guide to North Carolina

From WWII German U-boats to schools of sand tiger sharks, North Carolina diving is world class. Regular divers visiting the area's Outer Banks already know the potential and come back year after year to experience the rich history and abundant marine life the wrecks have to offer. For photographers, it is a dream destination to shoot in, with bountiful subject matter to point their cameras at. Good visibility and warm water in the summer months only make the diving more desirable for those who have an aversion to cold, turbid water.
The fascination of photographers with this destination has a lot to do with the healthy population of sand tiger sharks that call the wrecks home. On any given dive, whether there are only a few or a few dozen, the sand tigers certainly spice up your images. The combination of historic wrecks and toothy sharks make for great visual storytelling.
Diving in North Carolina
The best dives in North Carolina are wrecks, but they aren't just for "wreck divers." These dives feature an abundance of life, most notably the sand tiger sharks. Offshore diving in North Carolina is deeper than most diving destinations. The average is 100 feet for most of the top wrecks. Bottom time is hampered by this factor so one must work fast to maximize your time.
It is very important to be comfortable and well trained to dive at these depths. The distraction of your photography or video can be dangerous if you're not paying attention to your diving. Conversely, if you are spending all your time monitoring your depth, bottom time and your navigation, you are likely not taking quality images. One must find a balance when working at these depths 30-plus miles offshore.

Divers and sand tigers on the wreck of the Atlas Tanker

In general, visibility runs around 50 feet on average, and on a good day it will exceed 100 feet. The conditions change daily so, once again, persistence and repetitive diving will increase your odds of shooting on days with the desired clear blue water. However, a primary obstacle in this region is the weather. Off the coast of North Carolina, you are diving in the open ocean, sometimes up to 40 miles from land.
Strong winds, choppy seas and long boat rides may make getting offshore difficult. On some days charters are cancelled due to adverse weather, while other days it may be uncomfortable for those not used to the pitching and yawing of the vessel. The more you get offshore, the better the chances you have of taking great photos, so book your trips for as many days as you can spare.
Top Dive Sites in North Carolina
The Caribsea wreck is located on the east side of Lookout Shoals, and has one of the most consistent sand tiger sightings of any wreck on the coast. There's rarely a dive where sand tigers aren't spotted, but the visibility can be hit and miss. There are days where shooting the dozens of sand tigers on the wreck in the murky green water may be difficult, but when the clear water is in and the sharks are clustered, your shutter will be blazing away. Your mask might just flood from a huge smile, too!

A close encounter with a sand tiger on the Atlas Tanker

At the wreck of the Papoose, you can find some of the best visibility in North Carolina. The wreck rests upside down in 120 feet of water, 36 miles offshore, where clear Gulf Stream water delivers 100-plus feet of visibility. Such conditions are perfect for capturing the tiger sharks and schooling fish that visit the wreck.
The U-352 provides the rare opportunity to dive on an authentic World War II German U-boat submarine. Although there's not always as much marine life here as at other wrecks, the sense of history you can experience and photograph is immense.
The Proteus wreck sank in 1918 after an unfortunate collision at sea. However, it was a fortunate event for underwater photographers, who can find and photograph sand tiger sharks, African pompano, and amberjacks. If you're lucky, you might even find a giant barracuda or two.
The German U-boat, the U-352, is one of the most sought after recreational wreck dives on the East Coast of the U.S.
North Carolina Facts
Where: Located on the East Coast of the United States
Language: English
Currency: USD
Time Zone: Eastern Time Zone (UTC–05:00)
Water Temperature: The water temperature is about 72°F (22°C) in winter and as high as 85°F (30°C) in summer, averaging around 82°F (28°C)
Diving Experience Level: The dives in North Carolina are deep, and their exposed nature make currents and conditions unpredictable. For this reason, it's recommended for intermediate divers. Some wrecks lend themselves more to the beginner—ask your divemaster or dive shop
Photography Experience Level: While a beginning photographer can find success in North Carolina, intermediate–advanced shooters will feel more comfortable in these conditions, resulting in higher-quality images

At times, bait fish will swirl around the sharks, creating mesmerizing scenes and the chance for outstanding images
Underwater Photography Equipment for North Carolina
DSLR and Mirrorless Cameras: Whether you choose a fisheye or rectilinear lens is a personal preference. Having said that, using a wider lens (ideally fisheye) opens up the opportunity to include more of the scene in the shot. It's one thing to have a basic portrait of a shark, but to have an image with a shark, schooling fish, a historic wreck, and a dive model is truly special!
Compact Cameras: You can get quality images of the wrecks and sharks even with a compact camera, but don't forget to bring a fisheye wet lens. This crucial accessory not only widens the field of view, but it allows the photographer to get closer to a large scene/subject, which is vital for adding strobe light in low-viz conditions.

Sharks aren't the only subject matter to point your camera at. Marine life is plentiful off the coast of North Carolina
Photographing Sharks in North Carolina
The sand tiger, or ragged tooth, is a lethargic shark with a ragged, mean-looking smile which doesn't startle easily in the presence of divers. With proper technique, one can easily get close and yield amazing photographs. Chumming or feeding these sharks is not necessary for close encounters. They dwell naturally on the wrecks and are not that easily deterred by humans from doing so.
Finding sharks on most days is not usually very difficult. There is a list of wrecks you can go to with consistent results time and again. However, some days are better than others, yielding greater quantities of sharks with better conditions to shoot them in. Some days you may see just a handful of sand tigers, while on other days there may be up to 100 individual subjects.

While sand tigers are regularly spotted on North Carolina's wrecks, they aren't the only species around. Curious sandbar sharks will buzz divers on occasion

When you do manage to get offshore on a calm day with great visibility and you are surrounded by sand tiger sharks, here are a few tips for getting the images that will make you proud:
Wreck in the Background: Set yourself up with the sharks between you and the wreck, thus including identifiable sections of the wreck as your background. This will make for more compelling images.
Don't Chase the Sharks: Swim slowly, steadily or stay still and let the sharks come to you. Avoid breathing heavily, waving your arms or allowing yourself to get excited. Sand tigers may be easygoing, but they will swim away from an annoying diver.
Working with Bad Viz: If visibility is hazy or low, set your camera up for an in-your-face shark shot. It is easy to become distracted by shark activity all around you, so stick to your plan. Every time you change your settings, you are using up valuable bottom time.
Zoom As Little As Possible: Use your stealth abilities, get close and avoid the zoom when you can. Closing the distance between you and your subject is ever the more important due to the nutrient-rich water here. Your resulting image will be crisp and your strobes will have more effect.
Do Your Homework: Research the wrecks and find out where the hotspots are for sharks if that is what you are after. Come up with shot lists of what you want to get. Have a plan before your feet touch the water and stick to that plan unless the dive conditions determine you must change it. For example, shooting silhouettes of the sharks on a lower visibility day might be a better idea than super-wide horizontal shots of the wrecks.

Although rare, every so often a sand tiger will be spotted cruising the U-352
Photographing North Carolina's Wrecks
North Carolina is more than just sharks. The wrecks themselves make for fantastic images. If you hit a day with little to no shark activity, explore the wreck and find some interesting angles to shoot. The German U-boat, the U-352, offers many great photo ops and is one of the most iconic wrecks on the East Coast, although there tends to be very little shark action here.

Models can make your wreck images by adding scale and the human element

Here are some additional tips that should elevate your wreck images to the next level:
Include a Model: Having another diver pose with a sand tiger or the wreck itself will definitely enhance your image by adding the human element. Discuss what you want to do before you enter the water so as not to waste valuable bottom time shrugging shoulders at one another.
Patience and Persistence: In general, patience and persistence is the key element to nature photography and North Carolina wreck diving is no different. If you put in the time and the effort, the results will follow. This is not the place to come for instant gratification with your photography. When you do nail a photo that you would be proud to hang on your wall, the time and expense will be well worth it.
Limit Strobe Power: On days when visibility is limited, it's extremely important to not use too much strobe power—doing so will likely light up more backscatter than wreck. Instead, use as much natural light as possible with slower shutter speeds and higher ISOs. Then you can add in just a touch of strobe light, which will add color and contrast.
Planning an Underwater Photography Trip to North Carolina
How to Get There: The nearest major airports are located in Durham and Raleigh, North Carolina. Each of these is roughly a 90-minute drive to the coast where the dive operations are located
When to Go: The dive season starts in April and tapers off in October with the peak season from June through August. However, charters are also available in the off-season.
Who to Dive With: The recommended dive operator for diving the North Carolina wrecks is Olympus Dive Center. Having been founded in 1975, Olympus helped pioneer North Carolina's wreck diving and continues to serve divers and underwater photographers today

The stars of the show: the sand tiger shark (Carcharias taurus)

---

About the Author: Mike Gerken is a published professional underwater photographer, cinematographer, documentary filmmaker, instructor, fine art print maker, and boat captain. He hosts the annual Wreck/Shark Shootout in North Carolina. Visit Mike's website to view more images, read his published articles, watch excerpts of his documentary films, or learn more about the Wreck/Shark Shootout.
RELATED CONTENT
Be the first to add a comment to this article.
Newsletter
Travel with us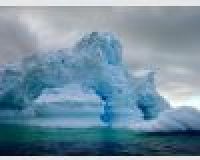 Antarctica
Plan Your Adventure >
Featured Photographer
Mike Veitch
Expert Photographer
Mike Veitch is a professional underwater photographer/videographer originally from Vancouver, BC, Canada. Not long after graduating from the University of British Columbia, Mike embarked on a long exploration of the SE Asia and...