Travel
An Underwater Photographer's Guide to Jupiter, Florida

Of anywhere in the U.S., the Jupiter coastline enjoys the closest proximity to the Gulf Stream, an oceanic superhighway bringing warm, clear water abundant with migratory species. The water temperature ranges from 85°F (29°C) in summer to 72°F (22°C) in winter. As a result of the environment, often moderately strong currents, all diving is done as drift diving. But the current is well worth it: An eager shark photographer can be treated to five species in a single day. And it doesn't end there: Just a short drive away, Blue Heron Bridge is the perfect add-on to your Jupiter visit.
Diving in Jupiter, Florida
Jupiter has fringing reefs, ledges, wreck and pelagic diving. The pelagic opportunities are mainly for advanced divers, but promise encounters with dolphins, sharks, sailfish, marlins, turtles, and the occasional tuna. The wreck diving supports many species of baitfish and a large number of resident Atlantic goliath groupers, along with turtles and many species of sharks. The fringing reef enjoys lots of turtles during the nesting season and an abundance of schooling fish and lobsters.

It's not all about the sharks: Other photo subjects in Jupiter's waters include leatherback, loggerhead and hawksbill turtles
Best Dive Sites in Jupiter, Florida
Juno Ledge: This is the deepest dive in the area, but can be enjoyed at 100 feet with lots of species to be seen. It arguably offers the best wide-angle opportunities in Florida, or the Caribbean for that matter. Bull, great hammerhead, scalloped hammerhead, silky, dusky, and sandbar sharks are regularly sighted here. Among the rare occasional visitors are great whites and longfin mako sharks. There are also several species of turtles regularly photographed: leatherback, loggerhead, hawksbill and Kemp's ridley turtles are frequent visitors. In addition, large schools of kingfish and jacks are also popular photographic subjects, often accompanied by several scalloped hammerhead sharks.

You don't have to travel far from the U.S. to swim with and photograph shark rarities such as tiger sharks and great hammerheads

Wreck Trek: These series of dives have a maximum depth of 90 feet, with three wrecks running north to south. Their proximity makes it easy to dive all three on a single trip, or even a single tank. The first wreck is the Zion, which features several resident Atlantic goliath groupers patrolling the area year round. Every September, this population explodes for the annual mating aggregation, the biggest in the world. The second wreck might seem like a boring upside down barge, but it offers many photo opportunities including a proliferation of scorpionfish. The third wreck is the Esso Bonaire, which enjoys a large lemon shark population—also with resident turtles and goliath groupers. Over the years, it has also been visited by 11 named tiger sharks.

The wrecks of Jupiter host many sought-after photo subjects, including goliath groupers and resident turtles

Area 51: This is a personal favorite site for many local photographers, with countless frogfish sightings. Since the beach in Juno is one of the largest turtle nesting beaches in the region, you are also likely to see too many turtles to count.
Gary's Ledge: Lemon and tiger sharks can be seen here together with an abundance of other resident fish and eels. In addition, the coral and sponge growth make for dramatic reef scenic images.

Smile! Gary's Ledge dive site is a local favorite to photograph lemon and tiger sharks
Jupiter, Florida Facts
Where: Located on the southeast coast of Florida along the Atlantic coast, Jupiter is just a few hours' drive north of Miami.
Language: English
Currency: USD
Time Zone: Eastern Time Zone (UTC–05:00)
Water Temperature: The water temperature is about 72°F (22°C) in winter and as high as 85°F (30°C) in summer, averaging around 82°F (28°C).
Diving Experience Level: Jupiter's signature dives bring lots of sharks and fish, but also current aplenty. As a result of this, and their depth, it is recommended to have an intermediate to advanced level of diving proficiency, along with a nitrox certification. Blue Heron Bridge is shallow, and suited for divers of all levels—although currents can sometimes pick up.
Photography Experience Level: Between the drift diving in heavy currents and deep dive profiles, you'll need to have a moderate amount of experience photographing apex predators in such conditions to capture quality images. Even beginner macro enthusiast photographers will come home with great images from the Blue Heron Bridge dive.

Jupiter's close proximity to the Gulf Stream brings in a host of warm-water pegalics, such as Atlantic spotted dolphins and other cetaceans
Underwater Photo Equipment for Jupiter, Florida
It's all about the big boys (and girls) in Jupiter, so you'll want your widest setup, be it a fisheye lens for DSLR users or a wet lens adaptor for compact shooters. For DSLR users, bring your widest fisheye or rectilinear lens. The rectilinear lens is a safer bet, as it will fill the frame with more of the subject if it decides to stay away. However, most of the sharks will come and see what you are doing up close, so a fisheye zoom is probably your best choice.
Since most of the diving is done in strong currents as drift diving, make sure to carry a surface marker and reel. Being proficient at using these tools at depth during safety stops will make surfacing less stressful.

Don't leave your macro lens at home: Just a quick drive from Jupiter, the Blue Heron Bridge is arguably the best macro dive in North America
Underwater Photography Tips for Jupiter, Florida
Streamline Your Dive Gear: To get good results in Jupiter you must first be a good diver with comfortable, streamlined dive gear. Often during a dive there is fast action and any hesitation and the shot will be missed, so you need to be comfortable and have the right amount of weight.
Keep Calm: The sharks in Jupiter seem to sense when you are relaxed and comfortable, only then making close passes. Often, it seems they enjoy the attention of the photographer—but do not make any sudden moves towards the shark as they will leave right way. The best opportunity for close-up images of sharks in Jupiter is to let them approach you. They are naturally curious, but you have to remain calm and relaxed.

Your best chance for a close encounter with a shark in Jupiter is to remain calm, and let the curious animals approach you before firing off shots. Never chase a shark

Keep Strobes Positioned High: Get your strobes out wide and high if you are shooting on sandy bottoms—a common environment for Jupiter shark dives. Doing this will help prevent blowing out the sand with your strobes. One tip to try is assigning one strobe to illuminate the underside of the shark (below half power) and one on top (above half power). You can determine which strobe (left or right) works best depending on the regular direction the sharks swim by.
Safety First: Remember, dives in Jupiter are deep, so obey your computer and don't risk ascending too quickly for a shot. More than likely, the shark will still be swimming around if you take your time to ascend—then you can safely compose and shoot away.
Must Visit: Blue Heron Bridge
Blue Heron Bridge is a world-class macro destination and is only 12 miles south of Jupiter, making this a perfect addition to your Jupiter dive trip. Best of all, it is free as entry is made from a beach. Fish portraits, macro and super-macro: This place has it all and in the winter do not be surprised to see a manatee behind you watching you frame your subject. Diving is tidal and entry is normally made one hour before high tide, allowing roughly up to two hours of diving. The diving averages at just 12 feet underwater, so you can spend plenty of time critter hunting.

Jawfish with eggs in their mouth are a frequent site at Blue Heron Bridge

Banded jawfish mouth-brooding eggs are commonplace at "The Bridge," along with several species of seahorse and frogfish. If you like blennies, you will be in heaven, with sightings of sailfish and seaweed blennies amongst others. Monsters do lurk at The Bridge, however, so keep an eye out for the ultimate ambush predator, the stargazer, which is capable of a powerful electric shock. (Warning: Do not touch.) Mantis shrimp also hide in holes awaiting prey, and make excellent photography subjects while they wait. Perhaps the most sought-after image is that of a yellow headed jawfish brooding eggs—with the use of a macro wet lens you can even photograph the little fish growing inside the eggs.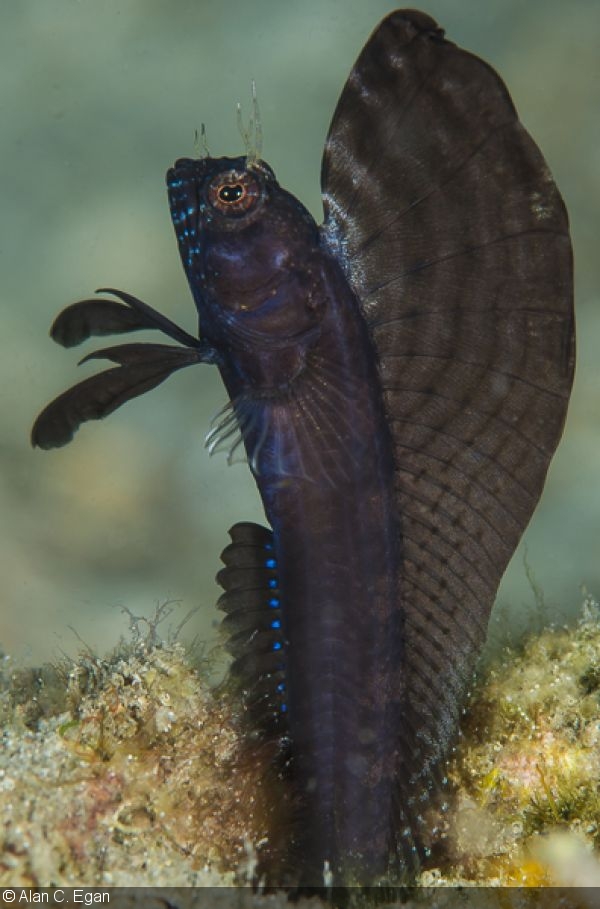 World-class macro doesn't mean you have to schlep to Indonesia. A quick road trip from Jupiter to Blue Heron Bridge provides the best of the biggest and smallest

The key to bringing home quality images at the Blue Heron Bridge begins with moving slowly so as not to miss any subjects. With such shallow depths, the dive can last upwards of 90 minutes, so there's plenty of time to snoop around. Do not try and cover the whole site in two hours; instead plan to make several trips and it will pay off.
Diving in the early morning or afternoon slack tide provides unique, golden lighting. It is also recommended to use a guide, if it is your first visit, to help you spot the critters. Several dive shops can help you with this. Also be sure to use your "Divers Down" flag, as apart from aiding your safety from boat traffic, it is the law and you will receive a ticket if you don't use it.

It's worth doing multiple dives on the Blue Heron Bridge so as not to rush past hidden critters
Planning an Underwater Photography Trip to Jupiter, Florida
How to Get There: There are good connections from most U.S. cities to West Palm Beach (PBI) and Fort Lauderdale (FLL) airports.
When to Go: It's always a good time to visit South Florida, as the diving is superb all year round. However, the best time for diving Jupiter is January through April, especially if you are interested in the great hammerheads and leatherback turtles. In these winter months, the Blue Heron Bridge dive also has clearer water and less algae.
Who to Dive with: The recommended dive operator for Jupiter is Scuba Works; book the Emerald for epic world-class shark dives. The recommended dive operator for Blue Heron Bridge is Force E.
RELATED CONTENT
Be the first to add a comment to this article.
Newsletter
Travel with us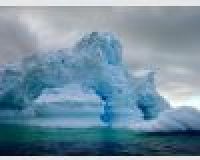 Antarctica
Plan Your Adventure >
Featured Photographer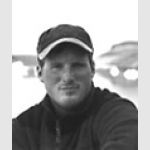 Paul Nicklen
Expert Photographer
After attaining his biology degree in 1990, Paul worked as a wildlife biologist for four years in the Northwest Territories. He worked on such species as lynx, grizzly bears, bison, caribou and polar bears. But, after a few...