Travel
An Underwater Photographer's Guide to the Galápagos
The Galápagos is one of only dive destinations where you can photograph hammerhead sharks by the dozens

The Galápagos Islands have been a haven for naturalists since the day Charles Darwin sailed through on the HMS Beagle in 1835 and changed the course of history forever. Today, underwater photographers revel in the treasures witnessed while diving in this equatorial archipelago. Whether you're wanting for whale sharks, mass schools of hammerheads, playful sea lions, or rare endemic marine species, the Galápagos delivers.

Diving in the
Galápagos
The diving in the Galápagos is as diverse as the subjects you will find here. The 18 major islands stretch for more than 3,000 square miles and vary in their topside appearance dramatically—from seemingly abandoned, arid expanses to lush hills. But it's the clashing of various underwater ecosystems that make the diving truly unique. The Humboldt Current, Panama Current, and Equatorial Current all meet up in the Galápagos—meaning the water on one dive could have originated in the western Pacific and on the next, from Antarctica.
You can divide the diving in the Galápagos into three regions. The islands of San Cristobal and Santa Cruz are often your first port of entry into the Galápagos and offer up quality encounters with sea lions, schooling fish, and eagle rays to both liveaboards and land-based dive operators.

A green sea turtle takes a dip in the Galápagos

Liveaboards will often spend a day or two in this region before heading to the far north for the second region: the Wolf and Darwin Islands. Here, the water temperature increases due to the equatorial currents and you'll have the best chance to photograph hundreds of hammerheads and whale sharks. The currents in this region are quite strong and diving is reserved for those with at least 50 dives.
The diving off of the Fernandina and Isabela Islands is the final region—and by far the coldest. You might feel like you're in Antarctica when the water temperature dips down to 55°F (13°C) and there are penguins on the rocks. But in the water, your shutter finger will be busy capturing marine iguanas, Mola molas, flightless cormorants, and more sea lions.

Lucky photographers will encounter the endemic Galápagos penguin off of Isla Isabela

Galápagos Diving Facts:
Where: The Galápagos Islands are located 600 miles off of South America's west coast and only reachable via a connecting flight from mainland Ecuador.
Water Temperature: In the Galápagos, the water temperature varies dramatically from one region to the next. In the northern islands of Wolf and Darwin, a 3mm wetsuit is adequate for the warm water (78–84°F or 26–29°C). Bring a 7mm and hood for diving around Isabela and Fernandina, where water temperatures of 55°F (13°C) aren't impossible.
Diving Experience Level: Beginner divers will be the most comfortable (and safe) in the waters around Santa Cruz and San Cristobal—and this is largely the domain of day boats. Intermediate and experienced divers can access the current-ridden dives of islands further out via liveaboard.
Photography Experience Level: Given the crazy currents and dramatic changes in water temperature, underwater photography in the Galápagos can be quite difficult. Many of the subjects are skittish and the nutrient-rich waters are prone to create backscatter. Study up on your photo techniques and prep for this trip.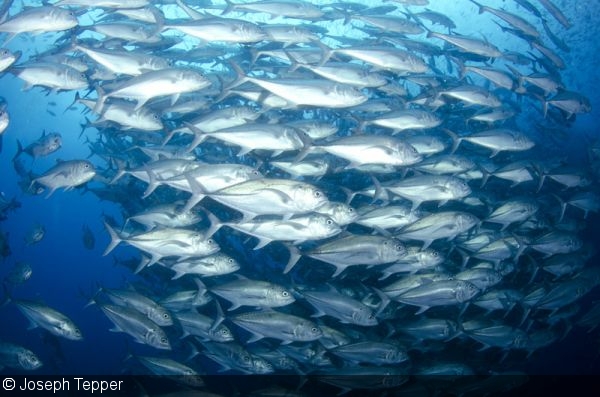 The diving is often marked by strong currents, but these currents bring in a ton of nutrients, which leads to sights such as this massive school of jacks
Top Dive Sites in the
Galápagos

for Underwater Photography

Darwin's Arch

You could dive Darwin's Arch every single day for the rest of your life and never be disappointed. This is arguably the best dive site in the world and is certainly the highlight of any dive trip to the Galápagos. Marked by the iconic "Darwin's Arch" rock formation above water, the dive site begins at the base in the shallows, where sea lions and turtles are common. Descend down a rocky ledge and use your reef hook to fight the current as dozens of hammerheads drift by. Certain times of the year also deliver multiple whale sharks.

An iconic Darwin's Arch image: hundreds of hammerheads drifting by as you hook onto a rock

During the summer months (June to August), encounters with whale sharks are more common

Landslide (Wolf Island)
The name speaks for itself as a section of land careening into the sea is the drop-off point for this great big animal dive. Expect to see more hammerhead sharks, often in large schools out in the blue. As well, this is a great dive site to photograph spotted eagle rays, turtles, and the occasional dolphin.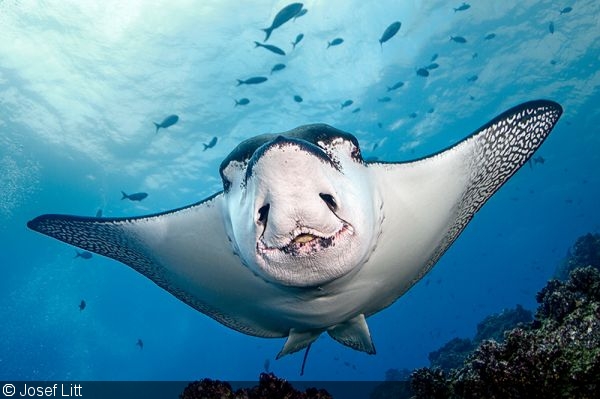 Wolf Island offers up more shark encounters and tons of opportunities to photograph eagle rays

Cousins Rock
Located near the coast of Santiago, this dive site is often one of the first visited by liveaboards. The entire rock can be circumnavigated on a single tank, but with so much to see, it's best to split up the sections into multiple dives. For example, focus your first dive searching for seahorses and stingrays (and pelagic animals, too) and then spend an entire additional dive interacting with playful sea lions near the surface.

At the end of your Cousins Rock dive, make sure to check out the rock ledges for curious sea lions

Punta Vincente Roca
This dive is extremely productive for underwater photographers—as long as they are willing to put up with the chilly water temperatures. Start at the corner of this sharp wall in search of Mola molas and manta rays and then follow the wall into the shallows. Along the way, you'll see schooling bait fish, hunting sea lions, and even some hard coral growth. Lucky divers will be treated to diving cormorants, penguins, and marine iguanas.

Scuba dive in the shallows to photograph the endemic marine iguana, which spends its time on the bottom, feeding on algae

In the Galápagos, make sure to always pay attention: This flightless cormorant dived down in a matter of seconds to chase a fish
Underwater Photography Equipment for the
Galápagos
DSLR and Mirrorless: The name of the game in the Galápagos is wide angle. That said, there are some choices to be made for lens selection. A prime fisheye lens or fisheye zoom lens is ideal for extremely large subjects (whale sharks, manta rays, large schools of fish) and easily approachable subjects (sea lions and turtles). That said, a wide-angle rectilinear zoom lens is a critical tool in your arsenal for better filling the frame with timid hammerhead sharks.
Compact Cameras: Compact cameras have a bit of an edge in the Galápagos when it comes to focal length. You'd be hard-pressed to find a DSLR or mirrorless camera user willing to strap on a macro lens to photograph subjects like seahorses, endemic blennies, or batfish. But with a compact camera, you have the flexibility of adding wet lenses—wide angle and/or macro—as the need arises.

The Galápagos is all about the big animals, but don't forget there's always the small stuff
Underwater Photography Tips and Techniques for the
Galápagos
Be Ready to Go: Sure, there's always a warm-up dive on liveaboards—and the Galápagos is no exception. But with the challenging diving and plethora of subjects, there's little time to fiddle around with new gear. If you want to use new equipment (photo or diving) make sure to test it out at home or at a more easy-going destination first.

An underwater videographer has his lights turned on and ready to roll as sea lions chase bait fish

Streamlined Gear: The currents in the Galápagos are unavoidable, which is good because they bring lots of nutrients and pelagic life to photograph. Make sure your gear is as trim as possible. For your camera, this means tucking in strobe sync cords (try zip ties). Make sure your hoses (spare regulator, pressure gauge, etc.) are secured snugly and that your reef hook is daisy-chained into a compact form and ready to deploy if needed.
Beware Backscatter: The nutrient-rich waters of the Galápagos are a smorgasbord for pelagic life—but it can pose a challenge for photography in terms of backscatter. It's especially important that you position your strobes slightly behind your housing and angled away to minimize particulate matter in your pictures. For subjects that are further away like hammerheads and whale sharks, try to rely more on natural light by increasing the ISO and opening the aperture—and use your strobes as a gentle fill light.

The nutrient-rich waters bring rare sights (like this Mola mola), but they also pose a challenge in terms of backscatter

Safety First: Diving in the Galápagos is very much a safety-first operation. Strong currents and deep dives both pose potential risk. Up-currents and down-currents can swing you up or down 15 feet in a matter of moments. Surfacing in the wrong place can separate you from the watchful eyes of the panga (dinghy) drivers. That's why it's important to always stay with, and surface with, your dive group. Many liveaboards even offer GPS trackers for rent. Don't sacrifice your safety for a photo.
Back Button Focus: For advanced shooters, back button focus is a really valuable tool in the Galápagos—especially with the speedy sea lions. Back button focus for underwater photography is a whole topic in itself, but the general idea is to rely on your camera's focus tracking through the back button and only pressing the shutter when you've got the perfect moment framed. This is especially simple when photographing in burst mode with natural light at the surface, which is possible with sea lions, turtles, penguins, and more.

Shooting speedy subjects like sea lions, iguanas, penguins, and cormorants is made easier by employing back button focus and the continuous shooting mode

Hide and Shoot: The iconic shot of a hammerhead (or two, or two hundred) is probably on your checklist when diving in the Galápagos. If you've never dived with these amazing sharks, it might surprise you to learn they are quite shy—avoiding strobes, bubbles, and divers in general. Perhaps the best method is to crouch behind a boulder, hold your breath, and wait for the last second to pop up for the photo as the hammerheads pass by. Make sure your settings and lighting are all set before springing up. Note: Never hold your breath while ascending.
Topside Too: We could write an entire article on the topside photography opportunities afforded by the Galápagos. The main above-water sights offered to divers on liveaboard itineraries include birding photography and a chance to see the famed tortoises up close. But it's great to bring a secondary camera along to capture the impressive topography of the islands. As well, you may be treated to other sights in-between dives along the coast: Penguins, iguanas, and sea lions are all approachable with a dinghy.

From above water to below, the Galápagos is a nature photographer's dream come true
Planning Your Underwater Photography Trip to the
Galápagos
How to Get There: You'll need to catch a flight from mainland Ecuador through either Quito (UIO) or Guayaquil (GYE). Liveaboards vary their port of departure in the Galápagos based on season and personal preference, so make sure to check with your travel partner.
When to Go: The Galápagos boasts some of the best diving in the world regardless of the time of year. That said, it's a common belief that the summer months (June to October) are better for photographing whale sharks, while the winter months (November to May) feature more regular schools of hammerhead sharks. The reality is that the seasons blend to a large degree, and that the visibility is lessened in the summer months because of increased nutrients and therefore hungrier whale sharks.
Where to Stay and Dive: Most land-based dive operators are based out of Santa Cruz. The best way to dive the Galápagos is via liveaboard. DPG dove with the Galápagos Master of the Worldwide Dive and Sail fleet.
Money: The U.S. dollar is the currency of both Ecuador and the Galápagos Islands. There are limited ATMs on the islands, so make sure to bring cash with you.
Electricity: The Galápagos features plug types A and B with a 120V/60Hz output. If diving from a liveaboard, make sure to check the power sources for the specific vessel.
Health Concerns and Vaccinations: Routine vaccinations are recommended.
Entry Requirements: There is a park entrance fee of $100 upon arrival (payable in cash). Starting in 2018, visitors to Ecuador are required to provide proof of health insurance and will be given a Transit Control Card during their time in the Galápagos.
Further Reading: There's a lot more to the Galápagos than can be covered in a single article, especially when it comes to all of the tour activities and topside photo opportunities. We suggest prepping for your trip by reading Josef Litt's book Galápagos, written from the perspective of a diver and underwater photographer.

Don't forget to snap a photo of the famed Darwin's Arch rock formation
RELATED CONTENT
Be the first to add a comment to this article.
Newsletter
Travel with us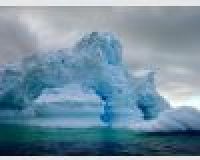 Antarctica
Plan Your Adventure >
Featured Photographer
Alex Kirkbride
Expert Photographer
Alex Kirkbride is an award-winning photographer with an international following. His water images have been exhibited in England, Italy and the United States, included in private collections, appeared on numerous covers...