Travel
An Underwater Photographer's Guide to the Flower Garden Banks National Marine Sanctuary
Coral cover at the FGBNMS is a whopping 50%

The Flower Garden Banks National Marine Sanctuary (FGBNMS) is comprised of three separate reefs located 70 to 115 miles off of Galveston, Texas. The East and West Flower Garden Banks reefs are 12 miles apart with coral cap areas of 250 acres and 100 acres, respectively. They are the northernmost coral reefs on the North American continental shelf and are bathed in cobalt-colored clear, warm waters from gyres generated from the Gulf Stream.
The coral caps in the FGBNMS host 22 species of hard corals, at least 300 species of fish, and more than 800 species combined of sponges, crustaceans, mollusks and echinoderms. Due in part to their far reach from shore, the Flower Garden Banks are in exceptional health and have a live coral coverage of a whopping 50%—so healthy that these relatively small areas of coral reefs are possibly the healthiest coral reefs in the entire Western Hemisphere.
Stetson Bank, the third bank of the trio and its later addition, is a much smaller siltstone-based reef set 30 miles inshore from the West Flower Garden Bank. The nearest true coral reefs are 400 miles away off Mexico, making the Flower Garden Banks truly stunning oases of prolific tropical marine life in the northern Gulf of Mexico.

The coral reefs at the FGBNMS are arguably some of the healthiest in the entire Western Hemisphere
Diving at the Flower Garden Banks
Considering the distance from shore and number of sites, the most practical way to dive the FGBNMS is by a liveaboard vessel. Currently, there is only one bona fide liveaboard operator running trips to the sanctuary on a regular basis. The MV Fling, located in Freeport, Texas, offers two- and three-day trips to the Flower Garden Banks on the comfort of a 100-foot-long converted crew boat.
Since the reefs are in the open ocean up to 115 miles off the coast, this destination is not well suited for beginner divers. Diver skills should be intermediate at a minimum. At all of the three natural reefs, the MV Fling ties up to U-bolted moorings. The experienced crew provides utmost safety protocols and puts in place a system of lines on the sides and at the stern for allowing safe, easy movement from the entry point to the descent line, return from the decent line to allow safety stops, and a controlled swim to the stern dive ladders and platform. The side entry is a giant stride and a 6-foot drop so camera rigs are lowered from the boat with a clipped line. After the safety stop, a stern camera line is set in place to secure camera rigs before swimming to the stern ladder. As do most liveaboards, the Fling has a camera table and camera-only dip tanks.
Currents vary greatly and can change considerably during a dive, but even when there's a swift current running at the surface, it can be easy swimming on the bottom. Safety sausages are mandatory and critical for unplanned ascents resulting in separation from the liveaboard. In the open ocean, it can be difficult for the crew to spot a diver at a distance without the aid of a very prominent, tall, brightly-colored safety sausage. Also, consider a LifeLine device when diving in the open ocean and always be sure to test it before making your dive.

A stunning school of gray snapper wrap around a pinnacle at Stetson Bank

Quick Facts for the Flower Garden Banks:
Where: In the Gulf of Mexico, 70 to 115 miles off Galveston, Texas, at a latitude of 28 degrees north.
When: There are two seasons. The summer season is May through October with mid-July to mid-September the best time for flat seas. The winter season (think hammerhead sharks), weekends only, runs from February through April when temperatures dip to the high 60s°F.
Water Temperature: High 60s°F to lower 70s°F in the winter. May through October, progressively from the high 70s°F to mid-80s°F.
Visibility: At the East and West Flower Garden Banks, viz ranges from 75 to 150 feet year round. At Stetson Bank, it can be more than 100 feet in the summer, but drops to 40 to 60 feet in the winter months.
Time Zone: Central Time
Depths: Tops of the reefs are at depths of 55 to 65 feet. Dive profiles are 65 to 95 feet.
Sea Conditions: Currents vary from nil to brisk. Brisk currents on occasion require hand-over-hand on a surface line leading to the main down line.
Diving Experience Level: Currents and surface conditions can be unpredictable this far out in the open Gulf making the FGBNMS adventure best-suited for intermediate and advanced divers.
Photography Experience Level: For first-timers, it's a good idea to leave the camera on the boat for the first dive. Once experiencing getting from the boat to the mooring line and back, go for it.

A scrawled trunkfish approached for a kiss with its botoxed lips and teeny dentures

Top Dive Sites in the Flower Garden Banks
East and West Flower Garden Banks
Imagine an extensive submerged blanket of life at a depth of 65 feet that's filled with giant greenish and brown-hued mounds and boulders wrapped in a cover of living brain and star coral polyps. Dozens upon dozens of these colossal coral heads can be seen in every direction for as far as the eye can see—which is often 100 feet or more.
Some of the hard coral formations are bigger than a small car and most are studded with orange and yellow sponges. Schools of chromis and creolefish hover over the formations while parrotfish, rock beauties and Spanish hogfish meander around the reef areas. Prominent reef homies include barracuda, angelfish, reef butterfly fish, red-spotted hawkfish, and scrawled cowfish. Sand patches and alleyways section off the nearly continuous spread of corals. Bottom dwellers like yellowhead jawfish, peacock flounders and tilefish hang out in the sand patches between the maze of coral mounds.

Ken Tripp swims through boulder corals at the East Flower Garden Banks

Besides an impressive array of stony corals and Caribbean tropical fishes, the Flower Garden Banks also attract much larger animals like manta rays, loggerhead turtles, and silky sharks. You may even spot a mobula ray or a hawksbill turtle cruising around the reef. During the late winter months and early spring, massive schools of scalloped hammerheads and squadrons of spotted eagle rays pass through the reefs. Whale shark sightings occur mostly in the summer months and are sporadic. Yet on most trips it's common to see a manta ray, a silky shark or even a sandbar shark. Every year, a most remarkable event occurs that makes the Flower Garden Banks that much more a destination to add to the bucket list: Seven to 10 days after the August full moon, the reef explodes in a reproduction frenzy known as mass coral spawning.

Scalloped hammerhead sharks tend to congregate at the East and west Flower Garden Banks in late winter and early spring months

Mass coral spawning at the FGBNMS is predicted every year after the August full moon

Stetson Bank
The sanctuary's third reef, Stetson Bank, has a scant 36 acres of reeftop but don't let its bantam size cap of marine life fool you. Located 30 miles southeast of the West Flower Garden Bank, Stetson is a huge magnet for thrilling marine life such as manta rays, sandbar sharks and on occasion, whale sharks. Its rocky outcroppings and features are way different than the East and West Banks. Stetson touts a series of stony ridges and siltstone pinnacles encrusted with sponges and fire coral where spiny oysters, arrow crabs, feather dusters and an array of other invertebrates vie for space.

Diver Patty Donalson examines a healthy formation of Madracis decactis corals at Stetson Bank

The Sierra Madracis (Madracis decactis) coral formation near Buoy #3 is not only the largest coral formation on Stetson, but it's also one of the most visually stunning and lively displays of ten-ray star coral in the entire sanctuary. Schools of crimson creolefish hover overhead while spotted morays poke their heads out from cubby holes. The many recesses in the Madracis formation also provide perfect hideouts for spiny lobsters.
At Stetson Bank, photographers marvel at the unusual number of spotted scorpionfish, the flashy sailfin blennies hovering above their burrows (at Buoy #1), and the golden smooth trunkfish found in only two places in the world. Another signature of Stetson is its wall on the north side that makes a dramatic plunge to 180 feet. While navigating along the edge of the drop-off, divers need to keep their eyes peeled for any of big boys passing by, like a sandbar shark or a manta ray.

Manta rays are frequent encounters at the East and West Flower Garden Banks

Like magicians, scorpionfish can blend into the reek backdrop nearly unrecognizable

Platform Dive
Most weekend and three-day weekday trips to the FGBNMS include at least one dive at an energy platform located a short distance from the East Flower Garden Bank. The steel structures blanketed with fuzzy white hydroids, red encrusting sponges, tiny colonial anemones, and varieties of colorful blennies are artificial reefs loaded with photo ops.
The blennies rely on empty barnacles for safe haven from predators and are fave subjects for macro photographers. Tessellated blennies poke their heads out enough to expose their colorful comical faces and strange-looking "antlers"—which are actually flaps of skin above their eyes. The yellow blennies have mustard-colored bodies with blue streaks radiating from their eyes. Angelfish, cocoa damselfish and butterflyfish flutter around large stands of purple and brown tube sponges attached to the legs of the structure. Schools of silky sharks are regularly seen circling the outside of the platform and loggerhead turtles are sometimes spotted feasting on sponges encrusted on the steel structure.

Platform structures are loaded with sponges, hydroids and a community of tropical fish

Silky sharks are often seen swimming through and around the HI-A376A platform only three miles from the East Flower Garden bank coral cap

The Kraken
On weekday trips, the MV Fling normally makes one dive on the wreck of the Kraken located outside of the sanctuary. This 371-foot cargo vessel was intentionally sunk 67 miles off the Texas coast in January 2017 by the Texas Parks and Wildlife Department's Artificial Reef Program. There are two huge cranes on the ship, compartment swim-throughs and many opportunities for sensational wide-angle images.

After an inspection of the inside of the wreck, Chuck Noe swims out a compartment opening in the Kraken, sunk 65 miles off of Galveston
Underwater Photography Subjects at the Flower Garden Banks
Wide-Angle Subjects
Reef scenics of massive sponge-studded hard coral formations with fish hovering above
Large schools of fish such as Bermuda chub, snapper and jacks
Manta rays, sharks (silky, sandbar, scalloped hammerheads, spinner)
Loggerhead and hawksbill turtles
Southern and roughtail stingrays
Whale sharks and tiger sharks on occasion
Madracis coral formation at Stetson Bank

Tropical Fish Subjects
Great barracuda portraits (under the boat)
Townsend angelfish and more common species
Red-spotted hawkfish
Seven species of moray eels
Sharpnose puffers, scorpionfish, cowfish and dozens of Caribbean species
Longlure frogfish (rare)
Note: Stetson Bank is premiere for fish photography

A charcoal-colored longlure frogfish perches on a sponge at Stetson Bank

A portrait of a scrawled cowfish at Stetson Bank

Macro Subjects
Sailfin blennies (Stetson Buoy #1)
Tessellated blennies (on platform)
Other blennies and gobies
Yellowhead jawfish (sand patches)
Red night shrimp (night dives)
Mantis shrimp (Stetson Buoy #1)
A tiny seaweed blenny makes its home in an abandoned barnacle casing
Underwater Photo Equipment for the Flower Garden Banks
Compact Cameras
Compacts are fine for diving at the FGBNMS and are much easier when dealing with surface currents. Strobes and/or lights are recommended because at depth, with only natural lighting, the colors are strongly muted. Wet mount adapters for macro and/or wide angle are highly recommended because of the variety of photography subjects, especially so at Stetson Bank.
Camera bag:
Camera, housing, strobes and lights
Wide-angle and macro wet lenses are recommended
Focus light to assist
Compact shooters should make sure to bring their wide-angle attachment to capture the reef in all its glory

DSLRs
Bring your entire arsenal of equipment for a full array or images—from super wide angle to macro. If you have a longer macro lens, say 105mm, be sure to bring it for the more skittish subjects like sailfin blennies. Bring a topside camera for shots of the platform, on and around the liveaboard, and for diver entry shots.
Camera bag:
Wide-angle lenses from 15mm to 20mm
60mm and 105mm lenses for fish shots and macro work
Focus light for macro
Topside camera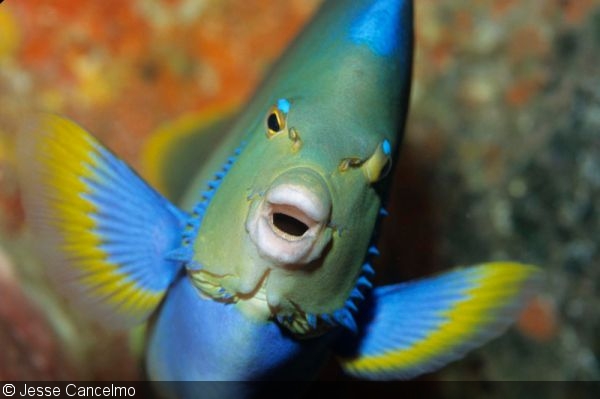 Townsend angelfish, once thought to be a separate species, is actually a hybrid produced by a queen and blue angelfish
Underwater Photo Tips and Other Tips for the Flower Garden Banks
As for most destinations, your best sources of intel to find the best photo ops are the divemasters who know the reefs so well.
For wide-angle shots of the reef formations, shoot with at least a slight upward angle. Also, when shooting close to the coral heads, angle up for better impact by capturing the reds and yellows of encrusting sponges beneath the coral heads.
The reefs are deeper than many destinations and so the water column above is enormous. So be sure to look up every so often so you don't miss a manta ray or whale shark swimming through.
Out-of-town divers should schedule summer trips from mid-July to late September when the chance for a weather cancellation is the least.
For an epic experience, sign up for an extended mass coral spawning trip in August.
Don't forget to bring enough lighting, including a focus light and a tank light for night dives.
A spiny lobster struts across the reef in broad daylight at the East Flower Garden Bank
Planning Your Underwater Photography Trip to the Flower Garden Banks
How to Get There: For out-of-towners beyond driving range, book a flight to Hobby Airport just south of downtown Houston. Pick up a rent car or Uber to a Lake Jackson-area hotel near the coast 60 miles away and 10 minutes or so from the Freeport dock.
When to Go: The summer season is May through October and the winter diving (hammerhead season) runs from February through March. For underwater photographers having flexibility for weather-outs and within driving distance, go for a summer trip and a winter trip. For those flying in, the best bet for calm seas is mid-July through the end of September. Weather calls are made at noon on the day of boarding, which is 7:30 pm.
Further Reading: Contact the Flower Garden National Marine Sanctuary at www.flowergarden.noaa.gov and for more info the MV Fling, www.flingcharters.com. Be sure to pick up a copy of Texas Coral Reefs or Glorious Gulf of Mexico, both by Jesse Cancelmo and published by Texas A&M Press.

A whale shark swims away from the platform near the East Flower Garden Bank
RELATED CONTENT
Be the first to add a comment to this article.
Newsletter
Travel with us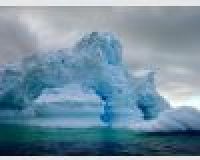 Antarctica
Plan Your Adventure >
Featured Photographer
Matt Oldfield
Expert Photographer
Matt Oldfield is part of the growing Scubazoo team, based in Kota Kinabalu, Sabah, Malaysia, and runs the publications side of all things Scubazoo - writing articles, working on books and attempting to sort out the ever-growing...