Travel
An Underwater Photographer's Guide to Dumaguete, Philippines
The Philippine archipelago is comprised of 7,107 islands situated within the global center of marine diversity, the coral triangle. Dumaguete is the largest city and capital of Negros Oriental Province in the central group of islands called the Visayas. The city is a bustling university town and is a popular tourist destination because of its many nice beach resorts and fantastic scuba diving. The dive sites of Dumaguete are home to many of the oceans most valued photographic subjects and are a must-visit for any underwater photographer.

Diving in Dumaguete

The diving in the area is as diverse as the species that are found there.
Coral reefs and muck dives along the coastline boast a huge variety of macro life, but if hunting for small critters is not your thing then nearby Apo Island is surrounded by large schools of fish and coral gardens.

Coastal Diving
All of the mainland sites are very easy dives just off shore on gentle slopes that start around nine feet deep and level out at around 75 feet. There is often little if no current, which makes them ideal for beginners to underwater photography or even the seasoned pro trying out creative techniques like snooting or bokeh.
Some sites have added artificial elements such as old cars, tires and metal structures to the sandy areas to attract more of the local marine life and give them a home. There are many places to dive too, so it is not unusual to get a site all to yourself!

Apo Island
Many resorts will organize day trips to the marine sanctuary of Apo Island, which is around one hour away by boat. The experience here is very different to the slopes of the mainland, with dives taking place in open water around the drop offs and walls of the island. Currents can sometimes be strong and unpredictable and some sites are better at depths suited to more advanced divers.

Dumaguete Diving Facts

Where: Central Visayas, Philippines
Language: Cebuano/Filipino
Currency: Philippine Peso (US dollars are accepted in most places)
Time Zone: GMT +8
Water Temp: 26–29°C
Diving Experience Level: There are dives here suitable for all levels of scuba diving.
Photography Experience Level: Great for beginners to learn the basics and also for more advanced shooters trying out new techniques and equipment.

Dumaguete Underwater Photography Subjects

Macro subjects
Critters of all shapes and sizes reside along the coast. Rare and colorful octopus and cuttlefish can be seen out hunting on the sandy expanses and well-camouflaged species such as the hairy frogfish sit waiting to be discovered in the sea-grass. Crustaceans of all kinds can be found within the areas of coral reef and ghost pipefish hover around crinoids in vast numbers. There is even a reliable mandarinfish dive where divers can visit at dusk to try and catch a glimpse of these beautiful fish leaving their coral homes to mate.

Macro subject highlights
Blue ring octopus
Mimic octopus
Wunderpuss
Ambon scorpion fish
Hairy frogfish
Ghost pipefish of all varieties
Seahorses
Nudibranchs
Many juvenile species and adults carrying eggs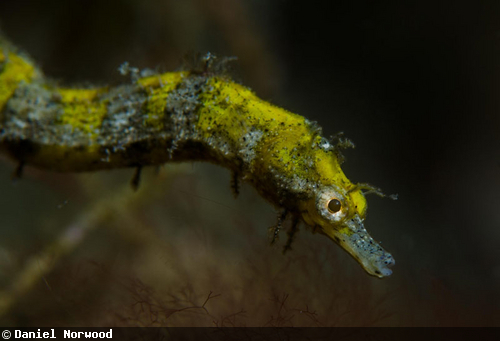 Wide-Angle Subjects
Although the majority of underwater photographers will spend most of their time diving in search of macro critters, there are also some interesting wide-angle opportunities—particularly at Apo Island.
The island has a large turtle population and sea snakes are fairly common. There are also nice areas of hard and soft coral for scenic images and the possibility of encountering other pelagic species such as sharks and rays. Unfortunately some of the coral was damaged by Typhoon Bopha in 2012, but if wide-angle photography is your preference then the area still has plenty of potential.

Wide-angle subjects
Turtles
Hard & soft corals
Sea snakes
School of jacks at Apo Island
Large variety of reef fish
Underwater Photography Equipment for Dumaguete

Camera
Housing
Strobes
3–5mm wetsuit
As many lenses as possible including 60mm/105mm and wide angle
Macro and dome port for lenses
Additional wet lenses for super-macro
Mask (its always best to have your own suitable mask for photography)
Snoot or any other creative tools to experiment with
Plenty of memory cards for all them critters!

Dumaguete Photography Tips and Techniques

Super-macro: There are so many tiny things to photograph that it is a major advantage to have super-macro equipment in your kit bag. Blennies, gobies, shrimps and juvenile fish abound and to capture their true nature on camera will require some help with magnification. Having wet lenses helps as they can be added or removed during the dive depending on the subject.

Work the subject: As many of the sites are close by and easily accessible, it is possible to return to specific subjects to nail the image and work them to their full potential. Ask to return to the areas that you found most productive, as certain critters do tend to be more common at particular dive sites.
Capture behavior: There is so much to photograph that it is easy to simply move from one subject to another trying to get as many images as possible. It is much more productive and fun to spend time observing your intended target go about its business without disturbing it. Eventually most creatures will exhibit some kind of behavior that will make for a much more interesting shot, be it a frogfish yawning or a cuttlefish hunting.

Look out for eggs: On my last visit here it seemed that many of the species I encountered were carrying or brooding eggs. Capturing this is another great way to make your images stand out from the crowd.
Speak with your guide: Every guide I have dived with in the Philippines has been incredibly enthusiastic about the diving in their hometown. These guys dive the area day after day and will know the best place to find what you are looking for. Chat with your guide and make a plan to help you get the shots you want.

Planning Your Trip to Dumaguete

When to Go: The Philippines has only two seasons. The dry season is from December to May and the wet season from June to November. Diving is possible all year round.
How to Get There: International flights to the Philippines will fly into Manila. Dumaguete is a simple one-hour flight south from here and the resorts will arrange pick up for guests from the airport.
Entry Requirements: US and UK passport holders are issued a 21-day visa on arrival.
Connectivity: Most resorts will have Wi-Fi although the connection can be quite slow. There is also perfectly good mobile phone service in the city.
Health Concerns and Vaccinations: Be sure that your routine vaccinations are up to date. There have also been cases of dengue fever in rural areas but those staying in resorts along the coast are at minimal risk. Be sure to pack some effective mosquito repellant and try to avoid getting bitten where possible. As always make sure you are covered by adequate dive insurance. The nearest decompression chamber is in Cebu.
Where to Stay: There are many resorts along the coast ranging from luxurious boutique hotels to more basic accommodation for those on a tighter budget.
RELATED CONTENT
Be the first to add a comment to this article.
Newsletter
Travel with us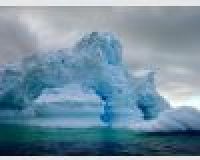 Antarctica
Plan Your Adventure >
Featured Photographer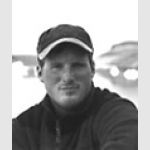 Paul Nicklen
Expert Photographer
After attaining his biology degree in 1990, Paul worked as a wildlife biologist for four years in the Northwest Territories. He worked on such species as lynx, grizzly bears, bison, caribou and polar bears. But, after a few...