Travel
An Underwater Photographer's Guide to Curaçao
By Joseph Tepper, August 17, 2011 @ 07:00 AM (EST)
By Joseph Tepper
Images By Keri Wilk
Curacao is a small island in the southern Caribbean Sea about 50 miles off the coast of Venezuela. The island includes the main island, whose capital is the historical town of Willemstad, along with an uninhabited island of Klein Curacao.

Along with Aruba and Bonaire, Curacao is a constituent country of the Kingdom of the Netherlands and a member of the ABC islands, otherwise known as the Lesser Antilles. It is the largest of the three islands at 171 sq. miles and has the largest population, last reported over 140,000. In 2010, the Netherlands Antilles were dissolved and the island became the Territory of Curacao.



Despite being best known for it's above water culture and natural beauty, Curacao should also be known as a diver's island. For divers, the draw to Curacao is not only the island's pristine reef system, but also the proximity and availability to dive it. One unusual element of the regions geography is the sea floor, which drops off steeply only a few hundred feet offshore. The drop off, know as the "blue edge" means that many of the island's best sites are just a short kick from shore. Because of this, many diving establishments will make tanks available 24 hours a day for unlimited shore diving. This diving freedom is ideal for photographers looking to perfect their craft as it allows you dive on your own schedule at your own pace.






The unlimited shore diving should not prevent you from going to more remote locations. One popular spot, only accessible by boat, is Klein Curacao on the southern end of the island. The waters off this area are home to pristine reefs where the local dive shops say that everything is bigger and more plentiful.


Other highlights of diving Curacao include:
Beacon Point - This current ridden site provide opportunities to see larger fish like jacks, grouper and barracuda, but is only suitable for experienced divers.

Mushroom Forest – A dive site reached only by boat. Known for it's many hard corals that have grown in a way that the site appears, as it's name implies, like a forest of mushrooms. These hard corals host a diverse array of marine life.

The Superior Producer – This wreck, which sunk in 1977, now sits 100ft below the surface and had become home for corals, sponges, and barracudas. It is considered one of the best wreck dives in the Caribbean, but is only suitable for advanced divers.



Unlike many other "diving havens" in the Caribbean, there is much more Curacao has to offer. One land highlight especially attractive to photographer is the historic capital Willemstad. Named as a UNESCO World Heritage Site in 1997, Willemstad is best classified by its traditional Caribbean-Dutch architecture perfect for photography.


Curacao Facts
Where: Southern Caribbean. It is part of the former Lesser Netherlands Antilles, which also includes Bonaire and Aruba.

Language: Official language is Dutch, but English is widely spoken.

Currency: Netherlands Antillean guilder (ANG)

Time Zone: Atlantic Standard Time

Water Temperature: Around 80 degrees Fahrenheit year-round (21 C)

Air Temperature: 85-90 degrees Fahrenheit

Diving Experience Level: Perfect for beginning divers. Little current and clear visibility ideal for new divers, while some of the wreck dives geared towards the more advanced.

Photography Experience Level: Easy, the calm waters and endless list of possible subjects is great for beginning photographers.


Curacao Underwater Photography Subjects
Curacao has plenty of wide angle and wide angle subjects to offer. Highlights of Curacao's macro subjects are jawfish, arrow crabs, cleaner shrimp, banded coral shrimp, all types of blennies and Caribbean reef squid.

Macro/Portrait Subjects:


Scorpionfish

Jawfish

Arrow Crabs

Reef Crabs

Spiny Lobster

Secretary Blennies

Gobies

Parrotfish

Angelfish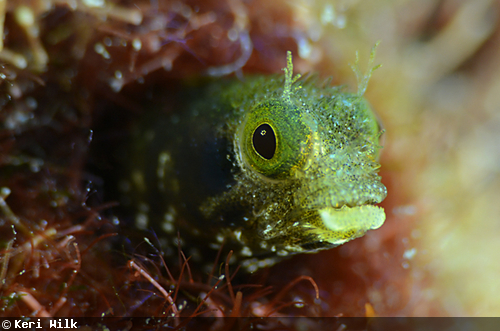 The healthy hard corals, soft corals and sponges will provide plenty of wide-angle opportunities as well. While the area is not known for big fish life, there are opportunities to photograph Southern stingrays, eagle rays, sea turtles as well of schools of fish like blue tangs.

Wide-angle subjects:

Various hard and soft corals

Tube and rope sponges

Green Sea Turtles

Hawksbill Turtles

Southern Stingrays

Barracuda

Schools of fish

Underwater Photography Equipment for Curacao
Because there is such diverse marine life and subjects in Curacao, underwater photographers –both SLR and compact- should bring their full set of gear. You can shoot either macro or wide-angle on every dive.

Compact Cameras
Almost all of the of Curacao's marine life can be shot with a compact camera and a strobe. Compact users looking to take the next step may want to bring an external macro lens for smaller subjects like blennies and cleaner shrimp, as well as a fisheye wet adapter for the many sponges and coral.

DSLRs
Since Curacao is full of macro and wide-angle opportunities, DSLR users will want to bring their full array of lenses fit for underwater photography. Here are three key lenses for Curacao:


A macro lens in the 100/105 range for approaching shy, smaller subjects like blennies, gobies, and jawfish.

A 60mm range macro lens is great for fish portraits and larger macro subjects.

A fisheye lens is great for wide-angle subjects and adding human subjects to shots.


Camera Bag (Compact Camera)

Must Bring: Camera and housing
Strongly Recommended: At least one strobe
Optional: Fisheye wet lens, macro diopter, second strobe, focus light

Camera Bag (SLR)
Must bring: Camera, housing, strobe(s), macro lens, fisheye lens, dome port, and macro port
Strongly Recommended: Focus light, or modeling light
Optional: Equipment for super macro (Teleconverter, diopter or wetlens)



Underwater Photography Tips for Curacao
Creativity is King: Curacao is one of the best place to refine your skills, and start learning creative techniques. Try taking your images to the next level with techniques like snooting, bokeh, super-macro, over-unders.



Model Behavior: Curacao's calm, clear waters and coral reefs are a great time to experiment with using models in your images. Models draw in the viewers' attention, while adding an additional element to a simple shot of a sponge or coral. The biggest challenge when first starting this technique is communicating with the model and placing them properly in the shot; and Curacao's many sites are free from strong currents which can help you work out the kinks.

Use the Walls: The underwater structure of Curacao's walls lends itself to wide-angle images as they allow you to get below your subject. The steep drop-offs and sponges/coral sticking out to into the blue are great for separating the subject from the busy reef background


Keep Your Eyes Peeled: Curacao features some of the best macro shooting in the Caribbean- you just have to search for it. Blennies are plentiful, so try not to swim over the areas numerous species, including Secretary, red-lipped, and even sailfins. Also look out for the more rare encounters like seahorses and cleaner shrimp. Consider taking a super macro set up to get tight compositions of the smaller subjects.


Planning Your Underwater Photography Trip to Curacao
When to Go: Diving in Curaçao is year-round. However, the high season tends to be during the winter months when divers look to escape the cold of the north.
How to Get There: There are nonstop flights to Curaçao from Miami (MIA), Newark (EWR), and Toronto (YYZ). Once on island, renting a car or truck is a popular choice to try out all the diving the island has to offer.
Entry Requirements: U.S. citizens need a passport, plus a return or ongoing ticket. No special visa is required.
Tipping: Tipping for meals and other services is accepted practice. 10-15% is the average rate, but some establishments may include gratuity in the bill.
Taxes: There is a $22 departure tax payable in US or local currency.
Connectivity: Phones are readily available. Internet access is available through most resorts either complimentary with room or for an extra cost.
ATM Access: There are many ATMs on the island, including several at the airport and in Willemstad.
Health Concerns and Vaccinations: No special vaccinations or preparations are required to visit Curaçao.
Drinking Water: Drinking water is safe on the Island from the tap.
Emergencies: There is a recompression chamber in Willemstad at St. Elisabeth Hospital. It is staffed 24 hours a day.
Where to Stay: When DPG goes to Curaçao, we stay at the Lions Dive and Beach Resort. Only 15 minutes away from the airport and Willemstad, the Resort features excellent service for divers, a variety of room plans, and proximity to some of Curaçao's best shore diving.
Who to Dive With: Ocean Encounters Curaçao has several locations around the island, including one at Lions Dive and Beach Resort. Their proximity to the resort and shore diving, knowledge of the area, and photographic facilities make them DPG's choice when in Curaçao.
RELATED CONTENT
Be the first to add a comment to this article.
Newsletter
Travel with us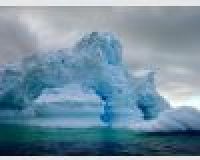 Antarctica
Plan Your Adventure >
Featured Photographer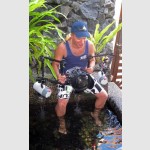 Dave Harasti
Expert Photographer
I'm a marine biologist based in Nelson Bay - Australia working fulltime as the Research Scientist for the Port Stephens-Great Lakes Marine Park. My PhD is on the conservation of seahorses with particular focus on the...