Travel
An Underwater Photographer's Guide to Cozumel
By
Jim Lyle
, September 18, 2015 @ 06:00 AM (EST)

Cozumel, Mexico's largest island, is located in the Caribbean near the Yucatán Peninsula, a few miles southeast of the resort town of Cancún. Often overlooked for specialized photo opportunities in the area such as bull sharks, sailfish, cenotes, and whale sharks, Cozumel offers up some of the healthiest reefs in the Carribbean with a treasure trove of subjects for the underwater photographer.
Diving in Cozumel
Cozumel offers a unique combination of convenience, affordability, and abundant marine life that attracts many underwater photographers to its warm, clear waters. The lee side of Cozumel is a fully protected marine park, home to many colorful fish and creatures, both large and small. The opportunities for wide-angle, fish portraits, and macro photography are endless.
Drift diving is the norm in a current that generally runs from the south to the north. All diving in the marine park is guided. Dive boats drop groups of divers and their licensed dive guides off, and pick them up when they surface at the end of the dive. Reefs farthest to the south consist of huge coral formations, the size of apartment houses, with walls that drop off into a blue abyss. The further north you go, the shallower the reefs become, the smaller the coral heads, and the more abundant the fish life. A few resorts offer shore diving, but the main coral reefs are only accessible from a dive boat. On the other hand, shore dives offer the opportunity of "muck diving" for smaller, macro subjects and the opportunity to spend lots of time playing with the camera.

Drift dives bring some of the healthiest sponges and coral growth in the Caribbean
Top Cozumel Dive Sites for Underwater Photography
Palancar is too long of a reef to do in one dive, and so is divided into named sections: Palancar Bricks, Palancar Horseshoe, Palancar Caves, and Palancar Gardens. Jacques Cousteau made this reef system famous in the 1950s when he brought Calypso to Cozumel and filmed his team of divers on the reef for television. Large coral formations are bordered on the east with sand and on the west with deep water. Scuba dives are normally done along the drop-off with the possibility of some penetration of the wall via large swim-throughs. This is the ideal place for wide-angle images of divers against the wall and huge, colorful sponges. Palancar is also where you are very likely to encounter numerous hawksbill turtles.

Palancar is a hotspot for hawksbill turtle activity, so keep your head on a swivel for these reptiles, which tend to sneak up even on a seasoned photographer

El Paso del Cedral, north of Palancar, can be dived either along the wall or in the shallows. The wall offers large fish, nurse sharks, big parrotfish, and turtles feeding on sponges. The main reef is intermediate in size and has an amazing tunnel system through it. This reef is the best bet to find a large green moray eel, and is home to a large school of resident porkfish (Anisotremus virginicus).

Giant green moray eels are a notable subject on several Cozumel dive sites, such as El Paso del Cedral

Paradise Reef is the other end of the spectrum and the northernmost portion of the marine park. Here, the reef is shallower and full of many, colorful tropical fish. The coral heads are smaller than on the reefs to the south. Paradise is a popular second dive site after diving on a deep reef to the south or as a night dive. The dive guide may point out a colorful splendid toadfish (Sanopus splendidus) in its den, a colorful purple and yellow fish found only in Cozumel's waters. This is also a great reef to photograph the beautiful queen angelfish (Holacanthus ciliaris). Some dive guides like to take photographers onto the turtle grass area to look for seahorses. The grassy area is a wonderful place for muck diving—Cozumel style.

The splendid toadfish is a rare sight indeed—but your Cozumel dive guide should be able to find you one on "Paradise Reef"

Shore Diving: A few hotels and dive resorts offer shore diving off the iron shore in front of their locations. Here, an underwater photographer can dive without a guide and find many interesting macro subjects to shoot. Shore dives are fantastic opportunities to play with a camera and capture images not possible on the reefs during a drift dive.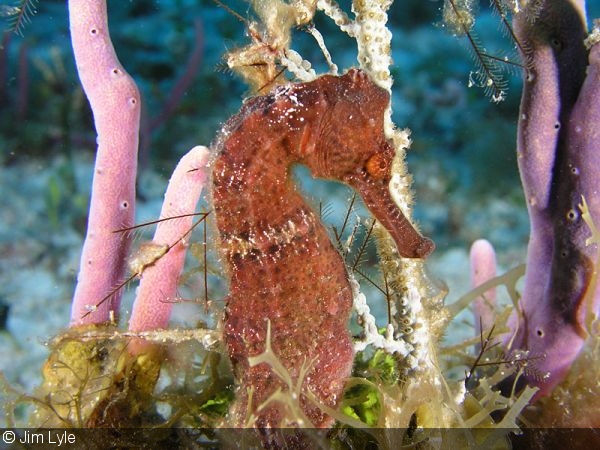 Cozumel's shore diving offers unlimited opportunities to scour the shallows for Mexican-style muck diving critters like seahorses and pipefish
Cozumel Facts
Where: Located off the east coast of Mexico, near Cancún.
Language: Spanish, but English is widely spoken.
Currency: The official currency is the Mexican peso, but US dollars are widely accepted.
Water Temperature: The water temperature is about 75°F (24°C) in winter and as high as 82°F (28°C) in summer.
Diving Experience Level: Cozumel diving is suited for divers of all levels, with certification courses frequently conducted.
Photography Experience Level: The drift diving and currents make Cozumel best suited for photographers with some level of experience diving in current. However, there are plenty of sites that are current-free and easy to dive as well.

Although an invasive species in the Caribbean, the lionfish still makes for a colorful and dramatic photo subject
Cozumel Underwater Photography Subjects
Protection in the marine park means there are many large fish often absent in places where they have been overfished elsewhere in the Caribbean. Shallow, sandy bottom sites also feature a variety of desirable macro critters.
Wide-Angle
Nurse sharks
Hawksbill turtles
Green moray eels
Sponges and hard coral
Groupers
Parrotfish
Jacks
Barracuda
Cozumel's healthy reefs come with a variety of schooling fish, including jacks (pictured above) and snappers

Peek inside a hole to find more fish life and—if you're lucky—a nurse shark

Macro
Various eels
Butterflyfish
Various shrimp
Crabs
Seahorses
Pipehorses
Pipefish and pipehorses are amongst the most prized macro subjects in Cozumel. Your best bet to finding one is to enlist the help of your knowledgeable dive guide
Underwater Photo Equipment for Cozumel
Compact cameras: While a point-and-shoot underwater camera can capture some great images on its own, more serious photographers will want to bring both a wide-angle wet lens and macro lens to better capture the diversity of Cozumel's marine environment—large and small.
DSLR and mirrorless: You'll want to pack at least three lenses when going to Cozumel: fisheye wide-angle, a good portrait lens (50–60mm) and a longer focal length lens for macro. A wide-angle or fish-eye lens (~15mm) is appropriate for deep, wall dives, while your portrait or intermediate zoom lens is best for the countless reef fish portrait subjects. A longer focal length macro lens (105 mm) is an absolute necessity for filling the frame with shy critters during shore dives.
Video: Videographers are finding GoPro cameras to be fantastic for underwater shooting. It is best to use filters for wide-angle with your GoPro. Macro diopters are convenient for little stuff, and for these subjects, you'll want video lights to bring out the color and contrast. (Read more about using GoPro for underwater photography in DPG's comprehensive guide.)

Cozumel's plethora of subjects and relatively easy diving make it a great destination for trying a new technique, like shooting GoPro video
Photography Tips and Techniques for Cozumel
Plan ahead for drift dives: If you are going to Cozumel, you should have good buoyancy control and be comfortable diving in a current. Since you won't have much time to spend with each photo opportunity, think about your camera settings and composition in anticipation of getting that award-winning image, as you may only get that one chance. Periodically, take throwaway pictures of the water and underexpose for dark blue backgrounds.

Drift dives in Cozumel tend to move rather quickly. It's best to meter out into the blue and get your settings down before you fly past your subject

For macro, get out of the current: Drift diving can make macro photography challenging. This doesn't mean it can't be done, but it requires dropping out of the current and taking only a couple of shots before moving on with the group.
Look in the holes: Taking pictures of fish hiding in holes, like the splendid toadfish, requires using a long focal length lens, moving the strobes in close to the lens, and pointing straight forward in order to get light into the hole. Crevices and holes in the reef provide some of the best underwater photography opportunities in Cozumel.

Many of the most desired (and most missed) underwater photography subjects in Cozumel lurk in holes and under ledges—so just have a look!
Planning Your Underwater Photography Trip to Cozumel
How to Get There: From the United States, Cozumel is very easy to get to. Domestic airlines offer daily flights from several gateway cities. Alternatively, you can fly into Cancún and then take a ferry to the island.
When to Go: Cozumel offers diving all year round, but keep in mind winter is the most crowded with tourists, the water is cooler (high 70s F), and there is the possibility of a "norther" storm that may close the port for dive boats. However, winter is also the best time of the year to see spotted eagle rays. Summer is the off-season, the water is warm (low to mid-80s), and you run the slight possibility of a hurricane.
Where to Stay: Cozumel offers a full range of accommodations and amenities, from upscale to inexpensive, from room-only to all-inclusive.
Popular with Scuba Divers: Scuba Club Cozumel or Blue Angel
Upscale Resorts: Cozumel Palace and El Presidente
Budget Accommodations: Many to choose from
Recommended Dive Operators: XTC Diving and Aquasafari

RELATED CONTENT
Be the first to add a comment to this article.
Newsletter
Travel with us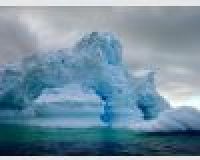 Antarctica
Plan Your Adventure >
Featured Photographer
Bruce Mozert
Expert Photographer
Bruce Mozert was born in Newark, Ohio on November 24, 1916. He had two sisters, Zoe Mozert (a famous pin-up artist) and Marsha (who did some hand modeling for Ponds Skin Cream). Bruce came to Florida in 1938 after leaving New...