Travel
An Underwater Photographer's Guide to California

California doesn't require much preface: Its beauty has inspired artists for centuries. Stretching over 800 miles along the western coast of the US, the so-called Golden State encompasses sunny surf towns, glitzy cities, fog-encased bays, cliffs that drop into the sea, and towering redwood forests. Viewing the topside beauty of this destination, however, only provides a hint of its majesty. Just offshore lies one of the most incredible and varied seascapes in the world.

Diving in California
California's diving is as diverse as its landscapes, both in terms of conditions and photographic opportunity. Divers can view anemone-encrusted shipwrecks and oil platforms, hydrocoral-covered pinnacles, lush kelp forests, boisterous pinnipeds, intense shark action, swarms of jellyfish, and phenomenal macro subject matter—and all within a day's drive from home.

A red gorgonian provides an intense pop of color in the kelp forests of the Channel Islands

We'll give it to you straight, though: The visibility can vary widely and shift abruptly, ranging from well over 100 feet on an epic day to under 15 feet on a bad one. Surge and current are practically inescapable at the most renowned sites. Some of the most sought-after subjects can be fickle, mugging for the camera one day, and standoffish or absent the next (harbor seals and blue sharks, I'm looking at you); and other subjects, such as jellyfish blooms or market squid, may materialize for a day or two and then abruptly disappear, not to be seen again for months, or even years.
However, the amazing payoffs are unquestionably worth the challenges, especially for those who approach their visit with perseverance, flexibility, and an open mind. Divers who are eager to go with the flow of things are likely to be rewarded with mindblowing interactions they never anticipated.

Quick Facts:
Where: California is the southernmost state on the west coast of the USA, bordered to the south by Mexico and to the north by the state of Oregon.
Water Temperature: Temperatures vary between 7°C (45°F) in Monterey during springtime to 20°C (68°F) at the oil platforms during early autumn. A drysuit or 7mm wetsuit with hood and gloves is recommended.
Diving Experience Level: Although many dives in California are suitable for novice divers, visitors lacking cold-water experience should consider hiring a local guide.
Photography Experience Level: Due to the likelihood of low visibility, surge, and/or current, intermediate to advanced photographers will feel more comfortable, but there are sites and subjects suited to all levels.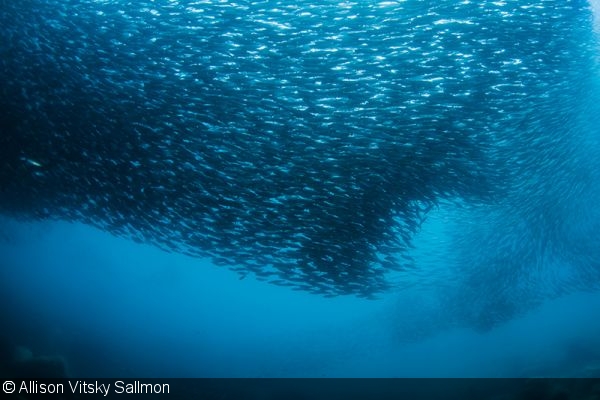 A dense school of mackerel swirls across the ocean floor near San Diego, California
Top Dive Sites for Underwater Photography in California
San Diego
Few cities offer the incredible variety of dive sites that can be accessed from this once-sleepy surf town. Photographers can admire world-class shipwrecks and artificial reefs coated with colorful anemones, capture golden sunbeams filtering through a kelp forest, or come eye-to-eye with a sevengill shark or California sea lion—and all before 3pm. San Diego also boasts some incredible macro opportunities. Submarine canyons immediately offshore dip abruptly to depths of over 600 feet, providing a high density of marine life that is matched by few other places in California. The small marine life found here includes red and two-spot octopus, blennies, amphipods, and an ever-changing army of nudibranchs.

The HCMS Yukon, part of San Diego's famous Wreck Alley, provides substrate for multihued invertebrate life

Long Beach Oil Platforms
These oil platforms aren't pretty above the surface, but don't let an underwhelming first impression fool you: This is an extraordinary dive site. These structures are smothered with Technicolor invertebrate marine life like anemones, mussels, starfishes, and sponges, and they're inhabited year-round with equally multihued marine life, including cabezon, garibaldi, sheepshead, and sea lions. Better yet, they lie smack in the middle of the open ocean, so anything can be seen here—bait balls, fabulous pelagic invertebrates, Mola molas, and even the occasional whale are all possibilities.

A darkly colored cabezon blends into the mussel-covered shallows of the oil platform near Long Beach, California

Channel Islands National Park
Of California's eight Channel Islands, only five—Santa Barbara, Anacapa, Santa Cruz, Santa Rosa, and San Miguel—are encompassed by the national park, and each is so different from the next that it would take an extended visit to experience what they all have to offer. From the clear blue waters and towering kelp forests of Anacapa and the playful sea lions of Santa Barbara, to the fabulous macro life of Santa Cruz and Santa Rosa, and the rich, anemone- and starfish-covered reefs of San Miguel, the Channel Islands National Park is a vast destination that's able to delight the most jaded shooters.

Shooters should always be prepared to capture the incredible pelagic invertebrates that can be found in California's waters

Monterey and Carmel
The epicenter of diving in Central California, the bays of Monterey and Carmel boast a wide variety of photographic subject matter. In Monterey, shore divers can search for nudibranchs at the Breakwater or admire giant plumose anemones at Metridium Fields, while boat divers can access offshore reefs and pinnacles encrusted with fish-eating or plumose anemones. In Carmel, Point Lobos State Reserve provides easy shore access to a wonderful kelp forest dotted with colorful fish-eating anemones and filled with huge lingcod and schooling rockfish. Safety stops can be equally enticing, as large blooms of sea nettle jellyfish are a regular occurrence throughout this area.

Blue Water
One of the best ways to get great images in California is to ditch the tank, grab a snorkel, and get offshore. These are often booked as shark dives (blue and shortfin mako sharks are commonly encountered in California), but molas and pelagic invertebrates are also typical subjects for these trips. This type of pursuit doesn't always produce the sheer volume of images that can be acquired on a three-tank dive day to a local kelp forest, but when blue water pays off, it pays off in a big way. In addition to the potential thrill factor, there is an added benefit of diving the blue water: The visibility offshore is often good, and sometimes excellent.

Jellyfish blooms, such as rare blooms of black sea nettles, can appear and disappear in a matter of days
Underwater Photography in California
Macro Subjects:
California's nutrient-rich waters sustain a dazzling array of nudibranchs, which range in size from smaller than a grain of rice to larger than your hand.
The kelp forest is truly a vertical structure, so don't forget to inspect the leaves; nudibranchs, snailfish, crabs, and topsnails inhabit the kelp and make fantastic photo subjects.
Scrutinize rocky reefs very carefully. Many macro subjects (such as fringehead blennies) blend so well with their surroundings that you might only spot them if they move.
The beautifully colored Janolus barberensis nudibranch cruises the muck bottom at La Jolla, San Diego

Wide-Angle Subjects:
Molas often seek shelter under kelp paddies (loose tangles of floating kelp detritus)—when offshore, take the time to look under every one you pass.
Torpedo (aka Pacific electric) rays can be found patrolling reefs throughout California. They will let you get close, but be careful about getting too close!
Safety stops are a great opportunity to shoot pelagic invertebrates, which are common at all times of year.
Underwater Photography Equipment for California
Compact Cameras: Photographers wielding compacts attract the envy of everyone because they can seamlessly shift between wide-angle and macro subjects. A supplementary lens for wide-angle photography is necessary to help compact shooters get closer to subjects and capture California's fantastic vistas; a macro lens/diopter is also beneficial to help get closer to the tiny critters. A focus light to aid the camera's focus ability in limited light situations is critical for compact camera use in California. Using an external light source (a strobe or strong video light) will also be advantageous; several common subjects (kelp, sea lions, pelagic invertebrates) require lots of illumination—more than you'd think—to get the best possible results.

A torpedo ray patrols a deep reef in Carmel

DSLR and Mirrorless: Get close! The probability of limited visibility makes working close to your subject critical. For the best chance of success, follow the "10-percent rule": Shoot a chosen foreground subject within 10 percent of the visibility; if your visibility is 15 feet, you should be no more than a foot and a half from your foreground subject.
For wide-angle photography, short focal length lenses, such as super-wide fisheye zoom lenses, are necessary. For macro photography, once again, the ability to get close to your subject is a necessity: 60mm macro lenses are the go-to for most California macro enthusiasts; if you prefer a 100mm macro lens, a diopter to help you get closer to your subject is highly recommended. For many situations, entry-level strobes or powerful video lights are adequate, but for shooting fast-moving subjects, especially mako sharks and sea lions, high-output pro-level strobes with rapid recycle time will give you a better chance of capturing fleeting moments.

Approach kelp as a vertical structure: Inspecting leaves during your ascent can yield fabulous subjects, such as nudibranchs
Underwater Photography Tips and Techniques for California
Novice: Kelp Forest
Getting a great shot of the kelp requires a lot of illumination! Not only does the canopy block the sunlight, but the leaves themselves absorb quite a bit of light. To get a wide view of the forest, start with the sun at your back, use a mid-range aperture such as f/8 and a slow to medium shutter speed (start at 1/100s and adjust as needed). Get low so that you can shoot towards the surface and benefit from any light penetrating the canopy.
If you want to capture sunrays, it's often easiest to start by choosing a small area of kelp for your foreground. Turn into the sun and select a young kelp stalk that ends just below the surface. Set your strobes on a medium power, increase your shutter speed (a good starting point is around 1/200s) and shoot up towards the rays. Taking multiple images as the foreground kelp stalk sways naturally in the water column will help ensure that you capture an image with nice curve and movement. Bracket your exposures, making small adjustments to aperture and shutter speed as you shoot.
Few underwater scenes can rival the beauty of a kelp forest

Intermediate: California Sea Lions
California sea lions are another subject that requires a lot of light—pups, which have brownish coats, are the worst offenders. Unfortunately, they are very difficult to appropriately color-balance during post-processing, so it is important to get the best in-camera exposure possible. Using strobes with a very high output will maximize your chances of lighting these boisterous creatures.
Sea lions are fast! To capture a dynamic image of a sea lion's face (rather than its neck!), set your shutter speed to the fastest speed to which your strobes will sync (typically 1/200s or 1/250s). Set your camera to continuous fire, adjust your strobes to ensure the fastest recycle time possible (typically, this is around half power), and take as many images as possible!
Boisterous California sea lion pups are fantastic—but fast-moving—photo subjects

Advanced: Sharks
California's blue water shark dives require shooters to be 20-plus miles offshore in a bottomless environment. Sharks are baited, but since these are wild animals, they can be unpredictable. In addition, although the most common species seen in California's waters are blue and shortfin mako sharks, other species, including great white sharks, can show up. It is imperative that shooters pay attention to the dive operator's instructions first—and their camera second.
Sharks are fast-moving, especially shortfin mako sharks—the fastest species of shark. To shoot makos, use the fastest speed to which your strobes will sync, and do not deviate (adjust your ISO before you slow your shutter speed)! Watch your autofocus carefully: Some cameras may struggle with focus when faced with such a fast subject—in a pinch, try to focus on an area of contrast, such as teeth or gills. Make sure your dome port is clear of bubbles, and don't forget that when using a super-wide lens, your subject is closer than it appears through the viewfinder.
A blue shark takes a close look at its reflection in the camera's dome port, Nine Mile Bank, San Diego
Planning Your Underwater Photography Trip to California
How to Get There: Numerous international airlines connect to Los Angeles International Airport. From there, San Diego, Ventura or Santa Barbara (launch points for the Channel Islands), and Monterey are easily reached by car or domestic flight.
When to Go: Mid-summer through winter months (July–January) generally offer the best visibility, with fall months providing an optimal chance for calm seas and the warmest water. Marine life can vary depending on the time of year, with blue sharks and nudibranchs more abundant in the winter and mako sharks and molas more common in the late summer/early fall.
Who to Dive With:
Don't think of green water as a hindrance—think of it as an enhancement for the right subjects!

---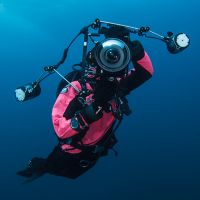 About the Author: Allison Vitsky Sallmon's photographic work has been recognized in numerous international underwater photography competitions and published in books and magazines on diving, marine life, and nature photography. She is also an avid writer and commonly contributes articles on diving, travel, and marine conservation issues to North American dive media. Allison is founder and president of Dive into the Pink, a nonprofit organization that mobilizes the dive community to raise money for breast cancer research and survivor support. www.avitsky.com
RELATED CONTENT
Be the first to add a comment to this article.
Newsletter
Travel with us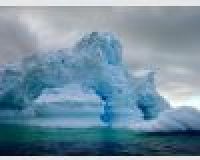 Antarctica
Plan Your Adventure >
Featured Photographer
Stuart Westmorland
Expert Photographer
Stuart Westmorland is recognized as one of the leading marine photographers in the United States. His marine mammal and natural history images appear in a variety of books, magazines, posters, <leo_highlight...