Travel
An Underwater Photographer's Guide to Anilao, Philippines
A hairy frogfish portrait taken with a snoot, diopter, and colored filter at Anilao's famed "Secret Bay"

The Philippines lies within the "Coral Triangle" of Southeast Asia and has arguably the richest and most biodiverse waters on the planet. But as underwater photographers, we want the best of the best: Enter Anilao.
The California Academy of Sciences has coined this region the "center of the center" of marine biodiversity. This marine protected sanctuary is regarded as the birthplace of scuba diving in the Philippines and is one of world's best places for macro underwater photography. It is truly an underwater photographer's paradise.

Diving in Anilao, Philippines
Located south of the nation's capital of Manila on the island of Luzon, Anilao offers incredibly rich reefs and a plethora of amazing marine life. It's one of our planet's hotspots for the weird, wild, and bizarre marine animals. Every critter imaginable can be found in these waters. It is famous for muck diving and searching for the small, exotic, and unusual. In addition, it has outstanding reefs, drop-offs and slopes—all of which are excellent for wide-angle underwater photography.

A zebra crab clutches a grouping of eggs inside of a fire urchin

Diving in Anilao is usually done from small local boats called bangkas, canoes with outriggers typically holding between four and eight divers. Entering and exiting the water from these bangkas is easily done with a back-roll. When exiting, take off your gear, hand it up to the boat crew and climb up the ladder. The boat crews are experienced and careful with camera gear, and the diving is easy and stress free. Most resorts provide divers and photographers with exceptional service and valet diving.
Finding tiny, exotic, well-camouflaged marine critters can be an arduous task. It's imperative to be familiar with each species' habitat, and what they feed on. Luckily, the spotters and guides in Anilao are well-trained specialists in this field.

It's not just macro: Anilao boasts a variety of wide-angle photo ops as well

Anilao Diving Facts:
Where: Anilao is located in the Batangas Province of the Philippines, a short three-hour drive south of the country's main hub of Manila.
Water Temperature and Visibility: During March through May, water temperatures average 80–84°F (27–29°C), but December through February can drop to the low 70s (low 20s Celsius). Depending on the season and tides, visibility ranges from 30 to 60 feet. Most dive sites have little or no current.
Diving Experience Level: Macro dives are suitable for divers of all levels, while the current and surge experienced on some wall dives will be best suited for intermediate-level divers.
Photography Experience Level: Anilao is a destination with something for photographers of all levels. While getting simple, well-exposed muck macro images can be straightforward, more-advanced photographers can take advantage of the placid environment and plethora of subjects to try out creative techniques.

A sky view of a typical dive bangka in Anilao

Anilao gives the photographer the chance to try out advanced techniques such as reverse ring macro and constant lighting—both used here
Top Dive Sites in Anilao for Underwater Photography
The region has 40-plus dive sites. The "hotspots" for macro critters tend to change from season to season. Your guides will know where all the action has been taking place during your visit. The vast majority of photographers visiting Anilao are interested in photographing the tiny, weird and exotic marine life. However, there are several world-class wide-angle photo opportunities in the area as well.

Secret Bay
The most famous muck dive site in Anilao, this rich black sand environment is appreciated by macro photographers worldwide for the quality and quantity of critters that can be found here. It is possible to see squid; cuttlefish; wonderpus, coconut, mimic, and blue-ring octopuses; ambon scorpionfish; frogfish; filefish, seahorses; and a large variety of crustaceans. The underwater photographer's bottom time is maximized because the maximum diving depth averages 60 feet.

A wonderpus octopus is just one of the celebrated cephalopods in the waters off of Anilao

Kirby's Rock
This wall dive starts at a rocky inlet and gradually extends down to a sloping sandy substrate. Many great subjects are found on the wall: black and white frogfish, pygmy seahorses, nudibranchs, longnose hawkfish, harlequin sweetlips, lionfish, sea snakes, purple fire gobies, and much more. After swimming along the wall for a bit, you can venture out to Kirby's Rock. An astounding number of small yellow sea cucumbers adorn the rock.

Like nudis? Anilao's got 'em by the bunches, such as this Allen's Ceratosoma

Twin Rocks
This amazing dive site is relatively small but packs a mighty wallop. Nutrient-rich water rises from the depths to feed the area. Twin Rocks is a marine protected sanctuary, which means fishing is prohibited. You will see a variety of nudis, mantis shrimp, Coleman shrimp, porcelain crabs, blue ribbon eels, rabbitfish, surgeonfish, lionfish, schooling barracuda, and jacks. The topography is stunning, with an abundance of soft corals, crinoids, sea fans and fire corals. There's something for everyone on this dive site.

For super tiny (less than 1cm) subjects, make sure you have your macro diopter packed

Beatrice Rock
This is the perfect dive site to use a dedicated wide-angle lens. The coral is healthy, there are amazing colors, and visibility is often quite good. Keep an eye out for colored orange anthias that swarm around the coral.

Sombrero (Batok Island)
This dive site looks and reflects its name—a high-crowned hat with a wide brim. This shallow fringing reef has impressive drop-offs that create many wide-angle opportunities.
A colored filter adds richness to this snooted shot of a seahorse

Ligpo Island
This is a beautiful wall dive with lots of large sea fans, yellow gorgonians and a variety of colorful corals. When the current is running, it is possible to have pelagics—mainly sharks and rays—appear out of the depths.

Bonito Island
This vibrant marine sanctuary is stunning, with white sandy slopes, rocky outcroppings, with a variety of sponges and healthy corals.

If you need a break from all of the majestic macro, try one of Anilao's classic wide-angle dive sites such as Bonito Island or Sombrero
Underwater Photography Equipment for Anilao
DSLR and Mirrorless: For DSLR and mirrorless camera users, you will need a dedicated macro lens. (Check out our guide if you need help choosing between a shorter and longer focal length macro lens.) In general, you won't have any trouble getting close to subjects, as most muck critters rely on camouflage for survival. So, a 50–70mm lens will help you fill more of the frame while getting closer to avoid any unsightly blue hues. You'll need a longer focal length macro lens combined with a wet lens diopter to capture the teeny-tiny stuff. If you've got the space to spare in your bags, bring along your favorite fisheye lens for the wide-angle wonders. Anilao is a great place to try out your new snoot, off-camera strobes for back-lighting, or colored continuous lights.
Compact Cameras: You can get great macro images in Anilao even with an entry-level compact camera. Just the camera's native lens, you can capture medium-to-small-sized subjects such as octopuses and frogfish. However, to capture the smaller stuff—shrimp, nudis, crabs, and so on—make sure to pack a macro wet lens. Sufficient light is critical even for basic compact strobes. Two strobes provide enough light to let the shooter use higher f-stops for increased depth of field. And a good focus light mounted on the cold shoe will help your camera focus in low-light conditions and on night dives. If you want to dabble with wide angle, don't forget a wide-angle wet lens.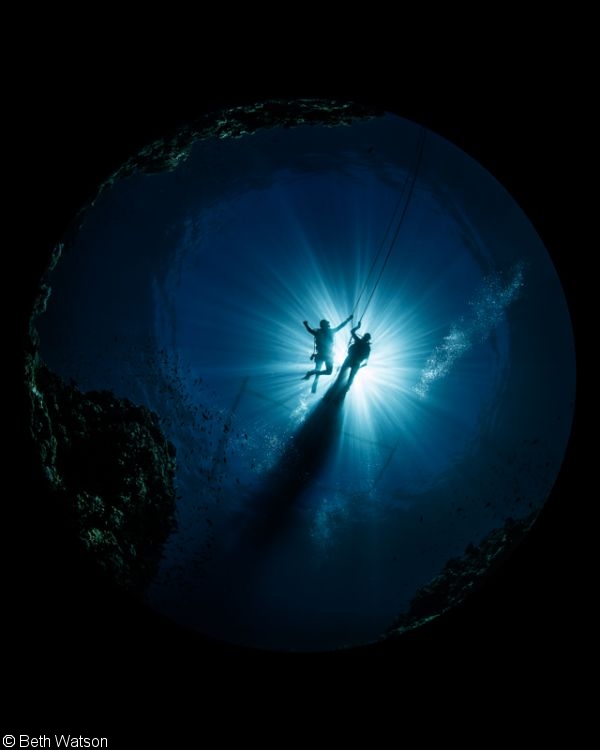 Make sure to bring your go-to wide-angle lens: A circular fisheye offers a unique perspective of two divers on a safety stop
Underwater Photography Tips and Techniques for Anilao
Overdress: Although the water temperature in Anilao can broadly be described as warm and tropical, some divers find that the dive style can lead to getting uncomfortably cold. Most dives are long, shallow muck dives, which means that you'll be spending a lot of time in one or two spots without warming up with much movement. Bringing a slightly thicker wetsuit or a hood is a good idea to ensure comfort when critter stalking.
Constant Lighting: While constant lighting a wide-angle scene is challenging, the close proximity to subjects is an ideal environment for trying out those video lights. Even if you are solely interested in stills, using constant light is a terrific way to add multiple directions of light and see the effect in real time. Consider using colored filters on your constant lights for truly unique shots.

Get creative: This image of a "sexy shrimp" was taken with dual color-filtered continuous lights (one on the subject and one on the background)

Tripod Macro: Anilao is a perfect place to use a tripod for your videography or still photography. The muck and sand substrates offer plenty of space to pose your tripod and the lack of significant current or surge gives the shooter an easier window to manual focus.
Reverse a Lens: Reverse ring macro (RRM) is still considered a pretty "out there" macro technique, but if you've been thinking of getting "out there," Anilao is a great place to start. Originally dubbed "poor man's macro" for the cost-saving ability to shoot macro with a traditional zoom lens, this technique produces uniquely blurred, somewhat abstract images.

Dragon shrimp are one of the smaller critters in Anilao that can be photographed using manual focus and a tripod

Ring Flash: Because the subjects in Anilao are often sedentary and very small, you may find that you can get so close that lighting with two strobes becomes tricky. Consider using a ring flash instead: This awesome lighting device mounts to the front of your housing's port and provides relatively thought-free, even lighting to close-up subjects.
Communicate with Dive Guide: In macro hubs like Anilao, most photographers show up with a wish list of critters they are hoping to check off. But your dive guide cannot read your mind. Instead of going the whole week being frustrated that you aren't making progress on your wish list, let your guide know what you want to see. And be specific: Don't just name the critter, but also give ideal backgrounds. For example, let the dive guide know you're keen on photographing a zebra crab in a fire urchin with a bunch of eggs.

Tell your dive guide what you want to see and where: Photographing these skeleton shrimp against open water gives the opportunity to include a stark black background

Same Site, Multiple Dives: While normal divers don't particularly like exploring the same site multiple times, underwater photographers are a different breed. Diving the same site multiple times in Anilao is especially productive as you have the opportunity to photograph different subjects and different behaviors during different times of the day.
Go Crazy: If you've been waiting to try out a new technique or piece of gear—no matter how hair-brained—the easy-going and critter-rich waters of Anilao are the place. The author of this guide used Anilao to experiment with a homemade prism to produce light-bending and refractive effects.

Go crazy! Try out all of your homemade tricks and gadgets in Anilao
Planning Your Underwater Photography Trip to Anilao
How to Get There: The primary point of entry into the Philippines is Manila. It is approximately a 3-hour land transfer to Anilao from there. The resorts will schedule transportation. It's possible to transfer the day of arrival or overnight in Manila. Overnighting in Manila gives you time to unwind, relax, and rest up before the activities ahead.
When to Go: It is possible to dive year-round. The primary dive season is June to November, and the busiest months are April and May. July and August are typically in the middle of the rainy season. The seas may get choppy and visibility can decline during this time.
Where to Stay and Dive: The majority of dive sites are located in the south. Boat rides to the dive sites will take between 5 and 40 minutes depending upon your resort's location. Ideally, look for resorts and operators located closer to the best sites and those that offer top-notch photography services. There's no shortage of great options for underwater photographers in Anilao. At Crystal Blue Resort, you'll have the opportunity to work with well-known macro master Mike Bartick.
Money: The Philippine peso is the currency of the Philippines, and there are plenty of ATMs in the Anilao area. Credit cards are widely accepted.
Electricity: The Philippines features plug types A, B and C with a 220V/60Hz output. Consult your dive resort or dive operation to see if they offer 110V alternatives in their camera facilities.
Health Concerns and Vaccinations: The CDC and WHO recommend current vaccinations for typhoid, hepatitis (A and C), cholera, and rabies for those visiting the Philippines.
Entry Requirements: Temporary visitor's visas are issued for stays under 30 days as long as the visitor has a passport that is valid for at least six months beyond the intended stay.

A classic Anilao sunset is a great way to finish the day—or it's just the start of your night dive!
RELATED CONTENT
Be the first to add a comment to this article.
Newsletter
Travel with us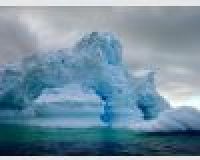 Antarctica
Plan Your Adventure >
Featured Photographer
Charles Hood
Expert Photographer
Born in 1960 Charles first started taking wildlife photographs at the age of 8. After winning the best junior award at his local school, with an image of a swan, he\'s never looked back. At the age of 16 he started taking...