Travel
An Underwater Photographer's Guide to Ambon
By Debbie & Jerry Arriaga, November 1, 2017 @ 10:00 AM (EST)
A damselfish is lunch for this lizardfish

Ambon is one of thousands of tropical islands that comprise the country of Indonesia. This remote island is situated off the southwestern coast of Pulau Seram in the northern Banda Sea. Tucked away between two landmasses lies Ambon Bay—home to some of the best muck diving in Indonesia. Above the bay lies the bustling capital of Maluku province, Teluk Ambon.
Ambon Bay starts at the city of Teluk Ambon and through a narrow channel opens up into the Banda Sea. New species have been discovered in this very place and it is home to nearly all of the critters on a underwater photographer's bucket list. In 1863, a Dutch fish specialist discovered 783 species of fish in Ambon Bay alone. Lesser known than Lembeh, the diving is just as brilliant and a lot less crowded!


A coconut octopus uses a piece of broken glass for shelter

Ambon Bay is well known for its muck diving, so be prepared to do lots of it. There are dive sites outside of the bay where you can experience corals, walls, and large, impressive swim-throughs, but don't expect any inside the bay. Dives sites within the bay are generally long, sandy slopes. Start your dives off deep, and then slowly make your way to the shallows, as conditions there are generally very calm and full of creatures.

A pair of crinoid cuttlefish
Diving in Ambon
Laha encompasses a large area of shoreline and is thus divided into different dive sites. One such section is known as "Twilight Zone," and there you can find just about any weird and wonderful critter your heart desires. Laha is a top spot for muck diving and with so few resorts and divers around, you may find you have the place all to yourself.
Special types of shrimp, such as bumblebee and tiger shrimps, make Laha their home. Rhinopias can also be found all along the Laha shore and night dives under fishing boats are also a great spot to hunt for the super-cute hairy frogfish. Take a look at the list of macro subjects below—you can see just about all of them in Laha.

Winged pipefish at Laha

Tanjung Nama lies on the opposite side of the bay to Laha, and is particularly productive for cephalopods. All sorts of octopuses can be spotted in the sandy parts of the site and also in the rocky, shallower areas. The poison ocellate, aka mototi, is a special little guy with a pair of iridescent blue rings—not to be confused with the blue-ringed octopus. Some of the other usual suspects in Nama to keep an eye out for are the mimic and wonderpus octopus as well as the flamboyant cuttlefish.

Weedy scorpionfish love the muck in Ambon

The wreck of the SS Aquila (built as SS Duke of Sparta) lies on a slope with her stern at about 45 feet below the surface, with the bow lying at more than 100 feet. At the end of April 1958, Aquila was anchored off Ambon City when a Douglas B-26 Invader bomber aircraft bombed and damaged her. She stayed afloat for a month but finally sank on May 27, 1958. The wreck is deep inside Ambon Bay and close to the city so the visibility can be pretty poor. It is covered in soft corals and sponges and attracts a good deal of fish life.


SS Duke of Sparta shipwreck by Ambon City

Quick Facts:
Where: Ambon is part of Indonesia's Maluku Islands and is off of the southwestern coast of the larger island of Seram. The Banda Sea is to the south of Ambon.
Language: Indonesian is the official language taught in schools, but hundreds of other languages are spoken in Indonesia. English is becoming more widely spoken in some well-visited areas, but elsewhere it is very limited. Many resorts and liveaboards will have some crew who speak other languages such as French, German, Spanish and Italian.
Currency: Indonesian rupiah (IDR) is the national currency. Credit cards can be used in larger hotels and restaurants, although sometimes for a fee. And some resorts and liveaboards will accept US dollars, euros and Australian dollars.
Time Zone: UTC +9 in Ambon.
Water Temperature: It is warm all year round, ranging from around 79°F (26°C) to 86°F (30°C).
Air Temperature: Ambon weather is warm all year round, usually 80°F-plus (27°C-plus). It can be humid especially in the wet season (March–October).
Diving Experience Level: The diving in Ambon is great for all levels of scuba divers. However, when muck diving, buoyancy control is very important to prevent stirring up the silty bottom.
Photography Experience Level: Buoyancy control is essential for any level of photography underwater and muck dive sites are usually great places to practice macro photography in calm conditions.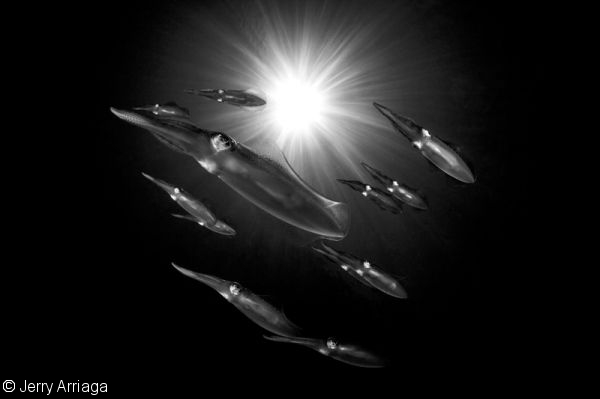 Schooling reef squid


A flamboyant cuttlefish at Tanjung Nama
Underwater Photography in Ambon
Macro Subjects:
You won't be short of macro subjects in Ambon—from the very special creatures at the top of every photographer's list to unlimited opportunities to capture unique behavior or distinctive shots of unique fish. The rarest of the rare is the psychedelic frogfish, only found in Ambon Bay. This critter usually hides in small crevices, under rocks or even in the sand. You have to be really lucky to find it out and about, so please ask your guides not to "dig" it out of its hiding place just to take an image.
Highlights are:
Rhinopias – paddleflap scorpionfish and weedy scorpionfish
Frogfish – giant, clown, Randall's, and hairy
All types of shrimp – bumblebee, harlequin, Coleman, and tiger
Octopus – wonderpus, mimic, coconut, white-V, starry night, blue-ringed, and poison ocellate
Pipefish – winged, ornate, bend-stick, and robust
Cuttlefish – flamboyant, broadclub, and crinoid
Seahorses – common, thorny, and pygmy
The list goes on and on.


Butterflyfish feeding at Air Manis Jetty

Wide-Angle Subjects:
While you might want to concentrate on the abundant macro life in Ambon Bay, there are wide-angle opportunities around as well. It's always a good idea to check with your dive guides to find out what subjects you should keep an eye out for at each dive site. However, Air Manis is a jetty where a wide-angle lens is definitely a good idea. The SS Duke of Sparta wreck, as detailed above, is an option for wide angle when conditions are good. Or you might want to experiment with close-focus wide-angle on larger subjects like the coconut octopus or Rhinopias.
On the southeastern side of Ambon, and closer to the Dive Into Ambon dive resort, lies the Bay of Baguala. There you can find clearer water with walls covered in corals, seamounts and impressive swim-throughs.


A painted frogfish perfectly mimicking a sponge
Underwater Photography Equipment for Ambon
Whether you are shooting with a compact or DSLR, the majority of your photography will be focused around macro, so we would definitely recommend a good focus light. It can sometimes be a bit dull underwater if the sun isn't shining or the visibility is poor. Compact cameras are great for getting close and low to subjects. Add an external strobe to be more adventurous with your lighting, and consider an add-on wet lens to really fill the screen with little creatures.
DSLRs users: The Canon 100mm or Nikon 105mm are a must for the smaller subjects. It's not a bad idea to bring a wet diopter for those minature critters that your dive guide might point out to you. You might also want to bring a 60mm for the larger subjects such as Rhinopias, giant frogfish, mimic or wonderpus octopuses. If you want to get creative, bring along a snoot, as you'll have plenty of opportunities to practice!


Moray eel at a cleaning station
Underwater Photography Tips for Ambon
Ambon Bay can be very mucky with a lot of rubbish in the water and amongst the sand, so our biggest tip is to not get upset with all the trash! In fact, the critters seem to love the rubbish. Look for moray eels using glass bottles as a place to hide, and coconut octopuses using just about anything for a shelter—from broken plastic plates to half of a coconut husk. I once spotted a whole colony of bumblebee shrimps using a large plastic crate as a sort of hotel in Ambon Bay!

Bumblebee shrimp in its plastic crate hotel

A special little critter—a bryozoan goby

Macro photography is everywhere inside Ambon Bay, but you should definitely consider taking the wide-angle lens too. Air Manis, a jetty on the Laha coast, is a good place to dive in the morning or late afternoon for great photos of sun beams shining through the pillars. Giant frogfish are often found here and can make good wide-angle subjects. Small schools of batfish live here too, and you might get lucky and catch some cute juveniles. Keep an eye out for schooling butterflyfish feeding on the jetty's posts.
At the southwest end of Tanjung Nama, you'll find a huge field of colorful elephant ear sponges. Look inside for giant frogfish that can be good for macro or wide-angle photos. They might even have a group of cleaner shrimps around them too. Another good spot to check out is the mooring line by the small beach at the northeast end of the dive site. Every time we've been there, there's been a giant frogfish—or three!—hanging out on the line.

Giant frogfish make excellent close-focus wide-angle subjects

Spot the shrimp!
Planning Your Underwater Photography Trip to Ambon
How to Get There: From Jakarta, you can fly to and from Ambon on a daily, direct flight with Garuda AIr. From Bali, you can fly with Lion Air via Surabaya and Makassar. Or you can make the journey with one stop on Garuda and Lion Air—changing airlines in Makassar. Most nationalities can get a 30 day free visa on arrival, but do check prior to flying. One nice thing about the airport is its close proximity to Laha's dive sites.
When to Go: Ambon is great for diving all year round as the critters are always there. However, the area can experience very heavy rain during the monsoon season (March–October), with July being the wettest month. For the best conditions, we recommend diving during the dry season, October through March.
Where to Stay and Dive: Blue Motion has a dive center right in front of Laha, but they don't have accommodations. Maluku Divers Resort is further up the shoreline with bungalows right on the beach. And Dive Into Ambon is based at the boutique hotel Maluku Resort & Spa in Baguala Bay. Many liveaboards pass by Ambon on various itineraries that frequent the Banda Islands. Liveaboards are usually in Ambon in March and April and again in September through December.

A harlequin shrimp tucking into its sea star meal

Money: Indonesian rupiah (IDR) is the local currency. Bring some rupiah with you or if you want to change some of your native currency upon arrival, you should do this at one of the major airports such as Jakarta or Bali. There are no money exchanges in Ambon airport. Airports are also the best place to withdraw cash as ATMs are easily accessed. While US dollars and euros are usually accepted in resorts, and Mastercard and Visa are widely accepted in cities and tourist areas, having some local currency is always smart.
Electricity: Indonesia has 220V electricity with two-pin round plugs. Due to the non-stop photo opportunities, you'll need to charge those camera batteries! Check with your resort or liveaboard about what kind of plug sockets they have and if they provide adaptors. It's always a good idea to bring along of couple of your own, too.
Entry Requirements: Citizens of most countries do not need a visa for stays less than 30 days, but be sure to check before you leave.

An emperor shrimp hitches a ride on a nudibranch
RELATED CONTENT
Be the first to add a comment to this article.
Newsletter
Travel with us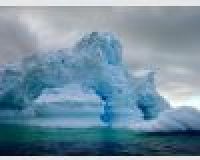 Antarctica
Plan Your Adventure >
Featured Photographer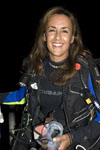 Michele Hall
Expert Photographer
Michele\'s work in film production began in 1991 when she retired from a 19-year career as a pediatric nurse. In addition to taking underwater still photographs and authoring a children\'s book on sharks, she has...