Travel
An Underwater Photographer's Guide To Shooting Monk Seals In Niihau, Hawaii
July 20, 2009 @ 11:16 AM (EST)
Photographs by Jeremy & Amanda Cuff
The "forbidden island" of Niihau is the "wild frontier" of diving in the Hawaiian Islands. It rewards the visiting underwater photographer with some spectacular underwater experiences, and world class underwater scenery. You've even got a good chance of encounters with one of world's most endangered marine mammals, the Hawaiian Monk Seal…

The island of Niihau is located 17 miles southwest of Kauai, and is often referred to as Hawaii's "forbidden island". It's been largely off limits to visitors since 1864, when Elizabeth Sinclair purchased the island from King Kamehameha V.


Niihau has remained in the ownership of her descendants (the Robinsons), who've attempted to preserve the Hawaiian culture and language among the population (currently standing at about 120) by preventing any influx of settlers from the outside world.

Even today, opportunities to set foot on Niihau are very limited, and are restricted to sporadic half day helicopter trips and hunting safaris, both of which are run by the Robinson family. Despite this, Niihau's "forbidden island" reputation remains firmly intact.

As the waters around Niihau aren't privately owned, anyone can visit on a boat provided they don't actually land. Most boats that make the journey are run by dive charters, who generally offer three tank full day dive packages including lunch and drinks.

To get out there, you must base yourself on Kauai, and be prepared for early starts and a possibly rough crossing of the Kaulakahi Channel. Expect around 1.5 to 2 hours outbound and up to 2.5 hours on the return leg. The dive boats are generally smallish and usually run from Port Allen on the south shore. Divers that are prone to being queasy should take note, and any necessary medication!

There's also a "season" for diving Niihau when the weather is likely to be favourable, between May and September, although even during this period the conditions are certainly not guaranteed. We had a trip out there rescheduled because of predicted high winds, which would have made the crossing too rough.
Diving there at any other time is certainly possible, but highly unlikely, as dive operators will be unprepared to take risks, unless they have a clear window of calm seas. The main reason for the seasonal nature of diving Niihau are massive winter storms in the north Pacific, which causes prolonged periods of huge seas around certain parts of the Hawaiian islands.
Occasionally, we were told, there can be lulls in the swells, allowing a "windows" of time, but it doesn't make sense to plan a trip around this – go between May and September to get the best opportunity, and ideally not at either end of this period.
Most of the dive sites are centred around Lehua Rock, a spectacular semi-submerged crater located off Niihau's north east, although on rare occasions, the dive operators will take a longer journey to South Point, but only if conditions are perfect.
Like Kauai, Niihau is the oldest of the main Hawaiian Islands at around 4 to 5 million years old, but by contrast, Lehua Rock is geologically more recent, appearing some 700,000 years ago in a renewed period of volcanic activity.
A visit to Niihau is a journey through geological time, and if ever there was a dive for geologists, this is must surely be the place. Evidence of the massive forces that formed the entire Hawaiian chain are nowhere more evident than they are here, with layer after layer of volcanic deposits and photo friendly lava tubes awaiting visiting divers.

The general visibility around Niihau is excellent and sometimes exceptional, and much better than around Kauai, which can sometimes be affected by run off from its several rivers after heavy rain. Unlike the verdant Kauai, which boasts one of the world's wettest places in Mt.Waialeale, Niihau has no rivers and receives little rain.

Niihau is one of those "wild frontier" dive destinations where all kinds of surprises can turn up. Eagle Rays, Mantas, Turtles, Jacks, Dolphins, Whale Sharks and Galapagos Sharks regularly visit the area and are sometimes seen on dives. It's also one of the best places to get an encounter with the critically endangered Hawaiian Monk Seal, of which only around 1200 individuals remain.
We knew from our prior research that we'd have "a chance" of a Hawaiian Monk Seal encounter in the waters around Niihau and at best we hoped for a swift "fly past". Our expectations of a more prolonged encounter were raised during the dive briefing for Vertical Awareness (which as the name suggests, is a vertigo inducing wall dive) when the crew explained how to behave around the seals.

Although sometimes curious of divers, Hawaiian Monk Seals can also be skittish and wary, and are more likely to stick around if divers don't swim directly at them. Instead, a slower and more "meandering" approach tends to be more successful and if you're able to get close, it's a good idea to ensure that the seal has enough space to make an exit. Sporadic rather than constant eye contact were also considered good advice as it's thought that the seals finds it less threatening.
And so, on four dives out of the six, we were treated to some amazing Hawaiian Monk Seal encounters, especially at Vertical Awareness where we were able to approach to within touching distance of one individual whilst it calmly rested on the rocky plateau close to the wall. Every few minutes, the seal would surface for breath and often return to the same spot, and we were even able to witness the seal vocalising with a throaty growl. On the Vertical Awareness encounters, Scott, one of the dive guides, would remove his mask to "blow bubbles and growl" which received a prompt reply!

For photographers, Niihau Arches is a fantastic site with several archways, lava tubes and caverns to explore. Best of the bunch was the "TV Cave" which looks like a wide screen television when looking out into the bright sunlit waters from inside. The lava tubes and caverns are also great areas to see schools of fish and White Tip Reef Sharks, which often skulk in the gloom, and in some places there are fine examples of the rare Black Coral, which is actually red when alive. And you can't help but notice the handywork of Niihau's very active population of Rock Boring Sea Urchins which create countless patterned hollows in the rock.
The Neon Cave and Pyramid Point sites can be dived separately or as a single dive and offer great underwater scenery. We chose to encompass both sites into a single dive on both visits, beginning at the stunning Neon Cave before heading out into the open to finish around Pyramid Point. On two separate occasions, a Monk Seal kept us under a watchful eye, but was not inclined to give us close encounter.
If it's possible to tire of the archways, caves, Monk Seals and other "big things" that happen to be in the area, there's also plenty of smaller action for macro photography. Compared with areas in the Far East, which is world's epicentre of species diversity, the Hawaiian Islands are relatively "species poor" in terms of the number of species present, but it does have a high proportion of endemics. Look out for striking leaf scorpionfish specimens and fantastically camouflaged frogfish, always a favourite with photographers.

These days, some areas of the Hawaiian chain have reached global consciousness among the diving community but not Niihau, which remains relatively unknown to underwater photographers. It is, however, worth the effort for those who make the journey. And there's every chance that you'll get a chance to photograph a Hawaiian Monk Seal, one of the world's rarest animals.

What About Kauai?

You can't visit Niihau without basing yourself on Kauai, so it's definitely worth trying a few dives here. We visited sites on the south shore and the weather and season dependant Mana Crack, close to the Na Pali Coast.

Kauai is the oldest of the main Hawaiian islands and features some of the world's most stunning and dramatic scenery such as the Waimea Canyon, Mt. Waialeale and the Na Pali Coast, which has been shaped by 4 to 5 million years of erosion.

The island makes a great base from which to enjoy a variety of activities including, surfing, superb hiking, laid back outdoor living, island culture and, of course, diving. It has a good number of dive sites to choose from, especially around the south shore, although there are sites dotted around the entire island, which may or may not be easily diveable depending on prevailing sea conditions and their proximity to where you happen to be staying.

Most boat diving is based out of Port Allen on the south shore where there's a sheltered port and boat launch. From there, it's a short boat ride to the many of the island's most popular and sheltered dives. But don't take anything for granted - sea conditions are very changeable around Kauai.

We visited Amber's Arch and Sheraton Caverns which were enjoyable, with the latter being a hotspot for turtles. Both sites offer potential to macro and wide angle set ups, with gulleys, arches and ledges to explore that are home to moray eels, slipper lobsters and many species of fish, including some that are endemic. For the very lucky, it's even possible to find the incredible Dragon Moray.

More suited to experienced divers is the renowned Mana Crack site, close to the Na Pali Coast. Like Niihau, dive operators can only reach this area during the summer months, so it's important to get your timing right. It's one of those areas where anything can turn up and strong currents are common. As our visit coincided with the summer season, we gave it a try, although most of the "big stuff" that can sometimes be encountered eluded us on both dives. It was also less photogenic than the sites at Niihau and on Kauai's south shore.
For divers unable or unwilling to visit Niihau, there's theoretically a chance of encountering Hawaiian Monk Seals, particularly around the dive sites off the south shore, although they tend to fleeting. You're much more likely to see one out of the water, as they sometimes haul up to rest on beaches, and not always the deserted ones either. One of the more likely hangouts (or haul outs!) is Poipu Beach, which is close to several large resorts.
If the seals do decide to join the sun-seeking humans, local conservationists will swiftly arrive and put a cordon around them to prevent unnecessary disturbance and stress.
Be the first to add a comment to this article.
Newsletter
Travel with us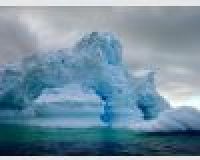 Antarctica
Plan Your Adventure >
Featured Photographer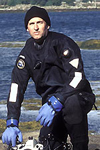 Brian Skerry
Expert Photographer
Brian Skerry began his career as a teenager, photographing subjects in the waters of his native New England. Today, his nearly year-round assignment schedule has him traveling to all corners of the globe, pursuing underwater...