Travel
From a Fisheye's Perspective: Turks and Caicos Aggressor II
You can tell a lot about a place by its nickname.
Take Florida, for example, known as "The Sunshine State"—you're going to need a lot of sunscreen. Or Chicago, "The Windy City"—pack a good jacket.
So when you hear the slogan for Turks and Caicos is "Beautiful by Nature," there's only one thing you will absolutely need: your camera.
Perched atop the world's third largest barrier reef, the isolated islands and cays of Turks and Caicos boast a diverse array of underwater marine life. There are dramatic, sponge-plastered walls only meters off of the central island of Provo; critter-filled shallows in nearby West Caicos; and to top it off, up-close shark action in the more remote sites of French Cay.
No matter if you are an experienced DSLR shooter or a compact shutterbug, you will find your underwater images of Turks and Caicos naturally beautiful.
Charting these Caribbean waters for two decades, the Turks and Caicos Aggressor II is one of several live boards operating from the nation's largest island, Provodencales.

Your "private yacht for the week" – in the words of the crew – is a floating hotel, dive boat, and photography facility. The 120-foot Turks and Caicos Aggressor II is fitted with ample accommodations, including six staterooms, 2 single-share rooms, and one master bedroom. Each room features a ensuite bath, flatscreen TV/DVD player, and plenty of air conditioning even in the hottest of nights.
The 120-foot Turks and Caicos Aggressor is your private yacht for the week
As nice as the rooms and salon may be, the heart of activity aboard the yacht is centered around the dive deck. Every diver has his or her own station and all diving is done easily off the back of the boat, making for a quick step from bed, to food, to the water.

For underwater photographers and videographers, the facilities and services of the Turks and Caicos Aggressor are tops. A spacious, three-deck camera table that can fit even a dozen big-rigs, a dedicated charging room fitted with dozens of plugs, and a bathtub-sized rinse tank make preparation for diving as stress-free as possible. Even after the dive you can relax and view your photos at the pair of computers dedicated to editing.
Underwater Photography in Provodenciales
Look at Provodenciales (known by the locals as "Provo") on a map and it's easy to see why this destination draws divers back year after year. Ideally situated in the heart of the island chain, even local day boats make two-tank trips to the renowned diving of West Caicos and Northwest Point. But there is also incredible diving to be had even just a short swim off of Provo's resort beaches.
As such, liveaboards like the Aggressor will often begin their Turks and Caicos adventure with several dives at the nutrient rich Northwest Point of Provo. Wall sites like "Black Forest," aptly named for its abundance of stunning black coral, and "Eel Garden" are as valuable for warm-up dives in the beginning of the trip as they are for the final dives before departure. Healthy sponges and gorgonians serve as a backdrop for passersby—eagle rays, turtles, and grey reef sharks are all common visitors.
Keep an eye out during safety stops for schooling bar jacks- a great subject
when silhouetted against the Aggressor's hull
One of the most unique dives offered by the Turks and Caicos Aggressor – or any other destination for that matter - is simply known as "The Dome." Once the site of an underwater French game show, the more than 20-foot wide metal cage dome now lies on its side in 30 feet of water.
By stitching together three seperate images, I was able to form a panorama of "The Dome"
While daring contestants freedived in the cage for pearls in the 1970's, today underwater photographers plunder endless macro and wide-angle opportunities. For blenny lovers, this site likely boasts the record for blenny per square inch: everywhere you look on the metallic structure a different species of blenny seems to have burrowed itself into a hole.
The shallow, current-free conditions are ideal for fine-tuning your macro skills or trying out creative techniques like snooting, supermacro, or double exposures.
"The Dome" is a great site to practice advanced macro techniques,
like double exposure as above
There are several types of double exposures (read this fantastic article by Mark Fuller for more information), but the general idea is laying multiple images in the same frame. In macro double exposures, as seen above, you can actually take this shot in camera by turning on the "multiple exposure" setting found on most DSLRs. The tricky part is composing the shot: you must provide enough negative space in the first exposure to fill with the second. After nearly a hundred frames (200 if you count each exposure) I was able to get this shot of the blennies almost kissing.
The other type of double exposure is macro/wide-angle, where the black negative space of a wide-angle image is filled with a macro subject. This is similar to macro-macro, where you need a majority of black background in each exposure, but the wide-angle and macro images are combined out of the camera. Below, I spent part of a dive shooting silhouetted model and shark shots at very dark settings--1/320th at f22 (ISO 200). Combining this with the profile of a blenny yawning against black background creates a more dramatic compositional image.
There are countless other critters on and around the dome, which the knowledgeable Aggressor divemasters will be happy to point out like mantis shrimp, skeleton shrimp, peacock flounders, and arrowhead crabs.
A Mantis Shrimp meets the tip of my snooted strobe
You could spend countless hours and dives photographing the Dome's macro marvels, but there are also fantastic wide-angle opportunities. The metal structure is encrusted in colorful sponges and coral, while schools of yellow snapper hide underneath almost asking to be photographed.
Underwater Photography in West Caicos
Although only a quick 1-hour jump from Provo, the sandpit island of West Caicos seems like a world away. Although day boats occasionally visit sites along West Caicos, the "eat, sleep, dive" schedule of the Aggressor allows for multiple opportunities for photographing the dramatic walls of West Caicos.

"Driveway" is a site not to be missed: easily recognized by the 6-lane sized sandy expressway that winds down to the wall, this site offers some of the most scenic photography opportunities in Turks and Caicos. On either size of the driveway, the brilliant sponges pop off the wall for a perfect modeling opportunity.
Adding a model diver to a coral image can add a sense of scale, showing
how big the subject really is
Be on the look out for two especially large elephant ear and finger sponges, which appear in photographers' slideshows year after year.
Wide-angle opportunities abound at "Gullies"– a series of trenches cut into the wall's reef – including an especially photogenic swim through. Beginning at the top of the reef at 50 feet and burrowing down to the wall at 90 feet, the partially enclosed tunnel makes for the perfect portrait spot: use one strobe to light up the face of a diver model and the other the encrusted color in the tunnel.
Always keep an eye out for the Aggressor at the surface, which makes
for a great secondary subject in an image
Always keep an eye peeked out into the blue at wall sites like "Driveway" and "Gullies" as sharks, eagle rays, schools of jacks, and even dolphins like to come into the reef for a rest.
The Guys in the Grey Suits- Photographing the Sharks of French Cay
When you have the chance to pull your eye out from behind your macro lens, you might notice that you are not alone in the water.

Grey reef sharks have a seemingly universal presence in the Turks and Caicos, climbing sheer walls, sliding through sandy patches, or just looking over your shoulder as you snap away at a crab on a night dive. While opportunities to spot the sharks abound at sites off of Provo and West Caicos, it is the curious sharks of French Cay that can make you one giddy photographer.
Get close-up shark action with the friendly grey reef sharks of French Cay
Once a hideaway for smuggling pirates, French Cay is little more than a speck of sand on an otherwise turquoise sea. Two Aggressor favorites are G-Spot (named for the g-shape carved into the wall) and Rock n' Roll.
These two sites are weather permitting – especially Rock N' Roll as its namesake suggests – but you can be sure that once you hop in the water you will soon be joined by the guys and gals in the grey suits.
When exposing sharks, make sure not to overexpose (or blow out) the white underbelly
Unlike most reef sharks, the ones at French Cay are fearless of our big cameras and strobes and will come right up for a snap—of the camera that is. Because of their familiarity with divers, SLR shooters can get high impact shots with fisheye zoom lenses.
Of course, seeing sharks at night is a little spookier!
Macro Underwater Photography in Turks and Caicos
While it is easy to spend a week on the walls of Turks and Caicos and never switch from your wide-angle setup, you would be missing out!
Turks and Caicos is home to some of the best critter diving in the Caribbean and the savvy crew on the Aggressor can often find exactly what you want, down to the coral head—all you have to do is ask.
The dive site "Elephant Ear Canyon" at West Caicos is the perfect example of the 2-in-1 dive site that makes Turks and Caicos so special. Swim to the wall to find elephant ear sponges spanning 10 feet or just peruse the underwater grassy knolls to find creatures more like 10 millimeters.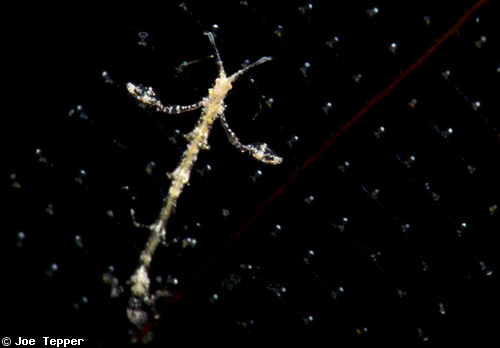 Skeleton shrimp are just another one of the amazing macro subjects. Using an
external magnifying lens and high aperture gives crisp detail
The seagrass beads adjacent to elephant ear canyon are home to the peculiar-looking pipe horses and pipefish—you just have to know how to look. The green-hued pipehorses mimic an arm of sea grass by wrapping their tiny tails at the base of the algae. While actual blades of grass hang at a 90-degree angle, the pipehorse is spotted at a 45-degree tilt.
Turks and Caicos' sea grass beds are a hotspot for macro activity
If you're not in it for the thrill of the chase, or just give up, an Aggressor crewmember can usually find a suitable subject on demand. Pipehorses tend to be quite timid, so you might have more luck with a higher focal-length macro lens to catch an eye-popping shot!

The seagrass is a nursery to countless other baby macro subjects—pipefish peddle parallel to the blades, shrunken down juvenile triggerfish hunt, and the occasional miniature flying gunard spreads its brilliant blue pectoral fins.
There are even rarer macro subjects in Turks and Caicos, like this baby flying gunard
A universal macro presence on almost all sandy patches of Turks and Caicos dive sites, yellowheaded jawfish make for great subjects year-round. But in the summer months, lucky divers will be treated to an amazing sight as male jawfish take up to protect hundreds of tiny-eyed eggs in their gaping mouths.
Open wide! During the summer months, Yellowheaded Jawfish hold their eggs in quite a mouthful
Many of the best critters in Turks and Caicos are accompanied by the underwater photographer's least favorite backdrop: sand. Instead of just capturing an "identification shot," try using a snoot to spotlight the subject.
A simpler solution is opening your aperture to around 5.6, putting strobes on minimum, and using the low depth of field to blur out the boring sand backdrop to create a more unique image.
Shooting with extremely shallow apertures, known as Bokeh, helps
to eliminate distracting sandy backgrounds
Night diving in Turks and Caicos is a must for an underwater photographer—there are just too many cool critters that are more easily identified at night: baby scorpionfish and neck and decorator crabs all pop against the stark black background of night.
Night dives are a must in Turks and Caicos
"Beautiful By Nature"
Pulling out the disembarkation card that's been wedged in your passport for a week, there's one phrase typed at the top that will take new meaning: "Beautiful by Nature."

Scads of curious sharks, millennia-old sponges, and even relics of old game shows make Turks and Caicos a wide-angle wonderland. But even the staunchest, dome port-wielding photographers will find a hard time not snapping away at blennies, neck crabs, and pipefish.

And with an underwater camera you can bring this natural beauty back home with you.
RELATED CONTENT
Be the first to add a comment to this article.
Newsletter
Travel with us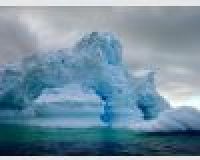 Antarctica
Plan Your Adventure >
Featured Photographer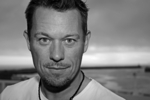 Christian Skauge
Expert Photographer
Christian Skauge took up underwater photography in 2004 and never looked back. His passion is macro photography - critters, fish portraits, patterns and textures. As can be seen on his website, he is also keen on nudibranchs...