Travel
Exploring the Ancient Maya in Mexico's Cenotes
By Deborah Kirk, March 11, 2013 @ 08:00 AM (EST)
Photos by Michele Westmorland

For centuries, the Maya of Mexico's Yucatan peninsula have had a complex—and still not fully understood—relationship with the region's thousands of inland sinkholes, known as cenotes.
With no rivers or lakes, limited rainfall, and limestone bedrock, the Yucatan can be an unforgiving environment, which is why the crystalline water in the cenotes has always been a vital lifeline for the area's inhabitants. Evidence shows that the ancient Maya both depended on and feared these dark sinkholes, believing that their unfathomable depths were portals to Xibalba, the spooky underworld that loomed large in their cosmology.

Many questions still surround the cenotes. Did the Maya ritually sacrifice virgins in them, as many people believe? Or were the cenotes used as subaquatic ossuaries, places to deposit the bones of the deceased? One expert, underwater archeologist Guillermo de Anda, has made it his life's work to find out the answers. De Anda has the mind of a scientist and the soul of an adventurer. The archeology professor is the first Mexican to be named a National Geographic Explorer. He has conducted more than 10,000 dives in the cenotes and I was excited be part of a few more on that long list.
Diving the Dark Side
There are estimated to be as many as 7,000 cenotes throughout the Yucatan peninsula, according to de Anda, most of which have never been explored. The cenotes on our itinerary all hold artifacts that collectively paint a picture of how the ancient Maya lived, prayed, and died. Because these sites are of immense archeological importance, de Anda gives us a detailed briefing before we make our first descent.

They also require a challenging entry, since divers and their gear must be lowered on lines to reach the water's surface, which generally is 40 to 70 feet below ground level. The openings can be small, but they usually lead to large, flooded caverns decorated with stalactites, stalagmites, and the dramatically long, ropy roots of the alamo trees that seem to thrive beside every cenote.
Once at depth it is especially important to exercise great caution so as not to stir up silt or disturb artifacts with a wayward fin kick. De Anda explains that he will guide us into the caverns by unspooling a reel, so we'll always be able to find our way out. We'll need good lights to illuminate the pitch blackness and excellent buoyancy skills to maneuver through tight passages.

Above all, he emphasizes, no touching. "Nada, nunca." Because some of the treasures we're about to encounter are thousands of years old and remain in their original positions, archeologists can glean from them precious information about ancient customs.
Sacred Spaces, Above and Below
Our first dive site, Kankirixche, is a great place to learn the ropes of cenotes diving. Featuring a capacious opening, there is plenty of light in the chamber below, helping us get our bearings as we make our first descent into the Maya netherworld.

Our crew rigs a line-and-pulley system at the opening, which is comfortably large—some 75 feet in diameter. One by one, we divers strap on harnesses, attach them to the ropes, and are lowered 40 feet to reach the water below. We wait for our equipment to be lowered next, and gear up in the water.
De Anda guides us down 80 feet, and we enter an ink-black cavern. We see a few critters at depth—blind catfish and shrimp, primarily, who've adapted to life in total darkness—and a gorgeous display of limestone speleothems. At the bottom, we discover a pile of animal bones, deer perhaps, which may have been deposited here centuries ago as sacrifices to Chac, the Maya rain god.

Our next cenote, Noh Mozon, offers even more tantalizing mysteries. Well-hidden in the forest, Noh Mozon features human remains at about 110 feet down. Our most exciting discovery is a skull partially submerged in the silt; all that's visible are the top of its head and its eye sockets. We can't determine its age or sex, but it appears to have been an adult at the time of death. De Anda estimates it is at least 800 years old, probably dating to the post-classic Maya period.
As we make our ascent along the cavern's wall, we encounter a dark passageway. De Anda unspools his reel, and we follow him into the narrow cavern some 200 horizontal feet, at the end of which is a glorious vertical space. The sensation is magical, like we are gazing up through a beautifully sculpted chimney. It is awe-inspiring, and we surface with the profound sense that we have just experienced a sacred space.

Deformed Heads, Heart Extractions and Screaming Skulls
As the week unfolds, we find that each new dive is more challenging than the last—the openings get progressively smaller and the drops to the water deeper, but the rewards at depth get better and better. The entrance to Chihuohol Dos looks like a narrow slit in the ground, not more than six or seven feet across at its widest point. We descend to find a huge bell-shaped chamber, and then drop underwater 110 feet to discover a trove of ancient ceramics and the bones of dogs and deer.

Even more interesting is a human skull—a female—that shows evidence of cranial deformation. It was most likely flattened at birth as part of the traditional Maya "head-binding" process. The heads of newborns, as de Anda later explains, were often pressed between two boards, constricted, massaged or otherwise compressed to create elongated skulls.
The reasons why are not fully known. Some experts speculate that the Maya wanted their children's heads to resemble those of jaguars, which were sacred animals and symbols of power. Others maintain that the Maya flattened their children's skulls in order to keep the soul from escaping the body.

Until now, we haven't known how the skulls we've encountered ended up in the cenotes. But our next site, Kanum, reveals some startling truths about sacrificial customs among the ancient Maya. Kanum is a tiny, rectangular stone well that sits on the grounds of a decrepit Spanish hacienda. It was surely the property's water source back in the Spanish colonial times, but it is doubtful the owners knew what lay below. We shimmy down the well to reach the cenote, and descend another 60 feet, where we come across a ghoulish skull that looks like it's screaming at us.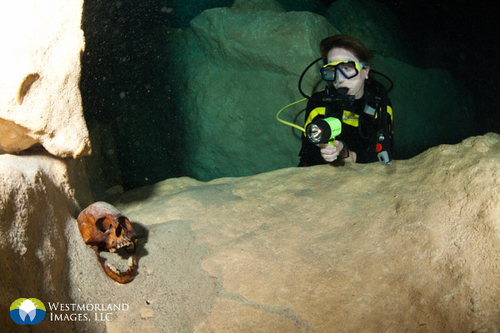 It has a dislocated jawbone and an unusual incision in two of its teeth, which have been carved with the symbol for "ik," the Mayan word for wind, or breath, or life force. We see several other skulls and a human skeleton lying in perfect anatomical position—which suggests that it was thrown in as an intact corpse, with its flesh still on it. De Anda has also found skeletons with slashes on their left ribs, indicating their hearts may have been cut out before the bodies were sacrificed into the cenotes.

When we surface, I ask de Anda what he still hopes to discover in the cenotes. "My biggest dream is to really understand which rituals happened where, to whom, and why," he responds. "If cenotes were just cemeteries for the Maya, we'd have found hundreds of thousands of skeletons in them—but we haven't. Clearly, only a select few people were sacrificed or buried in cenotes, and we are still learning why."
Crucifixions in Xibalba
Our final cenote, called San Antonio, is again accessed through a stone well, with a small, nine-by-four-foot opening. Ancient texts indicated that San Antonio may have been used for human burials and sacrifices for millennia—from the Maya pre-classic era (2000 BC–300 AD) up through the 16th century.

San Antonio contains lots of deformed skulls and bones, but perhaps most interesting is our discovery of wooden beams in close proximity to the human remains, suggesting that the bodies had been crucified before being deposited in the water. De Anda suspects that this is one of the first crucifixions of Mayans as long as 500 years ago, a practice that lasted into the 1700s.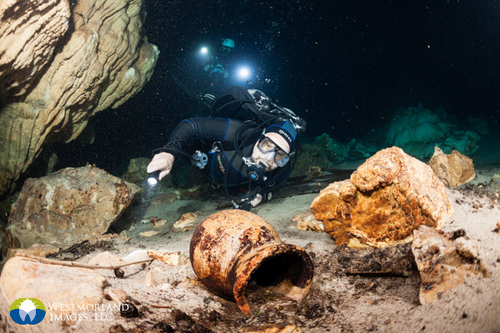 The eeriness of these discoveries is both unsettling and exhilarating. We emerge from San Antonio feeling privileged to have experienced such sacred waters, even though their mysteries are yet to be fully revealed. And while we may never fully understand what actually occurred here, we divers are among the very few ever to glimpse the enigmatic Maya netherworld by taking an unforgettable underwater journey to Xibalba and back.


Travel Details

Diving Equipment: The water in the Yucatan's cenotes is dark and cool, typically 74–76°F. Recommended gear for these conditions includes: 5mm hooded wetsuit, professional fins, dive lights, and a cavern safety reel.
Photo Equipment: Wide angle is a must! Strobes are optional, but can be useful in some of the deeper, darker caverns or when shooting a foreground subject like skulls or stalactites.
Training: Most cenotes divers will be accompanied by an experienced guide who will operate the safety reel and bring extra air. Open water divers can do cavern dives—in which you never lose sight of natural light—but for those who want to hone their skills, PADI offers a cavern diving specialty course, with Advanced Open Water as the prerequisite.
Who To Go With: To dive the cenotes in the state of Yucatan, contact Dark Side Divers, an outfit specializing in archeologist-led dives. Visit www.darksidedivers.com for more information. Dark Side Divers works in partnership with Catherwood Travels, which can assist with accommodations and logistics. Visit www.catherwoodtravels.com for more information. To see more of Michele Westmorland's images, visit her site at www.westmorlandimages.com.
When to Go: Year round
RELATED CONTENT
Be the first to add a comment to this article.
Newsletter
Travel with us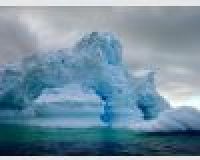 Antarctica
Plan Your Adventure >
Featured Photographer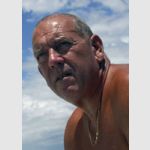 David Henshaw
Photographer
In the relatively short time I have been shooting underwater I am always trying to produce a photograph with the "WOW Factor" - an image that can capture the imagination, that inspires to do better and satisfies the...