Travel
Swimming Freely With Great White Sharks
November 2, 2008 @ 02:00 AM (EST)
by Amos Nachoum
Images by Amos Nachoum & Jeb Corliss (all images of Amos outside of the cage are by Jeb)

For seven years I was waiting for the opportunity to dive off Guadalupe Island, specifically with the large population of Great White sharks around this unique island.

Since the 80's I have been diving with Great Whites everywhere from Montauk off Long Island in New York, Australia with Rodney Fox and in South Africa with Andre Hartman.

Each location had its own unique circumstances that made the shark encounter extraordinary special. In Guadalupe I noticed from the images and stories of my fellow photographer colleagues visibility in the range of 60 – 100 feet, an attribute that is not matched anywhere else in the world. Therefore, Guadalupe has been on the top of my to do list.
As a professional photographer who is specializing in BigAnimals photojournalism, I got accustomed to the fact that in order to have a successful mission I have to have a story, a purpose, a goal, and a shoot list in my head.
Understanding and being aware of the policies governing the industry of shark diving and that of the Mexican authorities, I have held my view close to my chest until I established a trusting working relationship with Alex Antoniou, a shark researcher, and the chief operating officer for the Shark Research institute.
Alex and myself put together a project initiating a specific research method. I have added my desire to test the a unique possibility and under strict conditions – to swim freely out of the cage with the Great White sharks.
Indeed everyone must be aware that this activity is highly risky and not recommended without meticulous planning, committed team support, and above all, a lifetime of in water experience with sharks and Great Whites in particular.
As a working photographer, I have to bring back images that are hardly ever seen before by any editor let alone the public. Supporting that adventure was Alex, with his research about the sharks' behavior and their response to my presence without protection.
As I mentioned above I had in place very clear standards and conditions of operation in order to make this adventure also safe. I have implemented all that I've learned in the past 28 years being in the water with Great Whites around the world. We had safety divers without cameras behind each cameraman and only two divers in the water at one time – that was my cardinal and basic rule of thumb…
For the next five days I have introduced at least four divers into such a phenomenal encounter and as one of my guests named it – it was "the Everest of diving experiences"
Was I afraid at any time – YES – I was, and at that time I did not get out of the cage. It's mostly fears that I have created in my own mind and not from what my eyes were seeing. When my heart was racing I retreated to the protection of the cage until I would calm down. Only when I was at peace with my self, trusting what my eyes were seeing and observing the calm passing of the shark in front of us would I brave the elements. At that time I felt that I can deal with my own fear, trusting my intuition, my life experience, and my observations of watching the shark and its graceful and fluid movements.
Following this most rewarding and unique opportunity, Alex and I will be hosting a follow up Photography / Research expedition next season, in September 2009, which I will open up to 10 additional divers.
The photography mission I set to myself was challenging as you can see in the images - getting within three feet of the head of the Great White Shark – I "prayed", I thought, and I visualized having at least only one such a rare moment - for which I had to have the best tool I know available. I had purchased the superb and costly Canon 50mm 1:1.2. I did that in order to get the best possible sharpness for one of a kind portrait images of the most revered animal in the wild kingdom, looking directly into my camera and through it into my memory bank – to the picture I had in my mind for the past seven years…please let me know if I did a good job by commenting at the end of this article!
I was shooting with the Canon 1Ds Mark III in a Seacam housing and with two Ikelite DS125 strobes.
I am aware that some of you think positively about the daring event, while others may scold me for doing something so dangerous – I can only learn from each response and evaluate later how my action helps or hurts the case of understanding the sharks and how important it is for us to protect them, after all they are not "man eaters"…a portrait widely created by the media. I do feel the responsibility to dispel the myth – did I do so successfully? Surely – you may have questions for me and you are welcome to ask as well as make any comments. Please either add comments below or contact me through my website at
BigAnimals.com
- Amos Nachoum
RELATED CONTENT
Be the first to add a comment to this article.
Newsletter
Travel with us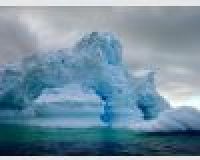 Antarctica
Plan Your Adventure >
Featured Photographer
Sarah Lee
Photographer
18, from Kailua Kona on the Big Island of Hawaii. Started doing underwater photography in 2008! Currently in the OC doing freelance photography and studying Film Production at Chapman University.