Travel
Summertime Underwater Photography in Grand Cayman
By Joseph Tepper, August 2, 2017 @ 04:00 AM (EST)

When I'm told a dive destination is just as good one part of the year as it is another, I am not satisfied. After all, underwater photographers are always looking for the edge to make the best images, even if it means visiting a destination only a select few months of the year when conditions and subjects align to raise the bar.
Take, for example, the Cayman Islands. Well known for their "Dive 365" project, this storied Caribbean dive destination aims to provide a unique dive site for every day of the year.
And while Grand Cayman does provide top-notch dive conditions year round, when you ask local divers and frequent visitors if there is one time of year that stands out, you will receive a single answer: summertime.

Summer in Grand Cayman
With more than 300 dive sites spread across its east, south, north and west coasts, Grand Cayman is truly dive-able year round. However, for the discerning underwater photographer, the summer months—May to September—provide another level of opportunity.
The first winds of change during the summer are, well, the winds themselves. During most of the year, it is the west side of the island that provides the most harmonious conditions, but in the summer, shifts in the sea and wind conditions open up the option to dive the north wall on a regular basis.
Cayman's west wall and corresponding shallow sites are classics for underwater photographers. But on the north side, you are likely to encounter more pelagic action—sharks, eagle rays, turtles—in addition to the dramatic wall drop-off.

Cayman's regular subjects like turtles are always around, but the summer months provide top dive conditions and the chance to see more pelagics

The second change that accompanies the summer months is a drop in tourists. Peak season in Grand Cayman runs from November through April—largely with more casual divers. During the summer months, Grand Cayman experiences lower diver-to-guide ratios, as well as an overall increase in amateur and professional underwater photographers.
And then there are the unique underwater photography opportunities that are only available during the summer months in Grand Cayman. The calmer conditions on the north side provide the option to capture sunrise over-unders in calm waters at Stingray City sandbar.
On the west wall, the famed Kittiwake becomes less busy, providing the option to get creative with your photography. And just around the east, blooms of silversides fill underwater caverns for an unforgettable underwater photography experience. Turtles, too, boom during this time of year, as green sea and loggerheads pass through on an annual migration.

Schooling silversides and Stingray City at dawn are just two of Cayman's summer attractions for underwater photographers
Underwater Photography in Grand Cayman with Cayman Turtle Divers
Just out of the harbor on Grand Cayman's north side, I hear Cayman Turtle Divers Manager and Captain, Al Laidler, yell out the following warning: "Alright, we're going to speed up now." Brace yourself.
Cayman Turtle Divers (CTD) operates the fastest dive boats on the island, reaching speeds of up to 30 knots. What this means for underwater photographers is less time in transit and more time in the water. It also means that you can access more sites and more subjects around the island than almost any other company (unless you want to spend 90 minutes getting out to the site).

Imagine being picked up right off your hotel's beach and photographing Cayman's dramatic wall within 15 minutes

Both of CTD's smaller boats—Old School, and the aptly named, speedy Wahoo—max out at six divers per trip. Even their newer, larger boat maintains the same diver-to-divemaster ratio. There are lots of cattle boats in the Carribean with up to 30 divers, but underwater photographers value a low ratio of divers to divemasters. With CTD, you'll be at the site in 10 minutes, have a low number of other divers to share the water with, and have the assistance of a crew that includes a photo pro and marine biologists.
One of those marine biologists is Al himself. After researching in destinations like Fiji and Tanzinia, Al began a decades-long stint in the Cayman dive industry. But when he co-started CTD, he wanted to create something leaner and more customizable than your typical "cattle boat."
"With our range of dive boats, we can fit any photographer's needs," says Al. "Whether you're looking for a spacious boat for all your new gear or you're wanting a fast and maneuverable boat to get your lens in front of the less dived spots around the island, we aim to make it happen."
To put it simply, CTD is the perfect complement to the chill conditions of a Grand Cayman dive summer. The boats can even pick up customers right off the beach of the hotel and deliver them right back. So, you're taking almost as many steps to a dive site as you would on a liveaboard—but with all the access to Cayman's awesome restaurants and cultural attractions.

A diver giant strides off the back of Old School, one of the fastest dive boats in Cayman
Underwater Photography on Cayman's North Wall
Local divemasters and photo pros wait in anticipation for regular access to Grand Cayman's north wall. It is doable during a few ideal days in the peak "winter months," but from May through September, you can dive in the premium north wall conditions almost every day.
As such, the north wall of Grand Cayman is much less dived and more pristine than those found on the west side. In addition, the dramatic drop-off provides opportunities to photograph more pelagics like sharks, rays, and turtles.

When diving along the north wall, always keep an eye out into the blue for passing eagle rays, reef sharks, and schooling fish

Cayman's north side stretches across more than eight miles, usually meaning that dive operators will stick to two sites close to each other for convenience. But the 40-knot speed of CTD's boats means that you have the best selection of sites based on conditions, photographers' requests, and subject availability.
Ghost Mountain is a pinnacle that rises out from several hundred feet of water to within 75 feet of the surface. It features some of the most dramatic sponge and hard coral growth on the north side. If the current is going a bit on the side facing the open ocean, the fish life is incredible, with jacks chasing baitfish around gorgonians and large tube sponges. Al encourages photographers to take advantage of the company's speedy boats to reach this rare gem: "Be sure to request this amazing deep pinnacle as the images will do nothing but impress," he says.

Ghost Mountain features healthy coral and sponge growth, along with a lot of fish life

For pelagic life, the north side's dramatic walls are the best on the island. Tarpon Alley is a dive site aptly named for frequent sightings of these large, silvery fish. However, it's also a hotspot for stingrays, eagle rays, reef sharks, and the occasional hammerhead.
If you're looking for diversity in terms of pelagic life, big animals, and healthy reef scenes, consider requesting Roundabout or Leslie's Curl. Here, you're just as likely to see some rays or sharks, but there's also a lot of potential reef scene primary subjects like elephant ear sponges, gorgonians and large sea fans.

Catching a southern stingray waking up early in the morning before heading to Stingray City to be fed squid by the tourists

The North Wall features larger, healthier sponge growth than other areas around Grand Cayman

Pro Tip: The best reef scene images have multiple elements going for them—a foreground sponge, fish life, a model diver, and perhaps a sunball. In Cayman, you can often find mutton snapper following you on dives—a result of the lionfish spearing program, which has been very effective. If you set up for an image of a still subject like a sponge or hard coral, be patient and a snapper will likely come into the frame for an added compositional element.

Including a mutton snapper might not seem like a big deal, but it provides an additional compositional element to an otherwise simple image

The north wall's shallow sites are often coral fingers that stretch out from Stingray City to the drop-off. With several marine biologists on staff, CTD likely shares your passion for finding rare critters. And with ample bottom time, shallow sites like Flamingo Flamenco and Monet's Garden are tops for finding and photographing macro subjects.
Hard corals are great places to look for little holes with tiny blennies burrowed in. There are tons of common blennies, but the key is to find one with an interesting negative space like brain coral or other colorful hard coral. Alternatively, have the keen-eyed divemasters help you locate the ornate sailfin blenny.

Cayman might be noted for its wide-angle reef scenes, but critters abound—especially with the trained eye of a Cayman Turtle Divers guide

A brave, juvenile spotted drum spins in circles around the gills of a resting nurse shark

A nurse shark cruises through the shallows on the north side

Gorgonians abound and are popular hiding spots for slender filefish. These are shy subjects, so using a longer focal length lens to help fill the frame from a farther distance will be useful. Other popular macro subjects include clingfish, juvenile spotted drums, and yellowhead jawfish (sometimes mouth-brooding eggs in the summer).

In the summer, jawfish are known to mouth-brood their eggs—so keep an eye out!
Diving the USS Kittiwake in the Summer
Even if you've never been to Cayman, it's easy to spot the Kittiwake dive from the surface during the busier winter months: It's where about a dozen or so dive boats congregate every afternoon.
One of Cayman's most popular attractions since its purposeful sinking in 2011, the ex-USS Kittiwake can be a bit overcrowded at times, but visiting in the quieter summer months has its advantages. In addition, given that the wreck—on the west side—can be reached anytime from the north with CTD's fast boats, you have a recipe for less diver-crowded images.

I like to have a dive model in my images of the Kittiwake—but not 20 bubble-blowing tourists. Summer is the best time to have this famous wreck to yourself

During a recent trip, I was able to experiment with creative techniques like long exposure, silhouettes and light painting thanks to the relative calmness of the wreck.
Summer is also a great time to find silversides hiding inside the wreck, often being hunted by hungry bar jacks—a great photo opportunity to be sure. You'll also find larger horse-eye jacks schooling en masse in the shallows above the wreck.

The Kittiwake also attracts schooling jacks, stingrays, and some goliath groupers

Silversides are more common in the summer: They can be found in the second and third levels, often being chased by larger fish

I was able to photograph this predation behavior for nearly 30 minutes without seeing any other divers—what a treat!

Pro Tip: There are some stunning natural light images to be taken inside the Kittiwake. The first and second decks have shafts of light beaming through that contrast starkly against the darkness. The main shaft leads all the way from the second level to the surface and is a great place to take a silhouette image of a diver ascending.

Turning off the strobes produces dramatic light shafts inside the Kittiwake
Stingray City at Sunrise
Once you've done the famed Stingray City at sunrise, you'll never want to visit it at any other time. Cayman Turtle Divers photo pro Chase Darnell can take you out just before sunrise: The water is still dark, but as soon as the engines turn off, the rays arrive.
Why get up at 4AM on a trip to photograph a site that is one of the most easily accessible at any other time? Exactly for that reason. Most other images taken at Stingray City have feet, arms, legs and who-knows-what-else in the background thanks to the flocks of tourists that visit the sandbar around midday.

The stingrays start to appear as the boat's engines turn off, just as the sun crosses the horizon

At dawn, you'll have the whole place to yourself. That means you can capture glorious light rays coming down through the shallow water—instead of a tourist with a life jacket. Plus, the lighting is superb for over-under images. The waters in this shallow sandbar are protected year round, but in the summer the surface chop is less, making it easier to capture split images.

If you want Stingray City to yourself and your camera, ask Cayman Turtle Divers about a special trip out for sunrise

Cayman Turtle Divers photo pro and DPG contributor Chase Darnell is mobbed by rays (both sun and sting) at dawn

Pro Tip: Over-unders are always tricky to expose—but at dawn the water is still dark and the sky is brilliantly lit up, making it all the more difficult. This means that strobes are a must to add light to the underwater half of the image. You are better off underexposing the image and bringing out the shadows in post-processing.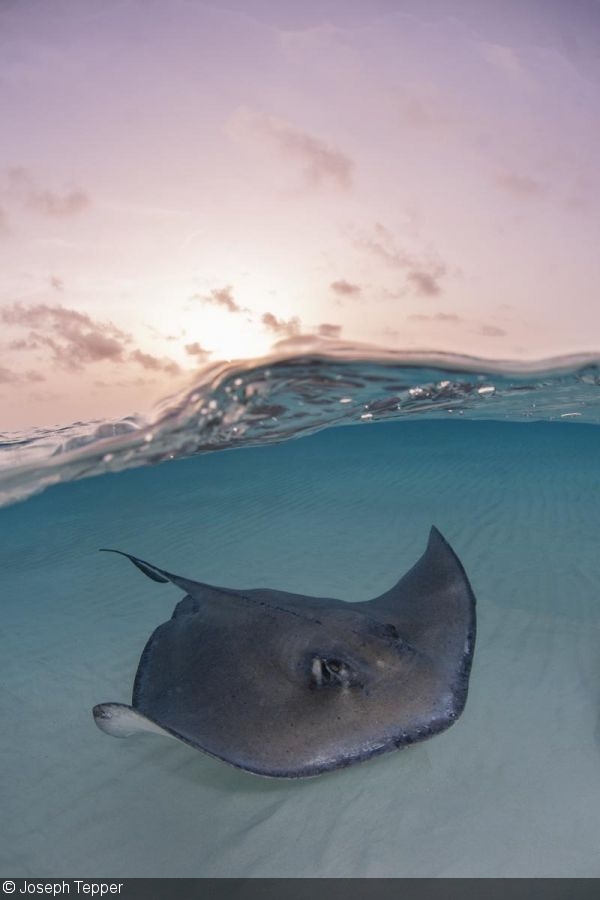 The final shot: A southern stingray cruises in the shallows as the summer Cayman sun rises
Caymankind in Summertime
Grand Cayman is one of the most iconic underwater photography and dive destinations in the Caribbean. As such, there's never really a wrong time to go—and there are a lot of dive operators from which to choose.
But the seasoned shooter knows that the mix of ideal conditions and the right dive operator produces the best images. Summer in Cayman is an especially unique time to visit as an underwater photographer, with seasonal subjects, great conditions on the prized north side, and a less-crowded scene.
Or, as Al from Cayman Turtle Divers puts it: "Though Cayman is always like paradise, in the summer she really shines."

RELATED CONTENT
Be the first to add a comment to this article.
Newsletter
Travel with us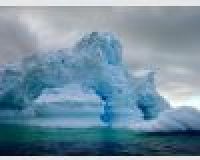 Antarctica
Plan Your Adventure >
Featured Photographer
Stuart Chorley
Expert Photographer
London based Stuart Chorley has over 25 years experience as a photographer, above and below water. Underwater photography has become a specialty, shooting for Advertising Clients such as McCann's Japan (for Panasonic), Lowe...