Travel
Sudan: The Red Sea at Its Best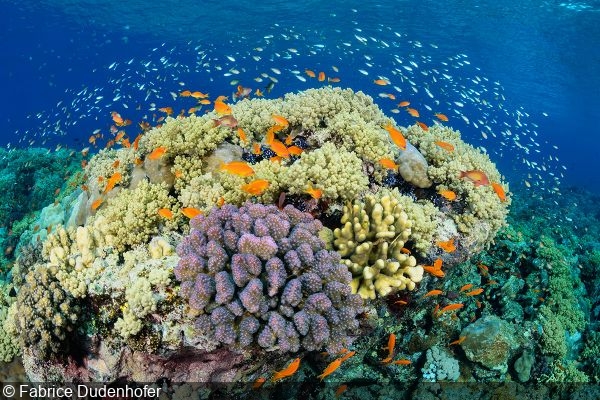 A pristine coral reef teeming with life in Sudan

A neighbor of Egypt, Sudan has an underwater world with its own character that provides numerous photographic opportunities for the adventurous underwater photographer. Shielded from mass tourism due to an unstable political situation, Sudanese waters have retained all their charms and continue to excite all who venture there.
Since gaining independence in 1956, Sudan has been torn apart by two civil wars. The first lasted until 1972; then, after a hiatus of 11 years, a new conflict pitted the Arab-Muslim North against the tribal South. In 1989, the military seized power and established an Islamic dictatorship. The political situation only really stabilized in 2011 with the division of Africa's largest country into two: South Sudan and the Republic of Sudan to the north. The latter has 530 miles of coastline with the Red Sea, from Egypt to Eritrea.

A stunning aerial view of the wonders that wait below the surface in Sudan
Early Explorers
Very early on, this region fascinated the most famous divers and underwater explorers. Hans Haas was the first to dive here in 1949. He would return the following year to shoot the images for his 1951 documentary Adventures in the Red Sea. As for Commander Cousteau, he visited Sudanese waters for the first time in the mid-1950s. A little later, in 1963, the coral reef of Shaab Rumi was the location for the second part of his Précontinent II project, an attempt to create an environment where men could live and work on the seafloor. Beginning in 1967, the captain and crew of the Calypso again explored Sudan, as part of an extraordinary two-year expedition. For the occasion, they established a research station on Darraka Island in the south.

The fascinating remains of Précontinent II, Jacques-Yves Cousteau's undersea living experiment

A diver with a scooter alongside a school of barracuda at depth

For many years, Sudan remained hard to access for divers who dreamed of exploring its depths. In addition to a delicate political situation that had become unstable, the air service to Port Sudan, provided by the only national company via Cairo or Khartoum, was extremely unreliable. Liveaboard boats—the only way to access the remote dive sites—were also few and far between, making travel to the region a difficult proposition. Although more cruise ships now sail these waters, and air travel is safer and more regular, diving in Sudan is still very much considered off the beaten track—but it also remains exclusive and unspoiled.

Giant trevally surrounded by potential prey in the blue

Jacks and snapper pass by effortlessly in the current
Pristine Coral Reefs
"You often hear that in Sudan we find the original Red Sea, a sea before the divers ... This is not a 'cliché' claim but the reality," says Steven Surina, founder of Shark Education and a regular diver in Sudanese waters. You just have to go under the surface to see it: The coral reefs are spectacular and the marine life is rich and diverse. Corals extend from the surface into the depths. During a single dive along a Sudanese drop-off, it is possible to see the complete catalog of the Red Sea's most prolific fish, including anthias, triggerfish, sweetlips, barracuda, trevally, and a variety of different shark species.
Several factors contribute to this situation. First, Sudan does not have a huge commercial fishing fleet, and most fishing activity has remained exclusively artisanal and mainly coastal. Seabed protection measures have also been in place for several years, banning the mooring of all boats at any of the dive sites. Access to the sites is all done by much less disruptive tenders, while the boats are moored in the lagoons or remain maneuvering offshore.

Every inch of rock is covered in coral in Sudan!

Second, it should be noted that the diving season here is relatively short, from late February to early June. During the summer, very high temperatures are difficult to bear for Western visitors and not very conducive to viewing wildlife. "The water often reaches 30°C [86°F] in the surface layer, which causes large pelagics such as sharks to move to greater depths, out of reach of divers," explains Surina. "This means that the impact of humans on the environment remains low." Finally, with the absence of seaside tourism, wastewater discharges in the coastal zone remain relatively small, and of very limited impact.

A small school of sweetlips bunches together to pose for the camera
Typical Topography
Beyond the unspoiled character of the Sudanese sites, they have an identity of their own that differs from what one finds in Egypt. Here, the sites where pelagic fauna are concentrated are not isolated offshore nor rare, but numerous and close to one another because they are distributed in the same area, thus forming a set of coral reefs conducive to the development of marine life.
The typical Sudanese reef is perfectly exposed to rich, warm water loaded with plankton coming from the southeast, and to the slightly cooler and clearer waters coming from the north, which guarantees a constant supply of nutrients that maintains the food chain—a balanced scenario that can be seen across Sudan. Another characteristic is depth. Unlike Egypt, there are few coral gardens and the plateaus at the end of the reefs are generally small and deep (120 feet minimum). With immersions up to 300 feet and beyond, diving in Sudan is not for the inexperienced and is more comparable to the Brothers Islands and Daedalus Reef in the Egyptian Red Sea.

Orange anthias swarm a hard coral reef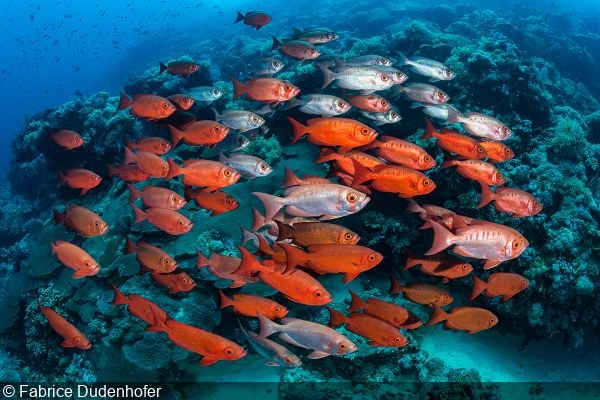 A school of bigeye display varying shades of red as a diver approaches
Sharks Galore
The good health of this trophic chain, the poor development of the fishery, and the total lack of shark finning all account for the high number of sharks that can be found on the various dive sites. The most represented species are the scalloped hammerhead (Sphyrna lewini), gray reef shark (Carcharhinus amblyrhynchos) and the silky shark (Carcharhinus falciformis).
Observing an abundance of these shark populations is one thing; correlating with scientific data is even better. A few years ago, participatory science missions carried out by the Cousteau Team (formerly the Cousteau Foundation) made it possible to set up monitoring of sharks on key sites in Sudan, in particular Shaab Rumi and Sanganeb. Finally, in the south (Suakin Archipelago), and more specifically on the "Dahrat Abid" dive site, the regular presence of whale sharks and occasionally tiger shark is also observed.

Whale sharks are often seen in the south

Obviously, the sighting of scalloped hammerhead sharks cannot be strictly guaranteed while diving in Sudan, but it is nonetheless extremely likely. Indeed, it should be considered one of the best places in the world to see them, although you will need to go beyond 120 feet to the edge of the plateau where the current splits in two to do so. Meetings with these Sudanese stars are regular on many sites such as Sanganeb and Shaab Rumi, to the north of Port Sudan; and Shaab Jumna, Darraka and Dahrat Abid, in the Suakin, in the South.
"Usually hammerhead sharks form groups of several dozen individuals, dominated by alpha females, around islets and seamounts," notes Surina. "These would most certainly be daily rest areas exposed to strong currents and a thermocline providing cooler, perfectly oxygenated water.

Elusive scalloped hammerheads pass by at depth on many dive sites in Sudan

Found in shallow water, near drop-offs, the gray reef shark is the perfect indicator of a healthy marine environment. The participatory science experiment carried out at the Shaab Rumi site identified around 30 individuals that remain in the same area, forming a stable community of sharks that are the perfect photo subjects.
To see the silkies, you have to go south, where populations of juveniles are very frequently encountered. Elegant, with very smooth skin texture, curious, even unrelenting sometimes, Carcharhinus falciformis is easily recognized by its slender body and its small dorsal fin, making confusion with the oceanic whitetip (Carcharhinus longimanus) impossible. Steven Surina also notes that Longimanus are rare in Sudan, although it is a very common species in Egypt. These sharks are great to photograph as they are more often at the surface in deep water, providing plenty of natural light and a perfect blue background to your wide-angle images.

Silky sharks at the surface are the perfect wide-angle subject

Gray reef sharks patrol the depths in Shaab Rumi

Without a doubt, Sudan has some of the best-preserved dive sites in the Red Sea. Far from the busy sites one may find elsewhere in the region, they offer experienced divers and demanding underwater photographers a perfect place to explore and add some new shots to their portfolio.
Those passionate about the history of diving can also look forward to a visit to Précontinent II and the Umbria, one of the most beautiful wrecks in the Red Sea. However, the most fulfilled divers will be lovers of underwater life, and the richness of the reefs and the abundance of fauna, sharks in particular, are undoubtedly the main attraction.

Anthias and pink soft corals provide the perfect foreground for a stunning reef scene

Another spectacular Sudanese reef covered in soft coral and tropical reef fish

---

To see more of Fabrice's awesome underwater images, check out his website, www.fabricedudenhofer.com, or his Instagram page. Fabrice has also been featured as a DPG Photographer of the Week.
RELATED CONTENT Apr 23, 2021 8:15 PM
Sandy Queenta
wrote:
<a href="https://megacanabisdispensary.com/product/icecapz/"> Where to order icecapz online?</a>
<a href="https://megacanabisdispensary.com/product/jungle-boys-strains/"> Best place to buy jungle boys.</a>
<a href="https://megacanabisdispensary.com/product/king-pen-gelato-500mg/"> Are you looking for king pen gelato?</a>
<a href="https://megacanabisdispensary.com/product/krt-carts/"> Best krt carts near me.</a>
<a href="https://megacanabisdispensary.com/product/lions-breath-carts/"> Best lions breath carts near me.</a>
<a href="https://megacanabisdispensary.com/product/lsd-drug/"> Ultimate lsd drug online.</a>
<a href="https://megacanabisdispensary.com/product/smart-carts/"> Where to buy smart carts online?</a>
<a href="https://megacanabisdispensary.com/product/skyhigh-carts/"> Best skyhigh carts online.</a>
<a href="https://megacanabisdispensary.com/product/smartbud/"> Ultimate smartbuds.</a>
Newsletter
Travel with us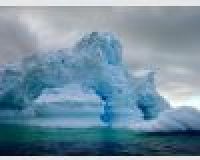 Antarctica
Plan Your Adventure >
Featured Photographer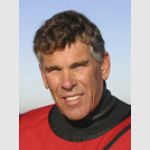 Howard Hall
Expert Photographer
Howard Hall has been on the masthead of several magazines including Roving Editor for International Wildlife Magazine and Senior Associate Editor for Ocean Realm Magazine. His photographs and/or articles have been widely...