Travel
South Florida's National Parks: Biscayne and Dry Tortugas
By Naomi Blinick, May 20, 2014 @ 12:30 AM (EST)
Curious French angelfish are just one of the many subjects you can choose to photograph at Biscayne and Dry Tortugas National Parks in South Florida.

Across the country from the green, productive waters of California's Channel Islands, Biscayne and Dry Tortugas National Parks in South Florida offer clear blue seas, tropical fish, lush coral gardens, and a multitude of historic shipwrecks. At the start of my internship with the Our World-Underwater Scholarship Society, I had my first experiences using an underwater DSLR system in these two parks.

Both national parks boast varied habitats, including shipwrecks, that are ideal for underwater photography.

On a good day, the conditions in these parks are perfect for underwater photography beginners: flat-calm conditions, excellent visibility, curious fish, and varied underwater habitat, including corals, seagrass beds, and shipwrecks. Much of it is within the reach of snorkelers, and with 173,000 acres to explore in Biscayne, and 67,000 acres in the Dry Tortugas, you can be sure to find plenty of sites to suit divers and photographers of all skill levels.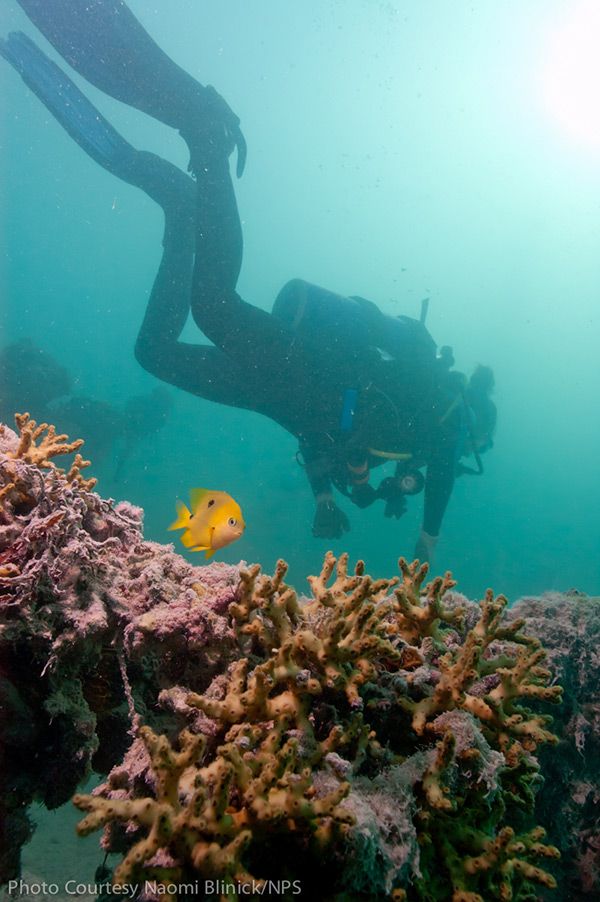 With still waters and shallow regions, the parks have areas which are accessible to divers and snorkelers of all skill levels.

Biscayne is located at the southeastern tip of Florida, and is composed of a shallow bay (Biscayne Bay) edged by mangrove-lined barrier islands, which separate the bay from the Atlantic Ocean. All diving here is boat based, but being so close to Miami makes access to this park relatively easy. Despite its proximity to a large urban center, Biscayne maintains relatively unimpacted marine environments and is generally one of the less trafficked dive destinations in the region.
There are four major ecosystem types to explore here: the shallow waters of Biscayne Bay (which are dominated by seagrass meadows), mangrove swamps, limestone barrier islands and offshore reefs of the Florida Reef Tract, which is the third largest living coral barrier reef system in the world, and the only one in the continental US. Over 200 species of tropical fish, two species of endangered elkhorn and staghorn corals, lobsters, manatees, and turtles can be found within the park.

A flamingo tongue snail sits pretty on a soft coral in Biscayne Bay.

In contrast, the Dry Tortugas are a group of small, sandy keys about 70 miles west of Key West, lying at the intersection of the Gulf of Mexico, the Atlantic Ocean and the western Caribbean Sea. Garden Key, the largest island, is home to Fort Jefferson, one of the largest masonry structures in the US, which was used as a prison during the Civil War. Over 99 percent of the park's area is marine, encompassing vast seagrass beds and patch reefs.
Due to its isolation, the underwater habitat in this park is pristine. Diving here is a logistical challenge though, as the park is only accessible by seaplane or multi-hour boat ride. If you won't be able to fit diving into your trip, be sure you still bring your mask and snorkel—the chance to snorkel around the fort's moat walls should not be passed up. You can see lots of juvenile fish, urchins, corals, sea fans, octopus, schooling baitfish, and even large tarpon and barracuda near the old coaling docks. Also keep your eye out for sea turtles, which graze in the abundant seagrass beds and utilize the undisturbed sandy beaches of the park for nesting.
The shallow, shifting sandbars in the Dry Tortugas and sharp coral atolls of Biscayne have caused numerous maritime disasters over the past centuries since the arrival of the Europeans. These shipwrecks have become artificial reefs, and in addition to supporting marine life they also provide great opportunities for photographers. In Biscayne, the wrecks that lie within the park's boundary are generally shallow and accessible to snorkelers, making them excellent destinations for groups with a mix of divers and snorkelers or children.

Home to over 200 species of fish, as well as manatees, turtles, and other macro marine life, there is no shortage of different animals to photograph.

Be sure to check out the Biscayne Maritime Heritage Trail for more information on the park's wrecks. It is important to remember that disturbing or removing items from these shipwrecks is strictly prohibited—please leave wrecks as you found them so that future divers can enjoy them as well.

Biscayne Bay features endangered Acropora corals, including elkhorn and staghorn corals.

Fish are often abundant around these submerged structures, including the iconic and protected goliath grouper, schools of snappers, and sergeant majors. Invasive pacific lionfish are also prevalent on shipwreck sites and in reef habitats, where they can find crevices to lay in wait to ambush their prey. Lionfish are a significant threat to the health of tropical and subtropical Atlantic waters, as they consume high volumes of native reef fish. The parks are on the offense; with all their divers trained in lionfish control by spearing or netting, they are helping to reduce the populations of these invasive predators.

Divers in the national parks are trained to remove lionfish from the habitat to help protect the native species in the region.

For wide-angle shooters in these parks, you can look forward to sea turtles, dolphins, stingrays, barracuda, schooling fish, historic shipwrecks, and sprawling coral reefs with lots of swaying soft coral, large brain corals, and sponges. If you prefer macro subjects, fear not, as there are an abundance of corals, sea fans, worms, snails, and small fish to keep you occupied.

Huge brain corals are one of the highlights of South Florida's reefs.

If you are really looking for a unique South Florida park experience, I suggest exploring the mangrove forests in Biscayne National Park. This critical ecosystem buffers the coastline from storms and erosion, and provides important nursery habitat for marine life. This can be done by doing a drift snorkel in the cuts between the barrier islands, known locally as creeks, where the tide rushes in and out of Biscayne Bay. This can be an exhilarating and unique experience, but you must take certain precautions to ensure your safety. While many of us are familiar with the appearance of mangroves from the surface, exploring the underwater perspective can give you a new outlook on this special habitat.

For a unique experience, check out the mangrove forests at Biscayne Bay National Park.
Subjects:
Coral reefs, shipwrecks, sea turtles, tropical fish, seagrass, stingrays, mangroves
Equipment:
Wide angle for seascapes, megafauna, and close-focus wide-angle subjects; macro if you are interested in invertebrates and fish portraits
When To Go:
Dry Tortugas: May–September; Biscayne: June–July
More Info:
Dry Tortugas: www.nps.gov/submerged/parks/drto.html
Biscayne: www.nps.gov/submerged/parks/bisc.html
RELATED CONTENT
Be the first to add a comment to this article.
Newsletter
Travel with us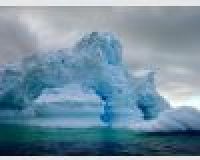 Antarctica
Plan Your Adventure >
Featured Photographer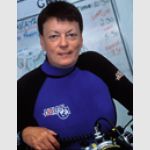 Danielle Alary
Expert Photographer
Award-winning, lecturer, author, photography and multimedia producer, Danielle has been involved in diving for over 25 years. She has co-authored with partner Michel Gilbert more than 500 articles related to diving, travel and...