Travel
The Solomon Islands: Top Five Dive Sites for Underwater Photography
A porcelain crab at Maravagi Bay, Florida Islands

A string of nearly 1,000 islands scattered between Fiji and Papua New Guinea, the Solomon Islands is one of the last frontiers of diving and underwater photography. Whereas most popular diving locations have one or two standout characteristics for which they become famous, the Solomons has something for everyone. A dive here can dish up a sheer wall that plummets into the depths, World War II shipwrecks, a cavern bathed in sunrays, a huge school of jacks, or critter-rich muck. In short, this is a dream destination for even the most indecisive shooter.
It's difficult to generalize about conditions, subjects, or photographic boons and challenges in the Solomon Islands as a result. Currents can vary widely, with mellow flow at some sites and spectacular rips at others. Marine life is a "never-know-what-you-might-see" proposition. And visibility can range from 30 feet for a plane wreck inside Marovo Lagoon to well over 100 feet at an offshore pinnacle.
Choosing the best of the best is no easy task: There are countless and varied shooting opportunities. Ultimately, I decided my top five sites should be ones that are commonly accessed—most are visited by liveaboard—and that are expansive enough to provide imaging prospects to multiple photographers at once—people can spread out and still have a successful day's shooting.

Capturing iconic subjects like this hawksbill is made easy by the Solomon Islands' healthy reefs
1. Rainbow Reef, Russell Islands
Recommended gear: The widest fisheye lens in your arsenal and the biggest, baddest strobes you can find
Recommended preparation: A full tank of nitrox
A large oblong seamount covered with fans, soft corals, and sponges, this open-ocean site offers a gorgeous vantage from which to spot sharks, mobula rays, and schooling barracuda. Wide-angle enthusiasts will have no problem finding incredible setups for reefscapes, and the water clarity is often excellent—on a sunny day, it will be tough to resist the lure of adding a sunburst to your shots! The most frustrating part of a visit to Rainbow Reef? With its unpredictable, fast-changing conditions and a minimum depth of 55 feet, your dive is sure to be over long before you're ready to ascend.

The aptly named Rainbow Reef is a wide-angle paradise

Elsewhere at the Russell Islands, your macro lens can get a good workout with critters like these coral hermit crabs
2. Barracuda Point, Mary/Mborokua Island
Recommended gear: A wide-angle zoom lens and a reef hook
Recommended preparation: Cardio-vascular fitness training—you'll need it to swim calmly into the current if the opportunity for a great shot presents itself!
For liveaboards, this small, uninhabited island is a commonly visited waypoint between the Russell Islands and Marovo Lagoon, but it's far from a boring stopover. Just adjacent to the most common mooring area, Barracuda Point is a submerged, current-swept peninsula that juts into the ocean. Enormous schools of jacks and chevron barracuda are commonly seen here, and a variety of sharks often patrol nearby, but shooters should be prepared to see almost anything—mobula rays, sperm whales, or even orcas.

Pull out your widest lens and get in close to capture schools of fish like these jacks
3. Mbulo Caves, Marovo Lagoon
Recommended gear: A wide-angle or fisheye lens and a focusing light
Recommended preparation: Bargain with another shooter to trade off modeling duties—your shots will be that much better with a diver in them
Near the southeastern aspect of Marovo Lagoon lies Mbulo Island—and one of the most ethereal dive sites you can fathom. This meandering series of cracks, crevices, and caverns may not look like much upon first glance, but add in a some bright sunlight, and you'll find yourself bathed in dancing, darting rays. Best of all, this site is shallow, so you'll have plenty of time to try out different exposures to capture the sharpest cathedral light. The site has four unique caverns, some larger than others, and the intensity and direction of the light rays will alter notably during the hour-plus you'll be in the water, so be sure to keep moving so you can explore each one; this will also give your fellow divers lots of opportunity to view and photograph each area. Bring strobes if you like, but with ambient light this gorgeous, you may never switch them on.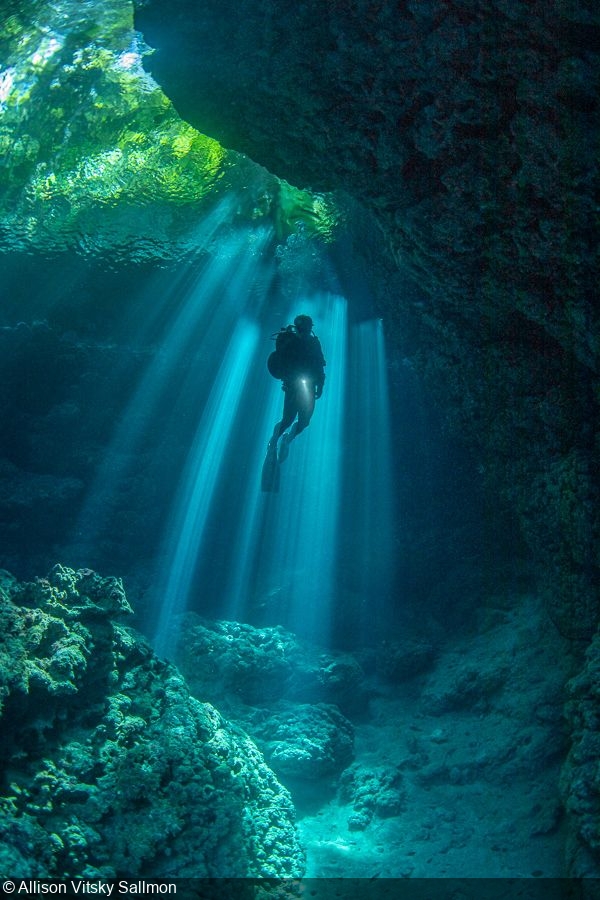 Leave your strobes on the boat and capture the sunrays in all their glory
4. Maravagi Bay, Florida Islands
Recommended gear: A macro lens and a muck stick
Recommended preparation: Listen to the briefing and review the habitats of your favorite critters beforehand
The Solomons' answer to muck diving, Maravagi Bay contains coral bommies, patches of rubble and white-sand muck, boat wreckage, and a large bed of seagrass, all of which are inhabited by tiny creatures. This heavy-hitting macro dive delivers nudibranchs, cuttlefish, seahorses, tiny crabs and shrimp—and even such rarities as pugnose pipefish have recently been reported. All sorts of anemones can be found in this area as well, including one inhabited by true clownfish.

Nemo's second cousin: A spine-cheeked anemonefish poses for a portrait at Maravagi Bay
5. Kokoana Passage, Marovo Lagoon
Recommended gear: A fisheye lens. Or a macro lens. Or whatever—honestly, you can't go wrong!
Recommended preparation: For reefscape fanatics, review the basics of close-focus wide-angle shooting—the visibility here can be somewhat limited on occasion
Nothing will prepare you for the visual overload of this wide channel. Sandy slopes give way to steep drop-offs, and nearly every inch is inhabited by hard and soft corals, huge sea fans, and anemones. Sure, the water here can be a teeny bit green, but those nutrients are what's supporting all that life, so embrace it! There's really no need to go very deep here because the gorgeousness extends to just below the surface, but do yourself a favor and spend at least a bit of time watching the channel, as sharks and mobulas are typically spotted here. Don't forget to examine the sand (when you can see it through all the coral, that is), because crocodilefish are common inhabitants. I have yet to carry a macro lens on a dive to this spectacular site, but for shooters who prefer the small stuff, there is plenty to hold your attention, including crabs and shrimp, nudibranchs, and pipefish.

Keep your eyes peeled for nicely camouflaged crocodilefish in the Kokoana Passage
Honorable mention: Hirokawa Maru, Guadalcanal
Recommended gear: A circular fisheye lens
Recommended preparation: Tip-top buoyancy—not one inch of this wreck is bare, and you'll need to be careful to ensure you're leaving the corals as you found them
It's laughable to list this site as an honorable mention, but it would be even more ridiculous to leave it off of a "best of" list altogether. Accessible from shore—though liveaboards sometimes offer the opportunity to visit this site as well—this WWII wreck was sunk in 1942 and has become an absolutely spectacular artificial reef. Colorful soft coral shares space with anemones, fans, and branches of Tubastrea while trevally herd a loose school of baitfish overhead. There's so much structure and life to photograph here that even if you're not a circular lens enthusiast, you may find yourself reconsidering…

Embrace the circle for a different kind of wreck scenic
Planning Your Trip to the Solomon Islands
How to Get There: Most liveaboard trips depart out of Honiara, on Guadalcanal Island. There are direct flights from North America connecting through Nadi, Fiji, but itineraries via Brisbane, Australia offer more-frequent connecting flights to Honiara.
When to Go: The Solomon Islands is near the equator and there's little variation in air temperature (80°F on average) throughout the year. The dry season runs from April through October, while the wet season spans from January through March. Water temperatures range from 80°F to 86°F with the coolest temperatures in July and August.
Who to Dive With: There are a number of liveaboards that visit the islands. The Bilikiki goes to all these must-see sites and offers cruises of between 7 and 14 days. Another option is the Solomons PNG Master, which offers 7- and 10-day trips with certain itineraries also exploring Papua New Guinea.
Topside: Don't miss your chance to bring home a detailed wood or sago palm nut carving from one of the carving markets in Marovo Lagoon; local artists paddle long distances to display their incredible wares, each of which is one of a kind.

The Solomon Islands' sublime reefscapes are sure to have you coming back again…

…and again
RELATED CONTENT
Be the first to add a comment to this article.
Newsletter
Travel with us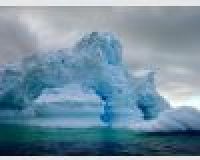 Antarctica
Plan Your Adventure >
Featured Photographer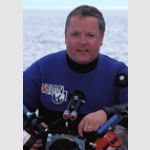 Michel Gilbert
Expert Photographer
Award-winning lecturer, author and photographer Michel has been \"at sea\" for over 30 years. Author of more than 500 articles related to diving, travel and sailing, he co-authors, with partner Danielle Alary, the...