Travel
Shooting Across Micronesia: 10 Top Underwater Photography Sites
By
Tim Rock
, March 2, 2019 @ 09:00 AM (EST)

Green, lush, and surrounded by coral reefs—this describes the island nations that are scattered around the northwestern Pacific Ocean. They are collectively known as Micronesia, which means "tiny islands"—the largest, Guam, is only 30 miles (48km) long—but they are spread out across an ocean area equal to the size of the US.
Here is some of the world's best diving. There are war-era shipwrecks, spectacular underwater walls and dropoffs, schooling sharks and manta rays, and beautiful hard coral reefs that delight snorkelers and divers alike. Each island has its own unique features, both culturally and geographically, making it a fascinating island-hopping experience.
There are roughly eight distinct cultures found among the islands. Some islands rise high out of the sea offering great hikes, flowing waterfalls and jungle rivers. Low-lying islands boast long, sandy beaches, huge stands of coconut palms and remote atolls. Here we will look at some of the best sites for underwater photography going east to west across the region.
1. Majuro, Marshall Islands: The Parking Lot
One of Majuro's most popular sites is The Parking Lot. As the name of this Marshall Islands' gem suggests, this is an array of former U.S. military vehicles and other war relics that are now small reefs but still recognizable as war remnants. A small coral pinnacle marks the spot where Jeeps, trucks, a Navy tugboat and an LCU (landing craft) were abandoned and sunk at the end of WWII. The relics, now artificial reefs, are home to colorful sponges, corals and tropical fish of many species. This area is a favorite for photography and exploration.
There is also a US Navy tug from the war era that is in very good shape in about 115 feet of water. The tug had a wooden hull so now is little more than ribs, but the steel bow piece and steel push bumper as well as the engine are intact and resting in white sand. A school of batfish has adopted it and sea whips grow from every part of the ship. There is a second tug like it at Parking Lot in shallow water but it is bent and not nearly as nice as this little war relic. The pinnacle top has nice hard corals and turtles are often seen at this reef.
Other wreck sites in this lagoon include plane remnants like a Grumman "Duck," an F6F Hellcat, a Grumman Avenger, B-24 Liberator and the popular DC-3 cargo-plane fuselage that was placed near shore at Anemonit Island, a frequently used beach park. This is a little bonus for snorkelers. After the diving, other lagoon islands have beautiful shallow reefs suitable for snorkeling splits.
Tip: Look for marine life in The Parking Lot as well—sea turtles love this area too.

This US military truck is covered in encrusting sponges and whip corals. The reflective bottom helps light the truck even at depth

Majuro has many lagoon islands with sandy beaches and healthy coral—perfect for splits
2. Kosrae, Federated States of Micronesia (FSM): Hiroshi Point
One island where divers can really enjoy the outdoors in a pristine setting is on Kosrae. Largely undeveloped, Kosrae features some of the lushest and most rugged terrain in all of Micronesia. Many of the attractions are natural, so there is hiking to waterfalls and snorkeling at island reefs.
Hiroshi Point is actually done as both a beach and a boat dive, but a boat trip is recommended to dive right to the wall and start looking for action. The sloping dropoff at Hiroshi is covered in beautiful corals that are adorned by hovering fairy basslets in brilliant magentas and yellows.
Take time to look around the current-swept overhangs for pastel soft coral trees. Underwater photographers can spend a lot of time just exploring this mazelike area of reef and sand. There are so many wonderful gullies, nooks and crannies to explore. Morays are also common in the many coral formations. This spot has a good variety of sea anemones and the shallower waters produce schools of parrotfish that roam the reef munching on corals and algae.
Tip: Do a night dive here and expect plenty of surprises.

Large stands of various table corals are what make Hiroshi Point so photogenic

There is nice detail and color for macro work in this razor coral at Hiroshi Point
3. Pohnpei, FSM: Pehleng Pass and Corner
Pohnpei is one of Micronesia's high islands with tall rolling hills and mounts, many rivers, a rich inner lagoon and a huge outer barrier reef. It is lush and colorful. It also has 11 marine protected areas. Its peaks get plenty of rainfall annually and more than 40 rivers feed the lush upper rainforest. Pohnpei's waterfalls range from pleasant to spectacular.
Pehleng Pass has a sloping inner reef full of healthy coral and lots of cracks and crevices. The upper reef stretches endlessly and is home to schooling fish like yellow and black sweetlips, gray snapper and yellow-striped snapper. Sea turtles rest on the coral ledges. There are magnificent anemones with their clownfish hovering. Lionfish, soft corals, flatworms and nudibranchs, crinoid action, brilliant purple lace corals and a host of other critters make this a great macro dive as well.
From the mouth of this pass, the twin palm studded islands of Ahnd Atoll can be seen in the distance. At high incoming tide, the water clarity is incredible here and a moderate kick through the upper reef current puts divers on an active and exciting sloping wall. Look for the amazing and very large resident barracuda schools and solo great barracuda. Gray reef sharks, silvertip sharks, silver mackerel, Napoleon wrasse and schooling bigeye jacks are all found here. Three kinds of dartfish at various depths are also seen. Dolphins also like to frequent the outer reef waters.
Tip: Try some video on the barracuda school… the water is usually super clear.

The very large barracuda school at Pehleng Pass is excellent for both stills and video

Large gorgonians thrive in the current-fed passes of Pohnpei
4. Truk Lagoon, FSM: Fujikawa Maru
By far, Truk Lagoon is the Mecca for wreck diving. The WWII Japanese wrecks are now amazing reefs overgrown with corals and homes to schooling fish. But they are still heavy in artifacts and give fascinating dives. A good many are not terribly deep and are accessible by advanced divers.
The Fujikawa is perhaps the lagoon's most famous wreck and it is a beautiful and interesting wreck to photograph. A bow and stern gun grace the 435-foot cargo ship. The ship once had passenger accommodations and had been in service since mid-1938.
The vessel sits upright now. The holds are very interesting and contain everything from shells, machine guns and airplane wings in the first hold to an entire Zero fuselage in the second hold. The rear holds are darker and appear to have been mostly unloaded. In front of the bridge, there is a monument to Scuba Diving Hall of Fame member and Chuukese diving patriarch the late Kimiuo Aisek and also a Japanese dedication to the sailors lost in the war. The bow is loaded with corals, sea fans and many sea anemones. Most of these anemones have resident Peterson shrimp that are great for macrophotography. The mast corals are spectacular. Look for large, colorful nudibranchs.
Tip: Do a night dive and turn your light off while doing your safety stop… the phosphorescence can be amazing.

A large school of fusiliers swoops onto the Fujikawa with the bow gun silhouetted in the background

Check the treasure trove in the holds of the Fujikawa Maru for artifacts like a Zero fighter fuselage
5. Truk Lagoon, FSM: Nippo Maru
Rounding the island tip on the east side of Tonoas, the boat slows and 80 feet below will be the bridge of a medium-sized, upright WWII Japanese freighter with lots of artifacts and marine life.
Look for eagle rays, sharks and fish schools gliding over the aft, where currents attract lots of marine life. Aside from its intact appearance, the armaments on the deck quickly catch the eye. The Nippo was a water carrier, but it also transported wheeled artillery guns, trucks and tanks. There is an obvious tank forward on the deck as well as the chassis of a truck hanging over the port side.
The Nippo's bridge can be entered from forward and contains some impressive instruments such as the double-handled telegraph (in the two o'clock position) and the ship's wheel. The portholes have been overgrown for the most part, but the bridge is still quite bright, although a light helps. Artillery is on the deck and the aft hold is full of bases for field and shore guns. There is much more to be seen on the Nippo. The structures are full of corals and marine life. It's the kind of dive to repeat a number of times.
Tip: Look into the blue for a big barracuda school at the bow.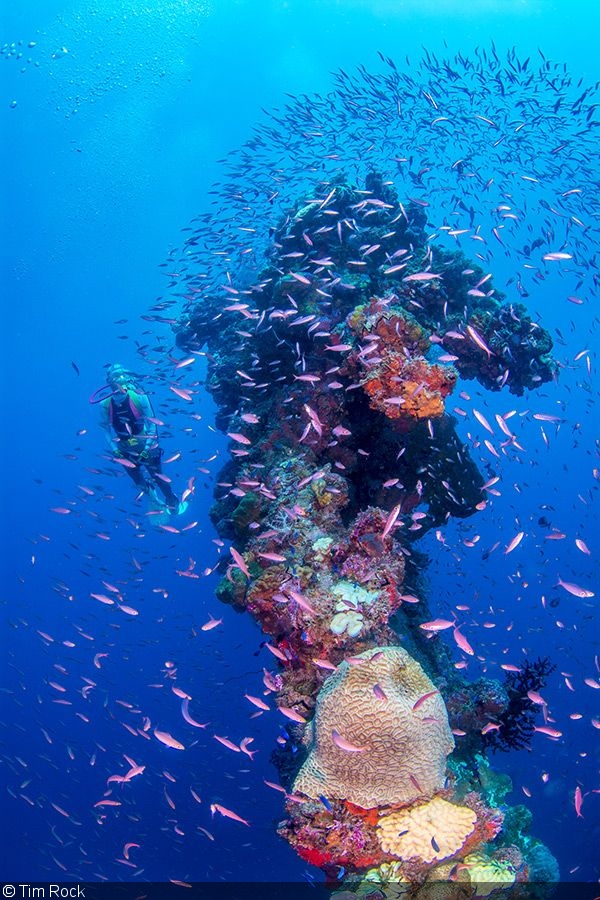 The forward cargo booms of the Nippo attract plenty of fish life and even jack and barracuda schools

For wide angle, a tank, field artillery and a truck frame can all be found on the deck of the Nippo Maru
6. Guam, USA: Tumon Bay Marine Preserve
Tumon Bay and its northern neighbor, Gun Beach, are part of Guam's marine preserve system (there are five) and ideal places for the underwater photographer to ply his or her trade. The reef is open to the Philippine Sea and quickly falls into deep, blue water just the other side of the barrier reef that protects the bay.
Inner Tumon is an outdoor aquarium of sorts with many of the area's most common marine tropicals in abundance. Some not-so-common fish also will appear to those who put in the diving or snorkeling time. Spotted frogfish, pretty longnose filefish and some big reef rays can all be found in the vast, sandy shallows inside the barrier reef.
Over the reef, blacktip sharks are common, especially near the cut closer to the Hilton Resort. At the cut near Outrigger, manta rays are regularly reported. They are being studied and biologists believe Guam has a small but healthy population of possibly 50 or so mantas who frequent the western coast from roughly December through May.
Gun Beach is one of Guam's most accessible dives and a popular site for photographing a great variety of fish and other large creatures when conditions are right. There are nice coral formations in 25 to 50 feet of water to the south and there are sea turtles (green and hawksbill) at Turtle Town, schooling herbivores and parrotfish, and striped tangs maraud the area in large groups.
Tip: Look for stunning purple atoll corals in shallow water.

The odd humpnose unicornfish can be seen schooling in the morning in the Tumon Preserve near the Nikko Guam Hotel beach

Tumon Bay is home to a nursery for baby blacktip sharks. Use a time-lapse setting to not spook them and catch them as they swim by (shot with a GoPro HERO6)
7. Northern Mariana Islands: Puntan Senhanom, Rota
Known for their clear waters and collection of reefs, caves and war wrecks, Saipan, Tinian and Rota are favorites of many underwater shooters. The climate in the Northern Mariana Islands has been described as one of the most favorable in the world. Hot, sunny days and cool, refreshing nights are the norm.
The Rota water clarity is astounding—a bad day is 100 feet. And it has a honeycombed base that extends to the sea, opening up a selection of caves, tunnels and crevices that are fun to explore, full of life and simply stunning when dived at the right time of day. One of the more photographed and famous sites in Rota (and Micronesia) is along the west shoreline at the Wedding Cake Point. Puntan Senhanom, translated from Chamorro as The Water Point, is a cavern that is lit by the sun through a dual cave roof opening.
The dark opening of a cave of Rota's southern point becomes apparent and at about 40 or so feet, the cave can be entered. The cavern itself is huge and walls are covered in encrusting sponges. Unlike most caves, this one doesn't get darker with further penetration... it gets lighter. The best time to visit varies by season, when the rotating sun streams down through an opening in the cliff and sends shafts of light into the hole. It is possible to swim to the light source and rise through it. Check with local operators to get the exact time of day for the full experience. Many describe watching the blue dancing shafts of light as a mystical experience. Some divers sit on the cave floor and quietly meditate.
One can swim back to the rear where schools of bigeyes and sweepers reside. There is also a place one can actually surface. Whitetip sharks like to rest on ledges near the entrance. Look for a Napoleon wrasse or dogtooth tuna cruising by in the open ocean.
Tip: The light shaft is only for a couple hours daily: Make sure you use a dive guide who knows the best time.

Beautiful shafts of light come through the honeycombed roof of Rota's Puntan Senhanom undersea cave
8. Yap, FSM: Miil Channel/Stammtisch
Yap has two types of diving. The outer reefs feature some of the healthiest and most diverse hard corals anywhere in the Pacific. The western side of the island features sheer dropoffs, a cavern system and big pelagic life, like schools of barracuda, bumphead parrotfish and reef sharks. The second type of dive locale is the channel diving—the inner channels of Yap are famous as a home for a resident school of manta rays.
The Miil Channel is best dived on a morning incoming tide and usually offers plenty of pelagic and schooling action. Divers drop in at a point outside the Miil Channel mouth on the north side. There is a point here covered in coral and when the incoming tide sweeps in and over the reef, the current beckons a lot of fish.
This point has a variety of corals on the top reef, as well as a large number of anemones in deeper water. There are also crinoids in many colors hanging onto the hard corals. The point cascades down into deep water in a series of natural steps. On incoming tide, divers can drift in with the clear water and make it all the way to a very exciting area known as Manta Ridge. When the clear water of the open sea is coming in, visibility can reach well over 100 feet.
Even farther in is an amazing spot to watch manta rays and all kinds of fish life: Stammtisch, a German word for a special meeting table. This long, loaf-shaped reef runs from a shallow 12–15 feet along the top and cascades down into a deep channel at one end. Mantas swim the length of the coral-encrusted formation, stopping at a huge expanse of beautiful yellow finger corals that is a large cleaning area for many kinds of fish but is dominated by the mantas when they are there. It is especially active at mating season from December to April.
Tip: Look for manta mating trains in the open channel.

Stammtisch far into Miil Channel is a favorite shallow cleaning area for mantas December through May

The healthy hard corals and schooling anthias at the upper reaches of the Miil Channel walls are definitely wide-angle worthy
9. Yap, FSM: Vertigo
Yap is a great place to watch the higher end of the food chain. And for shark photography this may be the best spot in Micronesia. The waters and reef areas hold gray reef sharks, silky sharks, silvertips, whitetips, leopard sharks and blacktips. On rare occasions even whale sharks, oceanic whitetips and tiger sharks are seen in these waters.
Vertigo Reef is Micronesia's premiere place to observe gray reef, blacktip and a few whitetips coursing through the blue and coming in up close and personal. This is a reef where an occasional shark feed takes place. So, the sharks show up for the heck of it when they hear a dive boat approach. As divers gear up, large grays and the occasional blacktip move eerily in the water column and even circle under the boat. Dozens of sharks can be seen appearing in the blue, seemingly out of nowhere. They may stay with divers for part of or the entire dive along this sheer wall.
If there is a shark feed taking place, those numbers very quickly multiply. Giant groupers come up from the depths and schools of large rainbow runners swim by to see what is happening during the shark feed. This is one of the best places in the world to get great gray reef shark images.
Tip: Try some over-unders off the side of the boat… but watch your fingers!

Blacktips greet divers at the surface at Vertigo, with sun patterns splashing across their bodies

A Vertigo gray reef shark cruises by with a pilot fish busily leading the way
10. Palau: Blue Corner
When many people think of Micronesian diving, they at once think of Palau. This incredible archipelago truly has it all, with beautiful walls and dropoffs, abundant sea life, war wrecks, caves, spawning aggregations, unusual small marine critters, and amazing seascapes to match its stunning landscapes.
Located off Ngemelis Island, Blue Corner is one of the most famous dive sites in the world. When there is a tidal change taking place, it is one of those dives that is consistently electric, providing fish action in every imaginable shape and size. Large sharks are common, as are small ones. Expect to see sea turtles, groupers, schools of barracudas, snappers, bigeye jacks and small tropicals, very curious Napoleon wrasse and bumphead parrotfish, and even an occasional moray eel or sea snake on every dive. Incredibly big stingrays have also been seen here and there are resident adult eagle rays.
A typical dive starts by descending along the wall through schooling fish and many reef sharks that are curious about the noise of the divers' bubbles. Prior to the tip is a cut in the wall that boasts immense, colorful gorgonian fans as well as feathery black coral trees. Look below for a resident school of bigeye jacks. This is the birthplace of the reef hook. Once up on the 50-foot level, the schools of fish that course through the corner can be watched for hours.
Tip: Spend all day here if you can—do three dives and also snorkel. The schools and critters change with incoming and outgoing tides.

A resident Napoleon wrasse is among the characters shooters can expect to find at Palau's famed Blue Corner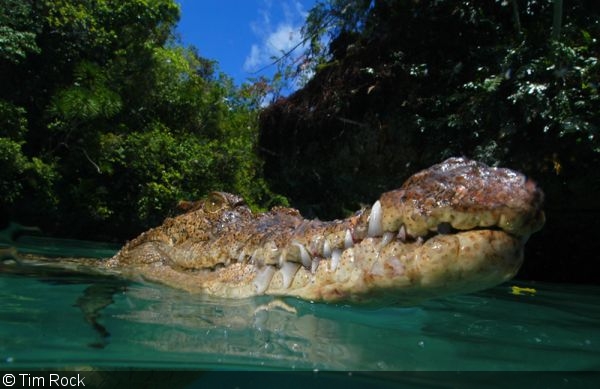 Palau is full of surprises: It is the only island region in Micronesia that has saltwater crocodiles

---
For more about Micronesia's best dives, check our Tim Rock's book The 50 Best Dives in Micronesia. Detailing many of the popular dives as well as some of the unheard of sites, Rock includes shipwrecks, spawning dives, remote atolls, and hidden areas across Micronesia.
The title is available as an e-book through Apple iTunes and as an e-book and print book on Amazon. The book is one of three in Tim's "50 Best Dives" series, which includes The 50 Best Dives in the Philippines and The 50 Best Dives in Indonesia.
And if you're an underwater shooter headed to Indonesia, be sure to read Tim's DPG excellent article "Shooting Across Indonesia: 10 Top Underwater Photography Sites."
RELATED CONTENT
Be the first to add a comment to this article.
Newsletter
Travel with us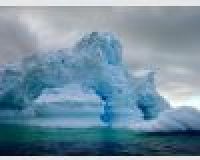 Antarctica
Plan Your Adventure >
Featured Photographer
Walt Stearns
Expert Photographer
Walt Stearns is one of the most prolific underwater and watersports photojournalists in the world. For more than 18 years, his images and writing have appeared in a broad range of well-known national and international...