Travel
Seduced by Siladen
A blue-striped fangblenny

So, what makes people keep coming back to Siladen? It's not one thing; it's everything
As we sip our cocktails against the backdrop of the sun setting over a moody Manado Tua, it dawns on us: We have done this before, each time on this very day—my birthday. A few steps along the beach, a green sea turtle has laid her eggs; a sign tells us that her hatchlings are expected to arrive today, and we wonder whether these precious little turtles will choose to share their birthday with me.
This is already our third trip to Siladen Resort & Spa—though that is nothing compared to the various guests whose visits number in the double figures. There is no doubt that the island boasts impressive natural beauty and undeniably has easy access to some of the world's most spectacular marine ecosystems, but what is it, exactly, that keeps drawing people back here?

Hippocampus bargibanti, commonly known as the pygmy seahorse

A Nembrotha nudibranch strikes a pose
The Sunsets
We can't mention Siladen without mentioning the sunsets—again! Located on the western side of Siladen Island, on a 300-yard-long stretch of white coral reef beach, the resort directly faces the towering Manado Tua volcanic island, and you are guaranteed a jaw-dropping sunset every evening. Although now extinct, the volcano stands sentinel guarding the picturesque reef drop-offs below. Don't forget your topside lenses to capture Manado Tua's many moods.

Beautiful sunsets are in plentiful supply at Siladen Resort
The Diversity of Diving
Siladen Resort offers direct access to the breathtaking, vibrant coral walls in and around Bunaken Marine Park. Famous for its huge sponges, barrels, plate corals and boulder corals, the park boasts colors that will blow your retinas. This, combined with the chance to shoot everything from tiny nudibranchs to pelagics such as eagle rays, means the diving here is exceptionally diverse. The area offers a heady mix of reef and muck diving with a range of impressive critters, including ghost pipefish, pygmy seahorses, gobies, crustaceans, and tiny fishes, and the warm water and good year-round visibility makes for very relaxed and enjoyable dives.
The resort also offers day trips to nearby Bangka Island, off the northeastern tip of Sulawesi. Its waters are famous for pristine coral reef slopes, mangroves, and breathtaking volcanic pinnacles—often crushed under the weight of mystical soft coral gardens.

A typically vibrant coral wall at Bunaken Marine Park

A beautiful reef scene at Bangka Island
The Relaxed and Friendly Turtles
Encounters with the exceptionally healthy population of green and hawksbill turtles are guaranteed - after all, they nest regularly on the resort's beach. These turtles thrive in the protected waters of the Bunaken Marine Park and are very accustomed to divers and photographers. Believe it or not, it's easy to pass by them without noticing as they rest quietly on the coral ledges along Bunaken's famous walls. Make sure you've got your widest angle lens though as some of the Green sea turtles can be as big as a golf buggy!

Turtles are the kings and queens of Bunaken Marine Park

Bunaken is an easy place to get close—really close—to turtles
The Incredible House Reef
At the southwest corner of Siladen Island and accessed from the jetty in the main village lies the resort's house reef, Siladen Jetty. On its impressive coral wall, you'll find a multitude of overhangs and caverns, making it the perfect domain for an army of critters. Scorpionfish, a kaleidoscope of colorful nudibranch species, orangutan crabs, and bubble corals all make this wall their home. Green sea turtles and sharks are also frequent visitors alongside countless fish species. For a house reef, the variety of species on this site is quite remarkable and it definitely deserves more than one visit.

Nudis of all shapes and sizes will give your wet lenses a workout

A bubble coral shrimp keeps house on its namesake home

A bearded coral goby keeps its head down
The Keen-Eyed Critter Guides
Apart from the critters themselves, the resort's dive guides are the real stars. For shooters looking to photograph that special something, the guides here will intensely comb over the reef with their laser sharp vision searching for the ultimate photo subject. Whether it's an incredibly shy subject or a baby frogfish smaller than a ladybug, your guide will find it!

Tiny subjects—like this elegant squat lobster—are no match for Siladen's eagle-eyed dive guides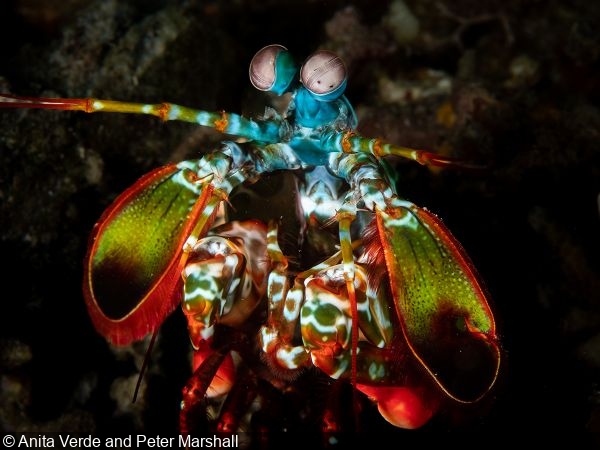 Need a colorful peacock mantis shrimp for your portfolio? No problem!
The Amazing Team
Although the coronavirus pandemic meant the resort didn't see international guests for almost two years, it turns out that during that period things at Siladen did not lay idle. Working hard to gain government-approved quarantine resort status, the team established COVID-safe protocols that allowed them to be one of the very first resorts in Indonesia to reopen to international visitors earlier this year. We could also see that they have spent a lot of time keeping the resort in top condition, ensuring a high-quality experience for the return of guests.

Siladen wouldn't be the same without its incredible team, and we were so pleased to see the many long-term staff again with their beaming smiles
The Creature Comforts
Siladen Resort is an impressive example of exquisite, secluded comfort. This is a full-service dive resort with all the luxuries divers need. Excellent boats and fabulous guides make the diving experience here second to none, and photographers are also well catered for with a spacious and well-equipped air-conditioned camera room adjoining the dive center.
When you're not diving on one of the awesome dive sites, check out the spa with its variety of treatments and the large free-form saltwater swimming pool—complete with sun loungers, umbrellas and beach towels. And if being underwater or in the spa is not "zen" enough for you, there's always the daily sunset yoga in the treehouse-style pavilion. Accommodations are very private and beautifully appointed with beautiful wooden features, including king size beds, private outdoor bathrooms, and heavenly sun decks.

Bunaken's mind-blowing wall dives will have you coming back for more

So, what makes people keep coming back to Siladen? It's not one thing; it's everything. The overall experience, the beautiful ambience, and the fond memories that linger long after you have left. Combine this with a clientele of divers and underwater photographers from across the globe, and you can also add the opportunity to share stories with like-minded people and make lifelong friendships.
All of this aside, I bet you're still wondering: Did the turtles hatch on cue? Well, of course, they did! But we don't have to tell you how magical it was—you can just come visit and see it for yourself.

Another mesmerizing Bangka Island reefscape

---
About the Authors: Anita Verde and Peter Marshall have a passion for the planet's wild places, and through their images and narratives hope to inspire better appreciation and protection of the natural world. Based in Melbourne, Australia, they have professional backgrounds in tourism strategy, environmental sustainability, and government relations. When they are not underwater or on a mountaintop, they also work professionally as strategic consultants, advising governments and industry on sustainable destination planning and development, investment attraction, government relations, brand strategy and marketing. www.summitstoseasphotography.com
RELATED CONTENT
Be the first to add a comment to this article.
Newsletter
Travel with us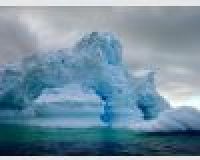 Antarctica
Plan Your Adventure >
Featured Photographer
Takako Uno
Expert Photographer
Takako was born in Japan and is now based in Hong Kong. A full time marine photographer, Takako now journeys with her husband, Stephen Wong, making images around the world. Her work has appeared in a number of magazines and...