Travel
Secret Palau – Beyond Blue Corner
An innocuous lake is filled to the brim with millions of buzzing golden jellies; a car-sized hole cutting through limestone below sagging mangroves leads to a five-chambered cave system; and just five feet below the boat docks at Sam's Tours dive shop mandarinfish mate, sealed with a kiss.
In Palau, so much of the true underwater beauty is hidden right in plain sight.

Blue Corner might be the star of Palau, but there are many more underwater photography secrets to be discovered.


Photographing Palau's WWII Wrecks
With the plethora of marine life exploding at sites like
Blue Corner
and
German Channel
—I'll get to that in a second—the wrecks of Palau aren't necessarily the first requests on dive boats. But with new ships and planes being discovered every year, it's surprising that Palau, and not Truk, isn't the wreck capital of the Pacific.
Palau has dozens of plane wrecks, including Jake's Seaplane, which sits in just 30 feet of water, providing plenty of time for exploration.
The day of rebirth for these wrecks came nearly 70 years earlier, when American planes doomed the remnants of the Japanese fleet stationed at Palau in Operation Desecrate One. And while signs of the operation are more obvious at the surface with gunning "pill boxes" carved into limestone cliffs, poor visibility in the inner lagoon keeps many of the wrecks hidden.

The Iro Maru is perhaps Palau's most famous wreck, brimming with life like these silversides on the mast and a resident school of bar jacks.
One of the coolest secrets of Palau's wrecks are the unused helmets found inside the holds of the appropriately named Helmet Wreck.
Photographers can also find riffles, cooking ware and saki bottles on some of the less dived wrecks.
Blue Holes, Arches and Caves
The divers in a rush might fin right through Blue Holes, pulling a leftie onto the wall and ride the current down to the famous Blue Corner. But photographers looking to unravel Palau's hidden beauty can spend an entire dive shooting the cathedral lighting and silhouettes of Palau's Blue Holes.
It appears out of a labyrithth of hard coral—just a sink's drain drilled into the reef. What begins as little more than a 10-foot opening, widens out into an immense underwater cathedral cave system, known as Blue Holes.

There are so many angles to photograph in Palau's Blue Holes. Try shooting divers descending into the hole for a sense of action and scale.
No strobes needed: I turned off my strobes and cranked up my shutter speed to capture this serene moment.

It's also worth diving into similar underwater topographies at "Virgin Blue Hole" and "Saies Tunnel," where large sea fans are framed against 20-story-tall cave openings.

Saie's Tunnel features large sea fans and soft coral growth, perfect foreground subjects in the large archway. Composition is key with these shots and helps give a sense of scale to these immense structures.
When it comes to legends and secrets of underwater Palau, it doesn't get much better than Chandelier Caves. This five-chambered cave system, decorated with millennia-old stalactites would have gone undiscovered if it weren't for a local fisherman who lost his lunch when it swam right at the limestone wall and magically disappeared.
The opening to the cave is little more than a crack in the limestone, shaded by the mangrove trees only a few feet above at the surface. But inside, the cave expands, the surface of the water punctuated by suspended stalactites. You can even take a break from taking pictures and breathing of your tank by surfacing in one of the chambers. Don't worry—the air is constantly replenished through the porous limestone.

Using a large dome port in Chandelier Caves is a must for capturing the best of both the underwater and topside environments.
Photographing a Million Suns
Despite being one of the most visited attractions in Palau, it's not hard to imagine how this marine lake with stingless jellyfish by the millions went undiscovered until a couple decades ago.

Jellyfish Lake is one of the top photo highlights in Palau—whether you shoot with a GoPro or full-frame SLR.
A 10-minute hike straight up makeshift set of stairs carved into the limestone face through rainforest (not so easy with an SLR) is just the halfway mark to Jellyfish Lake. Then, it's a steep slope down until you see the first fingers of the lake peaking through lush greens. You can't help but feel like the first person to lay eyes on the lake, but that's just the start of the adventure.
A few short fin kicks into the water and the jellies start floating by—first by the tens, then the hundreds and thousands.

Jellyfish Lake might not be a secret any more, but you can make your images unique with techniques like backlighting.
For SLR shooters, a fisheye is a must to pack as many jellies in a single frame as possible. Compact users might want to bring along a wet lens to increase field of view.
Conditions weren't the best on one of my visits. So I used the completely cloudy sky as a white background for this large jellyfish at the surface.


Hidden Macro
You could easily stick with a wide-angle setup your whole time exploring Palau. Heck, even the night dives can produce some awesome shark action. But for those dome port wielding wide-angle aficionados willing to flip over to macro will be rewarded.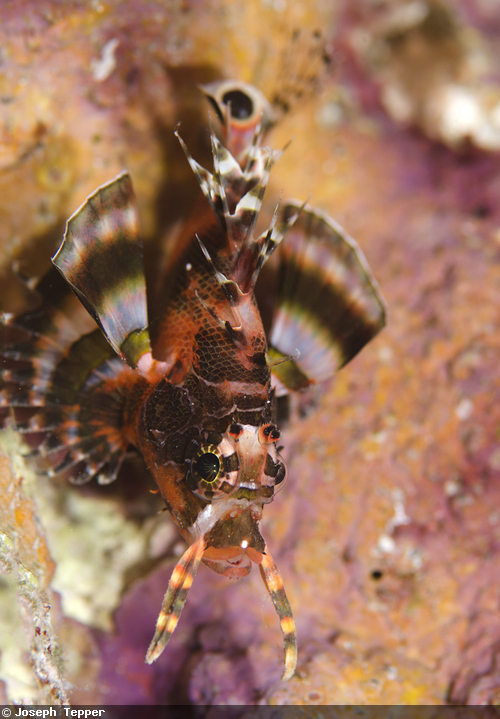 Sam's Wall is a hotspot for juvenile fish—lionfish, sweetlips, rockfish and more. Open apertures help blur out distracting backgrounds.
You don't even have to go far. Some of Palau's best macro has decided to park itself right under Sam's Tour's boat docks. And when I say right under—I mean less than eight feet below the hulls of Sam's fleet of a dozen plus dive boats.
The name "Sam's Wall" is in itself a secret. It's not even a wall—well, not unless you count the sea wall. But the sloping silt doesn't disappoint: There's pipefish galore, frogfish, stonefish, and juvenile life everywhere.

Ribbit! Yup, Palau even has the highly sought after painted frogfish, you just have to know where to look. They can occasionally be spotted at Sam's Wall—but your knowledgeable dive guide can tell you the hot spots.
The shallow, easy conditions of Sam's Wall make for the perfect practice ground for advanced techniques like Bokeh, super macro and snooting.
Perhaps the real highlight of the all-you-can-breathe-long dive (upwards of 2.5 hours if you want) is the nightly mating ritual of the mandarin fish. Just grab a tank from the dive shop at dusk, and hop in from the dock to photograph one of the most sought-after behavior shots in underwater photography.

Unlike many mating mandarinfish, the ones at Sam's Wall weren't exactly shy. Using a red-filtered focus light also helps not frighten the subjects.
The best secret about photographing Sam's Wall? Enjoying some awesome fresh caught sashimi and a pint of local Palau beer at the Bottom Time Bar & Grill after nailing some kissing mandarin fish shots.

Don't Forget the Classics
Sure it's great to enjoy the hidden gems like "I Am the Walrus" and "Helter Skelter," but every once and a while you need to rock out to the classics: Your Hey Judes and Yellow Submarines.

Beatle's allusions aside, it's the classics of underwater Palau that first drew photographers three decades ago and still today. There's a reason the hits survived the death of vinyl and continue on iPods today (ok, last music reference). You could easily spend every dive of every day at sites like Blue Corner, German Channel, and Big Drop Off. But even these famous sites have secrets of their own…

Schooling fish are a highlight at Blue Corner—barracudas, jacks, dogtooth tuna and more. You never know what might stop by.
Try to frame your schooling shots with a diver in the negative space to show just how large these schools can be.
Of all the subjects at Blue Corner, none are more photogenic (and photo friendly) than the Napoleon wrasse. Your widest fisheye lens isn't even enough to fit these enormous fish in the frame sometimes.
Now that is a large school...


Blue Corner might not be a secret anymore, but it also doesn't disappoint. Placed in virtually every Top 10 dive playlist, this massive protrusion of limestone juts out into the intersecting currents at the Southwest corner of the Palau archipelago.
Dug by the Central Powers during the First World War for guard boats, the biggest things patrolling these waters today are mantas with 15-foot wingspans.

Soaring mantas are no secret at German Channel. Try hitting it late in the day for an outgoing tide to witness a feeding frenzy at the surface.
But German Channel is so much more than the big birds—don your macro kit to photograph leaf fish, frogfish and pipefish. And make sure to ask your knowledgeable Sam's Tours dive master to point out the rare pink anemone and clownfish.

Crank up your strobes to make the colors of the anemone and clownfish "pop."
Big Drop Off is a dramatic wall known for a plethora of turtles, patrolling reef sharks and enormous sea fans pulsing lethargically in the current. However, some of the best photography is just inches below the surface.
After photographing the less-clandestine subject of the site for the better part of an hour, I moved over a shallow hard coral reef for a safety stop—and some exploration. I could see the shot a mile away—mangrove trees hanging just above soft corals and crinoids, with puffy clouds in the sky as a cherry on top. Yet another one of Palau's underwater secrets uncovered…

By shooting almost straight up right under the surface, you can capture a sneak peak to the topside world through Snell's Window.

The Best of the Rest: Crocs, Dugongs and Ammunition
Even after 10 days staying in the luxurious Sea Passion hotel and being taken to some of the best Palau has to offer under the waves with Sam's Tours, I feel like I've only scratched the surface of the secrets.
In my mind, but not my memory card are the saltwater crocs swimming around the Rock Islands, dugongs spotted every week off the barrier reef and unfired shell casings left underwater from one of the bloodiest battles of WWII.
It seems as if there's many more underwater secrets to be photographed in the waters of Palau, just under the surface.

---
About Sam's Tours: Yes—there's a real Sam. And if you want to hear some good ol' fashion stories, just have a peak around the Bottom Time Bar and Grill for this Palau diving veteran. Today, Sam's Tours is the leading operator in the islands, with more than a dozen top-of-the line dive boats.
But it's the staff where Sam's really shines—from the moment you present your certification card in the office to the dive crew on the boat and the bartender for an end of the day pint, you'd be hard pressed to find more dedicated, knowledgeable staff.


About Sea Passion Hotel: Located just a swift 2-minute boat ride from Sam's, the Sea Passion Hotel is the perfect mix of remote, nature lodgings and luxury accommodation.
Enjoy a stunning view of the rock islands from your terrace, visit the bar and restaurant built out to the ocean and surrounded by giant clams, or have a snorkel from the private beach to a WWII airplane wreck. Oh and start your day off right with a complimentary buffet breakfast!

RELATED CONTENT
Be the first to add a comment to this article.
Newsletter
Travel with us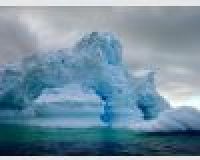 Antarctica
Plan Your Adventure >
Featured Photographer
David Haas
Expert Photographer
David Haas is a professional underwater photographer who began diving in 1970 and shot his first underwater photos in 1972. He became a scuba instructor in 1977 and after owning a dive store from 1985-1989 began to exclusively...