Travel
Sailing with Sirens: It's Still More Fun in the Philippines

There are at least 7,641 islands in the Philippines, and I'd bet money that there is amazing diving around every single one. From the tiniest muck critter of your wildest imagination to whale sharks feeding around the small outrigger boats of local fisherman, you can easily say the Philippines has it all. The Siren Fleet will show you "it all" on three different itineraries to the best of the best dive sites known in this island country. I had the fantastic opportunity to join their Southern Visayas and Malapascua cruise, and the trip exceeded all expectations.
Part of the Coral Triangle, the Philippines has some of the most biodiverse waters on Earth, with an estimated 500 species of corals and over 2,400 species of fish. Having visited and dived the Philippines before, it has already become one of my favorite places, but spending 11 days on the beautiful Philippine Siren is by far the best way to experience it. The excellent crew tend to your every need, the food is fantastic (and there's plenty of it), and every little detail you didn't even know you wanted is taken care of. The only thing I had to worry about was if I was going to shoot macro or wide-angle on each dive.

A pretty thornback cowfish surrounds itself in pink coral
The S/Y Philippine Siren
Operated by Worldwide Dive and Sail, the Philippine Siren is one of four luxury sister vessels that take divers to some of the top dive locations in the world. The 40-meter wooden sailboats can take up to 16 passengers and have almost a 1:1 crew-to-passenger ratio, making for exceptional service. From the moment of arrival, everything is taken care of and seamlessly easy for guests.
The front section of the boat serves as the dive deck area, and there are individual dive stations for each guest, with a drawer to store accessories and hangers for wetsuits. Divers put their gear together once at the beginning of the trip and from then on the crew take care of it, including refilling tanks at each station. Diving occurs off inflatable skiffs, bringing divers directly to the action. After each dive, the crew rinses and rehangs wetsuits, and hot and cold drinks are served along with dry towels for each diver. Indeed, the only effort guests put in is enthusing about all the amazing animals they've just seen on their last dive.

The Philippine Siren under full sail on a beautiful day

Being my second Siren trip, I was continually amazed by all the little things that you may not even realize make a trip excellent. One of my absolute favorites is the excellent coffee available all day from actual espresso machines. Another plus is the impressive drawer space in the spacious cabins to keep things organized and out of the way. Photographers will love the numerous camera tables with lots of charging stations. Clean, dry towels are available and there are individual drawers for each photographer to keep all their chargers, tools, ports, batteries and all the other stuff we photographers have with us.
A huge advantage of diving from a liveaboard is avoiding the many day-boats that are seen at the most popular dive sites. The fantastic crew of the Siren went out of their way to get up early, so that we could beat the crowds, and they even altered the dive schedule to give us the best chance of being the only ones at the dive sites.

Shooting the Philippines
Our trip departed Mactan and by the end of the cruise, we had made a big circle right around the island of Cebu, visiting the nearby islands along the way. We had a little rough weather at the beginning, so we stayed close to Mactan for our first day and dived the Olango Islands before heading south to Cabilao.

Your macro skills will be challenged by many of the Philippines' subjects, like this tiny Cuthona sp. nudibranch

Olango and Cabilao
The first dives at Olango were a good introduction to what we would see more of throughout the trip. There were nudibranchs galore and masses of fish, including scorpionfish and lionfish, but the diving really seemed to get started the next day at Cabilao on the island of Bohol.
A stunning wall covered in sponges, soft corals, and huge gorgonian sea fans took our breath away, and it seemed the deeper we went down the wall, the larger the sea fans got. Those with the gift for finding really small stuff found two different species of pygmy seahorse, and I was really excited to photograph the largest bug-eyed squat lobster I've ever seen. At the top of the wall was a nice sandy area with coral and more critters.
Our night dive was done in a seagrass bed filled with life. Jeweled anemone crabs crawled through the seagrass and there were many different species of snails with their elaborate shells. I saw a pluerobranch and a snake eel with cleaner shrimp too.

An eel peeks out from his hiding spot

Seahorses of all colors and sizes can be found in Philippine waters, from the tiniest pygmy seahorse to the larger yellow common seahorse

Oslob
Whatever your feelings about Oslob's controversial whale shark encounter facilitated by the local fishermen, there's no question that the Philippine Siren gets you in the thick of the action—should you wish to take part. A special arrangement with the operation means the liveaboard gets divers and snorkelers in the water at exactly 6am when it opens, giving you some time in the water with the whale sharks before the masses from land show up.
Minutes after getting in the water, we saw two whale sharks swim by and then, as a boat passed overhead feeding them, we had one invert itself to enjoy its fish breakfast, giving us the ideal photography vantage point. The dive itself does feel a little like visiting a zoo—you go, you see the animal, you leave—but being in the water with these graceful giants is always an exceptional experience.
Extensive briefings to not touch, chase, or harass the animals are given to all participants. Everyone in our group stuck to these guidelines, but above us were some snorkelers clearly without the knowledge or in-water ability to interact with the animals appropriately. In any event, a fee is collected for every participant that goes towards research which, at this time, claims no negative impacts on the whale sharks. If you decide to participate, set a good example, follow the rules, and keep the animals' best interests in mind.

A whale shark enjoys breakfast courtesy of the local fishermen

Dauin and Apo
In my mind, Dauin and Apo Island, 30 minutes away by boat, are the perfect yin and yang. Dauin is a black sand paradise made for that bucket list of weird critters ever muck-lover has, and on the flip side, Apo Island is a stunningly colorful wide-angle wonderland of soft corals, sponges, and fish life. We spent two days diving between them and both my fisheye and macro lenses got a workout.
I can happily spend hours underwater treasure-hunting for marine organisms that are often so ugly they're cute. At one point, diving off Dauin, the dive guide literally had to pull me away while photographing not one, but two ambon scorpionfish, to show me a blue-ringed octopus!

A blue-ringed octopus flashes its iconic adornments

A bobtail squid on a night dive at Dauin

Over on Apo Island, the turtles were out in full force. I came across one sitting perfectly on some coral and signaled to the rest of the dive group only to turn my head and see another swimming with them. We also saw sea snakes on every dive at Apo; there's just something about seeing a snake—that moves just like you'd expect a snake on land—moving like that underwater.
Apo Island is unique in that it was one of the first marine reserves established in the Philippines, and the healthy and abundant corals and fish life show how beneficial marine reserves can be to rehabilitate a reef. Sustainable fishing can still be practiced by the locals, who have seen over time how these protective measures can increase their fish catch and keep the reefs healthy.

Apo Island's sea turtles are a joy to photograph

A golden damselfish tends to its eggs

Pescador and Moalboal
I could happily muck-dive around Dauin for weeks, but it was time to move north to Pescador Island. Motoring through the night, we arrived at dawn just in time to start diving this lovely lush, green island with steep cliffs that were mirrors below the surface. Diving on these steep walls we found all sorts of life, including two large purple frogfish on a purple barrel sponge blending in perfectly.
A large school of sardines used to live at Pescador Island—partly what made diving there so famous—but after a storm, they disappeared. Luckily a few months' later, divers found them closer to the island of Moalboal. We did our next dive there with the sardines, and I was blown away by how large the baitball was, extending as far as the eye could see in either direction and 30-feet deep with fish at times. There were so many that when I was swimming below the baitball they blocked out the light and it was like being in a cavern underwater—simply fantastic.

The sardines at Moalboal are an incredible sight—and equally a challenge to capture in a photograph

Malapascua
Malapascua is best known for the thresher sharks that can reliably be seen every morning at Monad Shoal. Our visit to see the threshers included a very early morning wake up (but completely worth it) to get a glimpse of this normally pelagic shark and their photo-worthy tail—which can be as long as their entire body length. We descended just past 100 feet and knelt on a sandy ledge. Moments later, the ominous shadow of a thresher swam past us—they really are a remarkable animal to see and much bigger than I expected.
Malapascua isn't just about the threshers though. After the sharks, we headed to Deep Rock, a deep pinnacle absolutely covered in soft corals and sponges where nudibranchs and flatworms can be found—if you manage to see them through the coral. We also had schools of squid and mackerel swim by. After that, we headed to Chocolate Island for more muck diving with seahorses and frogfish. We also did a night dive here which rewarded us with Spanish dancer nudibranchs with emperor shrimp, sponge crabs, and a painted frogfish.

A school of striped catfish makes a great subject to fill the frame

Our next day was spent at Gato Island, which has a unique dive where you can swim through a cave in the island from one side to the other. Starting the dive inside the cave entrance, we watched bats and swallows fly out as we descended. Deciding between macro and wide angle continued to be a challenge as the cavern itself made for interesting photos, but there were so many macro creatures inside the cave and along the bottom outside the cave, it would have been easy to do either. We did a night dive at Gato Island as well, which included a sighting of a baby bamboo shark and free-swimming flatworms.
On our last day, we headed back south towards Mactan and stopped to dive a lovely wall at Kalanggaman Island. The island is as beautiful topside as it is underwater, with picture-postcard palm trees and an exquisite white sand beach.

Blennies face off, possibly to eventually mate

The beautiful colors of a desirable nudibranch (Flabellina exoptata)

Diving the Philippines never gets old because of the sheer variety of marine life you can encounter and the endless photography opportunities on every dive. One would think I'd be all dived out after 30 dives over nine days, but as we sat down for our last dinner and the crew showed us a video on the diving in Tubbataha, I had only one thing on my mind—when I'd be back aboard the Siren once again.

Underwater Photography Tips for the Philippines
Macro: The weirder, the better, and muck dives are a treasure hunt for nudibranchs, colorful crabs and shrimp, octopuses, cuttlefish, frogfish, seahorses, and juvenile fish. Be sure to follow your dive guide as they are experts at finding the coolest marine life, and go slow when taking photos. Many muck critters don't move very fast, so you can spend a lot of time trying different settings and techniques with these animals. Bring along your snoots and diopters.
Wide Angle: You'll use your fisheye lens almost as much as your macro lens in the Philippines. Beyond the whale sharks, sardine baitballs, and thresher sharks, there are also many beautiful reef scenes. Colorful soft corals and sponges are the norm and close focus wide angle can create some amazing shots with slightly larger muck critters like frogfish, schools of shrimpfish, and balled-up anemones.
Don't forget your wide angle: A school of sawfish hovers above the sponges and corals on the reef

Night Dives: Don't skip the night dives! A whole new world of marine critters comes out at night and the after-dark muck diving makes for unique images. There are many different species of nudibranchs, octopuses, crabs, shrimps and more that are only seen at night.
No Strobes: The whale shark dive at Oslob and the thresher shark dive at Malapascua do not allow divers to use strobes because both animals are disturbed by the lights. In fact, in both situations, strobes will probably just cause backscatter anyway, so be prepared to practice your ambient light skills. Increase your ISO, especially in the deeper, darker waters where the threshers are found.
Topside: Above water provides some amazing opportunities too. Small picturesque fishing boats can often be seen from the Siren and the islands of the Philippines are beautiful too. There are both green, mountainous islands and flat, sandy islands throughout the trip. The vessel itself makes for a great photo, so don't spend all your time sunbathing and remember to get your camera out during surface intervals.
For two night dives at Dauin, I pulled out my fluorescence gear and was excited to find the glowing muck critters, including this bright green eel
RELATED CONTENT
Be the first to add a comment to this article.
Newsletter
Travel with us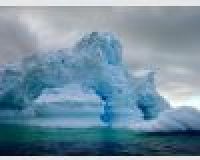 Antarctica
Plan Your Adventure >
Featured Photographer