Travel
Royal Treatment: Cuba's Gardens of the Queen
American crocodiles are the stars of the show in the Gardens of the Queen

I learned to dive in the 1990s on family holidays to the Caribbean. At that time the reefs were healthy and full of fish. Shore diving in Grand Cayman, along Seven Mile Beach down to George Town, I remember big schools of silversides being hunted by tarpon. I used to see big schools of snapper, as well as numerous nurse sharks diving out of Nelson's Dockyard in Antigua, but sadly in the past 20 years, I have noticed a big decline in fish numbers and this has since influenced my choice of diving destination. My recent dive trips have all been in the Egyptian Red Sea and the Maldives, destinations that guarantee fish life, especially my favorite big animals—sharks.
In 2015, I traveled on a package twin center holiday with my wife Rachel to Cuba. We spent five days in Havana and then a week in Cayo Largo. We were both blown away by the energy, vibrancy and culture of Havana, but were left underwhelmed by Cayo Largo—beautiful beaches but no fish.
It was on this trip, however, that I became aware of Archipiélago de los Jardines de la Reina, or Gardens of the Queen, in southern Cuba. The area was named by Christopher Colombus to honor the Queen of Spain and was established as a marine reserve in 1996. It covers an area of 840 square miles and the reefs are typified by canyons and drop-offs, festooned in soft corals, sea fans and huge sponges. The reefs are home to big schools of fish and large predators such as silky sharks, Caribbean reef sharks and groupers. There are also healthy mangrove systems that are inhabited by ominous saltwater crocodiles, and the only kind of fishing allowed is catch and release to preserve fish populations. In short, it's the perfect place for an underwater photography expedition!

Silky sharks with a slow shutter speed

A tiny blenny in its hole

In 2017, I had the chance to join Alex Mustard on a liveaboard trip to explore and photograph this famed location and immediately jumped at the chance. In the pre-trip email, we were advised to bring wide-angle lenses for the "big stuff" but also pack a longer lens for macro opportunities and fish portraits. We stayed on the Jardines Aggressor II, which is very comfortable and provided an excellent base for our week. Our guide, Jordi, was enthusiastic and knowledgeable, which allowed us to get some great big animal encounters and photographic results.
Cuban diving combines great visibility with warm water and mild currents, which is ideal for underwater photography. I was shooting with a Nikon D500 in Nauticam housing and Inon Z-240 strobes. The lenses I used were the Tokina 10–17mm Fisheye and Nikon 10.5mm Fisheye with a Zen 200 dome, plus a Nikon 105mm for macro and fish portraits. For super-macro, I added a Nauticam SMC-1.

Coral reefs patrolled by sharks, a sure sign of a healthy marine environment

Friendly groupers pose perfectly for portraits

Undoubtedly, the main attraction in the Gardens is the big animals. Groupers, notably numerous black and occasionaly goliath, as well as Caribbean reef sharks can be seen on most sites. The groupers are mostly very friendly and allow close approach to capture intimate portraits.
Silky sharks are found in large numbers on the more offshore dive sites. These are bold and curious sharks that allow for plenty of photo opportunities to experiment with different techniques, such as slow shutter speed motion blur images as well as classic portraits. The only difficulty can be isolating individuals or groups of sharks to create nice compositions, as the action is fast and other fish such as snappers and groupers—as well as other divers—compete for space in your frame.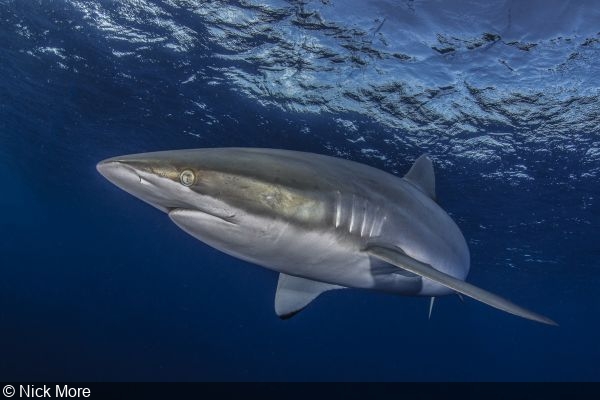 Silky shark on the outer eefs of the garden

There are so many sharks, you have plenty of time to experiment with motion blur and other techniques

The Gardens' most famous residents are the American crocodiles found in the mangroves. These prehistoric beasts, referred to as niño (a nickname meaning "boy") by the local guides, approach the pangas for a free chicken carcass handout. At between 6 and 10 feet long, they are impressive, but they have been conditioned and are fairly calm and safe enough to approach (with caution) in the water on snorkel, especially with a big DSLR rig between you and your toothy subject.
Although the crocs look intimidating, the photo opportunities are relatively easy. You can shoot split shots with their jaws gaping underwater and only their eyes visible at the surface either in open water with mangrove backgrounds or whilst the crocs are resting in the grass. They will occasionally dive down to reposition themselves and at this point you can capture free-swimming shots that provide another type of image to add to your collection. They are impressive predators, and people just love to see close-up images of them. Enjoy the warm feeling of bravery when your non-diving friends exclaim, "You went into the water with that thing! You must be crazy! Did you have a cage?" Just smile like the crocs and enjoy the admiration!

A "niño" just under the surface, providing a perfect reflection to enhance the image

The crocs often rest at the surface, providing numerous over-under opportunities

Another feature of the Cuban reefs is the lush soft coral and sponge growth, as well as the impressive hard corals, including brain coral, pillar corals, staghorn, and the beautiful elkhorn coral. Schooling fish such as snapper and Chromis call these corals home for protection, and quite often you'll see a patrolling reef shark out in the blue, a sure sign of a healthy reef.

Numerous soft and hard corals adorn the reefs

Motion blur twist technique on a large brain coral

Despite all the epic wide-angle oppoertunities, it would be a mistake to only take a wide-angle lens to Cuba. The Caribbean macro subjects are numerous, colorful and charismatic. My 105mm lens was perfect when combined with a Nauticam SMC-1 to photograph the tiny spinyhead blennies, but also fantastic without the super-macro attachment for shooting through clear blue Caribbean water to capture fish portraits from afar.
There are many beautiful fish to photograph such as fairy basslets (found on most reefs), Chromis and the very cool arrow blennies that inhabit overhangs. The only difficulty with these subjects is finding clean, non-distracting backgrounds to frame the shot. I often looked for open water behind subjects and used fast shutter speeds to create black backgrounds or opened my aperture to utilize the color of the reef to blur away any detail for a creamy bokeh background.

A pink sponge provides the perfect bokeh background to this reef fish

The red sponge and the blenny's yellow eyes create an appealing contrast of colors

Colorful fairy basslets are the perfect subject to practice fish portraits

Having heard about Cuba's famed Gardens of the Queen, I was expecting and looking forward to colorful fish life and coral reefs comparable to my younger days diving the Caribbean. In reality, my expectations were surpassed. The big animal encounters were exciting and frequent, and the sharks and crocs were the highlight. Just remember to spend some time shooting the small stuff to add some variety to your portfolio. Cuba isn't just a big animal destination; it scores highly for the little critters, too.

Arrow blennies are tough to shoot but worth the effort if you can find a clean background

For more of Nick's amazing dive travel images, check out his Instagram account and look out for his new website launching soon. You can also check out our Photographer of the Week article on Nick and his work.
RELATED CONTENT
Be the first to add a comment to this article.
Newsletter
Travel with us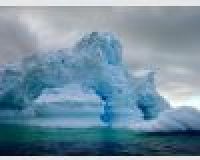 Antarctica
Plan Your Adventure >
Featured Photographer
Chris Crumley
Expert Photographer
Migrated from dive editorial to mainly advertising/commercial/stock photography with a wet & underwater specialty. SSI Platinum 5000 card. Additional information on website including four portfolios and pictureBlog.