Travel
Diving in the Land of the Pharaohs with Blue Horizon
The Red Sea is famous for its clear waters and rainbow of colors

With some of the best visibility anywhere in the world, the Red Sea features prominently in any underwater photographer's bucket list of dive destinations—and rightly so. The variety of diving and photographic subjects is just outstanding. Stunning reefs drenched in colorful fish, historic wrecks, sharks, and caves—what else do you need?
The crown jewels of the Red Sea are its reefs, which are in exceptional condition. There are over 200 species of hard and soft corals that are home to more than 1,100 varieties of fish. Combine this with the fact that about a quarter of these are found only in the Red Sea, and you can begin to understand why this is such a special place.
Although there are some shore-based options available, diving here is most often done via liveaboard. Joining the Blue Horizon, our destination was the southern portion of the Red Sea, leaving out of Port Ghalib, near Marsa Alam. At the dock, the boat looked terrific, and it promised an awesome week of diving and adventure.

The breathtaking viz and pristine health of the corals are an underwater videographer's dream

Jointly operated by Master Liveaboards and alliance partner blue o two, Blue Horizon was completely refitted in 2016, and today it carries up to 26 divers in 13 cabins—four fixed double suites, four fixed twin cabins, and five convertible twin/double cabins.
Our comfortable, air-conditioned cabin had a TV and a bathroom, but you really wouldn't want to spend a lot of time in your cabin. Outside there is an excellent sundeck on the flybridge, a bar and lounge, and a Jacuzzi. It was a lovely way to spend a week.
Diving works up an appetite, and the food on board did not disappoint. The cuisine was a delightful mix of international flavors, and there was always something to please everybody. Of course, sodas, tea, and coffee were all complimentary. My stomach and caffeine needs were well satisfied.

Recently totally refurbished, the Blue Horizon offers a top-notch liveaboard experience

On any liveaboard, you can have vastly different experiences based on who the other divers are. In our case, we had a lot of new divers on the boat, and that limited our options somewhat. It was still a blast, and they were great company. Having been on many boats I am used to this, but for some, it may come as a bit of a surprise if you have your heart set on something specific.
Either way, you will want to spend as little time on the boat as possible; you are in the Red Sea for the diving! On a typical day, you could make up to four day dives. Sometimes that fourth dive is a night dive, depending on where the boat is. During my time aboard, I had the opportunity to do about 20 dives; on the 10-day itineraries, you can do up to 30.

Turtles make great subjects, and can be found in abundance on the "Deep South" safari

Get ready for some amazing drop-offs and plenty of color
The Deep South
This itinerary focuses on the stunning reefs of St. Johns and Fury Shoals, and it allows you to explore a variety of truly unique dive sites. What makes these sites special are exciting and unusual reef formations. Highlights include caves, reefs, drop-offs, thriving marine life, and sharks.

Wide-angle wonders: You can find very photogenic reef scenes on just about every dive

You start with a checkout dive near Port Ghalib before heading south. The afternoon dive was on a site between the port and St. Johns. These sites are great places to warm up, but the anticipation of what is to come tends to overshadow them.
The second day is all about exploring St. Johns. The area is a chain of reefs and sites that altogether comprise one of the most famous spots in the Red Sea. What is surprising is the variety of terrain. We hit big drop-offs, tunnels, and some fantastic hard coral formations.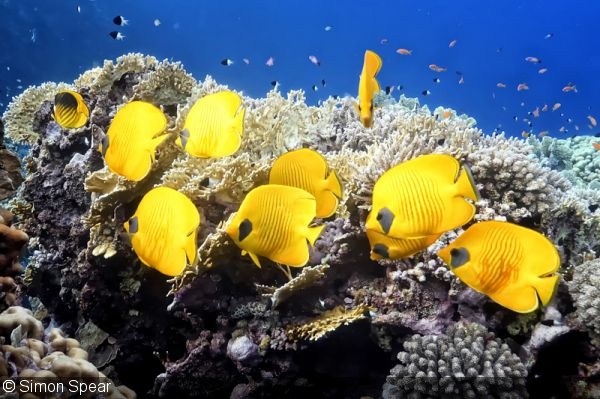 Don't discount the checkout dives—even they have plenty to keep you busy

Anthias galore: One of the big St. Johns drop-offs

The next morning we dived more of St. Johns. This is the Red Sea at its best, especially with the morning sun, soft corals, and vast numbers of reef fish. We also caught sight of an oceanic whitetip on this dive. After reluctantly bidding St. Johns farewell, we traveled north to the aptly named Cave Reef. It's a fun spot to see before continuing towards Fury Shoals.
The shoals are an extensive collection of sites that allow the boat to move around a lot to take advantage of local conditions. In all honestly, the exact dive site names will slip your mind. But what you will remember is a succession of incredible, and diverse, locations that will leave you wanting to get right back in the water. There is an important lesson to share from one of these dives: always keep your eyes up during a safety stop. While hovering in blue water, I had a close encounter with a sailfish, and I would have missed it had I not been looking around! No napping on the line.

When you don't have great reefs, you will still find other interesting subjects

The varied terrain of the "Deep South" allows for a nice variety of subjects and shots

Early the next day, we traveled north from Fury Shoals to the Wadi Gimal area. This spot had the best critter opportunities on the trip, so if that's your thing, this is an excellent place to give your macro lenses a workout. There were plenty of fun and colorful little critters, but this was by no means muck diving. For those into bigger subjects, there were still plentiful reef and fish to shoot here as well.
The following morning, we hit the legendary Elphinstone. This is a finger reef that has some amazing shark action at certain times of the year. During the summer, it is home to hammerheads, and in the late autumn oceanic whitetips congregate here. Alas, I was here during early spring, but it is still a fantastic pair of dives, even without huge numbers of sharks, and it was the exclamation point on a fantastic week.

While looking for macro subjects, I stumbled across this lovely crocodilefish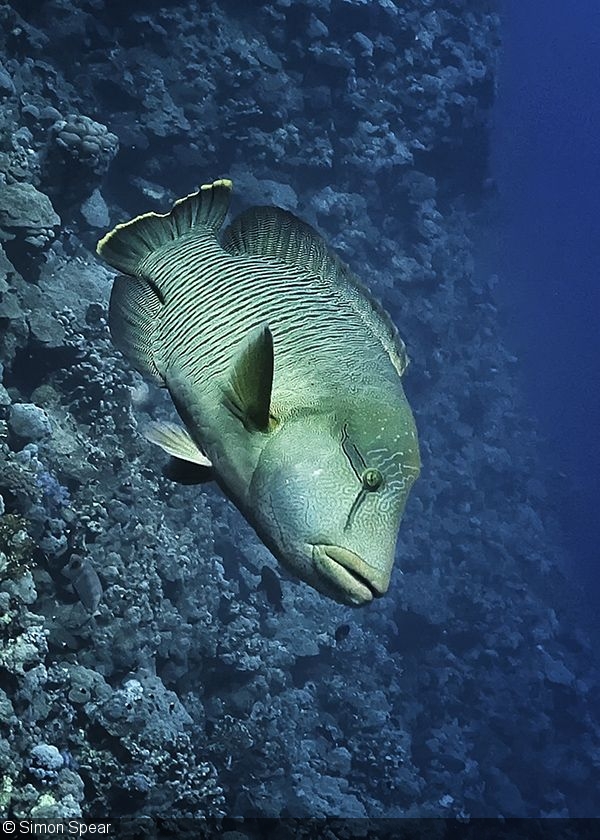 Although we didn't experience Elphinstone Reef's famed shark congregations, we were still treated to some wonderful photo opportunities
Planning Your Trip to the Red Sea
How to Get There: Diving in the Red Sea is concentrated around Marsa Alam, Hurghada, and Sharm El-Sheikh. Most liveaboards leave from these ports. You can fly into all three, but Hurghada and Sharm offer the most flights, both domestic and to the Persian Gulf or Europe. The "Deep South" trip leaves from Port Ghalib (Marsa Alam), which is a several-hour car ride from Hurghada. There is a smaller airport in Marsa Alam that also offers domestic and international connections.
Who to Dive with: The Red Sea is very much a liveaboard destination, and there are plenty of options to choose from. The Blue Horizon has long been operating in the region and its dedicated and highly professional crew caters to your every need. There are also resorts onshore for those who don't want to spend all their time out on the water.
When to Go: The Red Sea is a year-round destination, but the most popular time is during summer holidays when people are off work, and the water is warm. The "Deep South" itinerary is offered on a regular schedule throughout the year.
Language: While the language of most Egyptians is Egyptian Arabic, you can get by with the official Standard Arabic without problems. In places associated with tourism, English is often spoken, along with several European languages.
Currency: The currency in Egypt is the Egyptian pound. Dollars and euros are easily convertible, while most major credit cards are accepted at higher-end locations.
Visa: As usual, your passport must be valid for a minimum period of six months from the date of entry into Egypt. A visa is required to visit the country, so plan ahead. For specific countries and questions, visit the Egyptian Consulate website. Along with the visa, make sure to double-check whether you need a yellow fever certificate; an excellent place to verify this is the TravelHealthPro website. Blue o two provides a pre-arranged Visa Meet & Greet service, available at the Hurghada HRG, RMF Marsa Alam and Cairo CAI airports. They require all passengers arriving into Hurghada on the same day as embarkation to use this service to avoid delays.

The Red Sea should be on every diver's bucket list

---

About the Author: Simon Spear, a full-time professional videographer with a specialty in underwater videography, is the owner of ViewFromTheBlue Productions. He lives in London with his family. Follow his work on YouTube and Facebook.
RELATED CONTENT
Be the first to add a comment to this article.
Newsletter
Travel with us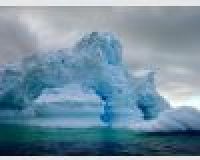 Antarctica
Plan Your Adventure >
Featured Photographer
Stephane Bailliez
Photographer
I started doing underwater photography while on a 1-year round-the-world diving/backpacking trip in 2003, shooting with a P&S Olympus C4000/C5050 in a Olympus housing. I'm only shooting DSLR since 2008 and 1 trip a...