Travel
Portuguese Pelagics: Photographing the Sharks and Rays of the Azores

Perfect days don't happen often but my final shark dive at Pico Island was most definitely one of those days. The sun was shining, the sea was calm, and visibility in the water was over fifty meters. Soon after arriving at the dive site, one of the largest blue sharks I've ever seen was swimming alongside the boat, and as we entered the water, several more sharks appeared from the abyss below in a matter of minutes.
Blue sharks are curious and will come close, so any encounter is a thrilling experience, but to be surrounded by five or six at once in crystal clear blue water, well, it doesn't get much better than that!

Pilot fish accompany a blue shark in the waters around Pico Island

After 40 minutes of non-stop shark action, something different caught my eye in the distance, and an unusual shape approached the group. Amazingly, a passing manta ray had decided to join the dive too, providing all of us with a fantastic problem—do I photograph the big shark in my face or hope it moves out of the way so I can get a picture of the manta swimming behind it?

Pelagic Action in the Azores
These types of open-ocean encounters are exactly why the Azores is now recognised as the best place to dive in Europe—and why I spent a month this summer exploring there. Composed of nine volcanic islands located in the middle of the Atlantic, the archipelago is roughly halfway between mainland Europe and the U.S. Underwater seamounts surrounding the islands force nutrient-rich upwellings to the surface, providing food for a huge variety of marine life.

A close mobula pass at Princess Alice Bank

In the summer, many species of sharks, rays and other marine mammals visit during their seasonal migrations to take advantage of this food source, and it's possible to dive with them if you time it right. I planned to stay for the entire month of September, hoping to see blue sharks, mobula rays, and—if I was lucky—maybe even a mako or manta.
International flights into the Azores arrive on the largest and most populated island, São Miguel. Most scuba divers quickly move on, but there are plenty of land-based activities worth staying at least a few days for. After one week exploring the lush green mountains and lakes of the capital, I finally made my way on the ferry to neighboring Santa Maria.

A pair of mobula rays with accompanying remoras
Santa Maria
As the most southerly island in the Azores, Santa Maria has the driest climate and offers ideal conditions for scuba diving. Most people visit hoping to encounter schools of devil rays at Formigas and Dolabarat Bank, where sightings are most likely but conditions can be challenging.
Unfortunately, due to bad weather, I was only able to dive these sites once during my stay and did not see any of the rays that the islands are famous for. Apparently, this year has been a bad one for mobula sightings and the highlight of my visit was instead an incredibly inquisitive group of dusky groupers. Capturing nice wide-angle images of these friendly fish was surprisingly easy and meant there was at least something interesting to shoot in an otherwise uneventful couple of dives.

A dusky grouper poses for multiple cameras
Pico Island
After a couple of weeks of wonderful land excursions but little diving, I was ready to return to Pico and the reliable blue shark encounters I had experienced a few years ago. Most divers who visit the Azores head straight to Pico, the best place to go shark diving and the closest place to the submerged seamount that is Princess Alice Bank.
This distant dive site over 50 miles offshore was my last hope of seeing mobula rays and with the rest of the week looking windy, the following day was going to be my only chance to get there. Even on a good day the journey can take over three hours and after 45 minutes holding a line with 10 other divers, I began to wonder why I had bothered. Memories of the uncomfortable journey were soon forgotten, however, when a squadron of rays suddenly appeared during the safety stop.

A mobula train appears, literally out of the blue, during an action-packed safety stop

At last I was finally face to face with mobulas in shallow water, and luckily the current was mild enough for me to leave the line, swim among them and get some images that I am very happy with. I made a joke that night that I had been rewarded for 10 hours of boredom with 10 magical minutes of action, but it was totally worth it and an experience I will not soon forget.
This left the rest of the week in Pico to dive with blue sharks. Bait is used to attract the sharks to the boat, which can often take hours, and when—or if—they arrive, it is possible to get in the water and swim with them. For many people it is their first experience diving with large predatory sharks, and although the blues are curious and come close, they show no aggression towards divers. Providing safety guidelines are followed, the activity is perfectly safe.

Afternoon sunshine bathes the body of a beautiful blue shark

Blue shark buddies make for an appealing composition

Photographing Pelagics
When photographing pelagic species, finding the animals is often the biggest challenge. Once the sharks or rays arrive, they require very similar techniques to get decent images.
Go Deeper: Holding onto a line while taking pictures presents a new challenge, so try going to the deepest part of the line where others' bubbles will not rise and block your view.
Go Wide: A wide-angle or fisheye zoom lens such as the Tokina 10–17mm is perfect, covering close passes at its widest setting and also giving you the option to zoom in if the subject keeps its distance. As the water is normally very clear, backscatter is not a huge problem, and other divers are more likely to ruin your shots.
Bring Out the Blue: Neither blue sharks nor mobula rays move particularly quickly so shutter speeds of around 1/125s or higher will be fine. You can then use aperture control to adjust the deepness of the blue in the background.

Filming mobulas in amazingly clear blue water

Sun at Your Back: Another thing to consider is the direction from where the subject appears. Shooting into the sun requires higher shutter speeds to avoid blowing out the image, and if it is too bright and sunny often will not work. Try to keep the sun to your back and shoot away from the rest of the group to achieve attractive lighting and composition.
Add a Touch of Light: As most of the action is at the surface, there is normally plenty of available light, and strobes should be used to add just a small amount of light to the underside of the animal and illuminate their white bellies. On deeper dives strobes are essential to bring out the animals' true colors—and prevent your images from looking overly blue.
Look for Reflections: For something to set your shots apart from the rest, try including the sharks' surface reflection in the image. You'll need calm surface conditions and compliant sharks to get the opportunity to pull it off, but if you persevere, you will end up with something really unique.

Adding reflections takes your blue shark captures to the next level
Planning a Trip to the Azores
When to Go: Diving the Azores is best during the summer months of July to October. Other activities like whale watching are possible outside of that period, but diving is likely to be disrupted by bad weather.
How to Get There: The Azores are surprisingly accessible, with direct flights from both Europe and the U.S. As the islands belong to Portugal, the most frequent flights leave from the capital, Lisbon.
Where to Stay: Dive resorts here do not offer accommodation, so the best option is to rent a local property from agents on each island. Laurinda Sousa rents wonderful properties in Santa Maria, including the popular Casa De Norte and the equally nice Casa de Almagreira. In Pico, there are more options including the well-established Hotel Caravelas, only minutes from the dive centres, and the Calma do Mar bed and breakfast, for a particularly authentic experience.
Who to Dive With: In Santa Maria, go with reliable local company Paralelo 37. In Pico, the excellent CWAzores will make your stay as productive and fun as possible.

Surrounded by sharks at Pico Island

---

For more of Daniel's work, make sure to visit his official website or "like" his Facebook page. Daniel has also been featured as Photographer of the Week.
RELATED CONTENT
Be the first to add a comment to this article.
Newsletter
Travel with us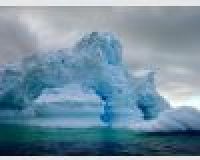 Antarctica
Plan Your Adventure >
Featured Photographer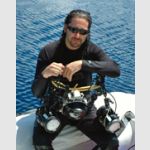 Jason Heller
Expert Photographer
Jason Heller is a New York City based commercial photographer specializing in underwater, travel & lifestyle photography. He is also the founder and publisher of DivePhotoGuide.com, a popular portal for the global community...