Travel
Picture Perfect Palau: A Local Photographer's Favorite Dive Sites
Snorkeler in the world-famous Jellyfish Lake

"Yeah, I've been back to Palau 19 different times," my client responded, as I asked him why he visits this tropical paradise so often and what makes it so special. I had been living here for a few months and had no idea at the time that I would be calling this place home for the foreseeable future, but I was beginning to fall in love with the island and its amazing marine life, so wasn't surprised to hear that people return time and time again to experience some of the world's most diverse and exciting dive sites.
In Palau, a typical dive day may go something like this: Start with an early morning dive to explore a World War II Japanese shipwreck. Then visit a pristine coral reef where you can see dozens of reef sharks, huge Napoleon wrasse, and thousands of other tropical fish cruising lazily in the current as you hook in and watch the show. After lunch, get close to a few reef mantas at a cleaning station, and once the sun has set on another beautiful day, finish with a thrilling blackwater dive.
It goes without saying that having so many different options also provides underwater photographers with an almost endless list of potential subjects to shoot. Wide-angle enthusiasts will be kept busy capturing big animals and stunning reef scenes, while macro lovers will have plenty to keep them busy, especially on night and blackwater dives.

Reef manta silhouette at German Channel
Sharks and Mantas
"I want to see big stuff" is one of the most common things I hear from guests when they first arrive in Palau, and the most requested big animal of them all is sharks. My response to visitors who want to know where and when they will see them is that here in Palau, it is rare to have an entire dive without seeing at least one shark.
In 2009, Palau created the world's first "shark sanctuary," which essentially means no shark fishing of any kind is permitted within their 230,000-square-mile exclusive economic zone (EEZ), and this contributed to the abundance of sharks in the region. I am careful about making promises about wild animals, but I am fairly confident that one will see a shark on nearly every outer-reef dive, and can almost guarantee that one can see a whitetip reef shark or a gray reef shark at some time during a multidive day.
Sharks and other big fish need to stay healthy and parasite free, and the reason many of them arrive at the outer reefs in Palau is to visit cleaning stations where shrimps and cleaner fish such as wrasse and gobies remove parasites from the animals' body and mouth. This symbiotic relationship is fascinating to watch and provides an excellent opportunity for divers to get closer than normal to sharks—providing they stay calm and do not interrupt the process.

Hundreds of schooling gray reef sharks

Another iconic animal that likes to take advantage of these cleaning stations is the manta ray, and researchers have identified more than 350 different reef mantas (Manta alfredi) here in Palau. We can normally find them cleaning or feeding at the German Channel, a famous dive site that provides the best opportunity to capture images of these gentle giants and a plethora of other marine megafauna.

Reef mantas feeding in German Channel
Peleliu Reef Hooks, Rust and Caves
If you are looking for a real adventure, head on down to Peleliu and put your drift dive and reef hook skills to the test at the dive sites Peleliu Express or Corner. For those who don't know, a reef hook is a short rope with a clip on one end and a hook on the other that divers use to attach themselves to a rock in the reef to stay in one spot. This can be extremely advantageous in strong current, particularly when two hands are needed to operate a camera or other essential gear.
The currents of the Peleliu Express can be so swift and treacherous that they should only be attempted by experienced divers, but the ripping currents attract huge schools of fish and predators, and can result in some extra special underwater images for those capable of diving in them.

Sailfin snapper aggregation at Peleliu Corner

Peleliu is also the site of one of the most intense battles of World War II in the Pacific. The first US forces arrived at Orange Beach on September 15, 1944, and some debris from the battle can still be seen among the incredible coral garden just offshore. After diving this site, you can also take a tour on land, where you can find tanks, artillery, planes, rifles, bullets, bombs, and ruins of all kinds around the island.
Those who like to explore the underwater wreckage of planes and warships will also be content diving in Palau. The inner lagoons are home to nearly a dozen WWII-era Japanese vessels sunk during Operation Desecrate in 1944. My favorite, the IJN Iro, is a 470-foot oil tanker with 5.5-inch cannons mounted on the bow and stern. There are lots of potential penetrations throughout ship including the engine room, as well as amazing coral growth on shallow portions that provide some wonderful wide-angle photo opportunities.
The entire island system is made out of limestone and our team at Unique Dive Expeditions has done some cave exploration and uncovered several remarkable small systems. We know there are more waiting for us out there and cannot wait to explore further and see what else we can find.

Crate of bottles inside the IJN Iro

The steering apparatus of the IJN Iro
Reef Fish, Spawning Events and Macro Sites
If you would rather photograph fish than rusty wrecks, one of the best dive sites is the world-famous Blue Corner, where you can find massive schools of bigeye jacks, white-tongue jacks, chevron barracuda, bigeye barracuda, bluestripe snapper, and striped large-eye bream—all in one dive.
What about mass gatherings and spawning events? In the past few years, Unique Dive Expeditions, led by Richard Barnden and Paul Collins, have discovered sites where bumphead parrotfish and certain species of snapper, sea bream and grouper aggregate to reproduce. A combination of tide, moon, light, and location are the secret to witnessing this phenomenon, so if you time your trip right, you may be lucky enough to capture one of these mind-blowing natural events on film.

Red snapper spawning rush

Moorish idol aggregation

Palau's location just outside the famed Coral Triangle is the reason for its great biodiversity, and as well as being a sanctuary for sharks and other large animals, it is home to many small, exotic critters sought after by macro photographers. This is where your guide can shine for you and really share their in-depth knowledge about where some of the most interesting subjects might be hiding.
I've had great luck at the shore at Sam's Tours dock. It really is a stellar macro site with a diverse and changing lineup of subjects to see and photograph. Blackwater diving is also popular, and drifting in the darkness, one can photograph rare and exotic jellyfish, cephalopods and juvenile fishes.

Half second exposure of a juvenile harlequin sweetlips
Snorkeling and Other Special Encounters
Many tourists who come to Palau are not qualified scuba divers but visit for the snorkeling, as it is still possible to enjoy massive diversity and abundant life in the shallows of many sites. The inner lagoon is home to a whole separate ecosystem, with many beautiful coral reefs, small fish, and critters to see.
The Rock Island Southern Lagoon is a UNESCO World Heritage Site, and for good reason. The mushroom islands that seem to float above the water are aesthetically beautiful, with lush rainforest covering the islands. Also located in the lagoon are marine lakes that you can snorkel in, the most popular being the famed Jellyfish Lake, which is home to millions of harmless golden jellyfish.

Split shot of Jellyfish Lake

Sunlit shot of different sized golden jellies in Jellyfish Lake

The marine life and dive sites mentioned in this article are what Palau is most famous for, but during my time living here, I have been lucky to experience many other unexpected underwater encounters. You never know what may show up, and some of the rare animals I have photographed includes a saltwater crocodile, a great hammerhead, an ornate eagle ray, a marlin, sailfish, mobula rays, spinner dolphins, pilot whales, false killer whales, and dugongs. You can go out any day and stumble upon any number of mind-blowing megafauna, and that is what really makes diving in Palau so special.

Panderia jellyfish found on a blackwater dive

The first penetration of the large chambers in Calvin's Cave

Another awesome over-under opportunity at Jellyfish Lake

Juvenile emperor angelfish

---

See more of Jesse's work on his website, www.jessealpert.com, or follow him on Instagram. You can also check out more of his amazing images in DPG's Photographer of the Week article.
RELATED CONTENT
Be the first to add a comment to this article.
Newsletter
Travel with us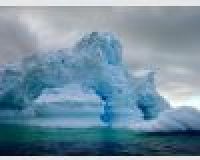 Antarctica
Plan Your Adventure >
Featured Photographer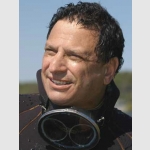 David Doubilet
Expert Photographer
David Doubilet is a contributing photographer for the National Geographic Magazine where he has photographed over 65 stories since 1971. David's most recent books are Water Light Time and Fish Face published by Phaidon and...