Travel
Photographing the Whale Sharks of Isla Mujeres
During the months of May to September Bonito fish release millions of tiny eggs into the Gulf of Mexico, attracting hundreds of massive whale sharks. This gathering drew little public attention until recently when images appeared showing over 300 sharks swimming together at the surface in a small area just of the coast.
Word quickly spread, and since then Isla Mujeres, an island near the popular tourist resort of Cancun, has quickly evolved into the best place in the world to swim with the oceans' largest fish.
Shark Fest
Within ten minutes of our first day on the water the news that we had all been waiting for came in via the radio. A few boats were already there and the sharks had been located for the day. The anticipation was almost unbearable as I prepared my camera and got into my wetsuit.
Joining the other boats on site, I scanned the water in disbelief. Huge dorsal fins broke the surface all around the boat. I tried to estimate how many I could see but quickly lost count. It was a good sign of things to come.
Entering the water as quickly as possible my first encounter was about to become a very close one. Twisting and turning while breathing heavily through my snorkel I looked up to see a huge shark heading straight towards me.

Completely forgetting to even raise my camera and capture the moment I watched in awe as it swam within a few feet of my mask, turning its massive frame away from me only seconds before impact.
I had waited years for that magical moment and here it was about to happen over and over again. Sharks passed to my left, right and from underneath. I found myself completely surrounded.
I watched in amazement as the sharks swam all around me, their huge mouths wide open sucking in as many of the tiny transparent fish eggs as possible.

A Manta Situation
After spending the first hour with more whale sharks than you could see in an entire lifetime, it was hard to imagine how things could get any better when something different caught my eye in the distance. And then I saw them—a large group of mantas approaching in the distance.
One after another, they continued to rise from the depths, performing loops and swimming in circles around the sharks. I could not believe what I was seeing, or photographing for that matter. One of nature's greatest gatherings unfolded on the watery stage before my eyes.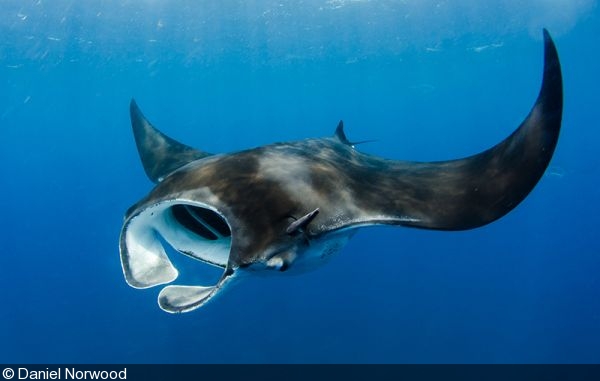 For six hours the ocean was alive with hundreds of massive filter feeders. I swam and dived between sharks and rays all day, taking hundreds of photographs and filling both memory cards in my camera (over 2000 images).
When our captain finally signaled that it was time to leave at around 2pm I was so tired I had to literally be dragged out of the water.
Camera Settings and Tips
The trip is snorkeling only so all that is required in terms of equipment is a wetsuit, fins and a mask. For photographers, no strobes are permitted, so even for those accustomed to carting large bags of camera equipment around, this is a fairly light trip.
As all photography is natural light only, so it is important to keep the sun to your back at all times unless intentionally trying to shoot silhouettes. It is normally bright and sunny and so I used a relatively high f-stop between f11-f16 to make sure the sharks remained sharp and in focus.
If conditions become darker, you can raise the ISO until achieving the correct exposure. I prefer to shoot in manual mode with a shutter speed between 100th/160th of a second, but there really is a lot going on so if you find yourself unable to concentrate then it may be better to switch to shutter priority. This is particularly useful if repeatedly free diving up and down with constantly changing the lighting conditions.
I used a mini dome on this trip, which made my system nice and small and easy to maneuver in the water. The only real drawback to this was that due to the swell it was almost impossible to shoot over-unders and so I had to give these a miss.
The sharks are huge and come close, so a fish eye lens – such as the Tokina 10-17— at its widest setting is the best choice. Luckily the fish eggs are transparent and so do not effect visibility as badly as you would expect, but the old adage still applies: When you think you are close enough, get closer!
There are so many animals around that any photographer should have plenty of time to get settled, experiment with settings and really come home with some fantastic images.
More than Whale Sharks
Every one of the next four days was as successful as the first. Each day proved to be a little different with changing weather and visibility but the action was always non-stop. As well as hundreds of sharks and mantas there were also occasional sightings of mobula and cow nosed rays down a little deeper for those with the free diving skills to get down to them.
As well as being the best place in the world to swim with whalesharks (and possibly now mantas too) it is also worth extending your trip by a few days to relax and explore. There are many good hotels and restaurants to choose from, and the local food is delicious. If you can drag yourself away from the spectacular beaches it is well worth hiring a golf buggy and taking a drive around the island.
The aggregation really is unlike anything else I have ever seen and words do no justice—luckily that is why we have underwater cameras to tell the story.
RELATED CONTENT
Be the first to add a comment to this article.
Newsletter
Travel with us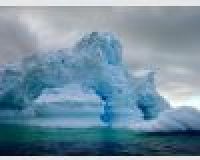 Antarctica
Plan Your Adventure >
Featured Photographer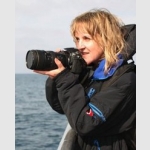 Bonnie Pelnar
Expert Photographer
From the first images Bonnie captured with a rental Motormarine during a 1987 Cozumel dive trip, she was hooked. Her hobby became a passion and her passion became a career. Now she lives out her dream to travel the world as a...