Travel
Photographing Beluga Whales in the Subarctic

I've always been intrigued by Arctic life. Beluga whales are one of the three Arctic whales, the others being the bowhead whale and the narwhal. As I'm opposed to keeping sea mammals in captivity, it was sad to see that mostly all images I found of belugas underwater are taken in an aquarium or in a sea pen.
Seven years ago, I heard of a huge population of beluga whales that summers in the Hudson Bay's river estuaries (Seal, Nelson, and Churchill Rivers) to feed, molt and give birth. Experiencing this was on my list long before I took up photography. But the capability of photographing them and showing the cetaceans in their world made me book my first trip to Churchill last year.
Ultimately, poor weather conditions and bad visibility made it impossible to return home with one decent underwater image of a beluga: I saw their white backs from the zodiac, I heard their song immersed in the cold water, and I saw a white shape passing me very close. It wasn't enough for a worthwhile image, but it was more than sufficient to have me return this year.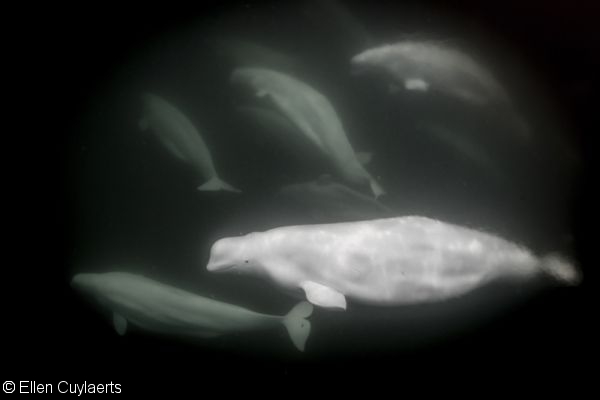 "Half out, Half in the Thermocline"
Trek to the Subarctic: An Adventure of Its Own
Getting to Churchill with snorkel gear, cameras and housing is no easy task. Located at the very northernmost point of Canada's Manitoba province, Churchill can only be reached via a daily flight or a two-day overland trip by train. As such, the luggage restrictions on the last leg of the trip north are frustrating, but understandable—supplies for the community also come in by air or rail and the tourist bags are no priority. You can bring one suitcase and a light carry-on.
Having had issues a year ago, this time I dropped my bags at cargo in Winnipeg the night before flying to Churchill. Despite this, getting my carry-on camera kit proved a challenge, as the rules had once again changed. Nothing is easy when you're trekking to the Subarctic—even in the 21st century.

"A Warm Welcome"

"Photobomb"
Snorkeling with Belugas
Being accustomed to clear water and having experienced sperm whales and dolphins in such conditions, I am trained to look at the surface rather that looking down. This habit swiftly changed when in the water with belugas. The whales love to pass underneath you in small pods and swim on their backs to have a better look at you. They are very curious.
Interesting fact: Belugas' vertebrae are not fused, which allows them lateral head movement. This means that if a beluga nods at you, you should probably nod back! The more you swim along and try to get their attention, the better chance for a great interaction.
My most memorable encounter this trip was one with two pods of males displaying dominance behavior towards each other. It lasted for over an hour and at the surface my excellent captain, Vanessa Wallner (of Sea North Tours), observed tail slapping. The vocalization was so loud we could hear it at the surface when I left the water and they escorted the zodiac for another 20 minutes.

"Swirl"

"Mom and Calf in a Circle of Support"
Photographing Beluga Whales in the Subarctic
The amount of light is hard to predict and it's even harder to get the exposure right because of the nature of the beluga—all white against a dark green background. In the summer, the Hudson Bay area has long days of sunlight, but it can still range from dark to foggy to sunny skies.
The belugas do appear at the surface, making it possible to use only natural light to capture images, but they can also tempt you from deeper waters, which requires additional lighting. As I do on many trips, I make my gear choices at home. (Some would call it a gamble, but I call it my "all or nothing" moment!) I decided on a 16mm lens on my Nikon D800. This would allow me to capture multiple subjects in a single frame. It also opened up the possibility for close-focus wide-angle images if I were lucky enough to be approached by an especially inquisitive subject.

"Upside Down"

The images I had in mind would portray the belugas in that mysterious cold world that's still hard to reach for human eyes. I left my heavy pro-level Sea & Sea YS-250 strobes at home due to the luggage restrictions and the weight of the gear that would add to the drag of my drysuit at the surface. Instead I contacted Light & Motion for some demo Sola 3000 video lights.
In the end, I relied on natural light only for images of multiple belugas further away. For those images where close-swimming subjects allowed for close-focus wide-angle images, the newly acquired Sola 3000s provided the perfect touch of fill light.

"A Beluga Catches Some Sola Light" (shot with Sola 3000 lights)

I would love to return one day and would not change anything with my camera setup until I'd assessed the conditions. In the past, I've seen some images of beluga whales in the estuary at Churchill River with perfect visibility and clear blue water (instead of the green/brown variation). But I learned those conditions only happened once in the past 20 years. That's the beauty of wildlife photography: Nothing is a given and you only get a chance to capture it when you're there. It gives me something to look forward to.
In this spirit, if you're planning a trip to photograph belugas in the Subarctic, I have two pieces of advice: Expect nothing and enjoy the elements. A trip to a unique environment like Churchill and Hudson Bay requires a photographer to relinquish all expectations, because the weather is very unpredictable and the visibility can change overnight.
Even if you strike out with in-water encounters, there are some other mammals deserving of your photographic attention. Churchill is the polar bear capital of the world. They also reside in the area during the summer, waiting for Hudson Bay to freeze again so they can reach their hunting grounds. As if photographing beluga whales wasn't enough…
Planning Your Trip to Photograph Belugas
When to Go: The ice breakup usually occurs around early to mid-June, and July and August are the ideal times to visit the area
How to Get There: Unless you like very long train rides, go by Calm Air or First Air
Who to Dive With: Sea North Tours
Photographic Gear: A lightweight camera/housing, strobes or video lights; a fisheye lens is a great choice to capture the belugas
What to Bring: A drysuit for snorkeling (you can rent a wetsuit), mask, snorkel, bug spray, and warm clothes

"The Scream"
RELATED CONTENT
Be the first to add a comment to this article.
Newsletter
Travel with us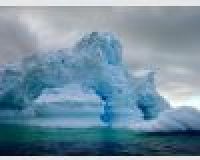 Antarctica
Plan Your Adventure >
Featured Photographer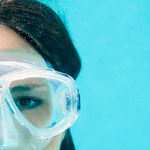 Elena Kalis
Photographer
Over the past few years I have been doing some underwater projects with my children and friends.