Travel
A Pelagic Paradise in French Polynesia
At Apataki, in the Tuamotu Archipelago, we witnessed up to 500 gray reef sharks on one dive in the pass on the incoming current

When I first learned I would be going to French Polynesia, I couldn't help but daydream of remote tropical atolls, white sandy beaches lined with coconut palms, turquoise lagoons, brilliant blue waters, and sharks—loads and loads of sharks. But even my wildest dreams could not have prepared me for what I encountered.
A territory of France located in the South Pacific Ocean, French Polynesia is comprised of five sets of atolls covering roughly the size of Western Europe: the Society Islands, the Tuamotu Archipelago, the Gambier Islands, the Marquesas Islands, and the Austral Islands. My two-week adventure would begin on Tahiti—the seat of the capital, Pape'ete, and principal island of the Society Islands—before flying to Rangiroa for a ten-night expedition through the Tuamotu island chain.
The Tuamotus, which translates as "distant islands," are comprised of 77 jewel-like atolls literally in the middle of nowhere. Unlike the mountainous islands of Tahiti and Mo'orea, these are completely flat islands perched upon a coral reef located far away from the light and sound pollution of more-developed tourist areas. After the sun sets, the night sky feels so close overhead that you can easily imagine reaching up and plucking a star right out of the sky.
As we cruised through this magical place aboard the French Polynesia Master—experiencing the kind of diving that dreams are made of—the lack of noise and boat traffic brought an immense sense of peace and a realization that, after all, there are still a few pristine corners of paradise left in the world.

Schooling sardines zoom around the reef in the light of the setting sun
Masters of French Polynesia
What better way to explore one of the most exotic places on Earth than aboard the formidable French Polynesia Master? With all the style, comfort and service guests have come to know and love across the entire range of Master Liveaboards and Siren Fleet boats, their newest addition does not disappoint. And if you've been a frequent customer over the years, you are sure to see quite a few familiar faces.
This brand new custom-built ship, 500 gross tons and just shy of 150 feet in length, carries up to 24 divers and nearly as many crew. It is a spacious and extremely functional vessel boasting large individual dive stations, a conveniently located camera area, and stairwells large enough for two. It's also the only liveaboard that carries the prestigious SOLAS (Safety of Life at Sea) safety rating.
There are 13 well-appointed cabins complete with en-suite baths, comfy towels, bathrobes, and AC. And there are a number of common areas to enjoy, including a salon with squishy beanbags, fluffy pillows and a large plasma TV, a large dining area and a huge upper sundeck with plenty of lounges and comfortable seating. Plus, you get all the little extras—hot showers on the dive deck, warm towels and drinks after your dive, and such a wide variety of delicious food that it's hard not to overindulge.

The French Polynesia Master offers exemplary service, comfort and style as you experience some of the world's most thrilling diving

The friendly and experienced crew goes out of their way to make your trip extra special while ensuring you feel right at home. Leading the charge is Mark Nadeau, the crooning cruise director (yes, you will get woken up with a great song) who also mixes a mean cocktail and organizes fun events such as open-air movie nights on the star deck with fresh popcorn and delicious beverages. If you need serenading after dinner, there are a few guitar/ukulele playing crew members who will be happy to oblige. The dive staff not only plans the dive day out to perfection, but also runs the operation, which is expertly timed around tides, like clockwork.
Most noteworthy of mention is that the French Polynesia Master is the only liveaboard operating in this region, allowing you to not only explore the popular atolls of Rangiroa and Fakarava, but also be one of the few divers who will experience remote hotspots such as Apataki, Toau and Kaehui.

An anemonefish, perched among the hard coral, is a rare find in French Polynesia

Beautiful hard coral gardens make for great wide-angle reef scenes to complement your pelagic portfolio
Diving Dreams Come True
I had asked around, read as much as I could, and looked at countless photos. I'd heard tales of "walls of sharks" and adrenaline-filled "pass" dives in seven- or eight-knot currents. But nothing can really prepare you for the diving in French Polynesia. This is truly a pelagic lover's paradise. With each stunning encounter, I was blown away like I could never have imagined—on some dives, I swam amongst perhaps as many as 500 sharks! And while I hate to admit this as a photographer, no photo could ever quite do it all justice. You really just have to be there.
Almost all the diving in French Polynesia is done in, or around, a "pass," an area between two atolls—kind of like an underwater tunnel—that serves as a playground for sharks. Diving is precisely timed around the tides, not only for safety but also for sighting success.

A close-up of a gray reef shark swimming among big, colorful eyes makes for a great photo op

The most action-packed dives are done on the incoming tides, inside the pass, and are where you'll experience the best visibility and most intense currents. Other dives are done on, or around, the corners of the reef and typically have much less current, though you can still see plenty of sharks and pelagic life such as mantas, dolphins and maybe even sailfish. There are also plenty of small things to see, and photograph, such as nudibranchs and reef fish—if you can tear your eyes away from the blue long enough to spot them.

Journey Though Paradise
Our adventure began in the largest atoll in the Tuamotu chain, Rangiroa, which means "vast sky." The Tiputa Pass has made it one of the most famous diving spots in French Polynesia—a mind-blowing place where you can expect to encounter a wide variety of sharks, from silvertips and blacktips to gray reefs and silkies. If you're here between December and March, you can also catch the hammerheads. Schooling barracudas, Napoleon wrasses and eagle rays are also commonly found, along with a very sociable population of bottlenose dolphins—which just about every diver on our cruise had the chance to experience firsthand.

Barracuda tornado: One of the many types of schooling fish commonly found in French Polynesia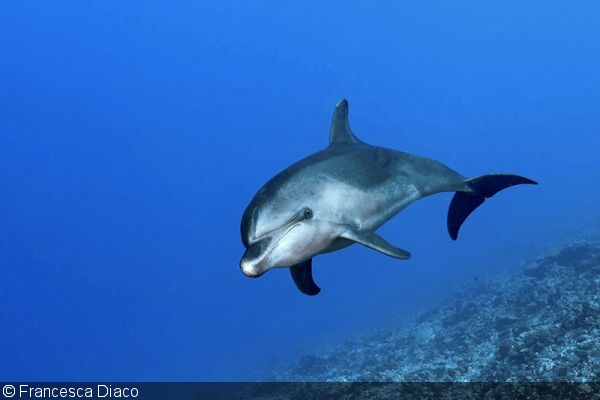 A friendly bottlenose dolphin comes in for a very close look before moving on to play with fellow divers in Rangiroa

We then journeyed on to Apataki, the first of three atolls that cannot be dived from any land-based operation. Our dives on the outer reef included sightings of a wide variety of schooling fish including butterflyfish, surgeonfish, bigeyes, and blue-striped snapper—and, of course, plenty of sharks. But as we dived the incoming current, we experienced what was, for me, the most jaw-dropping encounter of the trip: Flying through the pass in what I estimated to be a six- or seven-knot current, we stopped to wedge ourselves into some rocks at just the right spot to view hundreds upon hundreds of gray reef sharks! At first, they were way down below in the pass. But eventually, they worked their way up closer and closer until they were nearly within reaching distance—it was a truly unforgettable experience.
Our next stop, Toau, was no less breathtaking: We had our first chance to witness the legendary "Wall of Sharks" we'd heard so much about. As we descended in the clear blue water, a few sharks started to come into focus, then more, and even more, until we were literally viewing sharks in the blue as if they were wallpaper—it felt as if you were right inside of an IMAX movie! And, of course, there were lots of other impressive sightings, including a "nursery" of juvenile reef sharks, a wide variety of schooling fish, and beautiful coral gardens.

The legendary "Wall of Sharks" at Toau—sharks as far as the eye can see

The adrenaline-pumping action found at the "Shark Pool" in Kauhei

In Kauhei, more action-packed sightings awaited us, including a manta ray, schooling leather jacks, barracudas, rainbow runners, and—you guessed it—more sharks! On another epic dive, we sat inside the very aptly named "Shark Pool"—imagine being in a coral amphitheater filled with untold numbers of sharks, right in the midst of the action!
As we neared the end of trip, we finally arrived in Fakarava, home to such a rich ecosystem it has been designated by UNESCO as a Biosphere Reserve. We were lucky enough to witness the beginning of the aggregation of coral grouper for their annual spawning event, along with carpets of blue-striped snapper, massive schools of bigeyes and goatfish, eagle rays flying in formation, and gorgeous, sweeping hard coral gardens.
To top it all off, we had some of our best shark action of the trip in the "Shark Observatory"—another spot that couldn't be more perfectly named. What seemed like an endless stream of sharks came swimming right in front of us inside the pass, including grays, whitetips and silvertips—a fittingly "toothy" way to end our trip to one of the most spectacular corners of the ocean.

These coral grouper were two among many as they began to aggregate ahead of their annual spawning event

Countless sharks swim through the pass at South Fakarava's aptly-named "Shark Observatory"
Photography Tips for French Polynesia
This action-packed diving can be challenging to capture due to the proximity of the animals and what can be some pretty strong current. In Apataki, where we saw hundreds of sharks, my strobes were dragged completely sideways in the powerful current and would not stay put no matter how hard I tightened my clamps; I had no choice but to turn them off and shoot in available light. Large shark aggregations can also be tricky to capture in their entirety—at best you can capture only bits of the action.
Go wide (and ideally bring two lenses):
For my full-frame Nikon D810, I brought a 15mm fisheye for closer encounters and a 16–35mm for dives where the action was not expected to be as close.
You often repeat the best dives sights, so you have the chance to give each lens a go for any given situation.
When shooting pelagics, be prepared for any action that comes your way:
Meter into the blue for a solid at-the-ready setting.
Set your shutter speed to a minimum of 1/125s (or even a bit faster) to ensure that you freeze the action. This becomes even more important when your subjects are out of strobe range.
A curious gray reef shark, just one among many on nearly every dive in French Polynesia, comes in for a closer look

Be prepared to shoot available light:
With extremely wide scenes such as large shark aggregations, your strobes won't reach your scene and will just result in unwanted backscatter.
When your subject is out of strobe range, opt for slightly higher ISOs to balance out faster shutter speeds.
Focus on getting a good exposure and finish it off in post:
White balance and HSL (

hue, saturation, and lightness

) corrections can do wonders with bringing color into your shots where your strobes reached part of the scene.
Black-and-white conversions are a great way to bring contrast into available light, into-the-blue shots
Consider shooting video:
This is the perfect way to bring shark aggregations to life. (I wish I had!)
Schooling goatfish glisten in the sunlight in South Fakarava
Tiger Shark Dive in Tahiti
All international flights go through the capital on Tahiti, Pape'ete, before you can connect to your domestic flights to meet the liveaboard. You would be well advised to take a few extra days on either side of your trip to experience the incredible Tiger Shark Dive, hosted by Fluid Dive Center. Master Liveaboards can make all the arrangements for you ahead of time, so all you have to do is show up—and be wowed.
Your full-day adventure includes two dives, lunch and very informative briefings about the baiting process, how best to observe the sharks, conservation efforts in Tahiti, and shark behavior. On this baited dive, you will have the chance to see up to six species of sharks as well as plenty of fish action. And while seeing tiger sharks is not actually guaranteed, Fluid has a very impressive 90-percent success rate.

A large 14-foot female comes in for a closer look at Tahiti's famed Tiger Shark Dive

You can expect a small group (between five and seven divers), a comfortable boat, and extremely knowledgeable guides, who also debrief every dive. That includes a count of each species you saw, which gets reported daily to help monitor overall shark populations. On our first dive alone, we saw five species of sharks: 40-plus gray reefs, 25 blacktips, 15 whitetips, eight lemons, and one nurse shark for good measure.
On your surface interval, you'll enjoy stunning views of the lush, mountainous islands of Tahiti and Mo'orea while you have lunch and wait for the tigers to show up. Once they are spotted, it is game on and you are back in the water for a thrilling encounter. I honestly can't think of a better way to start or end your trip!

Up to six species of sharks can be seen at once on the Tiger Shark Dive

---

For more of Francesca's work, visit her official website or "like" her Facebook page. Francesca has also been featured as Photographer of the Week.
RELATED CONTENT
Be the first to add a comment to this article.
Newsletter
Travel with us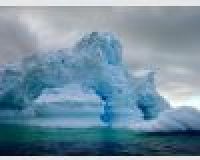 Antarctica
Plan Your Adventure >
Featured Photographer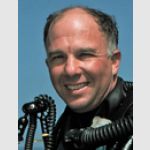 Marty Snyderman
Expert Photographer
Residing in Solana Beach, CA, Marty Snyderman is the Marine Life Editor for Dive Training Magazine and the long time author of the magazine, What\'s That, Behind The Lens, and Always Learning columns. He is also an Emmy...