Travel
Panama's Galápagos: Coiba National Park
A hawksbill turtle poses for the camera while feeding on hard coral

Located in the Gulf of Chiriquí, Coiba National Park is a marine reserve containing 38 separate islands along Panama's Pacific coast. Coiba is the largest island in Central America, and its Special Zone of Marine Protection covers a total area of approximately 670 square miles. From 1919 until 2004, Isla Coiba was one of the country's most notorious prisons, and therefore access to the island was very limited. This is the main reason 80% of Coiba's natural resources have survived untouched. Thanks to limited human contact, the island has remained wild.
The interior of Coiba is home to numerous mammals. White-headed capuchin monkeys are often spotted in big groups and are very curious! The agouti is a species of rodent that most resembles a guinea pig and is typically seen in large numbers. The entire island is a paradise for bird watchers and a refuge for many bird species, including rare crested eagles and scarlet macaws—colorful birds that have virtually disappeared from the rest of the country. Iguanas can be seen soaking up the sun, and the song of frogs and other wildlife can be heard every night as darkness descends upon the jungle.
The beaches and waters surrounding Coiba offer shelter to varioius reptiles, including four different turtle species and the magnificent American saltwater crocodile. Large numbers of these animals roam the mangrove forest during the day, and hunt in the waters surrounding the island at night. Coiba's most famous resident is Tito, a 13-foot-long male croc that has visited the ranger station regularly for over 25 years. A fence has recently been installed around Tito's favorite spot at the back of the ranger station, meaning guests can safely get close to him while he remains in the wild, exactly where he belongs.

Isla Coiba is the largest island in Coiba National Park

Tito, the island's most famous resident, sometimes makes unexpected visits to the beach!

The ranger station has basic accommodation for those who want to stay overnight

Since 2004 the park has managed and maintained by a group of national park rangers. They are the only permanent residents of the island and live at the ranger station directly located on the most stunning beach. Here, visitors must register and pay their entry fees before accessing the rest of the park—money that contributes to the ongoing conservation efforts. The rangers who work in Coiba constantly monitor and patrol the island's waters to enforce fishing legislation, a challenging and time-consuming activity that helps protect the marine environment.
Depending on the time of year, it is possible to see a variety of whale species around the islands, including groups of humpbacks following their migration route towards the polar seas. Huge whale sharks are a common sight, and from December to April, it is almost guaranteed that you will be able to see and swim with them. Dolphins are seen in large numbers, and if you are lucky, you may even see some while diving or snorkeling.

A young painted frogfish

Whitetip reef sharks can be found resting in the sand at many of the islands dive sites

There are many things to see and do in Coiba, both on land and in the ocean. Scuba diving is perhaps the most popular activity, although compared to other destinations, it is still very quiet and it is unlikely you will see other divers while exploring the reefs surrounding the island. The topography underwater is similar to other famous destinations in the eastern tropical Pacific, with an abundance of underwater photography subjects of all sizes.
More than 20 dive sites are dotted around in the park, offering divers of all experience levels the chance of seeing sharks, rays, turtles and many other visiting pelagic species. For those willing to investigate the reefs more closely, there are many small wonderful critters to be seen, including various shrimps, seahorses and frogfish.

A yellow seahorse and soft coral contrasts nicely with a blue water background

A young turtle admires his own reflection in the dome port of my camera

A large school of spadefish passes by in the blue

Back on land, there are numerous trails providing direct access to the tropical rainforest and the wildlife that inhabits it. You never know what you may see when trekking in one of the most unexplored islands of the North American continent. For overnight guests, it is possible to arrange accommodation at the ranger station, which has several modest yet comfortable cabins. Otherwise, divers will stay in nearby Santa Catalina and travel to the island each day. Guests staying the night will see more wildlife and really get to experience island life at its best.
Anyone looking to get off the beaten path and dive in a relatively unknown destination should seriously consider a trip to Panama and Coiba National Park. To book your dives and get information about staying on the island overnight, contact Camilo and Sabine at Panama Dive Center.

Giant trevally and whitetip reef sharks search for prey in the rocks together in large numbers

A giant frogfish waits patitiently in soft coral for a meal to pass by

Our boat capatain and park ranger waits patiently for us as we finish another awesome dive
RELATED CONTENT
Be the first to add a comment to this article.
Newsletter
Travel with us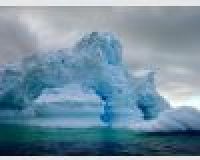 Antarctica
Plan Your Adventure >
Featured Photographer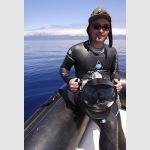 Jens Kuhfs
Expert Photographer
Born a Pisces, it should be no surprise that he has taken to the water. Jens Kuhfs has taken to the underwater. And he takes us with him when he captures his encounters in the blue depths of our planet with his camera, and...