Travel
From a Fisheye's Perspective: The Palau Aggressor II & Tropic Dancer
by Scott Johnson
Lowering into our final decent I spy from the plane's window Palau's iconic mushroom-shaped islands hovering over a tranquil sea. These rock islands are relics of porous limestone coral reefs thrust upward from the sea floor, exposed by volcanic activity and sculpted by bacteria and waves and have come to symbolize the natural beauty of Palau.

The Republic of Palau is a collection of over 700 islands, atolls and islets in the Caroline Islands of Micronesia. Sitting 460 miles (740 km) east of the Philippines, this secluded archipelago stretches over 435 miles (700 km) of diving bliss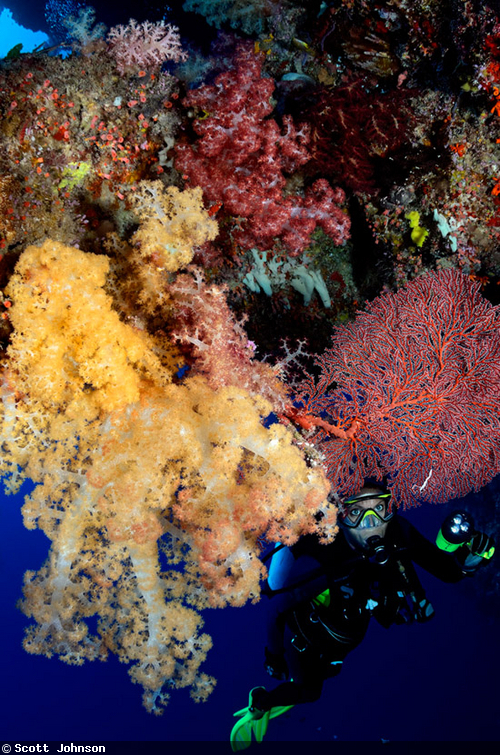 The diversity of Palau's marine organisms and habits is impressive, with 1,350 species of fish and 650 species of coral. A collection of currents carry larvae to seed and continually replenish the flourishing reefs, seagrass beds and mangroves. The government has established Marine Protected Areas and the world's first shark sanctuary to protect their precious marine biosystems.

Palau will rock your photographic world with geological and evolutionary oddities, rollercoaster-like dives and fascinating animal encounters.

Luxurious Diving

The sister yachts The Palau Aggressor II and the Tropic Dancer are spacious, 106 foot long, twin hull catamarans designed specifically for divers and underwater photographers. Your dive gear is loaded onto a high-speed skiff at the start of the charter and remains there throughout the week. Just slip into the skiffs with your camera and be whisked away to up to five dives daily.



Nine staterooms accommodate 18 guests, feature ensuite bathrooms and individual climate control. The eight Deluxe cabins have a large picture window that allows you to take in the surrounding beauty from the moment you awake. Their spacious salons host computer work areas and the tantalizing aromas of the next delicious meal or post-dive snack.. Three-tiered camera tables, complete with air guns and 110 volt/220 volt charging stations, are located on the dive decks.




Underwater Speedways: Photographing Palau's Blue Corner

Underwater photographers from all over the world come to Palau specifically to plant a reef hook at Blue Corner and watch sharks, rays and thick schools of fish surf the currents. The PAII and Tropic Dancer crew are experts at timing the currents and safely diving the sites, so pay close attention during the thorough dive briefings.

These underwater speedways also present unique photographic challenges On the one hand the current brings the parade of animals, but it also dictates you use a reef hook to stay in one place and limit the damage to the surrounding habitat which in turn provides you with VIP seating, but greatly restrict your mobility. Be sure to set your hook in an area that will give you a clear shooting window and enough space between you and other divers.


A fisheye or ultra wide rectilinear lens can be a good choice if the friendly Napoleon wrasse (Cheilinus undulatus) are present. These ornately tattooed fish are incredibly photogenic and like to weave among the divers as if inspecting them.

However, if the Napoleons are absent, you are better off with a mid-range zoom lens, like a 12 – 24mm DX or 16-35mm FX lens. The added reach and versatility of these zoom lenses will help you fill more of the frame for the resident sharks.

Photographing Palau's Mantas

The Blue Holes and Blue Corner get the most publicity, but German Channel is every bit their equal for adrenaline-pumping action. This manmade cut through the western barrier reef attracts marine creatures of all shapes and sizes. Dense schools of red crescent-tail bigeyes sweep over the corals and energetic Clark's anemonefish bathe in the protective tentacles of their glowing orange anemones.

German Channel is also the place to go to watch graceful Reef Manta Rays (Manta alfredi) with 12 foot (3.7 m) wing spans getting cleaned at a coral outcropping in the southwest mouth of the cut. Divers are placed kneeling in the sand around the cleaning station so the large rays can glide over the divers' heads during the alternating circling and cleaning process. The best time to make this dive is on an incoming tide when clear water from the open ocean floods the channel and gives rays and other animals a jet stream to ride inside the barrier reef.

Your dive guides will stress the need to be still when you are on the sand because the visibility can go from clear to nil in seconds if only one diver forgets to heed the "Do not stir the sand!" warning.

Do to being in a fixed location, you should decide in advance if you want the sun to be at your back or if you want to try to frame the mantas against it. Intense sunlight can easily cancel out the light of your strobes, so you might have to settle for silhouettes if you try to shoot into it. An early morning or late afternoon sun will generally give you more options.


Underwater Photography at Palau's Jellyfish Lake

Jellyfish Lake or Ongeim'l Tketau is the most famous of Palau's many marine lakes and the only one open to tourists. Two species of jellyfish inhabit the lake by the millions: the golden jelly (Mastigias papua etpisoni) and the less common moon jelly (Aurelia aurita).

This is a snorkeling-only encounter as diving is not allowed in order to prevent bubbles from damaging the creature's delicate bodies and also because there is a dangerous concentration of hydrogen sulfide below 45 feet (14 m). Try to keep your photo and snorkel gear compact as it is quite a journey to get from the lagoon dock to the lake, followed by a 1,500 foot (460 m) swim to reach the jellies on the other side.

A mid-range zoom lens, like a 17-55mm DX, will allow you to shoot individual specimens, as well as larger groups. But, I recommend going wide so you can get as close as possible to the largest swarms and capture their overall majesty.

Putting the sun to your back, diving down and then shooting up will give you the chance to frame the sunlight as it dapples around the graceful animals. Start with an aperture of f10 and a shutter speed of 1/250th, check your results and then adjust as needed. Your strobes will help eliminate unwanted shadows.

Photographing Palau's Underwater Caves and Caverns

Even if you are not a big cave diver, the photography opportunities at Blue Holes and Chandelier Cave are too amazing to pass up. The Blue Holes is one of Palau's most famous dives and quite easy to spot from the air. Four large holes in the top of the reef off the northwest end of Ngemelis Island clearly mark the ceiling openings of the site.

Working your way beside and below the other divers will allow you to use ambient light to clearly silhouette their forms while maintaining the mysterious mood of the dark recesses. The ambient light dynamics can range from bright sunlight to pitch black, so meter the brightest light segments for your shots.

Chandelier Cave is a cave system composed of five distinct and contiguous chambers. The first four chambers are crowned with air pockets and the last is completely above water. The site is named for the stalactite and stalagmite formations that resemble glittering chandeliers.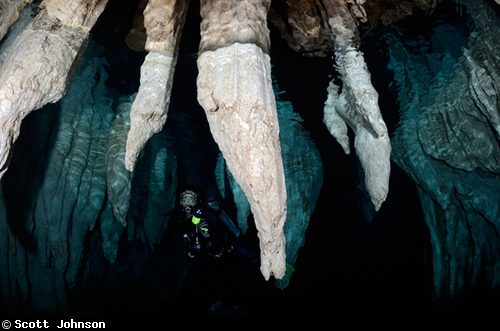 There is zero ambient light once you pass beyond the diffused light from the main opening, so you need to take a flashlight and focusing light with you. You will only be able to shoot what your strobes can light, so get close and give your strobes time to recycle between shots. The advantages to boosting your ISO are also linked to the strength of your strobes. You can use slower shutter speeds in order to gain depth of field if your only subjects are the non-moving formations.

Remote strobes and a model can enhance your imaging options. If you have access to numerous strobes that will reliably fire on slave and a willing sherpa to accompany you, you can strategically place the strobes around a section of the cave to expand your shooting area. In addition, composing a model beside the stalactites and stalagmites introduces both a size perspective and human element into your shots.


The Small Stuff

The macro subjects are plentiful at every site, if you take the time to look for them. But, there are special places where the smaller subjects really shine.

Ngerchong Coral Gardens , also known as Ngerchong Inside, is frequently home to three different colors of leaf scorpionfish (Taenianotus triacanthus), including a pinkish-redish variety. These are easily shot with a 60mm or 105mm. There are also multiple species of cardinalfish present, which means you may have the chance to photograph a mouthbreeder!

Palau is also a great place to capture macro behavior shots. Males of various marine fish, such as cardinalfish and jawfish, collect newly fertilized eggs in their mouths and keep them there until they hatch. "Pregnant" males display bloated jaws and are often more skittish than normal. The mouthbreeder will regularly spit the eggs out and then immediately suck them back in to aerate them. Patience, a 105mm lens, a 1.4x or 1.7x converter and fast shutter speeds will increase your chances of returning to the boat with the prized shot of a mouth full of shinny eggs.

Paradise Found

Palau's spectacular scenics, a wide variety of exciting diving options and a healthy, diverse population of marine animals solidifies its position among the top destinations. A one week charter aboard The Palau Aggressor II or the Tropic Dancer will ensure you visit the best sites, at the best times to witness all that Palau has to offer..
RELATED CONTENT
Be the first to add a comment to this article.
Newsletter
Travel with us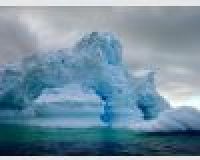 Antarctica
Plan Your Adventure >
Featured Photographer
David Haas
Expert Photographer
David Haas is a professional underwater photographer who began diving in 1970 and shot his first underwater photos in 1972. He became a scuba instructor in 1977 and after owning a dive store from 1985-1989 began to exclusively...