Travel
The Mystique of San Miguel
January 25, 2010 @ 01:10 PM (EST)
By Mike Bartick

The Channel Islands National Park resides off the Southern California coast, ranging from the western tip of San Miguel Island to the east end of Anacapa. The park encompasses nearly 250,000 acres or land and sea. The park is made up of four individual islands in the upper channel island chain, San Miguel, Santa Rosa, Santa Cruz and Anacapa. There are also four other channel islands in the lower chain but they are not included in the National Park System.

The Channel Islands are one of my favorite places in the world to dive because very few places capture the essence of California diving as well as the Channel Islands do.

San Miguel sits outside of the California bite, unprotected and fully exposed to the unpredictable power of the Pacific Northwest. The island is battered with regularity by strong wind and massive waves.

Your chances of seeing a greater diversity of animals here are much better then anywhere else in Northern or Southern California. Wolf eels (wolf fish) Giant Ling Cods, massive Rock Fish, Gunnels, Pricklebacks, Nudibranchs, Warbonnet's and much more can be found in the waters surrounding Miguel.

For me Miguel has been one of those places that Neptune kept beyond my reach. My first three attempts to get here were stymied and had to be diverted to other islands. So when my buddy asked if I wanted to join them on a run to San Miguel, naturally I couldn't resist.

With the early morning sun low in the sky, I figured I would shoot macro for the first dive. It is a good thing I did as we found a massive nudibranch known as a Dirona albolineata feeding on hydroids. With pearl white cerata and an alabaster white trim this nudibranch is nothing less than stunning, but its size and color make it challenging to shoot.

Here are my three techniques I use for shooting large, white nudibranchs:

I try to do a quick study of my subject and its surroundings. I know a subject this white in color will take some gentle side lighting to bring out good details.
I back up just a bit because I want as much depth of field as possible. Getting too tight on a macro subject this large just wont do it any justice.
I increase my ISO, which allows me to shoot a little faster.

Suddenly, my buddy points at his camera housing, I think for a second he is having camera issues. Then I notice something moving around the strobe arms -- a tiny Penpoint Gunnel, gold in appearance with a white stripe across its face. We never see the Gunnel, which looks more like a tiny eel then a fish, further South and this is a first for me.

Now these little gunnels move very quickly and there isn't any time to stop, adjust and fire. I always try to be ready ahead of time while I search for critters so I preset my camera's settings at the beginning of a dive. On this day a good starting point was ISO 320, F14, and shutter speed of 1/160s-1/200s. My Sea & Sea MDX housing also has great ergonomics allowing me to adjust on the fly without removing my eye from the viewfinder, which helps a lot when I need to adjust my baseline settings.

So my buddy waves me over and with my camera settings pre-set, I am able to lock the focus with my thumb and fire. Two shots and he darted off, never to be found again. If you look closely you can see the viewing window on the top of my buddy's housing under the tiny little Gunnel.
With the macro opportunities so plentiful, I continue to put off the wide stuff until later.Completing our fourth dive for the day, we relax and enjoy a great dinner as we head east towards our night dive spot at the east end of Miguel.
The crew sets us up on the east tip of Miguel for our night dive. Im excited as I have never made a night dive at any of the Northern Channel Islands. Once again we are not disappointed. Tiny Pricklebacks and an Aeolidia papillose, another rarely seen Nudibranch, were waiting for us below.

The viz on the night dive is incredible and the cast of the light beams glancing off of the distant kelp really had my heart racing.

Shooting at night is usually elementary but tonight things are a little different. Setting up to shoot we are swarmed by krill and after trying to shoot a few pics with this annoying swarm I need to change my usually night routine a little -- I must work my modeling light as little as possible to still shoot and avoid the krill.

The next morning I promise myself, its wide or nothing. We head for Santa Cruz to a spot called Gull Island. Gull Island is known above all for it's Purple Hydrocoral, California's only known hard coral, found here in shallow waters. The captain puts us on the northwestern end of this little spit of land. The viz from the boat looks incredible, the sun is rich and the kelp is standing straight up. Armed with my Tokina 10-17mm fisheye lens, I'm off.
First order of business is to find the coral. After what seemed like a total snipe hunt we finally came across a few loose patches. The reef bottoms out here are at 70 feet with large rocky outcroppings crowned with the Hydrocoral. Big luscious sea fans, gorgonians and great kelp density combine for some really incredible wide-angle opportunities.
After three failed attempts to dive Miguel I must say I am extremely happy I made it. The marine life was everything I had expected it to be and more. I just hope it doesn't take me another three attempts to make it back!

When booking a trip to this area, remember that the best diving is done during the fall months. October and November are prime time for wide angle shooting.On this trip I packed my 60mm macro lens along with the Tokina 10-17mm lens and was happy with my decisions.

All in all we made nine dives in two days, everyone ate like royalty and we were treated to some of the finest California diving there is. There are plenty of underwater photography opportunities in San Miguel for everyone, whether you enjoy wide-angle or macro.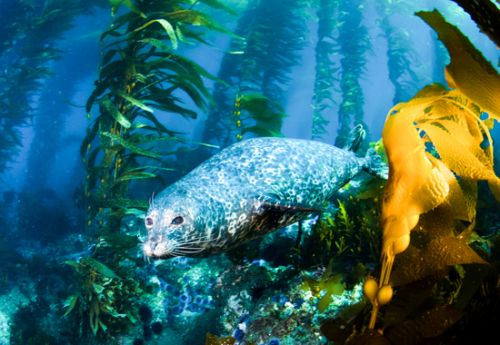 RELATED CONTENT
Be the first to add a comment to this article.
Newsletter
Travel with us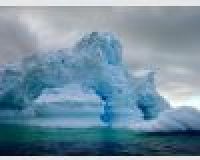 Antarctica
Plan Your Adventure >
Featured Photographer
Karin Brussaard
Expert Photographer
Karin was born in The Netherlands in 1972. Her brother persuaded her to join him on a divecourse in 1997. Like she once said "I'll never go diving" she also said...