Travel
Mission Briefing: Off the Chart in Myanmar
By Chris Buckley, June 22, 2018 @ 06:00 AM (EST)
A manta cleaning station at Myanmar's Black Rock

Have you ever found yourself waking up to a sunrise, turning 360 degrees, and finding that the sun was the only object on the horizon? When we arrive at the Burma Banks, not a single other dive boat, fishing boat or even land mass is in sight. We are about to go diving in the middle of the Andaman Sea—and I'm feeling a mixture of exhilaration and nervousness.
But the Burma Banks is just one small part of our journey. Myanmar's Mergui Archipelago is a massive cluster of more than 800 islands. In an eight-day, round-trip itinerary covering 800 miles, the plan to is to explore the famed Black Rock, West Canister Island, and the best dive sites of Thailand. This is exactly what Scuba Diversion's "Off the Chart" expeditions promised to deliver: a citizen science research and discovery dive trip in a very remote area indeed.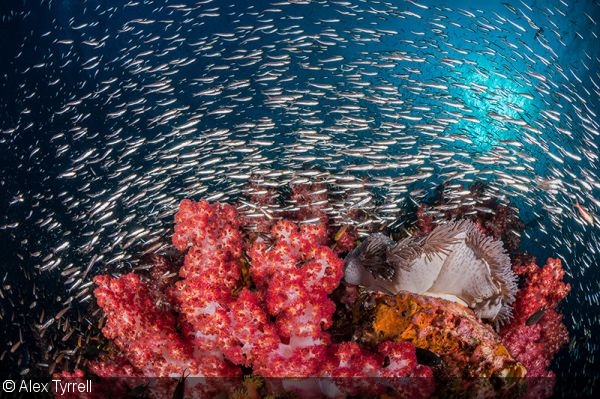 Silversides swarm over soft corals at Thailand's famed Richelieu Rock

The Andaman Sea offers stunning diversity—and a wide range of subjects for underwater shooters—like this reef octopus at Western Rocky
Mission 1: Identifying Black Rock's Giant Mantas
We begin our trip with two days at Myanmar's most famous dive site, Black Rock, known for its beautiful soft corals and as one of the planet's best aggregation sites for giant manta rays. The guides at Scuba Diversion have been collaborating with scientists from the Marine Megafauna Foundation (MMF) for over eight years, and our mission is to photograph and identify as many mantas as possible.
Our first special guest is Anna Flam, an MMF field researcher and the global manager of MantaMatcher, the world's largest manta ray database. She gives several presentations about manta research, and offers all of the photographers on-board advice on how to take a good manta ID shot. In short, all mantas (both reef and giant) have spot markings on their bellies that serve as their individual "fingerprints." To help the database grow, anyone can upload their ID shots to www.mantamatcher.org.

MMF researcher Anna Flam captures a manta ID shot at Black Rock

For a good ID shot, use strobes to properly light the manta's belly as it cruises overhead

When these 15-foot leviathans fly over your head like a stealth bomber, they block out the sun, so not only do you want to use your best wide-angle lens, but you also need decent strobes to avoid silhouetting and get a beautiful ID shot. But the best part about diving with active researchers is the feedback you receive afterwards. Here is what we found: Over three days at Black Rock, we identify 40 giant mantas—20 females, 17 males and three of unknown gender—and 34 of these are new to the database. Of the six that have been previously identified, one particular female, known as TH0258B, was last seen at Koh Bon in Thailand in 2016. This makes her the 19th recorded migrant between Thai and Burmese waters.
Another way you can help with the research is by adopting and naming a manta ray. On our trip, there are two adoptions, with trip regular Morgan adopting MY0142B and naming her "Billie Black Rock," and newlyweds Hilary and Spencer adopting MY0118B and calling him "Dave the Honeymoon Manta."
On a sadder note, over a quarter of the mantas we identify have visible scarring from fishing gear—either fishing line or rope—highlighting how frequently these animals encounter human threats. Organizations like the MMF use statistics like these to try and persuade governments to take action. The database for the Myanmar/Thailand region now stands at a phenomenal 519 individuals. What an incredible start to the trip. Where can we possibly go from here?

Guest Morgan and adopted manta "Billie Black Rock"
Mission 2: Mapping West Canister
At almost 200 miles away from our starting point, West Canister Island would be our most northerly point. The previous year's expedition here provided encounters with schooling mobula rays and looked like a promising manta aggregation site. Do mantas really come this far north? We are hoping to find out.
West Canister is very remote and dive site maps are not available. Scuba Diversion provide compasses and slates so we can undertake a mapping project. The rock formation on the western ridge looks like the best place to encounter pelagics, so this is where we focus our efforts.
Whilst we are taking compass headings and sketching the dive site's main features, we are also on the lookout for something big passing by. We have just one encounter with a giant manta that day, and unfortunately it is too far away for an ID shot. Still, this is the first time a manta has ever been photographed here, and we have proof that our local population of giant mantas really does swim this far north. It is our second satisfying achievement of the trip and leaves us wondering how much further north these creatures go.

Participants help to map West Canister Island
Mission 3: Exploring the Burma Banks
The landmark manta photo from West Canister is taken by our second special guest, pro shooter Alex Tyrrell. As well as giving presentations about underwater photography and photo editing, he is also on hand for some great one-to-one photography tuition. Around 60 miles from the nearest island, the Burma Banks is the remotest dive site we visit and is an unknown for most of us. There's no time for photography mistakes or camera malfunctions: If anything cool passes by, we need to be ready to capture it. We're soon ready to put all of Alex's good advice to the test.
Jumping in at Big Bank, immediately a huge marlin swims by, and Anna is quickly on the scene to capture it. Later in the day, we are greeted by several juvenile silvertip sharks. Sadly, we only have one day at the banks, but with such promising encounters, Scuba Diversion's 2019 expedition aims to spend longer here, so they can try and increase their knowledge of this unique dive spot.

A marlin cruises into view at Burma Banks

An inquisitive juvenile silvertip
Mission 4: Photographing Thailand's Best Dive Sites
We return to familiar waters as we enter Thai waters and make a beeline for the Similan Islands. Conditions are perfect at Thailand's most famous site, Richelieu Rock, whose amazing soft corals are blanketed by huge schools of fish. The site can keep both macro and wide-angle photographers busy for hours.
Even with such ideal conditions at Richelieu, however, it's the breathtaking wide-angle dive at Koh Bon Pinnacle that steals the show. Some groups spot the manta first, others see the whale shark, and as the two giants cross paths—even after such incredible dives so far—there's a last-minute contender for best dive of the trip.

Richelieu Rock offers up a riot of color and life

A painted spiny lobster investigates the camera

Anna frames the planet's biggest fish at Koh Bon Pinnacle
Debrief
If Scuba Diversion's "Off the Chart" expeditions aim to combine amazing remote diving with photography and citizen science, this trip ticked all the boxes. For me, the most memorable moment was just before daybreak at the Burma Banks. Without any visual references, I tried to anticipate where the sun would rise. As a soft glow appeared in the east, it slowly revealed a panoramic view of… nothing. All of the wonders were lying below us, and we were going to spend the whole day exploring them. Next year's expedition promises an even greater focus on the Burma Banks, and I just can't wait.

MV Deep Andaman Queen offers awesome diving off the west coasts of Thailand and Myanmar
Planning Your Trip to the Mergui Archipelago
How to Get There: Although Myanmar is slowly opening up, it is still easiest to begin and end a liveaboard trip in Thailand. Fly to Phuket International Airport and let your dive operator take care of the rest. Thailand offers visa on arrival, and the boat operators will take care of your Myanmar visas.
When to Go: Although you can dive here any time between October and May, the conditions and visibility can vary dramatically. The best time to dive, and the best chance of encountering mantas, is February and March.
Where to Stay: Depending on which boat operator you choose, you can stay in Phuket or Khao Lak. There is comfortable accommodation to suit every price range in both locations.
Liveaboard Diving: Thailand-based company Scuba Diversion offers a variety of options for diving the Mergui Archipelago, but their exclusive "Off the Chart" trips are limited to just one or two per year. These trips depart when conditions are at their best, include guest photographers/scientists, and spend more time at Myanmar's best dive sites. Book well in advance.
Water Temperature: Usually around 29°C, although some dive sites can be prone to thermoclines. Most people dive in 3mm shorties.
Photography Equipment: There is a decent amount of macro life in Myanmar, but if you are going for the mantas, then a good wide-angle lens and strobes are a must.

For a non-identification shot, a head-on approach makes for a evocative composition
RELATED CONTENT
Be the first to add a comment to this article.
Newsletter
Travel with us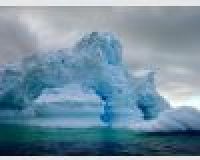 Antarctica
Plan Your Adventure >
Featured Photographer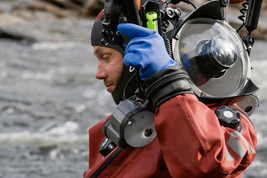 Magnus Lundgren
Expert Photographer
ABOUT MAGNUS Instagram - magnuslundgrenphotography "It is all about positive change for me, as an image may lure a person's mind and move the heart. I always use my own passion for nature to inject fuel into my...