Travel
The Mangroves and Reefs of Mauritius
Sunset split shot in a healthy shallow coral reef in Mauritius

One thing all travelers have in common is the excitement you feel on the approach to landing in a new country. Excited, you peer out of the window hoping to get a glimpse of what may be in store over the coming days. This was my first time in Mauritius, and this was not a diving holiday or photographic trip, more a site visit for my wife, who is the operations manager for a company called WiseOceans. The organization has marine biologists stationed at various resorts around the world implementing reef restoration projects, guided snorkels and marine education classes to guests. I was here to look after my eight-month-old son and this was his first long haul trip, so an adventure lay in store for all of us.

Rhinopias fish are a rather unexpected highlight of diving in Mauritius

We made our way from the Sir Seewoosagur Ramgoolam International airport in the southeast of the island to the Four Seasons resort further north on the east coast. Not a bad perk of my wife's position, I have to admit, but anyone that knows me knows I am much more at home in a shack on the beach with a compressor and a local takeaway.
We meandered along the beautiful coastline, driving through small, colorful villages with stray dogs, chickens and roaming goats with a backdrop of turquoise water and tied up fishing boats—very similar to some islands in our second home of Indonesia. When we arrived at the resort, it was very beautiful, as I expected, and the staff couldn't have been more warm and welcoming, but what really caught my eye was that the entire place was surrounded by a huge mangrove system—one of my favorite places to explore and take pictures. I ended up spending every free moment I had exploring the gnarled roots of the mangroves and was amazed at some of the subjects and photo opportunities I discovered there.

An estuary seahorse hangs on tight to algea under the midday sun

WiseOceans marine biologist Rick had briefed me on where to go and said he regularly finds seahorses, frogfish, and even harlequin shrimp. Maybe this place is even more like Indonesia than I thought! My missions into the mangrove system were poorly timed, with low tides and more often than not torrential rain making photography tricky, but despite the conditions, I persevered and lost all sense of time searching for cool critters and compositions.
Once I got my eye in, I was able to find a number of seahorses gently swaying back and forth with their tails wrapped tightly like a tendril of a vine to Halimeda algae stems. The species found here is Hippocampus kuda, or the estuary seahorse, which is on the IUCN Red List, making this little-known population very important indeed. A little further from the shore bordering the mangrove forest were small colonies of branching Acropora, gatherings of Favia mushroom corals, and many other species. The beginnings of a new reef? I couldn't tell, but a good sign for the overall health of the system.

The estuary seahorse is commonly encountered in the mangroves

Sadly, like many other coral reefs in the Indian Ocean, Mauritius's reefs were severely hit by a recent mass bleaching event. One of the WiseOceans's conservation initiatives is to try and help these damaged reefs recover, and to do so, they have established an extensive coral nursery and reef restoration program. Coral nurseryman Bernard took me out to see the site in Anahita lagoon, where they currently have about 600 colonies being grown on frames, and have already transferred over 700 mature colonies back onto degraded areas of reef to help promote recovery of reef biomass with live coral cover.

Bernard transporting coral to be replanted on the damaged parts of the reef

A bunch of hard corals growing successfully in a coral nursery

After a week, it was time to move on and make our way over to the west for some diving and the chance to see some of the famous cetaceans that inhabit the deep waters there. We piled our gear (and screaming baby) into our tiny Japanese hire car and set off, hoping to leave behind the torrential rain that had been drenching the island for the past few days. Unfortunately this wasn't to be. The rain persisted and would not let up.
We arrived in Flic en Flac, a seaside village to the west coast to catch the afternoon dive at Sun Divers (albeit a little late) and fortunately the muddy water from the rivers hadn't yet affected their dives sites. Sun Divers is a small, professionally run dive center located at La Pirogue hotel. They are very accommodating for underwater shooters, as Gerald, the owner, is a fantastic photographer and has a wealth of knowledge of the area. The clock was ticking, as bad visibility was making its way up the coast, so I wanted to get some time in underwater with my camera before conditions deteriorated further.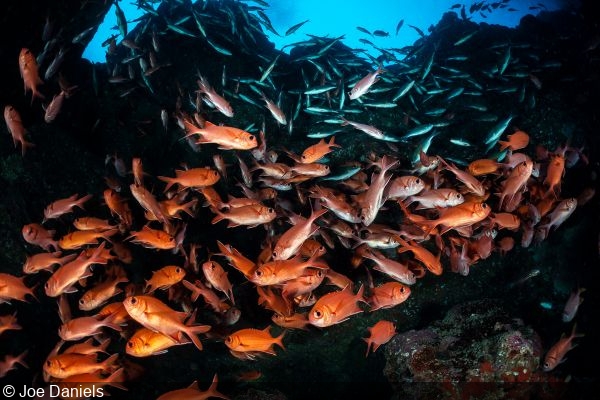 Big schools of bigeye and soldierfish hang out under ledges on the reef

Schooling goatfish bunch together and are therefore excellent subjects to shoot

Beneath the gray sky, I rolled back off the boat to be greeted with epic visibility of more than 100 feet. I wasn't expecting that, but certainly wasn't complaining. I dropped down onto huge rock formations with schools of soldierfish under ledges and goatfish out in the open. A highlight of the dive was a green turtle being cleaned by some brushtail tangs. The next few dives continued with a similar theme: good visibility with enough subjects to shoot, very relaxing but not memory card fillers.
My last dive at Snake Reef was the real reason I wanted to come and dive here. Dropping down to the seabed at around 100 feet, the narrow collection of rocks looks rather unassuming at first glance, but descending further, I could make out that the rocks were covered in glassfish and sweepers. Once on the reef, everywhere I looked there was an interesting photographic subject! Scorpionfish, lionfish, stonefish and many other species of predatory fish were abundant and all completely unfazed by my presence. It wasn't long before our guide signaled over to me to show me what I was most hoping to see. He had found a very small Rhinopias frondosa, my first in the Indian ocean. Brown/orange in coloration, its camouflage was identical to the algae surrounding it.

My first Rhinopias in Mauritius

A large stingray approaches the cleaning station for a wrasse fish service

Further on from the rhino was what looked like a cleaning station for stingrays. Watching these huge whiprays rise off the bottom to be cleaned by wrasse fish was an amazing sight and another amazing photographic opportunity. Heading back to the line, I was delighted to find another Rhinopias, this time a large purple specimen. I have seen them before in this color, and they really are the most spectacular fish. I think the great muck diving pioneer Larry Smith put it best when he said that the fish looked like it had been shot out of a paint gun when he first came across them in Ambon harbour in Indonesia. It was actually some of Larry's students—who turned into legendary guides themselves—that taught me about finding critters in the muck. I'm glad I still have those skills!

A lionfish looking for prey in the roots of the mangroves

Whilst in the area, I also wanted to visit Le Morne, a truly spectacular part of the island. This southwestern tip of Mauritius is famous for a basaltic monolith rising up 1,800 feet and dominating the landscape. It is also well known for its cetacean encounters in the deep waters that are found unusually close to shore. The deep ocean provides an abundant food source for resident pods of whales and dolphins, and I hired a boat in the hope of encountering some of the pods of dolphins that frequent the area. For the whales, a permit is needed which is difficult and expensive to be granted, so I was almost hoping we did not see any!
Unfortunately, it was just one of those days on the ocean where everything was quiet, and we really didn't see much at all, just a few glimpses of spinner dolphins from afar. The runoff from the river also made the search more difficult, but you can't win them all. Despite the conditions and limited time in the water, I still had some very memorable encounters and some nice images in the bag. Mauritius is a beautiful place with amazing food and culture. The people were also some of the warmest and most welcoming we had the pleasure to meet. Hopefully, we will return soon to explore further and find more hidden gems underwater.

A lionfish over/under in the mangroves

To see more of Joe's awesome images, head over to his website, www.jldaniels.co.uk, or check out his Instagram page.
RELATED CONTENT
Be the first to add a comment to this article.
Newsletter
Travel with us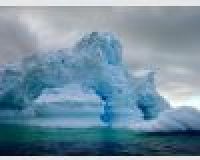 Antarctica
Plan Your Adventure >
Featured Photographer