Travel
Luxury Dive "Voluntography" in Komodo with the Arenui
By Joseph Tepper, November 10, 2017 @ 04:00 AM (EST)
One of Komodo's famed manta rays swoops in against the early morning sun

For most trips on the Arenui luxury liveaboard, guests often pamper themselves during surface intervals. After all, it's hard to resist the lure of an essential oils massage. And who can say "no" to an iced vanilla latte with freshly baked croissants?
Such niceties are put aside—temporarily at least—for vacationers on a recent voyage through Indonesia's Komodo National Park. Dedicated divers spend hours above water scouring their underwater images hoping to catalogue multitudes of manta rays through identifying marks. Other free time is forfeited to educational lectures focusing on manta ray ecology and behavior. By the end of the trip, underwater photographers transform into citizen scientists.
Increasingly, divers want more from their trips than to bring home amazing pictures—they want to leave behind a tangible conservation legacy. Engaging in "voluntourism" through itineraries like Arenui's "Manta Focus" in Komodo offers the unique opportunity to utilize underwater photography skills to contribute to conservation—without sacrificing the relaxation of a dive vacation.

The Arenui is a boutique luxury liveaboard that offers unique "citizen science" itineraries to its guests
Manta Madness on the Arenui
Bulls-eyed in the center of the Indonesian archipelago, the Komodo region is a haven for manta rays. The convergence of the warm tropical waters of the Western Pacific and the chillier, nutrient-rich Indian Ocean produce world-class manta ray dives. Takat Makassar is a hotspot for transient rays and popular with backpacking divers. At the very southern point of Komodo, the famed Manta Alley offers a wealth of subjects for dedicated underwater photographers, accessible only on liveaboards like the Arenui.
The mob of mantas in the region also attracts marine researchers hoping to better understand and protect the animals. The Marine Megafauna Foundation (MMF) is a leading organization working to protect large pelagic species, but often struggles for access and funding in remote areas such as Komodo. With a vested interest in protecting the manta rays of Komodo and greater Indonesia, Arenui teamed up with the MMF to offer researchers a spot on several cruises annually and contribute part of the profits to research.
"Through the expeditions, we were able to reach difficult-to-get-to locations and make a big dent in collecting data needed for manta population monitoring and conservation," says Elitza "Ellie" Germanov, MMF's Indonesia Manta Ray Program leader.

The Marine Megafauna Foundation's Ellie Germanov photographs a turtle, one of the organizations three target species in addition to manta rays and whale sharks

Guests are encouraged to use their photography to help scientists learn more about often-enigmatic manta rays

During a recent "Manta Focus" trip on the Arenui, Ellie continued to pursue her research focused on the impact of microplastics on megafauna. But the PhD candidate also played an important role as a leader and educator by working alongside guests to identify individual mantas through the MantaMatcher—a virtual catalogue of more than 9,000 mantas worldwide. As "citizen scientists" for the trip, the divers also help raise awareness of a pelagic population that often flies under the radar.
"Citizen science is an extremely valuable tool, not only to crowdsource much-needed data on these vulnerable species, but also in raising awareness," explains Ellie. "You can do quite a lot with your photography."

A manta "train" chugs through Manta Alley as part of a mating routine
Voluntourism Through Underwater Photography
Until only a few years ago, data collection was the domain of trained marine scientists and graduate students. Even with the generous support of liveaboards like the Arenui, marine researchers struggle to monitor remote locations like Komodo. The need to aggregate large amounts of information about pelagic—and often, evasive—species demanded crowdsourcing of information from recreational divers. And so, citizen science was born.
But the real boon for marine conservationists arrived with the miniaturization and accessibility of high-quality video and still photos. Websites such as MantaMatcher automatically sort through thousands of images before the final identification is made by an expert. Today, underwater photographers are an invaluable asset for collecting data with their combined knowledge, skills, and technology.

Ellie Germanov and Michelle Bailes work to identify a new manta ray

While the Arenui sees its fair share of hardcore DSLR underwater photographers, many guests on citizen science itineraries opt for the travel-friendliness of compact and action cameras. Armed with a SeaLife DC2000, Michelle Bailes spent much of her recent "Manta Focus" trip aboard the Arenui trying to nail the perfect "ID" image.
"I am trying to get that perfect ID shot more than I am the 'artful profile picture,'" says Bailes, who made her second trip to Komodo largely for the mantas. "That has changed the more I realized how important it is to document these encounters."

Educational lectures and hands-on learning with a scientist enrich the diving experience

Arenui citizen scientists have long legacy with the mantas of Komodo—contributing the 1000th identified subject appropriately named "Rubu" ("thousand" in Indonesian). During the most recent trip, guests identified more than 30 manta individuals, more than one-third of which were new to the MantaMatcher database. Michelle was fortunate to capture images of a new manta with her SeaLife camera—a rare melanistic (black) manta at Takat Makassar.
"It was exciting, as we went through the catalogue and realized this was the first log of that particular manta," recalls Bailes.
Voluntourism in the dive industry is really only in its nascent stages, with innovative operators such as Arenui tapping into the diving audience's desire to donate their time to science. Environmental protection and wildlife recovery accounted for 25 percent of all voluntourism trips, according to a recent study (PDF).

Collected samples of plastic pollution demonstrate one threat to manta populations

The desire to contribute to research and conservation is a high priority for many adventure travelers. This eco-consciousness is especially prominent in diving families, according to Jenny Collister, the owner of dive tour company Reef & Rainforest. "I think it comes from parents wanting to instill a sense of responsibility for the environment," says Collister of the dive voluntourism trend.
Underwater photographers are often the most valuable voluntourists. In addition to having the tools and skillset necessary to documenting wildlife such as manta rays, underwater shooters have a powerful medium to share conservation efforts with a broader audience.
"I think it would be great if more photographers did these kind of trips to get them out on social media," says the Reef & Rainforest owner, whose company offers several "voluntourism" itineraries. "They would be a huge asset by photographing what is being done."

The ideal manta ray ID image shows all of the identifying "belly marks"

Michelle Bailes photographs the newly discovered manta named "Just Do It" with her SeaLife DC2000
More than Mantas
Working as a de-facto manta scientist is just the beginning of what Komodo offers the visiting underwater photographer. While the region's manta dives are highlights for photographers and researchers alike, the Arenui spends much of its citizen science trips exploring Komodo's rich reefs and marvelous mucky macro critters.
The twin sister sites Crystal Rock and Castle Rock sit off the north coastline of Komodo Island—and are perhaps the most famous in the area. Crystal Rock is really made of two pinnacles that pierce the surface at low tide, with a soft coral valley in between. At Castle Rock, hook in at 90 feet for a dramatic show: reef sharks, a massive napoleon wrasse and hundreds of hunting of trevally.

Crystal Rock is a fabulous wide-angle photography site offering up subjects like giant batavia batfish, eagle rays, and fields of soft coral

In Komodo, the primary coral photography subjects are often blanketed in schools of fish

Tatawa Besar is another must-shoot wide-angle underwater photography dive. Divers are swept along a sloping wall lit up by brilliant orange soft coral. When currents really pick up, soft coral blooms cover everything and even the reef fish don't dare venture too far out into the blue. Underwater shooters use the tried-and-true "spray and pray" method to capture images of the scene as they are swept along.
The experienced Arenui crew determines dive sites in large part based on the needs of guests with cameras. The dive site Batu Bolong offers up superb shallow-water coral scenes, but it's especially photogenic during golden hour. So, the cruise directors plan a late afternoon dive after the day boats leave and as the sun rays glow against the reef.

With bright orange soft coral covering every inch, Tatawa Besar is a must-dive for wide-angle photography lovers

Sometimes the shallows are the most beautiful part of a dive, as is the case with Batu Bolong

Komodo is truly a dichotomy of big and small when it comes to underwater photography subjects. At The Yellow Wall of Texas in southern Komodo, shooters can decide between photographing pristine hard corals swarming with baitfish or the prized "ladybug" isopod—no larger than a grain of rice.
There are also dedicated macro dives that rival the best offered anywhere else in Indonesia. Bima is not only Arenui's departing port for the Komodo trip, but it is also home to a magnificent muck dive called Unusual Suspects. In a single day, guests can photograph Coleman shrimp in fire urchins, mimic octopuses, wonderpus, bubble coral shrimp, painted frogfish, bobtail squid, and ghost pipefish.

Squint to see 'em: Ladybug isopods are endemic to the southern dive sites of Komodo

Guests make sure to bring their super-macro gear to photograph tiny critters like this 1/10-inch hairy shrimp

Muck diving in Komodo is especially spectacular, offering up rarities like this ornate ghost pipefish

At Unusual Suspects, there are countless glowing fire urchins, which home commensal crustaceans like this pair of Coleman shrimp
Science in Style
On the Arenui, guests might become volunteer researchers for the trip, but that doesn't mean they feel like a scientist slogging away in rough field conditions. Actually, it's the furthest thing from it.
The Arenui is not only a floating five-star hotel, but a piece of artwork as well. Constructed in 2007 from 70 percent recycled Javanese wood, the liveaboard is drenched in Indonesian tradition. Cabins aren't merely numbers, but named after a Hindu god or goddess—and decorated in keeping with a specific area of the archipelago nation.

The rooms aboard the Arenui are far flung from field conditions of a scientist at work!

From delicious cocktails to elevated cuisine, a trip on the Arenui is as much a culinary experience as it is a dive one

With a crew of 22—compared to a guest cap of 16—the Arenui leaves divers wanting for nothing from the moment they step aboard. In true boutique style, dive groups are limited to four people and are led by an expert local guide. The boat's stewards shuffle tasks from tenderly toweling down your underwater camera between dives to preparing an avant-dinner aperitif.
And then there's the food—from elevated liveaboard cuisine like chicken cordon bleu and filet mignon to decadent desserts. There's nothing more perfect than freshly made chicken noodle soup waiting after a chilly dive in Manta Alley, where temperatures dip down to 70 degrees.

The dedicated crew of 22 makes sure everything is taken care of—including post-dive care of your camera

It's the experience of getting taken care of and giving back to the marine environment that entices guests to add an element of volunteering to their luxury dive trip. "I liked the idea I could contribute to a rather limited knowledge base," says Michelle Bailes. "It was nice to feel like there was a purpose beyond the amazing diving and pampering myself."
As for what to name her newly documented melanistic manta, Michelle believes the namesake should follow her advice for any underwater photographer thinking of engaging in voluntourism. "Just Do It."

"Just Do It" the manta ray cruises through the shallows of Komodo
RELATED CONTENT
Be the first to add a comment to this article.
Newsletter
Travel with us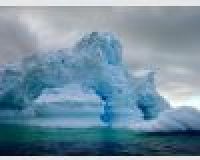 Antarctica
Plan Your Adventure >
Featured Photographer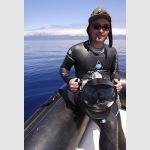 Jens Kuhfs
Expert Photographer
Born a Pisces, it should be no surprise that he has taken to the water. Jens Kuhfs has taken to the underwater. And he takes us with him when he captures his encounters in the blue depths of our planet with his camera, and...