Travel
Living History in Truk Lagoon with Master Liveaboards

Located in the Federated States of Micronesia, Truk Lagoon, otherwise known as Chuuk, is one of the increasingly few places you can still feel off the grid. The rolling green hills and local villages of the surrounding islands complete the view while a sense of peace and calm is palpable all around the lagoon. As you take it all in, it's hard to imagine the sites and sounds of the two-day surprise attack on the Japanese that occurred over 70 years ago.
Admittedly, I'm not much of a history buff or an avid wreck diver, but from the moment I stepped aboard the Truk Master, the ambience and mystique of Truk Lagoon took hold of me and an excitement began to build—and for very good reason. You can just feel something in the air—that this lagoon has important stories to tell. It's nearly impossible not to get caught up in the events that led to 61 Japanese WWII wrecks lying at the bottom of Truk Lagoon, the very reason divers travel to the far reaches of the Pacific to experience the wreck diving capital of the world.
Yet wrecks are not all you can see in Truk Lagoon. Schooling jacks, barracuda and batfish are commonly sighted, as are reef sharks and marble stingrays. Anenomefish decorate the wrecks and make for interesting foreground subjects, and there is plenty of marine life to soak in, as most of these wrecks have truly become living reefs.

Wrecks bursting with life and color, such as the Kensho Maru, act as artificial reefs

The History in a Nutshell
Up until 1941, the US had mostly stayed out of WWII. This all changed on December 7, 1941, when Japan launched a surprise attack on Pearl Harbor, one of the deadliest in US history. This infamous attack, which was launched because the US refused to keep exporting iron and gasoline to Japan, officially led the US to declare war on Japan and brought them into WWII.
Over a period of three years, the US carried out a series of attacks against the Japanese throughout the Pacific. Since Truk was the largest Japanese military base in the Pacific, the US started planning a surprise attack with the goal of destroying all the ships in the area and disabling the Japanese fleet. After learning that Japan moved most of its heavy ships to Palau, the US knew that Truk was largely undefended and took their chance.
US Task Force 58 was appointed the task of carrying out Operation Hailstone, which lasted two days and nights between February 16 and 17, 1944. The first phase of the attack sunk any ships in the lagoon with bombs and torpedoes while the second destroyed the critical atoll facilities, fuel bunkers and munitions. Ultimately, all of the Japanese vessels in the lagoon were sunk, two-thirds of the aircraft were destroyed, and the airstrip was severely damaged.
The coral encrusted bow gun of the Fujikawa Maru, shot from the rear, completely covered in glassfish

A deteriorating truck sits in one of the cargo holds of the Sankisan Maru—one of many vehicles that can be found on the wreck

The Betty Bomber sits in shallow water and is one of a handful of airplane wrecks you can dive in Truk
Cruising Truk in Style
Exemplary comfort and service are what come to mind when I think about my time on the Truk Master. From the minute you're greeted at the airport, you just know that you will be well looked after.
This 37-meter steel yacht was built in 1974 and completely refitted in 2016 by the father-and-son boat building team of Worldwide Dive and Sail, Jan and Frank Van Der Linde. As you enter the salon for the first briefing and sink into the sofas, guests are quick to note the "new car smell." And you need not look much further to realize the Truk Master was created with divers and photographers in mind.

The sleek lines and shiny hull of the newly refitted Truk Master glimmer at sunset

This luxury vessel accommodates 16 guests in well-appointed cabins, all with air-conditioning and en-suites. The upper deck has a large salon with a bar, sofas and a huge plasma screen TV as well as an outdoor seating area and sun deck. On the middle deck, you'll find the indoor dining area and camera prep area (with individual storage drawers) and a spacious dive deck with large camera rinse tanks and storage areas. Oh, and if you wish to stay connected and make all your friends jealous on Facebook, there is good satellite Internet available.
But what really makes the Truk Master so special is the crew, who go out of their way to make your time unforgettable. Your favorite beverages and a warm towel await you after each dive and I don't think I zipped my wetsuit or snapped my fins closed even once: The crew are so quick and adept at these things—they are like dive genies! And, of course, the chef, Alibe, creates food so amazing and delicious that you have to work really hard at not gaining weight. Nothing but smiles, laughter and good vibes are what you can expect from this crew and your time aboard this beautiful yacht.

Anenomefish are commonly found on the wrecks of Truk Lagoon, making for excellent foreground subjects
Exploring the Wrecks
On the first day I quietly wondered to myself if diving wreck after wreck would become a bit monotonous. But at our first dive briefing, those thoughts quickly melted away as I realized that each wreck has its own unique story to tell.
I found myself, along with my fellow divers, huddling up in the salon before each dive to read the history of each wreck. Captain Martin, whose experience in the area is extensive, gave very detailed briefings, which really helped bring the wrecks back to life. Over 10 days, we explored 23 wrecks, including a submarine, a destroyer, a bomber, a flying boat, a converted passenger liner, and a number of merchant vessels (maru), which were used to stock and supply warships and bases.

Inside the engine room of the Kiyosumi Maru, which lists entirely to its port side

As I explored engines rooms, superstructures, bridges and cargo holds, I came to understand that each wreck has its own history, its own ghosts, its own secrets, its own special nooks and crannies to explore and artifacts to discover. Some wrecks are deep, some are shallow, and some are completely encrusted in coral while others have little growth, allowing you to take in the structure, as it once was, completely unobstructed. Each ship boasts different lengths, structures and holds containing different cargo to explore including large guns, munitions, remains of aircraft fuselage, torpedoes, gas masks, trucks, tanks, medicine bottles, porcelain, beer bottles, and much more.

A first aid box, some bowls and some bottles are among the many artifacts found on the wrecks

Of course, each wreck has its own wounds that brought it to rest on the ocean floor. It's quite surreal to swim through massive bomb holes that ripped sturdy ships apart like tin cans. And the broken sake bottles and personal effects scattered among the wrecks remind you that no matter what side you were on, there is a human story to be told. With each dive you realize that even with all you have just seen, there is so much more to explore. You could dive each wreck a dozen times and still not discover all there is to tell.

Schooling jacks congregate at the top of the coral encrusted mast on the Hoki Maru
Tech vs Rec
While Truk has been known to be a bit of a tech diver's mecca, it is important to note that about two-thirds of the most popular wrecks lie well within recreational dive limits. Whether you are a recreational or technical diver, the Truk Master caters to both and really knows how to keep its guests safe and happy.
The Truk Master is well equipped for deep, technical and rebreather diving, including a deco bar under the yacht and hang tank for deco stops. Nitrox is blended at 29%, but the captain can blend whatever mix you need. Oxygen is also available as well as helium for trimix diving. And there are "big" tanks and doubles on-board for anyone needing a bit more bottom time on deeper dives.

Submarine periscopes were among the cargo on the Heian Maru when it sunk to the ocean floor

The yacht typically moors right up to the dive site, which is really convenient and affords divers a lot of flexibility. Tech divers have all the time they need for deco stops while recreational divers can immediately climb on-board and enjoy a hot cup of tea while waiting for the rest of the group. With two tenders available, the captain can split divers by group (and depth certification level) and travel to an alternate site when the yacht is moored up to a deeper wreck.
You can count on knowledgeable dive guides and small groups—four divers per guide. Divers are given a lot of freedom, as buddy teams can explore on their own, and there are no limits on dive times—this really helps everyone spread out and gives photographers the time and opportunity needed to get their shots. Many wrecks are repeated at least twice, giving you time to explore the entire wreck and the chance to set up and perfect your compositions.

Cascading soft coral encrusts the life-raft davits of the Fujikawa Maru, one of Truk's most famous wrecks
Photography Tips for Truk Lagoon
Go Wide!
Truk is all about shooting wide angle—superstructures, king posts, coral encrusted masts, big guns, trucks, and engine rooms all cry out: "Go big or go home!" The big decision is really whether to shoot a fisheye or a rectilinear lens, which really comes down to preference.
Shooting fisheye:
Provides the widest angle of view, allowing you to get super-close to your subject, which helps with lighting your scene and reducing the amount of particulate between you and your subject.
Affords a large depth of field (most fisheye's focus within a few inches of your subject to pretty much infinity) and corner-to-corner sharpness.
Adds curvature to your images, especially around the edges, an effect that I love and use as I compose.
Kingposts, found on many of the wrecks in Truk, are often covered in colorful coral and offer countless photo opportunities

Shooting rectilinear:
What you'll need if you want hard lines for your wreck photography (e.g., when shooting a staircase or railings).
Increases your shooting distance to your scene, which can make dealing with particulate more challenging.
You may experience some soft corners (barrel distortion) that could extend into your images. It's a good idea to leave some room around the edges when composing an image so you can crop out some of the barrel distortion in post.
A telegraph, located on the bridge of the Nippo Maru, was used for communication on the ship

Lighting
The biggest challenge you'll face in Truk is silting on the wrecks and a lot of particulate in the water. It's very important to minimize contact between you and the wreck and stay out of the wake of other divers.
There are opportunities to penetrate on pretty much every dive, which means that you should bring a really good torch with you (and plenty of extra batteries). A decent torch will help you focus in low-light situations, but take care that you don't create a hot spot in your image when shooting in enclosed environments.

Cases upon cases of beer bottles can still be found in their crates in the hold of the Rio De Janeiro Maru

Shooting with strobes:
Shoot at a slightly higher ISO and turn your strobe power down to quarter or half power; in enclosed spaces, you don't need as much light as you think.
The closer you are to your subject, the closer your strobes should be to your housing; adjust accordingly depending on your lens and shooting situation.
Practice (extreme) edge lighting: Your strobes should never be shining directly at your subject as it will only illuminate any particulate between you and your subject. Most of the time my strobes were pulled close to my housing, well behind my dome port and were turned nearly 180° outwards from my housing. Any strobe angle facing even slightly forwards resulted in a lot of backscatter.
When you are outside of the wrecks shooting more typical scenes, the usual rules of edge lighting (turned slightly outwards) still apply.
If you're more than six feet from your subject, turn off your strobes.
Wrecks sitting in shallow, clear water provide the perfect opportunity for super-wide available-light photography

Shooting in available light:
When you want to get a super-wide image showing a large portion of the wreck, turn off your strobes and shoot with ambient light.
Increase your ISO to get the right exposure and adjust your settings depending on whether you are shooting towards or away from the sun. Don't underexpose too much as increasing your exposure in post can lead to noise. Be careful not to blow out your highlights.
In post, use white balance to bring color back into your image. Converting to black and white is another option.
If you want to eliminate your strobes entirely, consider using filters to add color back into your photos.
The coral encrusted propeller of the Goesi Maru sits in very shallow water and makes for an amazing photo opportunity

---

For more of Francesca's work, visit her official website or "like" her Facebook page. Francesca has also been featured as Photographer of the Week.
RELATED CONTENT
Be the first to add a comment to this article.
Newsletter
Travel with us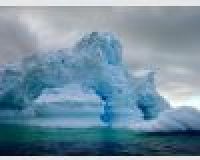 Antarctica
Plan Your Adventure >
Featured Photographer
Carlos Hiller
Expert Photographer
Carlos Hiller, 34 years old, is an artist dedicated to the painting of submarine seascapes. His paintings have traveled to diverse places all around the world- with individuals and art collectors who have bought his works. His...