Travel
Lembeh's Wild Side
A healthy coral reef typical of Lembeh's east side

After the safety stop at the highest underwater peak of Batu Kapal, we drifted into the blue water to the waiting tender. "Man, this is Raja Ampat level!" my friend Dennis shouted out with a big smile on his face as I climbed the ladder to the boat. We had just completed an hour of world-class reef diving on the northern tip of Lembeh Island and encountered four eagle rays; numerous patrolling gray, whitetip and blacktip reef sharks; plus large schools of large mouth mackerel, rainbow runners, fusiliers and longfin bannerfish.
Untouched soft and hard corals, and a breathtaking underwater landscape embellish the pinnacle of Batu Kapal, which is approximately 330 feet wide, 820 feet long, and lies at an average depth of 65 to 95 feet. Around the plateau, the sea drops steeply to well over 330 feet. This outstanding dive site is without doubt one of the absolute highlights of our ongoing Lembeh exploration project, but it is only possible to dive it at certain times of the month, depending on the tide tables, due to its unpredictable conditions and strong currents.
But wait a minute. Is this the same Lembeh that is world famous for its countless bizarre critters and muck diving on black sandy slopes? It most certainly is! But this is Lembeh's wild east side, and in complete contrast to the macro mecca in the Strait, it offers action-packed drift dives and wide-angle photo opportunities galore.

Barrel sponges man high at Batu Kapal

Two eagle rays circling the underwater mountains of Batu Kapal

We took advantage of the guest-free period during the pandemic to explore, together with the tourism department and the mayor of Bitung town, the east side of Lembeh Island as well as the northern and southern tips. For 11 days and a total of 33 dives, we explored 27 relatively unexplored dive sites. Batu Kapal in the north was not the only highlight.
Approximately halfway up the east coast of Lembeh Island lies a bay in which the seabed drops to over 425 feet, just less than 300 feet away from the shore. This seemed like a great place to start our exploration, where under the surface we found a steep slope covered with huge sponges and gorgonian sea fans. At a depth of 95 feet, we encountered an eagle ray and a little later two adult whitetip reef sharks, and diving out on the reef top, we discovered fields of staghorn and table corals as far as the eye could see.
The bay is much too big to explore in just one dive, so we tried a few different areas in the first few days and enjoyed a similar experience on each dive. Steep slopes, large schools of fish and giant sponges up to 10 feet high. The further you approach the edge of the bay, the current quickly increases, and more and more fish cavort in the blue water. After thoroughly exploring the area, we divided the bay into three sections and named it Filmishmish One, Two, and Three. Filmishmish is an Arabic term that is equivalent to "in your dreams" in English—a very apt name for the epic blue water diving we experienced.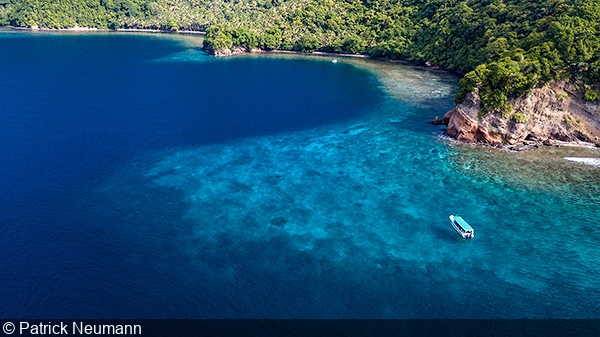 Our dive boat anchored at Filmishmish Bay

Gorgonian sea fans at Filmishmish

Filmishmish is one of the best dive sites on Lembeh's wild east side

A little further north, about 500 yards from the island, several small rocks break the surface of the water. Here we uncovered the next gem of our discovery tour. Directly after jumping in for a dive behind the rocks, we found ourselves in a beautiful canyon, surrounded by a rocky landscape completely covered with orange and red soft corals. In addition, lush gorgonians adorned the shining walls. The dive site is appropriately named Fireball.
Heading north, we left the canyon and got a clear view into open water, where a huge school of surgeonfish was already swimming among adult whitetip sharks that patrol the reef. From there, you can turn right or left and dive either the east or west side of Fireball. In the east, we discovered a lovely plateau at around 100 feet, followed by a beautiful wall stretching over almost the entire eastern flank and dropping vertically to over 165 feet. Steep wall diving in Lembeh, who would have thought it?
The west side is just as overgrown, but not as steep, instead dropping down in terraces to around 130 to 145 feet, before leveling out to a flat, sandy bottom. Here, there are some cracks in the rocks where whitetip reef sharks have found shelter for the day. No matter which side you choose to go, you will be treated to wide-angle photo opportunities of the highest order. To the south of that wonderful submerged pinnacle, we dove out on the rocky reef top, also richly decorated with soft corals.

The canyon at Fireball provides an explosion of color

In almost every crack and crevice, we found whitetip reef sharks

Fish soup at Fireball

Continuing our pursuit of similar special reefs, we went searching for a spot on the northern tip of Lembeh Island, not far from Batu Kapal, named Dante's Wall. Not many people know the true location of this hard-to-find dive site, and our first attempt to dive it failed. We found a nice reef that could perhaps be named Dante's Slope instead, but it wasn't the steep wall we had heard about. With the help of one of the experienced local dive guides, we tried our luck again the next day—and this time we hit the jackpot!
Extending vertically downwards until you cannot see the bottom, Dante's Wall reminded me of famous sites in Egypt such as the Brothers Islands or Daedalus Reef. The wall is completely blanketed with soft corals, sponges and gorgonians, and in the blue water, we photographed whitetip and blacktip reef sharks from a distance. To everyone's amazement, even a whale shark swam past us just below the surface. A whale shark! In Lembeh!

Dante's Wall is covered in soft and hard corals and huge gorgonian sea fans

An unexpected whale shark encounter at Dante's Wall

Heading further south, we used sonar maps to find an underwater mountain that reaches from a depth of 165 feet to 50 feet below the surface. This area looked promising, and with mobile phone in hand, I directed the captain to the spot indicated on the map, while Dennis stood on the lowest rung of the boarding ladder with his face in the water trying to spot something of interest. "It should be here. Do you see anything?" I called out to Dennis. "Yes, there is something!" he replied. "I can see a reef!"
Jumping in, we could see the top of the pinnacle as expected at 50 feet, dropping down to 80 feet on the outside. To the south, there is a ridge, 50 feet wide and 330 feet long, before it breaks off abruptly and the bottom disappears into the deep. This was extremely exciting topography to explore, but unfortunately we did not find what we had hoped for. Sadly, everything here was destroyed by dynamite fishing a long time ago, and we found only barren rocks and hardly any marine life. We noticed that some of the corals were slowly growing back again, but it will take decades for this place to recover. We could only imagine what it once must have looked like.

A giant frogfish hanging out on one of the east side's stunning reefs

Beautiful hard corals with thousands of reef fish at Kimbas Garden

Of the 27 dive sites we explored, seven were similarly bombed or even mined completely—that is, all the coral had been cleared by the villages on Lembeh Island and used as building material. The affected areas resemble a desert landscape. Like dynamite fishing, this has been illegal in Indonesia for more than 20 years, but the consequences can still be seen. Nevertheless, the positive impressions far outweighed the negative ones: Even though it was sad to see destroyed reefs, a ratio of 20 very good dive sites to seven bad ones still made the exploratory trip more than worthwhile.

It seems then that the image of Lembeh as purely a macro and muck diving destination needs to be reconsidered. Besides the famous critters, there is also blue water diving with great visibility, healthy hard and soft coral reefs populated by countless reef fish, and exciting walls and drop-offs all waiting to be explored on Lembeh's wild east side.
We encountered reef sharks on almost every dive, and although most of them stayed too far away to be photographed properly, the fact they are there at all is a pleasant surprise. Combine these unknown dive sites full of wide-angle possibilities with the best macro subjects you can hope to shoot, and Lembeh's reputation as one of the most productive underwater photography destinations in the world just got even better!

A juvenile eagle ray at Filmishmish Bay

Blue water reef dives teeming with fish await wide-angle lenses on Lembeh's east side
RELATED CONTENT
Be the first to add a comment to this article.
Newsletter
Travel with us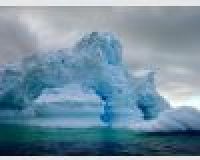 Antarctica
Plan Your Adventure >
Featured Photographer
Brian Stevenson
Expert Photographer
I'm a professional underwater fashion and water sports photographer. I started shooting professionally as an adventure sports photographer which often required shooting in water or wet environments. Housings, diving,...